Free Beds for Low Income Families is an important cause that provides a comfortable sleeping space to those in need.
With the increasing problem of homelessness, many people are even unable to afford the cost of purchasing basic furniture like beds and mattresses. Fortunately, some organizations have stepped up to help by offering free beds and mattresses to low income families.
So, let's find out available free bed assistance programs for needy families with an income below the poverty line.
Free Beds for Low Income Families: List of Organizations Give Away Free Beds
If you are a responsible member of a family in need of sleeping beds, you may want to search for free bed assistance online or offline.
Here is a list of organizations assisting in getting beds and mattresses for low income families: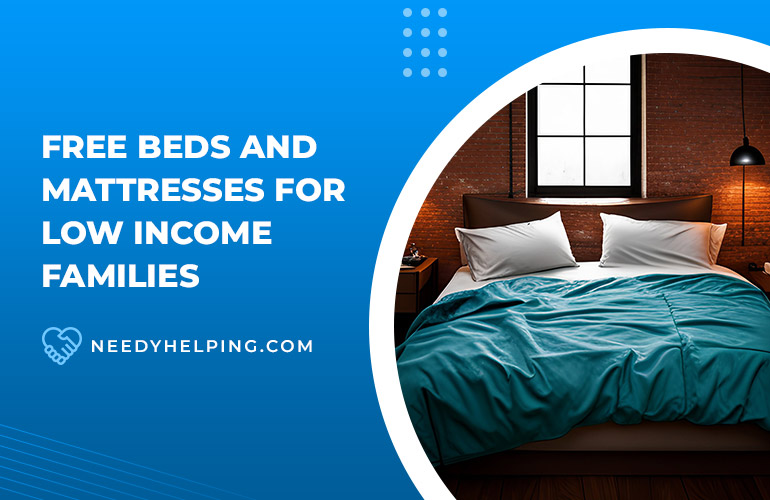 1) St. Vincent de Paul Thrift Store
St. Vincent de Paul Thrift Store offers free furniture and appliances to help make homes comfortable and cozy. However, only low-income families who meet the eligibility criteria are eligible for free beds.
Individuals or families facing financial difficulties or requiring urgent furniture can apply for a loan or furniture vouchers. If eligible, you may qualify for a free sofa, bed, table, chair, mattress, or couch based on your specific needs.
Website: https://www.ssvp.org.za/
2) Furniture For Families
Furniture For Families is a non-profit organization that helps low-income families in need of furniture, including beds.
They offer a wide variety of household items and furniture at no cost to families who are transitioning out of homelessness or recovering from a disaster.
To obtain a bed from Furniture For Families (FFF), families must first complete an application and provide proof of income or financial hardship. Once approved, families can schedule a pickup or delivery date for their furniture.
Furniture For Families also partners with other local organizations, such as homeless shelters and domestic violence organizations, to identify families in need.
Website: http://www.furnitureforfamilies.org/
3) Get Free Beds from Love INC
Love INC is a national non-profit organization that works with local churches and community organizations to provide assistance to low-income families.
The organization often gives away used furniture like beds and mattresses to families who are sleeping on the floor or sharing a bed with family members.
They also offer vouchers that you can redeem to get sleeping beds at a low cost or at no cost from partnering stores or local volunteers.
Website: https://www.loveinc.org/
4) Beds4Kidz
Beds4Kidz is a nonprofit organization that gives beds to kids and their families who do not have much money.
They give new or used beds so no child has to sleep on the floor. More than 16,000 people in New Mexico have already gotten free beds from Beds4Kidz!
They also accept donations of queen and full size beds, as well as gently used linens, blankets, comforters, and other bedding items.
Beds4Kids only accepts clean and comfortable beds without major stains, rips, or damage.
The organization loves to receive complete bed sets, along with mattresses, foundations, frames, and other bed components as long as they are in good condition.
In addition to beds, they are also constantly looking for dressers, chests of drawers, and other furniture items that can help make a child's bedroom more comfortable and functional.
Take note, Beds4Kids cannot accept sleeper sofas, couches, or recliners.
The organization uses such donated furniture like beds and give it away to low income families with kids for free.
Website: https://www.beds4kidz.org/
5) Cribs for Kids
Cribs for Kids is a private organization that helps low-income families get beds for their kids. They have been doing this for 25 years and have given out over 900k beds to people who need them.
The organization works with different partners and volunteers to provide cribs that meet the standards set by the American Academy of Pediatrics (AAP). These beds are safe, comfortable, and free for families who cannot afford one. They also distribute sheets, pillows, and blankets for each bed.
Cribs for Kids also provides additional resources such as information about safe sleep practices, parenting education, and referrals to other agencies.
By providing free beds to low income families with kids, Cribs for Kids helps these families make sure that their kids have a safe place to sleep every night.
Website: https://cribsforkids.org/
6) Samaritan House
Samaritan House is a community service organization based in San Mateo County that provides assistance to low-income families facing various challenges, including homelessness and poverty.
One of the services they offer is providing free furniture, including beds, to those who need them.
Low inome families can request furniture assistance from Samaritan House by filling out an application form. Once approved, families can choose from a selection of donated furniture items, including beds and mattresses.
The organization also provides delivery services to make it easier for families to receive their donated furniture.
Samaritan House partners with local organizations and businesses to collect donations of furniture and other household items. They prioritize the distribution of these items to those who are most in need, including low-income families, seniors, and individuals experiencing homelessness.
By providing essential services like free beds, they are making a meaningful impact in their community and helping to combat poverty and homelessness.
Samaritan House is leading the fight against poverty in San Mateo Coun
Website: https://samaritanhousesanmateo.org/
7) Salvation Army Furniture Vouchers
The Salvation Army offers a furniture voucher program that provides free furniture, including beds, to low-income families.
Families in need of furniture must first be referred to the Salvation Army by a social service agency, such as a homeless shelter or a non-profit organization that serves low-income families.
Once the referral is made, the Salvation Army will determine if the family qualifies for a furniture voucher. If approved, the Salvation Army will provide the family with a voucher that can be redeemed at a local thrift store or warehouse for furniture items, like beds and mattresses.
The Salvation Army can also arrange for delivery of the furniture items to the family's home.
It's important to note that furniture vouchers are limited and not always available. The Salvation Army relies on donations of furniture and other household items from the community to help support their furniture voucher program.
Website: https://www.salvationarmy.org/
8) Big Brothers Big Sisters
Big Brothers Big Sisters is a non-profit organization that provides mentorship programs for children and youth from low-income families.
While their primary focus is on mentorship, they also offer assistance to families in need of beds for their children.
Big Brothers Big Sisters has partnerships with furniture suppliers like Factory Mattress who donate 5% of mattress proceeds every Tuesday and Wednesday to the organization.
These beds are then distributed to children from low-income families who are participating in the mentorship program or to those families who contacted the BBBS for help.
Families who are interested in receiving a bed from Big Brothers Big Sisters can contact their local agency to learn more about the program and eligibility requirements.
Website: https://www.bbbs.org/
9) National Furniture Banks
National Furniture Banks are organizations that provide basic furniture and household necessities to families in need, particularly those below the poverty line.
These banks collect donations of used furniture from individuals and businesses, as well as new items from corporate sponsors. The donated items are then distributed to families who cannot afford to purchase them on their own.
By providing these essential items, such as beds, couches, tables, chairs, dressers and more, the banks enable families to live with dignity while they work towards achieving financial stability.
Website: https://furniturebanks.org/
Who is Eligible for Free Bed Programs?
The eligibility criteria for free bed programs differ depending on the program. Generally, you may be eligible for a free bed if you meet certain requirements such as below –
Low income families.
Single parent with below the poverty line income.
Poor homeless individuals and families.
People with disability.
Victims of domestic violence or sexual assault.
Families impacted by disasters like fires, earthquakes, hurricanes, tsunamis, and volcanic eruptions.
Members of a specific group, such as veterans, and senior citizens.
Places to Find Free or Low Cost Beds and Mattresses
Having a comfortable and supportive bed is essential for getting a good night's sleep.
However, not everyone can afford to buy a brand new bed or mattress.
Fortunately, there are several places you can look for free or low-cost beds and mattresses. It includes –
Freecycle – Freecycle is a website where people can give away items they no longer need for free. You can join a local group and browse the listings for free beds and mattresses.
Craigslist – Craigslist is a classified website where people can sell or give away items. You can search for free or low-cost beds and mattresses in your area.
Facebook Marketplace – Facebook Marketplace is another online platform where people can buy and sell items. You can search for beds and mattresses in your area and filter by price.
Local charities – There may be local charities in your area that provide free beds and mattresses to those in need.
Thrift stores – Thrift stores often have used beds and mattresses for sale at a lower cost than new ones. Make sure to inspect the items carefully before purchasing.
Remember to always prioritize safety when obtaining a used bed or mattress. Check for signs of bed bugs, wear and tear, and stains before accepting the item.
FAQs about Free Beds for Low Income Families
How do I Qualify for a Free Bed Programs?
The requirements vary depending on the organization. Generally, you will need to provide proof of low-income status and/or proof of need. Some organizations may require a referral from a social worker or case manager.
Can I Choose the Type of Bed I Receive?
It depends on the organization. Some may have a limited selection of beds available, while others may allow you to choose from a variety of options.
Are the Beds Provided for Assistance Programs New or Used?
Generally, organizations offering free furniture assistance programs receive refurbished or carefully used items from locals and businesses. Hence, chances are high that the beds provided are gently used.
Can I Receive More than One Bed for My Family?
This varies by organization. Some organizations that provide free beds to low-income families may limit the number of beds per family, while others may provide multiple beds if needed. It's best to check with the specific organization you are dealing with to see what their policies are regarding the number of beds a family can receive.
Do I Need to Pick up the Bed, or will it be Delivered?
The logistics of pickup or delivery will depend on the organization. Some may require you to pick up the bed, while others may offer free delivery services.
Conclusion
In brief, free beds for low income families provide a comfortable and safe place to sleep, allowing families to start fresh the next day. Without this important cause, thousands more people would remain without suitable sleeping arrangements every single night.
We should also recognize that such support or assistance doesn't come from any single source – it comes from all of us working together. Every contribution, however small, can add up to something meaningful and substantial over time.
Let's all be a part of the solution by contributing your unused beds and related components to help low income families get free beds and mattresses.