Free water heater programs for low income families provide much-needed relief from the financial burden of having to pay for a new water heater.
Millions of Americans cannot afford basic necessities such as heat and hot water, but these government-funded free water heater programs can help bridge the gap between need and affordability. They can even help families save money on their energy bills while also helping them stay warm in the winter months.
In this article, we'll explain how these free water heater assistance programs work and what resources are available for those looking to take advantage of them.
Problems Low Income Families are Facing Related to Water Heaters
Low-income families often face various challenges related to water heaters. These problems can range from initial installation costs to ongoing maintenance and energy expenses.
Here are some of the most common issues low-income families encounter with water heaters:
High Upfront Costs: Purchasing a new water heater can be expensive, especially for low-income families who may not have the financial means to cover the cost. The price of a water heater varies depending on the type and size, but even the most affordable options can be a significant financial burden.
Limited Access to Energy-efficient Models: Energy-efficient water heaters can save money on utility bills in the long run. However, these models tend to be more expensive, making them less accessible to low-income households. As a result, these families may end up with less efficient models that contribute to higher energy costs over time.
Lack of Proper Insulation: Insufficient insulation around water heaters can lead to heat loss, causing the appliance to work harder and use more energy to maintain the desired water temperature. Low-income families might not have the resources to invest in proper insulation, further increasing their energy bills.
Inadequate Maintenance: Regular maintenance is essential for keeping a water heater in good working condition. However, low-income families may be unable to afford professional servicing or lack the knowledge and tools required for proper maintenance, leading to decreased efficiency and potential breakdowns.
Increased Risk of Health Hazards: Poorly maintained water heaters can pose health risks, such as Legionella bacteria growth or carbon monoxide leaks in gas-powered models. Low-income families may be more susceptible to these hazards due to inadequate maintenance and insufficient resources to address these issues promptly.
Difficulty Affording Repairs: When water heaters break down or require repairs, the associated costs can significantly burden low-income families. In some cases, they may be forced to go without hot water until they can save enough money to fix the issue.
Addressing these issues requires a combination of increased access to affordable, energy-efficient options and better support for low-income households in managing their water heater needs.
Fortunately, several government-supported and non-profit organizations are providing low-cost or free water heater assistance for low income families.
Let's check them out –
Free Water Heater Programs for Low Income Families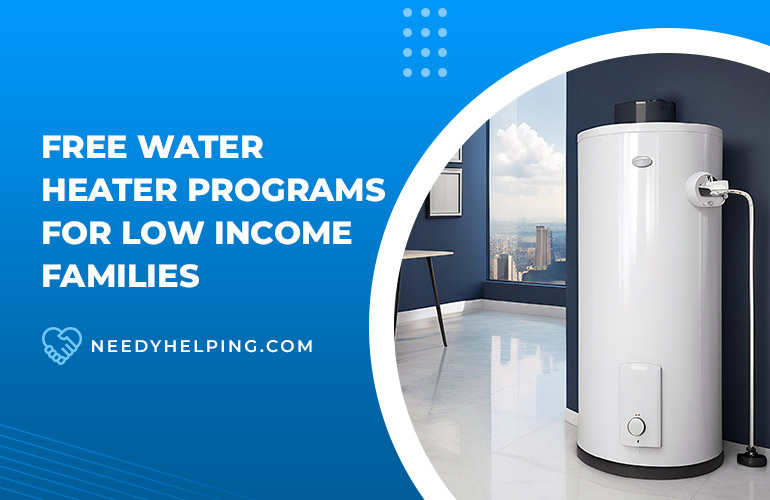 1) Weatherization Assistance Program (WAP)
The Weatherization Assistance Program (WAP) is a key initiative that can help low-income families with their water heater needs.
The Department of Energy oversees WAP, which supports various upgrades for low-income homeowners if the project reduces electricity or gas consumption, such as installing a more energy-efficient water heater​.
Also Read – Free Appliances for Low Income Families
The specifics of how WAP operates may vary by state, but it generally involves an application process through a local agency, an energy audit of the home, and then approved measures are taken to increase the home's energy efficiency.
2) Low-Income Home Energy Assistance Program (LIHEAP)
The Low-Income Home Energy Assistance Program (LIHEAP) is a federally funded initiative that aids families with energy costs, including energy-related home repairs and weatherization measures that can involve water heaters.
The program aims to keep families safe and healthy by reducing the risk of health and safety problems arising from unsafe heating and cooling situations and practices. This includes assistance with home heating bills, preventing energy shutoffs, reconnecting services, making homes more energy efficient, and repairing or replacing heating equipment, such as water heaters​.
LIHEAP, which is administered by the US Department of Health and Human Services, can help lower the total cost of ownership for a water heater by helping pay for the energy that makes the water heater run. This reduces the burden of operating expenses.
It's important to note that state agencies distribute LIHEAP funds, so the specifics of the assistance might vary from state to state. Individuals or families interested in applying for LIHEAP assistance should reach out to their state's LIHEAP office for more detailed information.
3) Inflation Reduction Act (IRA)
The Inflation Reduction Act (IRA) is one of the government programs that help low-income families with their water heater needs. It provides rebates and tax credits for upgraded equipment that uses electricity rather than gas, which is supposedly better for the environment.
The IRA rebate program specifically provides free heat pump-powered water heaters to low-income households and assistance to those with modest annual earnings.
The IRA provides up to $14,000 in rebates for purchasing and installing specific equipment, including heat pump water heaters, and related upgrades consuming cleaner electricity instead of natural gas.
The IRA provides different coverage for households with different income levels. For those earning less than 80% of the state median income, the IRA will cover all costs up to $14,000. For those earning between 80% and 150% of the state median income, the IRA will cover 50% of the costs up to $14,000.
The non-refundable IRA tax credit program provides water heater assistance to families with higher incomes who are ineligible for the 100% rebates. A non-refundable credit reduces your income tax liability if you have one. This program offers $600 for units run by natural gas, propane, or oil, and $2,000 for units run by heat pumps​.
4) IRA Tax Credits
The Inflation Reduction Act (IRA) of 2022 amended the credits for energy-efficient home improvements and residential energy property. These amendments provide a range of new and expanded incentives to help households make energy-saving improvements to their homes.
The IRA provides incentives of up to $1,750 for the purchase of an energy-efficient heat pump water heater and up to $2,000 for the purchase of energy-efficient heating, cooling, and water heating equipment.
A new state program for low- and moderate-income households will provide instant rebates for new, efficient electric equipment, that in some cases will be enough to pay for the entire cost of the new equipment.
This can greatly reduce the financial burden of upgrading to a more efficient water heater for low-income families.
Investments in energy-efficient appliances and home improvements can help families conserve energy and drastically reduce their utility bills.
New technologies such as energy-efficient electric heat pumps and heat pump water heaters have the potential to save the average households as much as $6,500 in operating cost savings over the lifetime of the equipment, or $650 annually on their utility bills, while reducing exposure to volatile fossil fuel prices.
5) Section 504 Home Repair Program
The Section 504 Home Repair Program, administered by the U.S. Department of Agriculture, can potentially provide free water heaters to senior citizens living in rural areas.
The program provides up to $10,000 of assistance, which doesn't need to be repaid if it's used for remediation of health and safety hazards, like a leaky water heater.
Eligibility for Section 504 grants requires applicants to:
Be the homeowner and live in the residence.
Reside in an eligible rural area.
Be unable to secure a loan elsewhere (e.g., due to bad credit).
Have a family income below 50% of the area median.
Be unable to repay a restoration loan.
Be at least 62 years old​.
6) The Low-Income Usage Reduction Program (LIURP)
Pennsylvania's Low-Income Usage Reduction Program (LIURP) is a utility-sponsored initiative designed to help low-income households reduce energy consumption and lower their bills. The Pennsylvania Public Utility Commission mandates that participating electric and gas companies provide weatherization treatments and usage reduction programs to eligible customers.
Services offered under the LIURP include:
All types of insulation
Heating system treatments and replacements
Water heating tank and pipe wraps
Water heater replacements
Compact fluorescent lighting
Refrigerator replacement
Water bed replacement with a form-fitted foam mattress
Incidental repairs and conservation education
The Low-Income Usage Reduction Program provides assistance to households with incomes at or below 150% of the federal poverty level.
Participants must have utility-supplied space or water heating in their homes. The program requires companies to install weatherization measures and repair existing housing for eligible low-income families, as long as the home is in satisfactory condition.
7) The Michigan Home Repair Assistance Program
The Michigan Home Repair Assistance Program, also known as State Emergency Relief, assists with home repairs to rectify unsafe conditions and reinstate essential services. This includes the repair or replacement of non-functioning furnaces and hot water heaters.
The applicant can check their eligibility and apply online through the MI Bridges platform​.
However, payments are made only if the repair is essential to remove a direct threat to health or safety, or if it is required by law or a mobile home park regulation.
Improvements or nonessential repairs are not covered. For energy-related repairs like furnaces, there's a lifetime maximum of $4,000 per family group​.
To be eligible for these repairs, certain conditions must be met:
The applicant must be the owner or purchaser of the home, or hold a life estate or life lease on the home with the responsibility for home repairs.
The home should be the applicant's permanent, usual residence.
The home should not be listed for sale.
The home should not be in jeopardy of loss. Repairs will be denied if there is a house payment or property tax arrearage, unless a workable plan exists for paying the arrearage.
The ongoing cost of maintaining the home should be affordable by the applicant (total housing costs cannot exceed 75 percent of the group's net income)​.
8) The Home Energy Counseling and Checkup Program (HEC²)
The Home Energy Counseling and Checkup Program (HEC²) assists low-income households by addressing high energy bills, which can be caused by factors such as an inefficient water heater.
Through the program, households may qualify for a free or reduced-cost home inspection carried out by a certified home energy advisor. This professional assesses the home to identify areas where energy is being wasted, such as an old or poorly functioning water heater.
The advisor then provides personal counseling on ways to save energy and can install up to $100 of free energy-saving products.
Following the checkup, the household receives a written report detailing the energy audit results. This comprehensive evaluation can help households understand how their water heater is contributing to their energy consumption and what steps they can take to improve its efficiency, thereby potentially reducing their energy bills​.
9) The Colorado's Affordable Residential Energy (CARE) Program
The Colorado's Affordable Residential Energy (CARE) program is designed to assist low-income families in Colorado with their energy needs. This includes help with water heaters, among other home energy efficiency upgrades.
The program provides income-qualified Colorado residents in participating counties with free home energy efficiency upgrades for homeowners and renters.
An agency associated with Energy Outreach Colorado will conduct an energy audit on the applicant's home, after which contractors will install the qualifying upgrades. These upgrades may include insulation, refrigerators, LEDs, shower heads, air sealing, and qualifying furnaces and water heaters​.
To apply for the CARE program, interested individuals should fill out a CARE Application available online. If the applicant rents their home, their landlord also needs to sign a consent waiver. The completed application should then be emailed to [email protected].
The application review period can take up to 4-5 weeks, after which applicants will receive a response via email​.
10) Energy Savings Assistance Program
The Energy Savings Assistance Program provides professional energy-saving home improvements at no cost to eligible individuals. This includes both renters and homeowners.
To apply for the program, interested individuals can complete an online interest form or call a representative for more information. Once an individual has submitted an interest form or made a call, the program determines their eligibility. If eligible, they are referred to an authorized contractor in their area. The contractor will schedule an appointment to discuss enrollment, verify the home's qualifications for the program, and complete the enrollment process. The contractor will also schedule a date and time to perform the in-home services. After the installations, an inspection contractor may contact the individual to ensure all improvements were installed properly​.
Individuals can qualify for the program in two ways. First, if they or another person in their household receives benefits from any of several public assistance programs, such as Medi-Cal/Medicaid, Women, Infants & Children (WIC), CalFresh (Food Stamps), and more.
Second, individuals can qualify based on their maximum household income, with different income limits for different household sizes. For example, from June 1, 2023 to May 31, 2024, a one-person household can have a yearly income of no more than $36,450 to qualify​.
The Energy Savings Assistance Program provides several types of home improvements. These may include –
Attic insulation
High-efficiency clothes washer
High-efficiency furnace replacement (owner-occupied only)
Furnace duct system sealing
Low-flow faucet aerator
Low-flow showerhead
Thermostatic shower valve
Thermostatic tub spout
Water heaters
These water heater improvements can help low-income families reduce their energy usage and costs, as the blankets and pipe insulation help to reduce heat loss from the water heater, thus improving its efficiency.
11) HE+ Program Services
The HE+ Program Services in Wisconsin offer assistance to low-income households in two key areas: heating and water conservation.
HE+ Furnace Program: This year-round program provides aid to eligible low-income Wisconsin households when their primary heating system no longer provides heat, is inoperable, or becomes unsafe.
The local Weatherization agencies manage the program delivery and invoicing for completed work, while the Wisconsin Home Energy Assistance Program (WHEAP) verifies applicant eligibility and reserves funds when referring to the Weatherization Agency.
Importantly, services provided to an eligible household under the HE+ Furnace Program will never result in a property lien or charge to the customer unless fraud is identified​.
HE+ Water Conservation Program: This program provides aid to eligible low-income Wisconsin households with the repair or replacement of leaky or non-working water heaters, leaky fixtures, toilets, and/or piping throughout the year.
The Water Conservation Program Services are funded by Public Benefits, and eligible customers need to live in a territory of a participating public benefit utility​.
12) HopeWorks Emergency Low-Income Program for Seniors (HELPS)
HopeWorks, an organization based in Georgia, USA, offers programs for seniors that help them manage their utilities efficiently.
One of their programs, the HopeWorks Emergency Low-Income Program for Seniors (HELPS), provides repair or replacement of natural gas furnaces and water heaters for low-income senior citizens.
The services provided through this program are subject to certain restrictions, and eligibility details can be obtained by calling HopeWorks at (404) 872-0167.
In short, these are some of the popular water heater programs that may help low income families to buy a new or replace the existing water heater at cheap rates.
What to do if you are not Eligible for Free Water Heater Programs – Alternative Ways
If you're not eligible for free water heater programs, there are alternative ways to obtain a water heater or make your existing one more efficient.
Here are some suggestions:
Search for Discounted Water Heaters: Look for sales, discounts, or clearance items at local home improvement stores or online retailers. You might find a great deal on a water heater that fits your budget.
Consider a Refurbished or Used Water Heater: Some stores and online marketplaces sell refurbished or gently used water heaters at a fraction of the cost of a new one. Make sure to check the warranty and ensure it's in good working condition before purchasing.
Reach out to Local Charities or Non-profit Organizations: Even if you don't qualify for specific water heater programs, some local charities or non-profit organizations may still be able to help with home repairs or improvements. Contact them to inquire about any available assistance.
Apply for Low-interest Loans or Financing: Some banks, credit unions, or government programs offer low-interest loans or financing options for home improvements, including water heater replacement. Research the available options and choose one that fits your financial situation.
Consider alternative water heating options: Depending on your location and budget, you may want to explore alternative water heating methods, such as solar water heaters or tankless water heaters. These options can be more energy-efficient and cost-effective in the long run.
Online Marketplaces and Websites – You can even get help of online marketplaces like Facebook, FB Groups, craigslist, and similar websites to find discounts or free water heaters.
By exploring these alternative ways to obtain or improve a water heater, you can still work towards better efficiency and lower energy bills even if you're not eligible for free water heater programs.
How to Apply for Free Water Heater Assistance Programs?
To apply for free water heater assistance programs, follow these summarized steps:
Research Available Programs: Look for local, state, or federal programs that provide free or discounted water heaters to eligible low-income families.
Check Eligibility Requirements: Carefully review the eligibility criteria for each program, ensuring your household meets the income and other requirements.
Gather Necessary Documents: Prepare documents to prove your eligibility, such as proof of income, utility bills, and identification.
Contact the Organization: Reach out to the organization offering the program to inquire about the application process and any additional requirements.
Submit your Application: Complete and submit the application form along with the required documentation. Be sure to follow instructions and deadlines closely.
Wait for a Response: Once your application is submitted, wait for a response from the organization. If approved, follow their guidance to receive your free or discounted water heater assistance.
Who is Eligible for Free Water Heaters?
Eligibility for free water heaters varies depending on the specific program or organization providing assistance.
Generally, eligibility is targeted towards low-income households that struggle to afford essential home improvements or repairs.
Common criteria for eligibility include:
Income Level: Many programs require households to have an income at or below a certain percentage of the federal poverty level, such as 150% or 200%.
Utility-supplied Heating: Some programs, like the Low-Income Usage Reduction Program (LIURP), require eligible customers to have utility-supplied space or water heating in their homes.
Homeownership: In many cases, applicants must own their home or have permission from the landlord to make improvements or repairs.
Residency: Applicants typically need to be residents of the area where the program or organization operates.
Satisfactory Home Condition: Certain programs may require the home to be in satisfactory condition before assistance is provided, ensuring that weatherization measures or repairs can be effectively implemented.
It's essential to research each program's specific eligibility requirements and reach out to the organization directly to determine if you qualify for a free water heater.
FAQs about Programs for Free Water Heater
How do I Find Programs that Offer Free Water Heaters in My Area?
Research local, state, and federal programs, as well as non-profit organizations and charities that provide assistance with home improvements or repairs. You can also contact your local utility company for information on available programs.
What Documents do I Need to Apply for a Free Water Heater Program?
Typically, you'll need proof of income, utility bills, identification, and possibly proof of homeownership or landlord permission. Each program may have specific documentation requirements, so be sure to check their guidelines.
How Long does it Take to Receive a Water Heater after being Approved for a Program?
The timeline varies depending on the program and the availability of resources. Once you're approved, the organization should provide you with an estimated timeframe for receiving your water heater. Typically, it may be between few days to weeks.
Can I Apply for Multiple Water Heater Programs at Pnce?
Yes, you can apply for multiple programs if you meet the eligibility criteria. However, if you're accepted into more than one program, you may need to choose which one to proceed with based on your needs and the benefits offered.
Are Free Water Heater Programs Available for Renters?
Some programs may be available to renters, but you might need your landlord's permission to make improvements or repairs. Check each program's eligibility requirements for specific details.
Do I have to Pay to Participate in a Free Water Heater Program?
Most programs aim to provide free or heavily discounted water heaters to eligible households. However, some programs may require a small co-payment or contribution from the homeowner. Always check the program details to understand any costs involved.
What Types of Water Heaters are Available Through these Programs?
The type of water heater provided depends on the program and available resources. Some programs may offer energy-efficient tankless water heaters or solar water heaters, while others might provide conventional tank-style heaters.
Conclusion
In brief, free water heater programs for low income families can be a great aid to those who need assistance with their utility bills.
With the help of these generous initiatives, individuals and households can enjoy a comfortable home without having to worry about costly energy expenses, especially costs related to water heater.
Whether it's tankless water heaters or conventional tanks, there is something out there for everyone when it comes to reducing costs on essential utilities like heating and cooling systems.
So don't wait any longer – find out if you qualify today!