Government grants for dentures are financial aids funded by the state and federal government. These grants are a lifeline for low-income families, seniors, and disadvantaged individuals who cannot afford dentures treatment.
Securing free denture grants from Government can significantly reduce dental expenses. The process involves applying through specific programs, such as Medicaid or the Children's Health Insurance Program (CHIP).
Some local and state government programs also provide financial assistance for denture treatment and overall oral health care. It's vital to research your eligibility and understand the application process thoroughly.
In this post, we have compiled government programs that offer denture grants to simplify your research. We will guide you in understanding and applying for these grants, bringing you closer to the oral health care you deserve.
Before we start with dentures grant programs, let's first look at the cost of denture treatment. It helps you to understand the importance of grants for those who can't afford such services.
How Much Do Dentures Cost?
Dentures are a common solution for individuals who have lost their natural teeth.
The cost of dentures can vary depending on several factors, including the type of dentures, the quality of materials used, and the location where the treatment is received.
According to our research, a complete set of mid-priced dentures typically costs between $1,000 and $3,000, with a single denture plate priced at $500 to $1,500.
These prices may vary based on the dental provider and the specific needs of the patient. To get accurate pricing information, it is advisable to consult with a dental professional or denture specialist.
Now, you understand why receiving denture grants supported by government is essential for poor and needy individuals. It can potentially save them thousands of dollars.
How to Get Government Grants for Dentures: Four Programs
If you are looking for free denture grants funded by government, then it is worth checking below programs.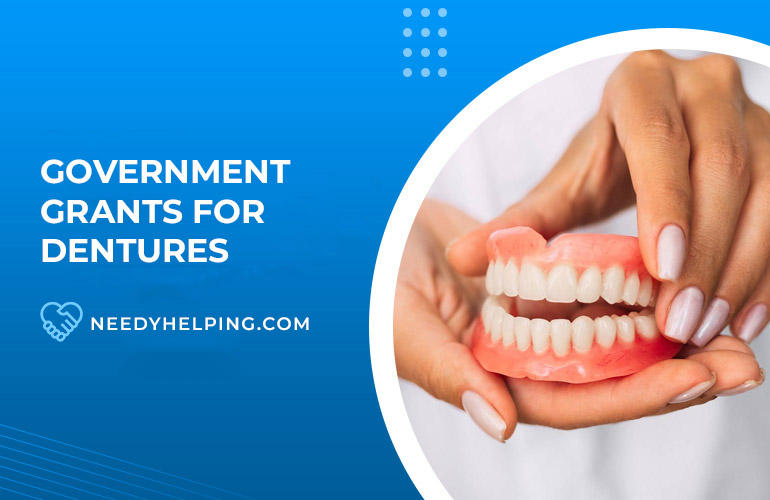 Children's Health Insurance Program (CHIP)
The Children's Health Insurance Program (CHIP) provides low-cost health coverage to children in families that earn too much money to qualify for Medicaid. While CHIP primarily focuses on comprehensive health coverage, including preventive and primary care, some states offer dental benefits as part of the program.
Although CHIP's coverage for dental care varies by state. It is essential to note that denture coverage specifically may not be a guaranteed benefit under the program.
However, CHIP may cover other necessary dental services, such as check-ups, cleanings, fillings, and extractions, depending on the state.
It's worth exploring the specific CHIP program in your state to determine any potential grants or assistance available for dentures.
Medicaid
When it comes to covering the cost of dentures, Medicaid serves as a lifeline for many needy individuals. Medicaid, a joint federal and state program that provides health coverage to low-income individuals. It also offers varying dental benefits across states, including coverage for dentures.
The New York State Department of Health Dental Policy and Procedure Code Manual states that Medicaid covers the cost of full or partial dentures. This crucial coverage ensures that those who rely on Medicaid can access the dental care they need to restore their oral health and regain their confidence.
While Medicaid does not cover dental implants or snap-in dentures in any state due to their cosmetic nature, it offers viable options for lower-cost denture alternatives.
It's important to note that Medicaid coverage for dentures may vary by state. Some states offer comprehensive coverage, including preventive, periodontal, and denture services, while others may have limitations or specific eligibility criteria.
Consulting the respective state Medicaid program is essential to understand the specific dental benefits available and the requirements for eligibility.
American Dental Association (ADA)
When it comes to promoting dental health and providing support to those in need, the American Dental Association (ADA) plays a crucial role. Through its ADA Foundation Charitable Assistance Fund Grant Program, the ADA offers grants to dentists and their qualifying dependents, aiming to alleviate financial burdens and ensure access to essential dental care.
The ADA Foundation Assistance Program is a needs-based initiative designed to assist dentists during challenging times. This program provides financial support for daily living expenses and emergency needs, helping dentists and their dependents aged 18 and below.
By offering these grants, the ADA Foundation strives to ensure that dentists can continue serving their communities without unnecessary financial hardship.
In addition to its assistance program, the ADA Foundation also supports other grant programs and award initiatives aimed at improving access to dental care.
For example, the ADA Foundation Senior American Access to Care grants are given to nonprofit organizations, which may provide funding for dental implants and cosmetic dentistry. It may include dentures.
Veterans Administration (VA) Dental Care Benefits
The Veterans Administration (VA) does provide dental care and benefits for eligible veterans, including denture grants.
Veterans may qualify for a one-time course of dental care that is determined to be necessary by a VA dental care provider to achieve specific goals.
Besides it, veterans who have recently served may be entitled to a one-time course of free dental care, including dentures, although they must apply for dental benefits.
The VA offers dental insurance programs, such as the VA Dental Insurance Program (VADIP). It provides discounted private dental insurance for veterans and their family members.
Note that eligibility criteria and coverage details may apply. Visit the official VA website or contact the VA directly for accurate and up-to-date information.
Alternative Ways to Get Grants for Dentures
Below are some alternative ways through which any eligible individual can get financial assistance for dentures:
Dental Grants Programs: There are organizations like Dental Grants that provide financial assistance for dentures, covering up to 30% of the cost of removable dentures, including complete and partial dentures. Eligibility requirements may vary, so it's important to check the specific criteria outlined by each program.
Cosmetic Dentistry Grant Programs: Cosmetic Dentistry Grants offer financial assistance for dentures provided by top-rated cosmetic dentists.
National Foundation of Dentistry for the Handicapped (NFDH): NFDH offers dental grants for individuals with disabilities or those who are medically compromised. They aim to improve access to dental care, which may include dentures.
Government Assistance Programs: There might be government grants available specifically designed to assist seniors and retired service personnel in obtaining dentures at no cost. Eligibility criteria for these programs may vary.
Non-Profit and Charitable Organizations: Several Non-profits and Charitable organizations often provide grants or financial assistance for individuals who require help affording dentures. These organizations may sometimes allocate a portion of the funds they receive from government agencies for dental grants."
State-Specific Grants: Some states may have specific grants or programs that offer financial assistance for dental work, including dentures. These grants are designed to support residents in accessing affordable dental care.
Dental Schools: Dental schools often offer reduced-cost or free dental care as part of their training programs. Patients may receive affordable dental treatments, including dentures, from dental students under the supervision of experienced professionals.
FAQs about Government Grants for Dentures
What are Government Grants for Dentures?
Government grants for dentures are financial assistance programs provided by the government to help individuals who cannot afford the cost of dentures. These grants aim to improve access to dental care and ensure that everyone has the opportunity to maintain their oral health.
Who is Eligible for Denture Grants from Government?
Eligibility for government grants for dentures varies depending on the specific program or assistance provided. Generally, these grants target low-income individuals, seniors, veterans, and those with specific medical conditions that affect their ability to chew or speak properly.
How Can I Apply for Government Denture Grants?
To apply for denture grants provided by state or federal Government, you will need to research and identify the relevant grant programs available in your area. Each program may have its own application process, which could involve submitting documentation such as income verification, dental assessment reports, and proof of eligibility criteria.
Can I Receive Free Dentures Through Government Grants?
While some government grants may cover the full cost of dentures, it is not guaranteed that all grants will provide completely free dentures. Some grants may offer partial funding or discounts on the overall cost.
Are Grants for Dentures Funded by Government Available Nationwide?
Government grants for dentures are typically available at different levels – federal, state, or local. Availability may vary by region, so check with local government agencies, dental clinics, or nonprofits for dental assistance grants in your area.
Also Read – How to Find Free Eye Exam Programs
Conclusion
In brief, maintaining good dental health plays a significant role in our overall well-being. However, sometimes financial limitations may prevent many low income individuals to get the deserved oral care treatments like dentures.
In such cases, government grants for dentures offer a lifeline for many individuals who cannot afford the high costs of dental prosthetics. While availability may vary based on factors like income, age, and location, these programs aim to expand access to vital dental care.
Exploring above mentioned opportunities can pave the way for improved oral health and quality of life in affordable way.
Stay informed and take advantage of these opportunities where available.