The Salvation Army Hotel Vouchers are a great way to provide homeless individuals and families with access to temporary lodging. The program offers vouchers for short-term stays at participating hotels, helping those in need find safe and secure accommodations.
As the demand for these motel vouchers increases, knowing how and where you can get them online is important.
In this article, we will explain how you can apply for a Salvation Army homeless hotel voucher, what accommodations are available, and eligibility criteria.
With this information, you can decide wisely when seeking homeless assistance from Hotel Voucher Programs.
A Brief Overview of Salvation Army Hotel Vouchers
If you are in need of emergency housing, the Salvation Army may be able to provide you with hotel vouchers.
Hotel vouchers from the Salvation Army can help those who have lost their homes or are homeless and in need of immediate relief. The voucher typically ranges from $45 to varying amounts depending on location.
The Salvation Army offers hotel vouchers online, in person near you, or over the phone. You can also find motel and free emergency hotel voucher programs through the Salvation Army's website.
Other forms of home assistance available through the Salvation Army, such as homeless shelters, transitional living centers, group homes, and family shelters provide more than 8 million nights of shelter each year.
To get a hotel voucher from the Salvation Army, you must complete an online form or contact your local branch for more information.
It is important to note that these vouchers are only for short-term temporary stays and will not cover long-term housing solutions.
How Do I Get Salvation Army Hotel Vouchers Near Me?
To get hotel vouchers from the Salvation Army, follow below steps.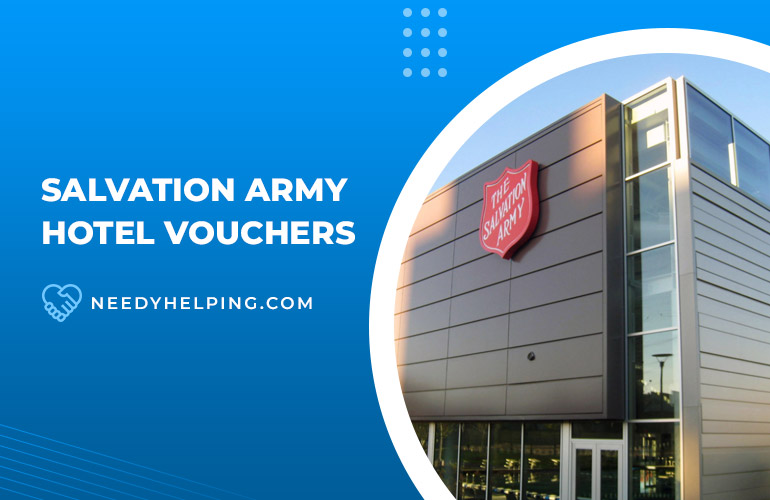 Step 1 – Locate your Nearest Salvation Army: Find the nearest Salvation Army center in your area by searching online or using their official website's location finder here.
Step 2 – Contact the Salvation Army Center: Call or visit the center to inquire about the availability of hotel vouchers and their eligibility requirements.
Step 3 – Determine your Eligibility: The Salvation Army typically provides hotel vouchers to individuals and families facing emergencies, such as homelessness or natural disasters. Be prepared to discuss your current situation and provide any necessary documentation to prove your need for assistance.
Step 4 – Complete the Application Process: If you are eligible for hotel vouchers, the Salvation Army staff will guide you through the application process, which may involve filling out forms and providing personal information.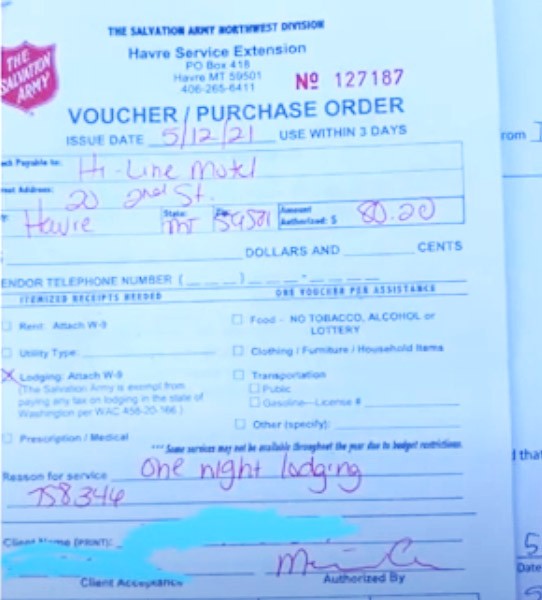 Step 5 – Wait for Approval: After submitting your application, wait for the Salvation Army to review it and determine if you qualify for hotel vouchers. The approval process may vary based on the availability of funds and the urgency of your situation.
Step 6 – Receive Hotel Vouchers: Once approved, you will receive the hotel vouchers, which can be used at participating hotels for temporary accommodation.
Please note that the availability of hotel vouchers and the specific process for obtaining them may vary depending on the Salvation Army center and your location. It is essential to contact your local center for up-to-date information and assistance.
Can I Get Salvation Army Emergency Hotel Vouchers Form Online?
While the Salvation Army offers emergency hotel vouchers, they typically do not provide an online form for requesting them.
The process usually requires contacting or visiting your local Salvation Army center to discuss your situation and determine your eligibility for assistance.
To find your nearest Salvation Army center, visit their official website and use the location finder. Once you've located a center, you can call or visit them in person to inquire about emergency hotel vouchers and receive guidance on the application process.
How to Book a Hotel with a Salvation Army Hotel Voucher?
To book a hotel with a Salvation Army hotel voucher, follow these steps:
Step 1 – Obtain the Hotel Voucher: Contact your local Salvation Army center to determine your eligibility and obtain the emergency hotel voucher, following their application process.
Step 2 – Review the Voucher Details: Carefully read the voucher's terms and conditions, including any restrictions on hotel selection, duration of stay, and additional services covered.
Step 3 – Find Participating Hotels: Identify hotels that accept the Salvation Army hotel vouchers. This information may be provided by the Salvation Army center or listed on the voucher itself.
Step 4 – Contact the Hotel: Call the hotel directly to confirm they accept the voucher, inquire about room availability, and inform them that you intend to use a Salvation Army hotel voucher for payment.
Step 5 – Make a Reservation: Book a room at the participating hotel, providing your personal information and voucher details as required. Make sure to keep a record of your reservation details.
Step 6 – Present the Voucher at Check-in: When you arrive at the hotel, present the voucher to the front desk staff during the check-in process. They will verify the voucher and apply it towards your accommodation cost.
Remember that policies and procedures may vary between participating hotels. Communicating with the hotel and your local Salvation Army center is essential to ensure a smooth booking process.
How Does The Salvation Army Homeless Hotel Vouchers Program Work?
The Salvation Army provides free motel and/or hotel vouchers to single people or families in a crisis.
These vouchers can be used to pay for a short-term stay (typically 3 to 14 days) in a hotel or motel, allowing homeless people to have a safe place to stay while they work on finding more permanent housing.
The Salvation Army has different requirements for eligibility depending on the location, but generally speaking, applicants must meet certain income guidelines and demonstrate that they are in an emergency situation.
Those who qualify will receive a voucher that can be used at participating hotels or motels within 30 days of its issue date.
Eligibility Criteria
The eligibility criteria for Salvation Army hotel vouchers can vary depending on the location and specific program.
However, some general criteria include:
Facing an Emergency Situation: Individuals or families experiencing homelessness, victims of natural disasters, or those in crisis situations.
Financial Need: Demonstrating a lack of financial resources to secure temporary accommodation without assistance.
No other Available Options: Exhausted all other avenues for shelter, such as staying with friends or family, or using other community resources.
Temporary Assistance: The need for hotel vouchers is short-term, and the individual or family has a plan to secure stable housing in the near future.
Residency: Residing in the area where the Salvation Army center is located or being affected by a local crisis or disaster.
Documentation: Providing required documentation, such as identification, proof of residency, and evidence of financial need.
Types of Accommodations
Under the Salvation Army hotel voucher programs, the types of accommodations you are likely to get include:
Single Occupancy Rooms: Designed for individuals who need temporary shelter, these rooms typically feature a single bed and basic amenities.
Family Rooms: Larger rooms intended for families in need, providing multiple beds or sleeping arrangements to accommodate parents and children.
Economy Rooms: Budget-friendly options that offer essential amenities and a clean, safe place to stay without extra frills or luxury features.
Suites: Although less common, some Salvation Army hotel vouchers may cover suites, which provide separate living and sleeping areas and additional space for larger families or groups.
Deluxe Rooms: In rare cases, vouchers may be used for deluxe rooms, offering more upscale furnishings and amenities compared to standard or economy rooms.
It's important to note that the primary goal of the Salvation Army hotel voucher program is to provide temporary shelter for individuals and families in need.
The focus is generally on offering safe and basic accommodations rather than luxury stays.
However, the availability of specific room types and prices may vary depending on the participating hotels and individual circumstances.
FAQs about Salvation Army Hotel Vouchers
How Much Does The Cost Of Salvation Army Hotel Vouchers?
Typically, the Salvation Army Hotel voucher is worth $45+ covering the cost of the hotel stay, including taxes and fees. The actual cost of a hotel stay using a voucher can vary, but the Salvation Army typically works with budget-friendly hotels to minimize expenses.
Do the Salvation Army Hotel Couchers have an Expiration Date?
Yes, Salvation Army hotel vouchers typically have an expiration period of 30 days from the date of receipt. The validity period may vary, but vouchers are generally intended for short-term, emergency use.
Can I Apply for The Salvation Army Hotel Vouchers Online?
No, you generally cannot apply for Salvation Army hotel vouchers online. To access these vouchers, it's best to visit your local Salvation Army center in person or contact them by phone to discuss your situation and determine eligibility for assistance.
Can Salvation Army Hotel Vouchers be Exchanged for Money?
No, Salvation Army hotel vouchers cannot be exchanged for money. They are specifically intended to provide temporary shelter for eligible individuals and families in need and must be used for accommodations at participating hotels.
Conclusion
In brief, this was all about the Salvation Army Hotel Vouchers and how they impact the life of homeless people sleeping on the street or looking for immediate housing assistance.
The Salvation Army has almost 8,000 locations in the United States, where over 3 million volunteers help nearly 30 million people every year. The organization also operates in more than 100 countries worldwide.
It shows that the organization is working actively to improve the lives of those in need. As a result, it is our social responsibility to consider making a donation to support their efforts.
So, if you were unfamiliar with the Salvation Army's hotel voucher assistance before reading this post, we hope it has provided you with all the information you need.