Did you know there are many free refrigerator programs for low income families available that can help reduce your expenses and improve your quality of life? These programs provide eligible families with the opportunity to get a new or used, energy-efficient fridge at no or low cost.
With access to a reliable refrigerator, you'll be able to store food safely and save money on groceries by buying in bulk. You'll also be able to keep produce fresh for longer periods of time and reduce waste due to spoilage. Plus, many free refrigerator programs offer additional benefits such as energy efficiency tips and maintenance advice.
Read on for more information about free refrigerator programs for low-income families!
What are Free Refrigerator Programs?
Free Refrigerator Programs for Low-Income Families are initiatives and assistance programs that provide energy-efficient, ENERGY STAR-rated refrigerators at no cost to families facing financial difficulties.
These programs aim to help low-income households save money on their energy bills, reduce energy consumption, and improve their overall quality of life.
They are typically offered by government agencies, non-profit organizations, or utility companies and often require eligible applicants to meet certain income requirements or criteria.
Top 5 Free Refrigerator Programs for Low Income Families
Fortunately, free refrigerator programs have emerged as a lifeline for low-income families in need. These programs aim to bridge the gap and provide support by offering free or heavily subsidized refrigerators. By doing so, they empower families to store fresh food, reduce waste, and improve overall well-being.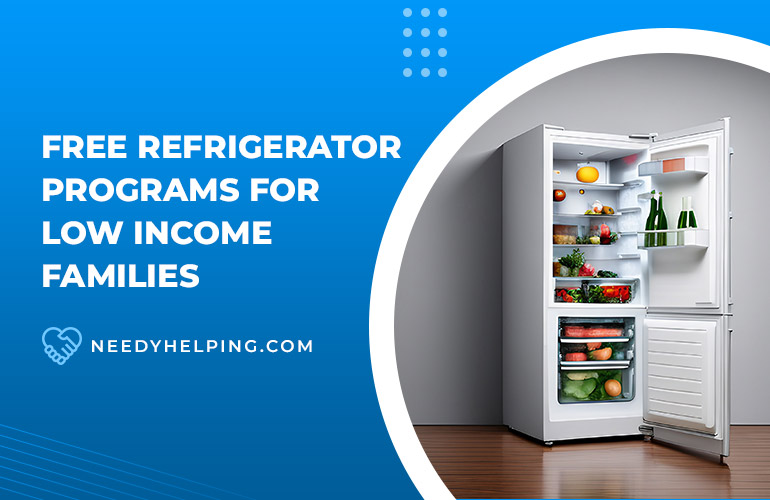 Here is the list of free refrigerator programs often supported by the Government, Nonprofits, or Community Organizations –
1) Weatherization Assistance Program (WAP)
The Weatherization Assistance Program (WAP) is a government-run initiative aimed at providing low-income families with energy-efficient appliances, including refrigerators and freezers.
By offering financial assistance, WAP helps low income families reduce their energy consumption and environmental impact.
On average, WAP provides up to $8,000 per family, depending on their income and the condition of their home.
This program specifically targets low-income families with occupants who are disabled, elderly, have children, have a member with special needs, or are significant energy users.
WAP offers numerous benefits to eligible families, including:
Financial assistance for appliance upgrades or replacements.
Help to reduce electricity bills by getting them access to energy-efficient appliances.
Improved home comfort and safety.
Eligibility Requirements for WAP
To qualify for the Weatherization Assistance Program, applicants must meet the following requirements:
Households with incomes less than 200% of the federal poverty level.
Applicants should be eligible to receive benefits from other government programs.
Meet LIHEAP income guidelines (60 percent of the state median income).
Website: https://www.energy.gov/eere/wap/weatherization-assistance-program
2) Low-Income Home Energy Assistance Program LIHEAP
LIHEAP is a federal program that helps low-income households pay their energy bills, but it does not usually offer free refrigerators. However, if your current refrigerator is not working correctly, LIHEAP might be able to assist you in purchasing a new one. You can contact your state's LIHEAP agency to determine if you are eligible for aid.
Also Check: 7 Programs to Get Free Washer and Dryer
LIHEAP provides federal funds to local authorities to assist with the following utility costs:
Home energy bills
Energy emergencies
Weatherization services
Minor home repairs
Due to the 15% fund limit for weatherization in LIHEAP, state agencies may prioritize addressing drafts, insulation, and HVAC replacements over direct assistance with refrigerator needs.
Website: https://www.acf.hhs.gov/ocs/low-income-home-energy-assistance-program-liheap
3) Energy Star
Energy Star is a government program that sets energy efficiency standards for appliances, including refrigerators. Refrigerators that meet Energy Star standards are typically more energy-efficient than standard refrigerators, which can save you money on your energy bills.
However, Energy Star does not provide free freezers or any financial assistance to help you purchase an Energy Star refrigerator.
Although this government program does not offer a free refrigerator, you can still receive rebates by taking part. These rebates can help lower the upfront cost of a new refrigerator.
To find available Energy Star rebates in your area, you can use the Energy Star Rebetes Finder tool.
Website: https://www.energystar.gov/
4) LADWP's Refrigerator Exchange Program
The Los Angeles Department of Water and Power (LADWP) offers the Refrigerator Exchange Program to assist low-income families in obtaining energy-efficient, ENERGY STAR® rated refrigerators.
By exchanging older, less efficient models for new ones free of charge, this program helps reduce energy consumption and lower electricity costs for eligible households.
Benefits of the Refrigerator Exchange Program
Money savings: Estimated annual savings of $60 on refrigerator operating costs.
Energy savings: New ENERGY STAR-qualified refrigerators use half the electricity of non-ENERGY STAR models.
Environmental impact: Reduced electricity usage lowers greenhouse gas emissions.
Qualification Requirements and Application Process
To qualify for the LADWP's Refrigerator Exchange Program, the refrigerator must meet specific criteria, such as being at least 10 years old, a minimum of 14 cubic feet, and in working condition.
Besides it, the participant must be an LADWP electric customer and belong to one of the eligible groups, such as multi-residential or non-profit customers, or income-qualified customers.
To apply for the program, interested participants should contact the LADWP or visit their website for detailed information on the application process and requirements.
Website: http://www.ladwpexchange.com/
5) Energy Efficiency Assistance Program
The Energy Efficiency Assistance Program (EEAP) is a collaborative initiative between DTE Energy and EcoWorks, aimed at helping low-income families in Metropolitan Detroit replace their old, inefficient appliances with new, ENERGY STAR® certified models.
This program focuses on replacing refrigerators manufactured before December 2013 and operates on a first-come, first-served basis.
Through this partnership, EcoWorks can replace not only refrigerators but also furnaces, hot water heaters, and other appliances for eligible DTE Energy gas and/or electric customers, ensuring their homes are more energy-efficient and helping them save on energy bills.
To apply for the program, applicants need to follow these easy steps:
Verify that you and your appliances meet the program qualifications listed on the website.
Complete the online application or request a paper application by mail.
If the applicant meets the qualifications, the EEA team will contact them to schedule an initial visit.
The refrigerator qualification checklist involves finding the model and serial numbers, as well as the manufacturing date. If the refrigerator label isn't identifiable, a 2-3 hour metering appointment may be necessary to determine its energy usage and eligibility for replacement.
The program's income qualifications require the applicant's annual income to be at or below specific thresholds, depending on household size. For example, a single-person household should have an annual income below to $24,120.
Website: https://www.ecoworksdetroit.org/eea
Other Places to Find Free Refrigerators
Other Places to Find Free Refrigerators are as listed below –
Local Organizations: Many local organizations, such as community centers or welfare offices, may have information on free or low-cost appliances available for those in need. Reach out to these organizations and inquire about any programs or resources they might have.
Churches: Churches often provide assistance to their community members, including help with obtaining essential household items like refrigerators. Contact your local churches and ask if they have any available program.
Charities: Charitable organizations like the Salvation Army, Goodwill, and Habitat for Humanity may provide free or low-cost appliances to those in need. Visit their websites or contact them directly to check for availability.
Craigslist: Craigslist is an online classifieds website where people can post items for sale or give away for free. Check the "free" section or search for refrigerators in the "appliances" category to find free listings in your area.
Facebook Groups: Many communities have local Facebook groups dedicated to buying, selling, and trading items. Search for groups in your area and join them to find free or low-cost refrigerators. Additionally, you can post a request for a free refrigerator in the group and see if any members have one they're willing to part with.
Freecycle: Freecycle is a grassroots movement dedicated to keeping usable items out of landfills by allowing people to give away items they no longer need. Join your local Freecycle group and search for free refrigerators or post a request for one.
Nextdoor: Nextdoor is a neighborhood-focused social network where people can share information and resources with their neighbors. Sign up for Nextdoor and ask your neighbors if they have a free refrigerator or know of anyone who does.
Yard Sales and Moving Sales: Keep an eye out for yard sales and moving sales in your area, as people may be willing to give away their old refrigerators for free or at a very low cost.
Buy Nothing Project: The Buy Nothing Project is a global movement that encourages people to share resources with their neighbors. Find your local Buy Nothing group on Facebook and post a request for a free refrigerator.
By exploring these options, you increase your chances of finding a free or a low-cost refrigerator.
Benefits and Support Offered
Free refrigerator programs offer various benefits and support to individuals or families with an income lower than the poverty line.
Here are the key benefits and support typically offered by such programs:
Types of Refrigerators Provided
Many free refrigerator assistance programs usually offer a range of options to suit different needs. They may provide basic models that fulfill the essential functions of cooling and preserving food.
Some programs may also offer more advanced models depending on availability and funding.
Installation and Maintenance Services
Many fridge assistance programs include installation services to ensure the appliance is properly set up and functional.
Trained technicians or volunteers may assist in delivering and installing the refrigerator in the recipient's home.
Some programs may also offer maintenance services to address any potential issues that may arise during the lifespan of the appliance.
Extended Warranties
Some refrigerator assistance programs provide extended warranties to low income families. These warranties can offer peace of mind by covering repairs or replacements for a longer period than the standard manufacturer's warranty.
Energy-efficient Models
Some free refrigerator programs prioritize providing energy-efficient models in line with sustainability efforts. These refrigerators are designed to consume less electricity, leading to reduced energy bills and a smaller environmental footprint.
It's important to note that the specific benefits and support offered by these refrigerator programs may vary depending on the organization or initiative running the program.
Therefore, it's recommended to research and reach out to individual programs to inquire about their offerings and eligibility criteria.
Eligibility Requirements to Qualify for a Free Refrigerator Program
Eligibility requirements for free refrigerator programs can vary depending on the specific program and its guidelines.
However, there are some common criteria that most programs share:
Income level: Applicants must typically meet certain income requirements to qualify for a free refrigerator program. This is usually based on a percentage of the federal poverty level, which varies by household size. For example, a program may require that your household income be at or below 150% or 200% of the federal poverty level.
Residency: Applicants must often be residents of the area or state where the program is offered. In some cases, proof of residency is required, such as a utility bill, rental agreement, or driver's license.
Current appliance: Some programs require that applicants have an old, inefficient refrigerator that needs replacement. They may ask for the manufacturing date or proof of purchase to verify the age and inefficiency of the existing appliance.
Energy assistance recipient: In some cases, eligibility for a free refrigerator program may be tied to participation in other low-income assistance programs, such as the Low-Income Home Energy Assistance Program (LIHEAP) or the Weatherization Assistance Program (WAP).
Homeownership or Renting: Some programs may require applicants to be homeowners or have permission from their landlord to participate in the program. This is to ensure that the refrigerator will remain in the residence for which it was provided.
To determine your eligibility for a specific free refrigerator program, it's essential to check with the program's guidelines and requirements.
Contact the organization offering the program or visit their website for detailed information on eligibility criteria and application procedures.
How to Apply for a Free Fridge Program?
Applying for a free refrigerator program involves several steps that can vary depending on the specific program.
Below are the general steps applicants should follow –
Step 1 – Research available programs: Begin by researching the various free assistance programs for refrigerator available in your area or state. This may include government programs, non-profit organizations, or utility companies. Make a list of the programs for which you may be eligible.
Step 2 – Check eligibility requirements: Carefully review the eligibility criteria for each program to ensure that you meet the requirements. This may involve checking your household income, residency status, and the age or efficiency of your existing refrigerator.
Step 3 – Gather necessary documentation: Collect any required documents to support your application, such as proof of income, utility bills, rental agreements, or proof of participation in other assistance programs.
Step 4 – Contact the program: Reach out to the organization offering free refrigerators to low income families to inquire about the application process and deadlines. They can provide you with detailed information on how to apply and what to expect.
Step 5 – Complete the application: Fill out the application form provided by the program, ensuring that all information is accurate and complete. Attach any supporting documents required by the program.
Step 6 – Submit the application: Submit your application according to the program's guidelines, whether that be online, by mail, or in person. Keep a copy of your submitted application and any additional documents for your records.
Step 7 – Wait for a response: After submitting your application, wait for a response from the program. Depending on the program, this may take several weeks or even months. Be patient and follow up with the organization if you have not received a response within the expected timeframe.
Step 8 – Schedule an assessment or installation: If your application is approved, you may need to schedule an assessment of your current refrigerator or an installation appointment for your new refrigerator. Coordinate with the program to ensure a smooth process.
Step 9 – Receive your new refrigerator: Once the assessment or installation is complete, you will receive your new energy-efficient refrigerator. Follow any provided guidelines on properly using and maintaining the appliance to maximize its energy-saving benefits.
Remember that the specific steps and requirements may vary depending on the free refrigerator program you are applying for, so always refer to the program's guidelines and instructions for the most accurate information.
What are the Limitations of Free Fridge Assistance Programs?
While beneficial to low-income families, free refrigerator programs have certain limitations and challenges.
Below are some common limitations of such programs that every low income applicant should know –
Limited funding: Many free refrigerator programs for low income families rely on government grants or funding from non-profit organizations, which can be limited. This may result in a restricted number of available refrigerators or long waiting lists for eligible applicants.
Eligibility criteria: Some programs have strict eligibility criteria, which may exclude certain low-income families who could still benefit from a new refrigerator. For example, families with slightly higher incomes or those who don't meet specific residency requirements may miss out on assistance.
Awareness and outreach: Not all eligible families may be aware of the available free refrigerator programs, leading to the underutilization of these resources. Also language barriers or lack of internet access can further hinder outreach efforts.
Bureaucracy and application process: The application process for some programs can be complex and time-consuming, discouraging potential applicants from pursuing assistance.
By addressing these limitations and challenges, free refrigerator programs can be expanded and scaled up to reach more low-income families, helping them save money on their energy bills and improving their overall quality of life.
FAQs about Free Refrigerator Assistance Programs for Low Income Families
Are there any Income Limits to Qualify for Free Refrigerator Programs?
Yes, most free refrigerator programs have income limits to ensure assistance is provided to low-income families who need it the most. Eligibility is usually based on a percentage of the federal poverty level, varying by household size. Each program has specific income requirements, so it is crucial to check their guidelines before applying.
How Long does the Application Process Usually Take?
The application process for free refrigerator programs varies, and response times can range from weeks to months. If approved, expect additional time for scheduling assessments or installations.
Are the Refrigerators Provided Brand New or Refurbished?
Most free refrigerator assistance programs offer new, energy-efficient appliances, while some provide certified refurbished models. Check with each program to determine the type of refrigerator they supply.
What Happens if the Refrigerator Breaks down after Installation?
If a refrigerator from a free program breaks down, contact the supplying organization. Many programs offer warranties or maintenance services to address issues, guiding you through repair or replacement procedures.
Can Individuals or Organizations Donate to these Programs?
Individuals and organizations can donate to free refrigerator programs, directly or via affiliated non-profits. Some programs accept in-kind donations like new or gently used energy-efficient refrigerators. Contact the program or organization for donation guidelines and procedures.
How to Get a Free Refrigerator in Detroit?
EcoWorks, with the support of DTE Energy, can provide you or replace your old and inefficient appliances with ENERGY STAR® certified appliances, including refrigerators, furnaces, and hot water heaters, at no cost through the DTE Energy Efficiency Assistance (EEA) Program.
What is the Free Refrigerator Program in Ohio?
The Home Weatherization Assistance Program (HWAP) is designed to provide replacement refrigerators and freezers for low-income families in Ohio.
What is the Free Fridge Program in Los Angeles?
The LADWP's Refrigerator Exchange Program offers free Energy Star® rated refrigerators to replace qualified older models in Los Angeles.
What is the Refrigerator Rebate Program in Ohio?
In Ohio, you can get energy credits for purchasing new appliances with ENERGY STAR® rating but there is a limit of two rebates per appliance type. You can get $150 rebate for central air conditioning unit and $100 rebate for refrigerator/freezer combos.
Does AEP Ohio still Pick up Old Refrigerators?
Yes, AEP (Appliance Recycling Program) offers free pick-up. To participate in the Program, customers can either call 1-877-545-4112 or visit gridSMARTohio.com. They can schedule a free pickup, but the refrigerator or freezer needs to be operational and at least 10 cubic feet in size during the pickup.
Conclusion
In brief, there are a variety of free refrigerator programs available for low-income families throughout the U.S. If you think you may be eligible for one of these programs, it's worth giving them a call or visiting their website to learn more.
Having a dependable fridge can make all the difference in helping you create an enjoyable living environment and improve your quality of life.
So if you need help getting access to a refrigerator, don't hesitate to look into these free programs today – you might be surprised by what you find!