Free Air Conditioners for Low Income Families can make a world of difference during sweltering summer days. If you're part of a low-income household and struggling to afford the luxury of air conditioning, there's good news – help is available.
Let's explore how you can stay cool without stretching your budget thin.
For many low-income families, the cost of an air conditioner is simply out of reach. With rising temperatures in the summer months, these families are left to suffer through sweltering heat without a way to cool down their homes.
Not only does this mean that they have no relief from the heat, but it can also lead to serious health issues such as dehydration and heat exhaustion.
Furthermore, with no way to regulate indoor temperature, children and elderly family members are especially vulnerable to scorching heat-related issues during hot weather.
Fortunately, there are free air conditioners for low income families available through various government programs, non-profit organizations, churches and local businesses.
In this article, we will discuss different ways you can access free ACs for your home so that you don't have to suffer through another hot summer season.
Free Air Conditioners for Low Income Families – AC Assistance Programs
Here is the list of programs that offer free Air Conditioners or needed assistance to get a new home cooling system for low income families.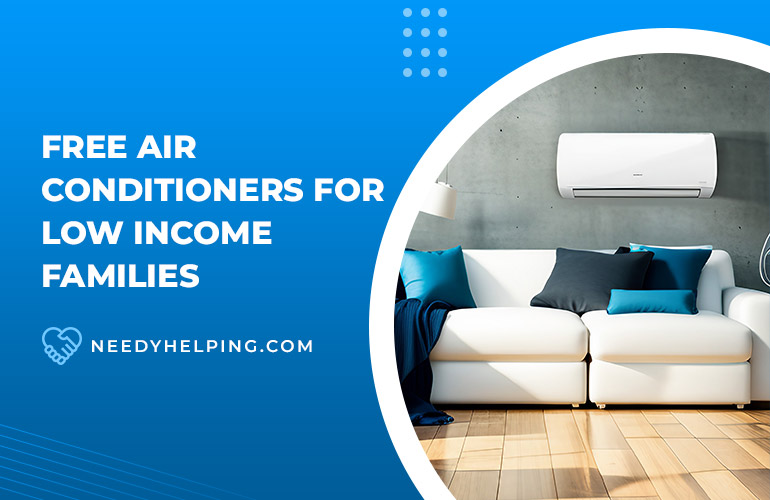 All these programs are generally funded and supported by central or state government authorities, non-profits, churches, local businesses, and community foundations.
1) Cooling Assistance by Home Energy Assistance Program (HEAP)
The Home Energy Assistance Program (HEAP) is a valuable initiative introduced by the New York state government to support low-income households in managing their energy expenses.
Among the various benefits offered by HEAP, the Cooling Assistance Program specifically addresses the air conditioning needs of eligible families.
Under the Cooling Assistance Program, households can receive a free air conditioner if a member of the family has a heat-sensitive health condition that worsens due to high temperatures. To qualify for this benefit, families must meet the standard HEAP eligibility criteria.
Applications for the program are prioritized based on their submission date, and they are accepted until the allocated funds for the current year are exhausted.
The program provides up to $800 per installation, ensuring that low-income families can obtain an air conditioner without incurring a significant financial burden.
It's important to note that the Cooling Assistance Program offers one air conditioning unit per household, meaning that the same dwelling cannot receive multiple units.
To receive this assistance, applicants must provide medical documentation verifying the heat-sensitive health condition affecting one of the occupants in the family.
2) OHA Air Conditioner and Air Filter Deployment Program
The Oregon Health Authority (OHA) has established the Air Conditioner and Air Filter Deployment Program to assist low-income families in addressing their air conditioning and air filtration needs.
The program's primary objectives are to reduce the risk of heat-related illnesses during extreme heat events and protect vulnerable individuals from health issues caused by wildfire smoke.
Key features of the OHA Air Conditioner and Air Filter Deployment Program include:
Provision of AC Units and Air Filtration Devices
The program offers air conditioning units for those most at risk for heat-related illnesses and air filtration devices for individuals at a higher risk of health problems due to wildfire smoke.
This year, the program plans to distribute approximately 3,000 AC units and 4,700 air filtration devices.
Distribution Timeline
AC unit distribution will begin once the Governor declares an emergency due to extreme heat, while air filtration device distribution is set to commence in June 2023.
Eligibility Criteria
To qualify for an AC unit or air filtration device, individuals must meet specific eligibility requirements, such as not having a cooling or air filtration device, qualifying for medical assistance through OHA, ODHS, or Medicare, and being at risk for heat-related illnesses or health issues due to wildfire smoke.
Eligible groups include people aged 65 years or older, medically fragile children, and individuals with disabilities or health conditions that make them vulnerable to heat events or wildfire smoke.
Application Process
There is no direct application process for the program.
Instead, the Oregon Department of Human Services (ODHS) will contact eligible individuals who receive support from the Office of Developmental Disabilities Services (ODDS) or Office of Aging and People with Disabilities (APD) if they qualify for an AC unit or air filtration device and one is available.
Additional Resources
Oregon Health Plan (OHP) members who don't receive support from APD or ODDS can contact their coordinated care organization (CCO) to inquire about obtaining an AC unit or air filtration device as a flexible service.
Website: https://www.oregon.gov/oha/Pages/Air-Conditioner-Program.aspx
3) LIHEAP
The Low Income Home Energy Assistance Program (LIHEAP) is a federally-funded program designed to assist low-income families in managing their energy expenses, including heating and cooling costs.
The program's primary objective is to ensure that vulnerable households can maintain a comfortable and safe living environment throughout the year.
Each state administers its own LIHEAP program, with varying eligibility criteria, benefits, and program dates.
For families in need of air conditioning assistance, several states offer specific cooling assistance programs as part of their LIHEAP services. Check out dates of LIHEAP's States & Territory Cooling Programs here.
Here's an overview of how the LIHEAP program helps low-income families with AC unit needs:
Eligibility and Priority
Depending on the state, eligibility for LIHEAP cooling assistance is typically based on a percentage of the federal poverty guidelines or state median income.
Some states may prioritize assistance for specific groups, such as seniors, medically fragile children, or individuals with heat-sensitive health conditions.
Program Dates
The availability of cooling assistance through LIHEAP varies by state, with some states offering year-round assistance, while others provide support during specific months, typically during the hottest periods of the year.
Financial Assistance
LIHEAP cooling assistance programs offer financial aid to help eligible households cover the cost of purchasing or repairing air conditioning units.
The minimum and maximum benefit amounts vary by state, ranging from as low as $1 to over $12,000 in some cases.
Additional Resources
In some states, LIHEAP funds may also be used to provide other cooling-related assistance, such as fans or central air conditioner repair and replacement services.
Application Process
Each state has its own application process for LIHEAP cooling assistance. In general, applicants must provide documentation proving their income level and demonstrate a need for cooling assistance.
The specific details of the program vary by state, so it's essential to contact your local LIHEAP agency for information on eligibility, benefits, and application procedures in your area.
4) Cooling Portland
Cooling Portland is a climate resilience program funded by the Portland Clean Energy Community Benefits Fund (PCEF).
The program aims to connect vulnerable low-income residents in Portland with efficient portable heating and cooling units, helping them maintain comfortable and safe living conditions during extreme heat events.
Following the extreme heat events in June 2021, which resulted in numerous fatalities, PCEF staff worked with community partners and the PCEF Grant Committee to develop a five-year program that aligns with the Portland City Code Chapter 7.07.
Key aspects of the Cooling Portland Program include:
Initial Program Goals
The primary goals of the program are to reduce heat-related risks for vulnerable populations by distributing and installing portable heat pump/cooling units in households with low income, promote energy-efficient installation and use, and provide support for product life, efficient operation, and usability.
Eligibility and Vulnerable Populations
To be eligible for a cooling unit, recipients must live in the City of Portland and have an income at or below 60% of the Area Median Income, adjusted for household size.
The program prioritizes individuals most at risk, including those over 60 years of age, those with medical conditions increasing their risk of heat-related illness, and those living alone.
Program Partners and Roles
The Cooling Portland Program involves multiple partners, including Earth Advantage, which is responsible for identifying, purchasing, and warehousing high-efficiency heat pump and air conditioning units, as well as managing community distribution partners (CDPs).
CDPs are responsible for identifying and prioritizing recipients, scheduling delivery, installing cooling units, and providing educational materials.
These partners include housing providers and community-based organizations that offer services other than housing.
The program focuses on reducing the impact of climate change on these communities and ensuring that they have access to free air conditioning units for coping with rising temperatures.
5) Weatherization Assistance Program (WAP)
The Weatherization Assistance Program (WAP) is a program designed to help low-income families reduce their energy costs by improving the energy efficiency of their homes.
Through WAP, eligible households can receive free weatherization materials and services such as insulation, air sealing, and window replacement.
The WAP programs also provide free air conditioning to qualifying families who need it most.
By providing free air conditioning to low-income families, WAP helps to ensure that all members of society have access to a comfortable living environment regardless of their financial situation.
6) Society of St. Vincent de Paul
The Society of St. Vincent de Paul is a charitable organization dedicated to helping those in need by providing various forms of assistance, including food, clothing, and financial aid.
In some locations, they also offer an air conditioning assistance program for eligible individuals.
In order to qualify for this program, you must meet the following requirements:
The applicant should be a resident of Hamilton County.
He/She should be 65 years old or older, or have a medical need for an AC.
The applicant should have not received an AC from SVDP in the last four years (2019-2022).
The applicant should have not received a fan from SVDP this year. Neighbors may receive one fan or one AC each year, not both.
Please note that submitting an application does not guarantee that you will receive an air conditioner.
The program has a limited supply of AC units, and distribution is based on eligibility and availability. If all available units are distributed, eligible neighbors will be placed on a waitlist in case more units become available later.
After submitting your request, it may take up to two weeks for the St. Vincent de Paul team to review your application and get back to you.
If your request is approved, they will provide information about when and where to pick up the unit.
You will need to bring a photo ID and sign a waiver in order to receive your air conditioner.
Keep in mind that the services offered by St. Vincent de Paul may vary depending on the location and resources available.
To learn more about their air conditioning assistance program or other services in your area, contact your local St. Vincent de Paul Society center.
Eligibility Requirements for a Free AC Program
The eligibility requirements for free AC programs for low income families vary depending on the program.
However, some general eligibility requirements include:
Income: Household income must be below a certain level.
Household size: Household size must be within a certain range.
Medical condition: Household members must have a medical condition that is exacerbated by heat.
Senior citizen: Household must have a member who is 60 to 65 years of age or older.
Disability: The family with a member who is disabled.
Veteran: Household must have a member who is a veteran.
Location: The family must live in a certain area.
It is important to note that eligibility requirements may change over time, so it is always best to contact the program directly to verify eligibility.
How to Apply for a Free Air Conditioner Program?
To apply for a free air conditioner program, follow these steps:
Step 1 – Research Available Programs: Search for local organizations, non-profits, and government programs, such as the Society of St. Vincent de Paul, LIHEAP, and community action agencies, which may provide free air conditioners or financial aid to low-income families.
Step 2 – Review Eligibility Requirements: Review each program's eligibility criteria, including income limits, age, medical needs, and residency, to determine if you qualify.
Step 3 – Gather Required Documentation: Gather required documents, such as income statements, proof of residence, and medical records, to demonstrate eligibility before applying to programs.
Step 4 – Contact the Organization: Contact the organization providing free air conditioners to learn about the application process and any additional requirements.
Step 5 – Complete the Application: Complete the application process as directed by the organization, including filling out forms, providing all necessary information, and submitting required documents.
Step 6 – Submit your Application: Submit the completed application as instructed by the organization, and retain copies of the application and supporting documents for your records.
Step 7 – Wait for a Response: Expect a response from the organization after submitting your application, which may take days or weeks. If approved, they will provide details on obtaining the air conditioner or financial assistance.
Step 8 – Follow up: If you do not hear back from the organization within the expected timeframe, consider reaching out to them for an update on your application status.
Keep in mind that the availability of free AC programs for low income families can vary depending on your location and available resources.
If you are unable to find a suitable program, consider exploring alternative options such as discounted air conditioning units or energy-efficient cooling solutions.
Alternative Ways to Find Free Air Conditioners for Families with Low Income
If you or your family may not eligible for government-supported free air conditioning programs, then below are some alternative ways you can try to get help –
Local churches and religious organizations: Many religious groups offer assistance to families in need, including providing free air conditioners or financial support.
Social media groups and online forums: Join local community groups on platforms like Facebook or Nextdoor, where people often share information about available resources and assistance programs.
Donations and giveaways: Keep an eye out for individuals or businesses offering free or discounted air conditioners through donations or promotional giveaways.
Community centers and non-profits: Visit your local community center or non-profit organization to inquire about available resources and assistance programs for low-income families.
Local utility companies: Some utility companies offer energy assistance programs or even provide free air conditioners to qualifying low-income customers. Contact your utility provider for more information.
Crowdfunding and fundraising: Consider starting a crowdfunding campaign or organizing a fundraiser within your community to raise funds for purchasing an air conditioner.
Habitat for Humanity ReStores: These stores sell donated building materials and appliances at discounted prices, including air conditioners. Check your local ReStore for availability.
Freecycle and Craigslist: Websites like Freecycle and Craigslist often have listings for free or low-cost items, including air conditioning units. Monitor these sites for any available offers.
Word of mouth: Let friends, family, and neighbors know that you're in need of an air conditioner. They may have one they're willing to donate or know someone who does.
Work with a social worker or case manager: If you have a social worker or case manager, ask them for guidance on finding free air conditioners or financial assistance for low-income families. They may be aware of resources or programs that can help.
What are the Benefits of Free or Low Cost Air Conditioners for Low Income Families
Free or low-cost air conditioners provide several benefits to low-income families, improving their overall quality of life and well-being.
These benefits include:
Improved Health and comfort.
Reduced energy costs.
Improved sleep quality.
Increased productivity.
Protection of belongings from the scorching heat.
Better indoor air quality.
Reduced stress.
Low Maintenance Tips for Air Conditioners
Being a member of a low income family, it is possible that you may not able to afford high-cost maintenance services. Hence, here are some low-cost or no-cost maintenance tips to keep your air conditioner running efficiently:
Clean or Replace Filters: Regularly check and clean the air filters in your air conditioner. If they are reusable, clean them with water and mild soap, and let them dry completely before reinstalling. If they're disposable, replace them as needed. This helps maintain airflow and efficiency.
Clear Debris from Outdoor Unit: Ensure the area around the outdoor unit is free from leaves, dirt, and other debris that could obstruct airflow. Maintain at least a 2-foot clearance around the unit for optimal performance.
Straighten Bent Fins: Inspect the fins on the outdoor unit's condenser coils. If you find any bent fins, gently straighten them using a fin comb or a blunt object like a butter knife. Be careful not to damage the coils.
Keep Vents Unobstructed: Make sure all indoor vents are clear of obstructions, such as furniture or curtains, to allow for proper airflow and circulation.
Clean the Evaporator Coil: Locate the indoor evaporator coil (usually found near the air handler) and gently clean it using a soft brush or cloth. Be cautious not to damage the delicate fins.
Inspect and Clean the Condensate Drain: Check the condensate drain line for clogs and clean it out if necessary. A clogged drain can cause water damage and affect the efficiency of your air conditioner.
Check Insulation on Refrigerant Lines: Inspect the insulation on the refrigerant lines running from the outdoor unit to the indoor unit. If the insulation is damaged or missing, replace it to maintain energy efficiency.
Use Fans for Better Air Circulation: Utilize ceiling fans or portable fans to help circulate cool air throughout your home, reducing the load on your air conditioner.
Maintain a Consistent Thermostat Setting: Avoid frequently adjusting the thermostat. Instead, try to maintain a consistent temperature to prevent your air conditioner from working harder than necessary.
Close Curtains and Blinds: During the hottest parts of the day, close curtains and blinds to block out sunlight and reduce heat gain inside your home.
By following these low-cost maintenance tips, you can help extend the life and efficiency of your air conditioner, ultimately saving on energy costs and potential repair expenses.
FAQs for Free Air Conditioner Assistance Programs
How do I Find out if My Family is Eligible for a Free AC Program?
Research local programs, review eligibility requirements, and check you have the required documentation available. It will help you determine if your family qualifies for free air conditioner assistance.
How can I Apply for a Free Air Conditioner Program?
To apply for the free assistance program for AC, contact the organization offering the program, inquire about the application process, complete the required forms, and submit your application with the necessary documents.
How to Get Free Air Conditioner in Portland Oregon?
To get a free air conditioner in Portland, Oregon, city residents can contact the Portland Clean Energy Fund to learn about eligibility and application processes for air conditioner installations in their homes.
How to Get a Free Air Conditioner in Washington State?
To get a free air conditioner in Washington State, apply and qualify for LIHEAP by contacting your local LIHEAP agency in your county.
Also Read – 9 Free Refrigerator Programs for Low Income Families
Conclusion
To sum up, it's clear that free air conditioners for low income families can have a huge positive impact especially during the summer months.
With the help of the right program and a bit of research, you can find the resources necessary to stay cool without stretching your budget thin.
It's important to remember that programs like these are available for those who are in need – so if you're part of a low-income household and struggling to afford an air conditioner, don't hesitate to reach out to local organizations for assistance.
Together, we can work towards creating a better and cooler world for all of us by making sure no one has to endure sweltering summer days without any relief.
Now that summer is here, get ahead of the heat and start looking into free air conditioner programs for yourself or those in need around you today!