Free Furniture Vouchers for Low Income Families is an initiative that aims to help struggling families furnish their homes without any financial burdens.
The lack of furniture can be a major obstacle for poor families who are already facing financial instability. This is where furniture vouchers come in handy, providing families access to basic furniture needs.
According to the semi-annual data for the Consumer Price Index for All Urban Consumers: Household Furnishings and Operations (which includes furniture) in the U.S, the index was at 145.492 for the second half of 2022, up from 126.922 in the second half of 2020​​.
The specific data is as follows:
H2 2022: 145.492
H1 2022: 141.543
H2 2021: 133.907
H1 2021: 129.257
H2 2020: 126.922
Such rising cost of furniture increases financial burdens on families with low income, and that is why free furniture vouchers can be a great aid for low income families.
The vouchers come in the form of financial assistance generally provided by the government, charities, or non-profit organizations. This assistance enables eligible families to purchase essential furniture such as beds, tables, chairs, and sofas without having to worry about the associated costs.
So, let's get started and find out several programs that offer free vouchers for furniture who need it the most.
What are Free Furniture Vouchers and How do They Work?
Free furniture vouchers are a form of assistance provided by various organizations, charities, and government agencies to help low-income families and individuals in need to acquire essential furniture items for their homes.
These vouchers can be used to purchase furniture from participating stores or can be exchanged for free or discounted furniture items.
Here's how furniture vouchers work:
Eligibility: To qualify for free furniture vouchers, you typically need to meet certain criteria such as low income, homelessness, domestic abuse survivor status, or being a veteran. Each organization has its own set of requirements, so it's important to research and understand the eligibility criteria before applying.
Application Process: You'll need to apply for the furniture vouchers through the organization or agency providing them. This may involve filling out an application form, providing proof of income, and explaining your current living situation. In some cases, a caseworker or social worker may be assigned to assess your needs and help you navigate the application process.
Approval and Issuance: If your application is approved, you will receive a furniture voucher that specifies the amount of money you can spend on furniture or the specific items you can acquire. Depending on the organization, the voucher may be issued as a physical document, a digital code, or a pre-loaded card.
Redeeming the Vouchers: To use your furniture vouchers, you'll need to visit participating stores or organizations that accept them. Some organizations have their own furniture banks or thrift stores where you can redeem your vouchers. In other cases, you may need to visit partner retailers, which can range from local furniture stores to larger chains. Be sure to bring your voucher and any identification or documentation required by the organization.
Selection and Delivery: Once you've found the furniture items you need, present your voucher to the store staff or organization representative. They will deduct the value of the voucher from the total cost of the furniture. In some cases, the organization may also help arrange for the delivery or transportation of the furniture to your home.
Keep in mind that the availability of free furniture vouchers depends on the resources and funding of the organizations providing them. It's essential to research and contact local organizations, charities, and government agencies in your area to find out if they offer free furniture assistance programs for low income families.
Free Furniture Vouchers For Low Income Families: Different Programs Explained
Here's a list of programs that offer free furniture vouchers assisting low income families in furnishing their homes affordably –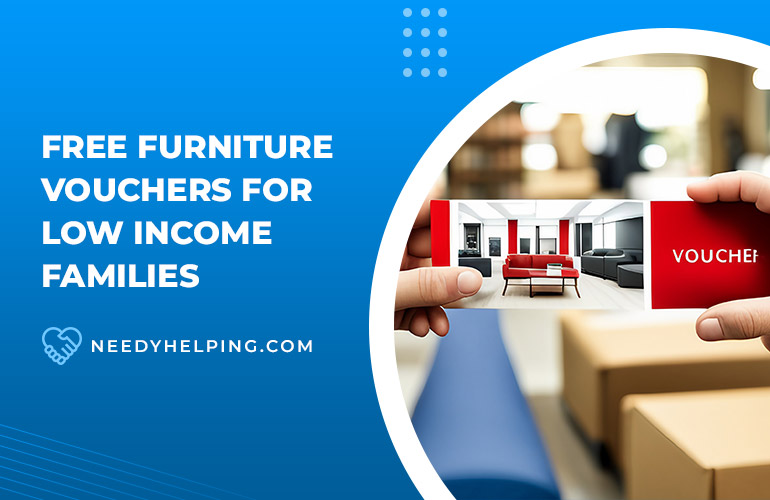 1) Saint Vincent De Paul
Saint Vincent De Paul offers free furniture vouchers for low-income families and individuals. They operate local thrift stores in Dane County, and other parts of the country, which serve as a source of basic-needs items, including furniture, for people experiencing difficult times.
Eligibility for these furniture vouchers is determined by several factors, such as, applicants must be a resident of a specific area depending on the state, and applicants should not have received a furniture voucher from Saint Vincent De Paul in the last five years.
The furnishings available through the voucher program may include essential items such as sofas, living-room chairs, card table & chair sets, plastic crates, and inflatable beds.
2) Furniture Bank Association (FBA)
The Furniture Bank Association (FBA) is an organization that supports a network of furniture banks across North America, which provide free furniture vouchers to low-income families and individuals in need. These furniture banks are registered charities, not-for-profit organizations, or social enterprises designed to offer gently used household furnishings at little or no cost.
Furniture banks collect donated furniture from people who no longer need it and redistribute it to those struggling financially to furnish their homes.
The FBA works with a network of community agencies to ensure that the right people, such as the previously homeless, unemployed, working poor, battered women and children, immigrants, and victims of disasters, gain access to the furniture.
The FBA encourages furniture banks to operate showrooms where recipients can browse and select items that suit their style and preferences. This approach allows them to take pride in their homes and make choices based on their unique tastes.
Furniture donors can request pickups for their donations within a set radius and often receive a charitable tax receipt for the value of their contribution. Additionally, furniture banks actively collaborate with city authorities and private organizations to recycle and divert waste from landfills.
3) Ashley Furniture Free Bed Assistance Program
Ashley Furniture, a prominent furniture retailer, runs a program known as "A Hope To Dream", which is dedicated to ensuring that every child has a bed of their own. This program is fueled by a portion of the mattress sales from Ashley stores, which are used to provide children with a twin mattress, bedframe, bedding, and pillow.
To qualify for the program, children must be underprivileged, between the ages of 3 and 16, and lack a bed. They should also come from very low-income families, live in poverty, or be transitioning from homelessness.
Nominations for this program are usually made by school social workers, case managers, churches, and other charitable organizations. The review and selection process varies across Ashley retail locations.
In terms of discount vouchers, Ashley Furniture offers several promotional codes and discounts, such as:
Up to 30% off on desks, chairs, and more.
Over 20% off bed frames.
An extra 10% off plus free shipping on select items with a promo code.
Over 15% off select items, up to 25% off at the Big Deal Event, and 30% off hundreds of items in a sale​.
10% off all outdoor furniture with a promo code, and 10% off sitewide with a coupon code​.
Coupon codes for $100-500 off select clearance items (up to 50% off), and $100 off on spends of $750 or more with a coupon code​.
Fast and free shipping on mattresses during the Ashley Furniture Black Friday event, and 10% off your first order with the newsletter discount.
Visit here for more information about available discounted furniture vouchers from Ashley Furniture.
Please note that these offers and discounts may be subject to terms and conditions, and may change over time. It's recommended to check Ashley Furniture's official website or contact their customer service for the most accurate and up-to-date information.
4) Goodwill Industries
Goodwill Industries is a network of 156 community-based, autonomous organizations in the United States and Canada with a presence in 12 other countries. Each organization serves people in a designated geographic region, offering various services based on the needs of those communities.
Goodwill stores, which operate as nonprofits, sell donated clothes, shoes, furniture, and other items. The revenue generated from these stores is used to fund job training, employment services, and other community programs. By donating to and shopping at Goodwill stores, individuals help support these efforts.
Regarding furniture vouchers, many Goodwill organizations offer this service to individuals and families in need. These vouchers can be used at Goodwill stores to get furniture for free or at a greatly reduced cost.
The process to obtain these vouchers and the eligibility criteria can vary depending on the specific Goodwill organization and the community's needs.
Typically, individuals or families in need may be referred to Goodwill by a social service agency. The agency will assess the individual or family's situation to determine their eligibility for a furniture voucher. If they are deemed eligible, they may be given a voucher which they can use at a specific Goodwill store.
However, it's important to note that not all Goodwill organizations may offer furniture vouchers. The availability of such programs can depend on the specific services offered by the local Goodwill organization and the community's needs.
For the most accurate and up-to-date information about Goodwill's furniture voucher program in your area, it's recommended to contact the local Goodwill organization directly. They can provide information about the availability of furniture vouchers, the process to obtain them, and any eligibility criteria.
5) Heroes Warehouses
Heroes Warehouse is a non-profit organization that provides previously homeless veterans and their families with free furniture and home essentials. The organization aims to help these individuals and families establish permanent homes at no cost to them.
Heroes Warehouse has assisted over 5,600 veteran families in San Bernardino and Riverside Counties to date. As a non-profit, the organization ensures that 100% of all donations go towards benefiting veterans. They do not have any paid staff, and all personnel are volunteers.
The organization accepts new and gently used household items including couches, loveseats, tables and chairs, coffee and end tables, lamps, dishes, and other household goods. However, due to the COVID-19 pandemic, Heroes Warehouse is currently unable to accept mattresses, large appliances, or clothing.
For free or discounted furniture vouchers, it is advised to contact the local Heroes Warehouse in your area.
6) American Red Cross
The American Red Cross is a humanitarian organization that provides emergency assistance, disaster relief, and disaster preparedness education in the United States. It is the designated US affiliate of the International Federation of Red Cross and Red Crescent Societies.
The Red Cross assists individuals and families who have experienced a disaster, such as a house fire or a natural disaster like a hurricane or a flood. Their immediate assistance often comes in the form of temporary shelter, food, clothing, and emotional support.
In some cases, as part of their disaster relief efforts, the American Red Cross may provide vouchers or financial assistance for purchasing necessary items, which could potentially include furniture. This assistance is typically part of a broader disaster recovery plan, which aims to help affected individuals and families return to normalcy.
Please note that the specifics of these programs can vary, depending on local resources and needs. Also, assistance from the Red Cross is intended to supplement, not replace, government and other forms of aid.
It's also important to note that not all disaster situations or individual circumstances may be eligible for Red Cross assistance, and not all forms of assistance may include furniture or furniture vouchers.
7) Crisis Assistance Ministries
Crisis Assistance Ministry is an organization that offers assistance to individuals and families in financial crisis, including furniture vouchers.
One of their programs includes providing essential home furnishings to people in need, which may include furniture vouchers. These vouchers can be used to acquire necessary furniture items from their Furniture & Appliance Store or other partner organizations.
To receive a furniture voucher from Crisis Assistance Ministry, individuals and families must be referred by a caseworker or social worker, and they need to meet specific eligibility criteria based on their financial situation and needs.
The application process may require documentation to verify the applicant's circumstances and demonstrate the need for assistance.
8) 211 Helpline
211 is a free, confidential referral and information helpline and website that connects people from all communities and of all ages to essential health and human services they need, 24 hours a day, seven days a week, 211 can be accessed by phone or computer.
The 211 helpline is available in the United States and most of Canada. It can assist with a range of issues, including food, furniture, housing, employment, health care, counseling, and more.
It's important to note that while 211 is a highly useful service, the specific resources and services available will depend on your location.
If you're in need of free furniture vouchers, dialing 211 or visiting the 211 website for your region can be a good first step.
9) Habitat ReStores
Habitat ReStores, which are operated by Habitat for Humanity, primarily function as retail outlets selling donated furniture, appliances, and building materials at discounted prices to support the organization's mission of building affordable housing.
While Habitat ReStores themselves do not typically offer furniture vouchers directly, they may partner with local non-profit organizations, charities, or government agencies that provide furniture vouchers to individuals and families with low income.
In such cases, eligible recipients can use their furniture vouchers at participating Habitat ReStores to acquire necessary furniture items.
It is essential to check with your local Habitat ReStore and nearby assistance programs to determine if they have partnerships in place for providing and accepting furniture vouchers.
Benefits of Free Furniture Voucher Programs
Participating in furniture voucher programs can offer numerous benefits for both the recipients and the organizations involved. Here are some key advantages:
For Recipients:
Financial relief: Low-income families and individuals often struggle to afford essential furniture items, which can negatively impact their quality of life. Free furniture vouchers help alleviate some of this financial burden, allowing recipients to furnish their homes without incurring additional debt.
Improved living conditions: Access to adequate furniture can significantly improve living conditions by providing comfort, functionality, and a sense of stability. This can have a positive impact on mental well-being, as well as physical health, especially for children who need proper beds and study areas.
Tailored assistance: Furniture voucher programs often cater to specific needs, such as assisting survivors of domestic abuse, veterans, or disaster-affected families. This targeted support ensures that those most in need receive appropriate help.
Community support: By connecting with local organizations and charities, recipients of free furniture vouchers can also access other resources and support networks, fostering a sense of community involvement and belonging.
For Organizations:
Community engagement: Participating in such voucher programs allows organizations to actively engage with their local communities, demonstrating their commitment to social responsibility and building goodwill.
Resource distribution: These programs enable organizations to efficiently distribute donated furniture to those who need it most, ensuring that valuable resources are not wasted and that they reach the intended beneficiaries.
Environmental benefits: By redistributing used or donated furniture, these programs contribute to reducing waste and promoting sustainability, as fewer items end up in landfills.
Volunteer opportunities: Free furniture voucher programs often rely on volunteers to help collect, refurbish, and distribute furniture. This provides meaningful opportunities for people to give back to their community and gain valuable skills and experience.
Partnerships and collaboration: Participation in free furniture voucher programs can lead to partnerships and collaboration between various organizations, charities, and government agencies. This network can enhance the overall effectiveness of assistance efforts and create a more significant impact.
FAQs about Furniture Vouchers
1. What are Free Furniture Vouchers?
Free furniture vouchers are a form of assistance provided by organizations, charities, and government agencies to help low-income families and individuals acquire essential furniture items for their homes.
2. Who is Eligible for Free Furniture Vouchers?
Eligibility criteria for free furniture vouchers vary depending on the organization or agency providing them. Typical requirements include low income, homelessness, domestic abuse survivor status, being a veteran, or having experienced a natural disaster.
3. How do I Apply for Free Furniture Vouchers?
To apply for free furniture vouchers, you'll need to research and contact local organizations, charities, and government agencies in your area that offer such programs. Each organization has its own application process, which may involve filling out forms, providing proof of income, and explaining your current living situation.
4. Where can I use My Furniture Vouchers?
You can use your furniture vouchers at participating stores or organizations that accept them. This may include thrift stores operated by organizations like the Salvation Army or Goodwill, furniture banks, or partner retailers ranging from local furniture stores to larger chains.
5. Can I Choose Furniture Item with My Voucher?
The specific items you can acquire with your voucher will depend on the organization providing it and the terms of the voucher itself. Some vouchers may specify certain items or categories, while others may give you more flexibility in your choices.
6. Do Free Furniture Vouchers Expire?
The expiration date of Free Furniture Vouchers can vary. Some vouchers may not have an expiration date, while others might need to be used within a certain time frame. It's important to check the terms and conditions of the specific voucher.
7. What can I buy with a Furniture Voucher?
Furniture Vouchers typically allow recipients to purchase necessary household furniture items like beds, tables, chairs, and sometimes appliances.
8. Can I Exchange My Free Furniture Voucher for Cash?
Generally, Free Furniture Vouchers cannot be exchanged for cash and must be used for their intended purpose, which is to provide furniture for those in need.
9. What Happens if I Lose My Free Furniture Voucher?
The policy for lost vouchers can vary by organization. In some cases, a lost voucher might be replaced, but in others, it may not be possible. It's important to keep the voucher safe and to contact the issuing organization if it is lost.
Also Read – Free Beds for Low Income Families (9 Assistance Programs)
Conclusion
In conclusion, Free Furniture Vouchers for low income families can be a lifeline and help them with their home furnishing needs. From beds to tables and appliances, these vouchers can cover a variety of household needs.
If you're a low-income family in need of furniture, start by researching local resources, contacting relevant organizations, and applying for these programs. Remember, it's important to provide complete and accurate information during the application process.
Although the process may seem overwhelming at first, it's definitely worth it when you consider the potential benefits.
So, don't hesitate—take the first step today towards securing a Free Furniture Voucher and making your house feel more like a home.