Churches That Give Away Free Clothes have long been a cornerstone in supporting their communities, offering practical assistance to those in need.
If you or someone you know is struggling to afford clothing, it's time to explore the invaluable resources provided by local churches and religious organizations.
Clothing is an undeniable basic necessity, and everyone deserves access to clean, appropriate attire. For those experiencing financial hardship, purchasing new clothes can be an overwhelming burden.
Thankfully, free clothing programs from churches enable low-income families and individuals to allocate their limited budgets towards essentials like rent and food assistance.
In this article, we will guide you through various free clothes give away programs from nearby churches, helping you meet basic needs, maintain self-esteem, and stretch your budget further.
Local Churches That Give Away Free Clothes Near Me
Below is the list of popular churches help needy people with their clothing needs through free clothes give away programs –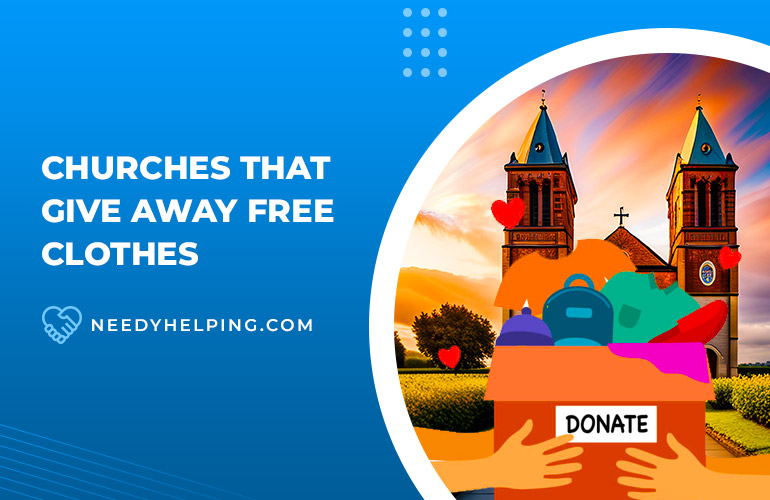 1. Hope Christian Fellowship
Hope Christian Fellowship is a church located in Warrenton, Virginia that offers free clothing to those in need.
Every October, the church hosts an annual clothing giveaway event where people can come and receive free clothes. The event is open to everyone, regardless of their financial situation.
The church has a wide range of clothes available for men, women and children in different sizes. They also have a clothing department store where people can find items such as t-shirts, linens, and small house wares.
They have partnered with Hope Outfitters, an online store that donates 100% of its profits back to the cause.
Through their generous donations and events like the annual Clothing Giveaway, they are helping to make a difference in the lives of many people in their community.
2. Catholic Charities
Catholic Charities is a faith-based organization that provides free clothes to people in need. They have locations throughout the United States, including Austin, Texas.
Through their Clothes Closet program, they provide free clothing, shoes, toys, and diapers to those who are homeless or living in poverty. They also offer vouchers for free clothing to those who qualify.
In Austin, they partner with St. Stephen's Clothes Closet and Trinity Center to provide free clothes for financially challenged people.
For those who are unable to make it to one of their physical locations, Catholic Charities offers a Clothing Donation Drop Box program where gently used belongings can be donated at various locations in Hunterdon, Middlesex, Somerset, and Warren counties.
They also accept donations of gently used clothing and household items at their thrift store locations.
They are open from 9 a.m. to 7 p.m. Monday through Friday and from 10 a.m. to 7 p.m. on Saturday. Please note that the organization remain closed on Sunday.
3. The Salvation Army
The Salvation Army helps people with their clothing needs by accepting donations of gently used clothing, furniture, appliances, and household items.
These donations are either sold at affordable prices in their family stores or given directly to those in need through local churches or other social centers.
By donating or shopping at The Salvation Army Family Store, you're contributing to a meaningful cause and making a positive impact on the lives of individuals in your community.
Donating items also allows you to declutter your home and receive a tax deduction, while shopping at the store ensures access to affordable clothing and essentials.
The organization also offers a convenient pick-up service for donations, making it easy to contribute to this life-changing organization.
4. Community Clothes Closet
Community Clothes Closet is a non-profit charitable organization that provides free clothing to people in need. Established as a Christian outreach, Community Clothes Closet has been helping families since its inception.
They provide new and gently used clothing for men, women, and children of all ages. They also offer school uniforms and other items such as coats, shoes, hats, and accessories.
Community Clothes Closet works with local churches, schools, businesses, and organizations to ensure that everyone in the community has access to the clothing they need.
They also partner with other organizations such as Manos de Cristo in Austin, Texas which offers a clothing closet providing free basic clothing to families and individuals in need.
By providing free clothing and educational resources, Community Clothes Closet helps people get back on their feet and build better lives for themselves and their families.
5. Must Ministries
Must Ministries is a non-profit organization that provides assistance to individuals and families in need. They offer a variety of services, including food, clothing, housing, employment, and other resources.
Must Ministries operates four clothing centers in the Atlanta area where people can receive clothing for themselves or their family members.
The centers are open five days a week and accept donations of new or gently used items such as shoes, blankets, toys, towels, books and more.
In addition to providing clothing directly from their centers, Must Ministries also offers vouchers for those who qualify to receive clothing at one of their partner locations such as Hope House campus (Working Hours: Monday – Friday 10:30 a.m. – 12:30 p.m.).
To get free clothes from Must Ministries, clients must bring proof of identification, current address proof, and social security number (SSN).
6. Saint Anthony's Free Clothing Program
Saint Anthony's Free Clothing Program is a great resource for those in need of clothing.
Located in San Francisco, California, this program provides new and gently-used clothing to individuals and families experiencing homelessness or low-income.
The program offers a variety of items, including casual wear, warm coats, shoes, and interview or employment apparel. It also provides children's clothing for those 18 years old and younger.
However, you need to book an appointment first. To schedule an appointment, all guests must visit FreeClothingSF.org.
For first-time appointments or if you haven't visited in a while, please note that you need to consult with a staff member face-to-face before booking your appointment.
St. Anthony's Free Clothing Program Schedule:
Operating Hours:
Monday, Tuesday, Thursday, Friday: 8:15am – 4:00pm
Wednesday (Individual Service Only): 8:15am – 12:00pm
Saturday (Family Service Only): 8:30am – 3:00pm
Besides it, they remain closed during holidays like Martin Luther King Jr. Day, Presidents' Day, Good Friday and day after, Memorial Day, Independence Day, Labor Day, Thanksgiving, and Christmas.
7. St. Vincent De Paul
St. Vincent de Paul is an international organization of lay Catholics that follows Christ's call to serve the poor, suffering, and deprived.
Through their clothing ministries and thrift stores, they provide assistance to those in need by providing them with access to affordable clothing.
At their thrift stores, customers can find a variety of gently used clothing items at discounted prices. They also offer a home pick-up service for those who are unable to make it into the store.
The St. Vincent de Paul Boutique and Thrift Store in Austin offers a wide selection of clothing items for men, women, and children at discounted prices.
They also accept donations from the community so that they can continue to provide affordable clothing options for those in need.
8. The United Methodist Church
The United Methodist Church has been helping people with their clothing needs for many years.
From the Fig Leaf Store Ministry to the Clothes Closet at First United Methodist Church, UMC is providing assistance to those in need.
The Fig Leaf Store Ministry provides casual, gently used clothing for men and women, while the Clothes Closet serves men experiencing homelessness.
UMC also offers apparel stores like ApparelNow where people can purchase United Methodist Church merchandise such as T-shirts, hoodies, hats, and embroidered casual wear.
There are also programs like Open Door Brunch and Clothing Services by University United Methodist Church (UUMC) Austin that provide free clothing services to residents of Austin, TX.
For 23 years, Men's Clothes Closet ATX has been providing clothing and other donated items to men experiencing homelessness in Austin with compassion and care.
There is also a Methodist Church Clothing store on Zazzle where people can shop for a new wardrobe with customizable Methodist Church clothing.
This is how The United Methodist Church helps people with clothing needs through its different ministries and programs.
9. Northpointe Community Church
Northpointe Community Church offers free clothes to needy people through their thrift store, "Enough."
The store, open to the public, stocks clothing items for all age groups, ranging from newborns to 3X. Located at 4401 N Milburn Ave, Fresno, CA 93722, Enough operates from Tuesday to Saturday, between 10am and 6pm. For more information, you can contact them at (559) 227-7777.
By providing free clothes, Northpointe Community Church aims to assist those in need, promote sustainability, foster a sense of community, and educate children about the value of giving back to others.
If you require free clothing or wish to donate to the Enough store, please visit the church's website or get in touch with them directly.
10. Peoples Church
Peoples Church in Fresno, CA assists individuals with their clothing needs through their clothing pantry, which is open to the public.
This valuable resource operates every Tuesday from 9:00am to 11:00am at the PC Care Center, situated on the church's campus at 7172 N Cedar Ave, Fresno, CA 93720.
To benefit from the Peoples Church clothing pantry, you must provide proof of residency in Fresno County by presenting a driver's license, ID card, or utility bill.
Visitors are requested to bring a bag or box to carry the clothes you receive.
The clothing pantry offers a wide range of clean and gently used clothing items for men, women, and children, including shoes, coats, and accessories.
By providing free clothes to those in need, Peoples Church supports the local community and helps alleviate the burden of clothing expenses for struggling families and individuals.
If you live in Fresno County and require free clothes, consider visiting the PC Care Center at Peoples Church on Tuesdays between 9:00am and 11:00am. For further information, contact them at (559) 298-8001.
11. Lifehouse Church
Lifehouse Church helps people with their clothing needs through two referral-based clothing ministries: Martha's Closet and Career Closet.
These ministries cater to individuals and families in need, providing casual clothing through Martha's Closet and professional/business casual attire for job interviews, new employment, or special occasions through Career Closet.
To access these services, clients must be referred by an agency, school, or church using an online referral form.
Referral options include 'IN-PERSON SHOPPING,' where clients visit the ministry to shop for clothes at their convenience, and 'PULL CLOTHING,' where clothing items are pre-selected for the client, and the caseworker comes to pick them up.
Once a referral is submitted for either Martha's Closet or Career Closet, it will be reviewed and approved.
A confirmation approval email will be sent to the referring party before the next open date.
This is how Lifehouse Church remains committed to assisting clients in meeting their clothing needs.
Why Do Churches Offer Free Clothes For People?
Many churches offer free clothes to people in need as a way of providing assistance and support. It is an act of kindness that helps those who are struggling financially and may not be able to afford clothing for themselves or their families.
To understand why do local churches run free clothes programs, you need to first look into the facts about clothing poverty in the USA.
Clothing poverty affects more than 20 million children in the USA.
The cost of clothing has increased by more than 50% in the past 20 years, while wages have remained stagnant.
More than 1 in 4 low-income families find it difficult to afford basic personal care items and household goods.
Nearly 1 in 4 children in the USA live in families that cannot afford to buy them new clothes.
People who lack access to adequate clothing may be more likely to experience health problems, such as hypothermia and skin infections.
Those of us in the business of offering free clothes to struggling families receive almost no help from grant makers.
Students with tattered clothes are more likely to face social isolation and bullying at school.
It shows that how clothing poverty can have a negative impact on a person's physical and mental health, as well as their social and economic opportunities.
We believe that this could be the motivation for local churches offering free garments to low income families.
How do Churches Acquire the Clothes to Give Away for Free?
Churches acquire clothes to give away for free in a variety of ways.
One of the most common methods is through donations from members of the congregation or community.
Many churches have donation drives where they collect gently used clothing items from members and local businesses.
The church then sorts and organizes the clothing into categories such as men's, women's, children's, etc., and makes them available to those in need.
Another way churches acquire clothes to give away for free is through partnerships with local charities or organizations that specialize in providing clothing to those in need.
These organizations often receive donations from individuals and companies, which they then distribute to churches and other charitable organizations.
Besides it, some churches purchase new clothes directly from retailers or wholesalers at discounted prices. This allows them to provide quality clothing items to those in need without having to rely on donations or partnerships with other organizations.
Eligibility To Receive Clothing From Churches Near Me
The eligibility criteria for receiving clothing from nearby churches may vary depending on each church's specific policies.
Generally, you may need to meet certain requirements to be eligible, such as –
You may require to submit a recent pay stub or a letter from a social service agency.
You may need to provide a proof of residency such as driver's license or utility bill.
Some programs may require age, income, gender, and location verification.
Besides above ones, some churches may have additional requirements, like placing a limit on the number of items you can receive, or requiring you to attend church services regularly.
How to Find a Church Giving Away Free Clothes Near You
Below are some ways you can follow to find local churches giving away free clothes for men, women, and children.
Research Online: Use search engines like Google to look for churches in your area that provide free clothes.
Local Community Centers: Visit or call your local community centers, as they often have information about church events and resources available to the community, including clothing giveaways.
Social Media: Follow local churches and community organizations on social media platforms like Facebook, Twitter, or Instagram. They often post information about upcoming events, including free clothing drives.
Word of Mouth: Ask friends, family, or neighbors if they know of any churches in the area that give away free clothes.
Local Newspapers and Bulletin Boards: Check your local newspaper for announcements about events at nearby churches, or look for flyers posted on community bulletin boards.
Contact Churches Directly: Call or visit local churches and inquire about any clothing drives or assistance programs they may offer. Even if they don't have an event planned, they might be able to direct you to other resources in the community.
Nonprofit Organizations: Reach out to nonprofit organizations like the Salvation Army or Goodwill, as they often collaborate with churches in organizing clothing drives and may have information about upcoming events.
By using these methods, you should be able to locate a church giving away free clothes near you. Remember to be patient and persistent, as it may take some time to find the right resources for your needs.
Steps To Get Free Clothes From A Nearby Church
Once you found the local church near you that offers free apparels, your next step should be to know how to get free clothes from the church.
Follow the below steps –
Step 1 – Check the requirements: Some churches may have specific requirements for individuals who want to receive free clothes, such as income qualifications or residency proof. Visit the church's website or call them to ensure you meet their criteria.
Step 3 – Find out the schedule: Churches usually have designated days and times for clothing giveaways. Make sure to note the dates and times for the next event to plan your visit accordingly.
Step 4 – Prepare necessary documentation: If the church requires any documentation, such as proof of income, identification, or residence, gather these documents before attending the event.
Step 5 – Arrive early: Clothing giveaways can be quite popular, and items may go quickly. Arrive early to ensure you have the best selection and avoid long waiting times.
Step 6 – Be patient and courteous: Remember that churches and volunteers organize these events to help those in need. Be patient and respectful while waiting in line and interacting with others.
Step 7 – Browse the available clothes: Once inside, look through the clothing options and select items that fit your needs. Keep in mind the limitations set by the church, such as the maximum number of items you can take.
Step 8 – Thank the volunteers and organizers: Before leaving the event, express your gratitude to the volunteers and organizers for their efforts in providing this valuable service to the community.
By following these steps, you can successfully obtain free clothes give away by church and benefit from their generosity.
Alternative Ways To Get Free Clothes
American Red Cross
Best Foot Forward
Centre Thrift Store Vouchers
The Women's Alliance
The Pajama Project
Vietnam Veterans of America
Clothes Bank
Goodwill
Planet Aid
FAQs about Churches Giving Away Free Clothes Near Me
Where Can I Go to Donate My Gently Used Clothes?
You can donate your gently used clothes at various locations such as local thrift stores, churches, charity shops, homeless shelters, and non-profit organizations like Goodwill and The Salvation Army. Remember to clean and sort your clothes before donating to ensure they are in good condition for their new owners.
Do Churches Offer Good Quality Clothes in their Free Giveaways?
Yes, churches often offer good quality clothes in their free giveaways. They typically receive donations from the community, ensuring a variety of clothing items in different sizes and styles. However, the quality and selection may vary depending on the donations received. Attending multiple church giveaways can increase your chances of finding good quality clothes that suit your needs.
What if My Town doesn't have any of the Churches Listed that Offer Free Clothes?
If your town doesn't have any of the churches listed that offer free clothes, you can explore alternative options such as local non-profit organizations, community centers, thrift stores, or online resources like Freecycle and Facebook Marketplace.
Which Types of Clothing Items are not Accepted by Churches?
Churches typically do not accept clothing items that are stained, torn, excessively worn, or damaged. They also might not accept undergarments and swimwear unless they are new and unused, with tags still attached.
Should you Wash Clothes before Donating to Charity?
Yes, it is advisable to wash clothes before donating them to charity. This ensures that the items are clean, hygienic, and ready for immediate use by the recipients.
Also Read – 10 Best Church Assistance Programs for Single Mothers
Conclusion
In brief, this was all about local churches that give away free clothes to needy people.
When it comes to the right of everyone to have access to properly fitting clothes, churches are often a beacon of hope. Not only do free clothing programs from churches enable those in need to maintain their dignity, but they also allow low-income families and individuals to allocate their limited budgets towards essentials.
These churches offer free clothes to financially struggling individuals, enabling them to concentrate on vital matters like health care and employment.
It is upon all of us to find ways to create an equitable world where everyone has access to basic necessities – from clothing to food – regardless of economic status or any other factors.
Hope this post helped you find churches giving away free clothes to people in need.