Discover valuable resources for free gas cards (vouchers) to ease transportation costs for low-income families and cancer patients. Learn about assistance programs, eligibility, and application tips.
Life can be challenging, especially when you're facing financial difficulties or dealing with a life-threatening disease like cancer.
Transportation, especially the price of gasoline, is one of the biggest expenses for these individuals.
Fortunately, there are several assistance programs available through which you can get a free gas card or voucher.
So, let's dive in and learn about these valuable resources and how they can help you out with free gas vouchers.
What are Free Gas Cards?
Free gas cards, also known as vouchers, are prepaid cards provided by various organizations and programs to assist low-income families and cancer patients with their transportation needs.
These cards can be used at participating gas stations to fill up your vehicle without spending a dime from your pocket.
The primary purpose of free gas cards is to alleviate the burden of transportation costs, which can be a significant expense for many households.
According to the latest data, an average American spent approximately $2,500+ on gasoline and motor oil in 2022.
Besides this, Gas prices in America have seen a significant increase since 2022.
According to the American Automobile Association (AAA), the average price of gasoline in Texas was $3.150, $3.545, $3.872, and $3.358 on June 14th 2023, compared to an average of $2.902, $3.258, $3.564 and $2.936 on June 14th 2022 – an increase of 8%, 9%, 8%, and 15%, respectively.
For low-income families and cancer patients who often need to travel to medical appointments or treatment centers, these costs can quickly add up, making free gas cards a valuable resource.
How to Get Free Gas Cards for Low Income Families?
There are several non-profit organizations, charities, and government assistance programs available for low-income families to obtain free gas cards.
Here are a few different ways people can follow to get a free gasoline card –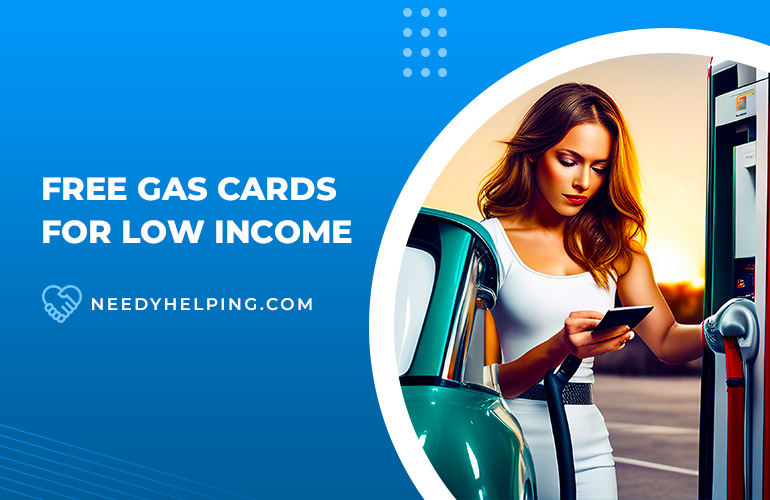 1) Non-Profits and Churches that Help with Gas Cards
Many non-profits, churches, and charity organizations are giving away gas cards for free. It helps people with low income to cover the cost of day-to-day transportation needs.
Here is a list of organizations and churches that offer free gas cards to low-income families:
Free Gas USA: Low-income individuals and families in the United States can apply for fuel grants from this organization. You can submit an application for a free gas card through their website.
Salvation Army: The Salvation Army offers a variety of assistance programs, including free gas vouchers. You can contact your local Salvation Army to inquire about their gas voucher program.
Catholic Charities: Catholic Charities is a non-profit organization that provides a variety of social services along with free gas vouchers. You can contact your local Catholic Charities to inquire about their gasoline voucher program.
Help for Gas: Low-income families and individuals can apply for free gas vouchers or cards from this organization either online or by mail.
Non-Emergency Transportation (NET): This organization offers gas vouchers to low-income families and individuals requiring transportation for medical appointments or other vital services. To apply for a free gas card, you can submit your application either online or through postal mail.
St. Vincent de Paul: If you are a low-income individual or family and need help with gas expenses, you can check with your local St. Vincent de Paul to learn about their gas voucher program. They provide gas vouchers to those who qualify.
United Methodist Church: Discover valuable assistance with gas vouchers for low-income families through your local United Methodist Church. Reach out to them and explore their gas card program.
Feeding America: Some Feeding America food banks may offer gas cards at no cost. You can reach out to your local Feeding America food bank to ask about the available gas card assistance program.
Love INC (In the Name of Christ): Love INC connects Christian churches to assist individuals and families, including offering free gas cards for transportation needs. Locate a nearby affiliate through their website's location search feature.
Besides all of these, local churches often provide assistance programs, including gas cards for transportation needs. What you need to do is, contact churches in your area to inquire about available aid.
2) Government Assistance Programs Offering Free Gas Cards
For low-income families struggling to afford vehicle gas, government assistance programs can provide much-needed relief.
Here is a list of government assistance programs that are offering free gas cards to low-income families –
Temporary Assistance for Needy Families (TANF): TANF is a federal program that provides cash assistance to low-income families with children. Some states use TANF funds to provide gas cards to families who need help paying for transportation to work, school, or medical appointments.
Medicaid: Medicaid, a federal health insurance program for low-income individuals and families, offers transportation assistance along with free gas cards in some states to help recipients attend medical appointments.
The Low Income Home Energy Assistance Program (LIHEAP): The LIHEAP program is a federal assistance program designed for low-income households to help them with their home heating and cooling costs. Certain states may even offer transportation assistance with gas cards or vouchers at no cost at all.
The Earned Income Tax Credit (EITC): The EITC is a government tax credit that helps low- and moderate-income individuals and families who are employed. In certain states, EITC funds are allocated to provide different types of transportation assistance including gas cards for EITC recipients.
State-Specific Transportation Assistance Programs: Low-income families can receive transportation assistance through state programs that offer free gas cards, public transit vouchers, and other support. To check if your state has one of these programs, visit your state's Department of Social Services website or contact your local government office.
3) Free Gas Loyal and Reward Programs
Some gas stations, payment apps, and credit cards offer free gas gift cards, loyalty programs, and cash-back rewards that allow customers to earn points on gas purchases.
While this option may not provide immediate assistance, it's worth exploring as a long-term solution to help reduce your gas expenses –
Here is a list of free gas loyalty and reward programs –
GetUpside: The GetUpside app provides cash back on gas purchases at more than 30,000 gas stations across the country. With this app, you can earn up to 25 cents cash back per gallon. Best of all, the app is free to use!
GasBuddy: A free app that can assist you in locating the most economical gas prices in your area. You can accumulate points by purchasing gas that can be used to obtain discounts on subsequent gas purchases.
Shell Fuel Rewards: The Shell Fuel Rewards program offers discounts on gas purchases at Shell stations for free. Discounts can be earned by shopping at participating retailers, dining out, and taking surveys.
Exxon Mobil Rewards+™: The program is free and offers points when you buy gas at Exxon and Mobil stations. You can use the accumulated points to get discounts on future gas purchases or other rewards like free car washes.
Speedy Rewards: Speedway offers a loyalty program that rewards you with points when you purchase gas at their stations. The program is free to join. You can use the points you earn to get discounts on fuel purchases or to redeem other rewards, including free food and drinks.
Besides these, you can also get gas without money through the below ways –
Credit Card Rewards: Earn free gas gift cards by using credit cards with rewards programs specifically for gas purchases.
Gas Station Credit Cards: Apply for a gas station-specific credit card that offers discounts or cashback on fuel purchases.
Loyalty Programs: Join gas station loyalty programs to earn points or discounts on fuel.
Grocery Store Rewards: Redeem grocery store rewards points for discounted or free gas at participating stations.
Free Gas Sweepstakes: Enter sweepstakes that offer free gas as prizes.
Swagbucks Points: Use Swagbucks points to obtain free gas gift cards.
Discounted Gift Cards: Purchase discounted gas gift cards through online marketplaces or promotions.
GasBuddy Membership: Become a GasBuddy member to access exclusive discounts and savings on fuel.
These are just a few of the many free gas loyalty and reward programs available. You can find more information about these programs and others by searching online.
How to Get Free Gas Cards for Cancer Patients?
Cancer patients often face numerous challenges, including the financial burden of traveling to and from treatment centers.
Here are some resources specifically designed to help cancer patients obtain free gas cards:
1) American Cancer Society
The American Cancer Society does not provide free gas cards for cancer patients directly. Instead, they do offer a variety of transportation assistance programs such as Road to Recovery, Hope Lodge, Ronald McDonald House Charities.
Besides it, the American Cancer Society also offers financial assistance to cancer patients who are struggling to pay for their treatment.
This assistance can be used to cover the cost of gas, parking, and other transportation expenses.
2) CancerCare
Although CancerCare does not provide free gas cards directly to cancer patients, they do have a program called OvarCare that assists ovarian cancer patients in active treatment.
This program includes a $100 gas card, which can aid in covering the cost of transport for treatment appointments.
To be eligible for OvarCare, patients must meet the following criteria:
Be diagnosed with ovarian cancer
Be in active treatment
Have an annual income below $60,000 for a single person or $80,000 for a couple
3) Local Cancer Support Groups and Organizations
Local cancer support groups and organizations provide free gas cards to cancer patients as a part of larger financial assistance programs or on a case-by-case basis.
Here are a few examples –
Tenaciously
Hope Chest for Breast Cancer Patients
The Cancer Card Xchange
What is the Eligibility Criteria to Recieve a Gas Card for Free?
To receive a free gas card, you must typically meet certain eligibility requirements. These may differ depending on the organization or program offering assistance.
Here are some common criteria to consider:
Financial Need: Applicants usually need to demonstrate financial hardship, such as being part of a low-income family or receiving government assistance like SNAP or TANF.
Proof of Employment: Some programs require proof of employment or active job search to ensure that the gas card is used for work-related transportation.
Medical Appointments: Individuals with frequent medical appointments might be eligible for gas cards, particularly if they have limited access to alternative transportation options.
Essential Services: Access to essential services, such as grocery shopping, school, or attending community programs, may also qualify you for a gas card.
Residency: Many organizations require applicants to be residents of their service area or local community.
To determine your eligibility, research the specific organization or program offering the free gas card and contact them for their exact requirements.
How to Apply for Free Gas Cards Online?
To improve your chances of obtaining a free gas card, follow these tips –
Gather all necessary documentation: Before applying for assistance, gather any required documentation, such as proof of income, medical records, or identification. This will help streamline the application process and demonstrate your eligibility.
Be honest and thorough: When filling out application forms, be honest and thorough in providing the requested information. This will help organizations better understand your needs and determine your eligibility for assistance.
Apply to multiple programs: Don't limit yourself to just one program or organization. Apply to multiple resources to increase your chances of receiving assistance.
Follow up on your applications: After submitting your applications, don't hesitate to follow up with the organizations to check on the status of your request.
FAQs about Gas Card Assistance Programs
Can you Get a Free Gas Card?
Yes, you can get a free gas card if you qualify for assistance from non-profit organizations, charities, government programs, or churches. Research local resources, check eligibility criteria, and follow the application process for each organization to obtain a free gas card.
Is Free Gas Card Worth It?
A free gas card is worth it as it helps you save on fuel expenses and aligns with your driving habits. By taking advantage of rewards programs, and discounts on purchase of gasoline, you can reduce your transportation costs. Always check the terms and conditions to ensure the gas card meets your specific needs.
How to Get a Gas Gift Card?
To get a gas gift card, buy one at a gas station or online, join loyalty programs, use credit cards with rewards, search for discounted gift cards on online marketplaces, or earn points through survey websites and apps. Always check compatibility and verify the authenticity of sources before purchasing.
Are Free Gas Cards Compatible with all Gas Stations?
Free gas cards may be specific to certain gas station chains or brands. Always check the compatibility before using them.
Do Free Gas Cards have an Expiration Date?
Yes, free gas cards typically have an expiration date. The expiration date is usually printed on the card itself. It is important to check the expiration date before using the card, as it will not be accepted after the expiration date.
Can I Use a Gas Card for Other Purchases at a Gas Station?
This depends on the specific terms and conditions of the gas card. Some cards may only be used for fuel, while others might allow additional purchases like snacks or car wash services.
Can I Combine a Free Fuel Card with other Discounts?
It depends on the gas station's policies and the specific promotion. Check the terms and conditions or inquire at the gas station to determine if combining offers is allowed.
How Much Fuel I Can Purchase with a Free Gas Card?
The amount of fuel you can purchase with the free gas card depends on its value. For example, if the gas card is worth $50 and the price of gas is $1 per gallon, you can buy up to 50 gallons. However, if the price of gas is higher than $1 per gallon, you will be able to purchase less than 50 gallons with the same gas card.
Can I Transfer a Free Gas Card to Someone Else?
Most gas cards are transferable, making them a great gift option. However, always check the terms and conditions to ensure the card is transferable before giving it to someone else.
Do I Need to Activate my Free Gas Card?
Yes, you need to activate your free gas card before you can use it. Activation usually involves calling a toll-free number or registering online. The activation process will vary depending on the specific card issuer.
What Should I do if my Gas Card is Lost or Stolen?
Immediately contact the gas station or the issuer of the card to report the loss and inquire about possible replacement options.
Also Read – 24 Ways to Get Free Cars for Low Income Families
Conclusion
In conclusion, free gas cards can be a valuable resource for low-income families and cancer patients struggling with transportation costs.
With the right approach, you can obtain the assistance you need to make life a little bit easier during challenging times.