After hours of research, we have come up with several car assistance programs that offer free cars for low income families.
So, are you a low-income family looking for an affordable and reliable way to get from point A to point B? If so, you may be excited to learn that there are organizations out there that offer free cars for qualifying families!
By taking advantage of these generous car assistance programs, you can save significant money on transportation costs. It also relieves some of the stress caused by relying on public transportation or ridesharing services.
Let's check out each program one by one and discuss who is eligible and how to apply.
How Do I Get a Free Car – Can It Be Really Possible?
Yes, getting a free car for low income families is indeed possible, though it may require some research and effort on your part. Various charitable organizations, non-profits, and government programs aim to provide free cars to those in need, including low-income families, people with disabilities, and veterans.
Here are some steps to help you find a free car –
Determine your Eligibility: Most programs that offer free cars have specific eligibility criteria, such as income level, employment status, or disability. Carefully review the requirements to ensure you qualify for assistance.
Research Local and National Programs: Look for charitable organizations, non-profits, and government programs that offer free cars in your area. Some well-known programs include 1-800-Charity Cars, Vehicles for Change, and Good News Garage, among others.
Apply for Assistance: Once you've found a suitable program, complete their application process. This may involve submitting personal information, financial documents, and a description of your need for a vehicle.
Explore Alternative Options: If you don't qualify for a free car through a specific program, consider other options like low-cost auto loans, car-sharing programs, or public transportation.
Be Patient and Persistent: Obtaining a free car may take time, as many programs have waiting lists or limited resources. Stay persistent in your search, and keep an eye out for new opportunities.
Is There a Government Program that Provides Free Cars?
While there isn't a specific government program that directly provides free cars, there are various government-funded programs and initiatives that can help low-income families and individuals with their transportation needs.
Some of these programs offer financial assistance or affordable financing options for purchasing a vehicle.
Here are a few examples:
Temporary Assistance for Needy Families (TANF): This federal program provides financial aid to low-income families, which can be used for various purposes, including transportation. While TANF funds may not cover the entire cost of a car, they can contribute to a down payment or ongoing expenses like insurance and maintenance.
Department of Health and Human Services (HHS) Grants: HHS offers grants to non-profit organizations that provide services to low-income individuals and families. Some of these organizations may offer transportation assistance, such as free or low-cost cars, depending on the specific grant and program.
State and Local Programs: Many states and local governments have programs designed to help low-income families with transportation needs. These programs may offer financial assistance, low-interest auto loans, or access to donated vehicles. The availability and eligibility criteria vary by location, so it's essential to research programs in your area.
Vocational Rehabilitation (VR) Agencies: For individuals with disabilities, state VR agencies may provide assistance with transportation needs, including vehicle modifications and, in some cases, help with obtaining a car.
While there isn't a direct government program that provides free cars, these resources can help you find financial assistance or affordable options to secure reliable transportation.
Now, let's check out non-profit organizations and charities that specialize in providing free cars to those in need.
Free Cars for Low Income Families – Car Assistance Programs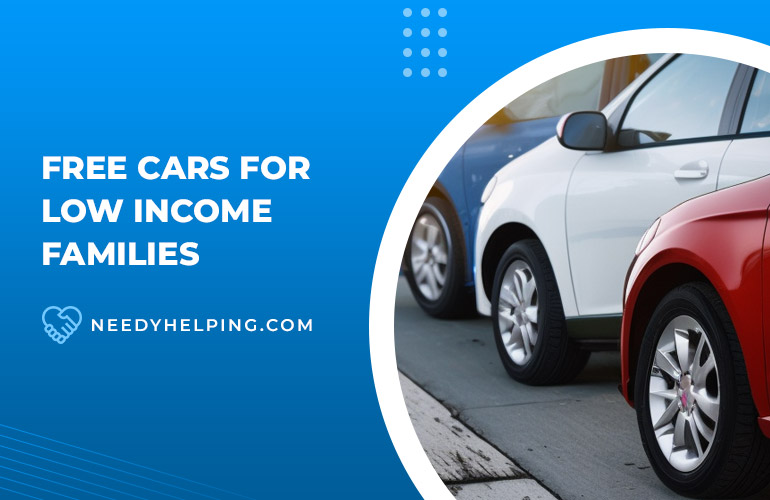 1. Good News Garage
Good News Garage is a nonprofit car donation program that helps low-income individuals and families have access to transportation for work, childcare, and other necessities.
The organization currently provides services to people living in Vermont and Massachusetts and has helped over 5,500 families to date.
The donated cars are inspected and repaired by qualified mechanics before being used. This 72-point inspection ensures the vehicle is safe and reliable.
Website: https://goodnewsgarage.org/
2. Charity Motors
Charity Motors is a nonprofit organization that helps low-income families by providing a 50% subsidy to those who need a car.
They accept vehicles as donations in any condition, whether running or not. These donated vehicles are then sold, and the proceeds from the sale are used to fund the subsidy program.
As a reward, the donor gets to choose a charity to which a portion of the proceeds from the sale of their car will be donated. They also receive a full fair-market value tax deduction for the donation of their car​.
Charity Motors has donated more than $100 million in charitable gifts and car subsidies to those in need, and nearly 50,000 low-income individuals have received transportation assistance through their programs​.
Website: https://www.charitymotors.org/
3. Working Cars for Working Families
Working Cars for Working Families is a project of the National Consumer Law Center that aims to ensure working families can obtain, maintain, and use a reliable car on fair terms.
They collaborate with various organizations with different focuses, but all of which recognize the importance of cars for the success of families​.
This organization focuses on a few key areas:
Improving consumer protection to stop abuses in car sales and finance, and bring fairness and transparency to the marketplace.
Promoting non-profits that provide struggling families with cars or financing or both at subsidized rates.
Improving data collection and analysis to better understand the benefits of and challenges to car ownership for working families.
Across the country, more than 120 nonprofit organizations work with Working Cars for Working Families to ensure that low-wage working families can get a car in order to find and keep a job.
These programs promote economic well-being and job security by distributing cars directly to families, making low-interest loans for car purchases, and facilitating matched savings for car down payments and purchases​.
Website: https://www.workingcarsforworkingfamilies.org/
4. Cars Helping Veterans
Cars Helping Veterans is a program that helps veterans access safe and reliable transportation.
Donors can donate their old cars to the program, and in turn, the program provides these cars to veterans who are in need of a car.
Cars Helping Veterans works with other Veteran Affairs organizations to identify veterans in dire need of a car.
Website: https://carshelpingveterans.org/
5. Goodwill Wheels to Work
Goodwill's "Wheels to Work" program helps low-income families by providing them with affordable cars.
However, the program has certain requirements, which include:
Having a valid driver's license and Social Security card.
Being actively employed, with at least three months of pay stubs from the current employer.
Confirmation of residence of at least 90 days at the current address.
On-time payments for rent and utilities.
Having $500 in savings, which Goodwill will match.
The ability to afford recurring costs, such as monthly vehicle payments, state-required vehicle insurance, general maintenance and repairs, fuel, and taxes and registration for the vehicle​.
The program offers numerous benefits to its participants. It includes a down payment match of $500, or $1,000 for Goodwill employees, making it more accessible for those in need.
The program ensures affordable monthly payments ranging from $150 to $210 per month, with a fixed 5% interest rate that does not depend on one's credit score or history.
Participants can also receive interest reimbursement once the loan is paid in full without any late payments.
To further support financial stability, the program provides a free credit health review and six months of financial coaching, helping individuals establish or build their credit.
Website: https://goodwillkycarstowork.org/
6. 1-800-Charity Cars
1-800-Charity Cars is a program that provides used cars to low-income families and individuals in need.
The organization accepts vehicle donations from other people and businesses. Once the vehicle and donor information is received, a representative of the charity contacts the donor to schedule a convenient time for a free tow service to pick up the tax-deductible vehicle donation​.
Importantly, 100% of the donation goes to the charity and helps provide transportation to a family in need. If a donated car is not suitable to be given to a family, it is sold, and the funds are used to repair program cars, thereby ensuring that families receive a reliable, working car.
In this way, even if a donated car does not run, it still helps a family in need​.
Website: https://800charitycars.org/
7. Cars 4 Christmas
Cars 4 Christmas is a non-profit group that offers free basic transportation to individuals in need.
The organization acknowledges that for many people, especially those living outside the range of public transit or those who need to go places outside of those transit zones, having a personal vehicle is crucial for accessing jobs and necessary care.
Cars 4 Christmas steps in during times of unpredictability when people might unexpectedly get sick, lose their job, or have their car break down on them.
By providing these individuals with transportation, the organization aims to help them get back on their feet and regain control over their lives. It is not intended to fix all of life's problems, but rather to serve as a tool to help individuals address their challenges.
Every year, the organization gives hundreds of cars to families and people in need.
For some, it might be a wheelchair van that allows them to take their wheelchair-bound family member out for the first time in years.
For others, it might be a simple car that enables them to commute to work, attend medical appointments, or fulfill other necessary tasks​.
Website: http://www.cars4christmas.org/
8. Vehicles For Change
Vehicles For Change is a nonprofit organization that provides financial stability tools for families, primarily through car donation and reentry internship programs.
They receive 99% of their car donations from the public, and they repair cars that meet their quality standards and donate them to eligible families for as little as $950.
These families are referred to Vehicles For Change by social service agencies. Since 1999, they have awarded 6,900 cars to low-income families, which has changed the lives of more than 24,000 people.
The organization has found that 75% of its car recipients obtained better jobs and/or boosted their earnings by an average of $7,000 within the first year.
Most probably, the cars come with a six-month/6,000 mile warranty, and with proper maintenance, they can provide reliable service for at least 24,000 miles or two years.
The organization also provides low-interest car loans to the families, which allows them to build credit, and offers an orientation course to prepare them for car ownership​.
Website: https://www.vehiclesforchange.org/
9. Wheels for Women
The Wheels for Women program is run by Newgate School and it primarily assists low-income, single, working mothers by providing them with reliable transportation, such as a car, to help maintain their jobs and get their children to school and daycare.
The program refurbishes and repairs donated vehicles to get them ready for new ownership.
Website: https://www.newgateschool.org/blog/entry/wheels-for-women-works
10. Cars for Heroes
Cars for Heroes is a non-profit organization that provides free basic transportation to veterans, active-duty military, first responders, and their families who are unable to obtain it on their own​​.
The organization annually awards hundreds of donated cars to those in need, enabling recipients to travel to work, doctors' appointments, and other essential destinations​.
The program was started 26 years ago with the aim to assist families who have not been fortunate enough to afford a car. The organization is particularly known for supporting the families of military personnel and first responders.
However, during the holiday season, Cars 4 Heroes opens its applications to any family in need of a car. Every year, they receive more than 15,000 submissions from families all over the country desiring reliable transportation​.
Applications for the program can be submitted on the Cars 4 Heroes website, and the organization is always accepting vehicle donations to keep the program running​.
Website: https://cars4heroes.org/
Besides these car assistance programs, below are some more programs that might help low income families in getting an affordable or no-cost car.
Cars for Moms
Charity Cars Inc
Wheels4Hopeorg
Wheels from the Heart
Ways to Work
Opportunity Cars
Wheel Get There & Wheel Get There Too 
Christian Automobile Repair Service (CARS Ministry) 
United Methodist Church Car Ministry
Salvation Army Free Cars Programs
Modest Needs
Auto Lease Program
First Wheels
7 Other Ways to Get a Free Car
In case you are not eligible for any free car programs or grants by government or non-profit organizations, then there are several alternative ways to get free car assistance for low income families.
Here's a list of options to consider:
Faith-Based Organizations: Many religious institutions and faith-based organizations offer assistance to those in need, including help with transportation. Reach out to local churches, mosques, synagogues, or other religious centers to inquire about available resources.
Find a Job That Provides a Free Car: Some companies provide company cars as a job perk. Although not precisely a "free" car, it can significantly reduce your transportation expenses. Look for job opportunities that include a company car as part of the compensation package.
Request a Dealer Donation: Local car dealerships may be willing to donate a vehicle as part of their community outreach efforts or for tax benefits. Contact dealerships in your area and present your case for needing a free car.
Run a Fundraising Campaign: Crowdfunding platforms like GoFundMe allow you to share your story and raise money to purchase a car. Be transparent about your situation and explain how a vehicle would improve your life.
Ask Friends and Family for Assistance: Talk to your friends and family about your need for a car. They may be willing to donate an older car, contribute funds, or connect you with someone who can help.
Check Craigslist: Occasionally, people will list free or extremely affordable cars on classified websites like Craigslist. Keep an eye on the "free" section and be prepared to act quickly, as these offers are often in high demand.
Facebook Groups and Marketplace: Join local community groups on Facebook and monitor the Marketplace for free or low-cost cars. Engage with group members and share your story to increase your chances of finding a generous donor.
To increase your chances of getting free car assistance from these alternative options, you need to act quickly because such deals or aid are in high demand all the time.
What are the Risks of Free Cars?
While obtaining a free car from assistance programs can be life-changing, there are potential risks and challenges to consider.
Here are some common risks associated with getting a free car through these programs:
Car Condition: Donated or pre-owned free cars may have mechanical issues and require maintenance. Be ready for repair costs and inspect the car before accepting it.
Limited Availability: Many assistance programs have limited resources and long waiting lists, making it difficult to secure a free car quickly.
Eligibility Requirements: Each program has its own set of eligibility criteria, which may include income level, employment status, or specific needs.
Insurance and Registration Costs: While the car itself may be free, you will still be responsible for insurance, registration, and ongoing maintenance costs. Ensure you can afford these expenses before accepting a free vehicle.
Lack of Warranty: Assistance program cars typically lack warranties, potentially leading to out-of-pocket repair costs for significant issues.
Scams and Fraud: To avoid scams targeting free car seekers, thoroughly research organizations and refrain from sharing personal information with unverified sources.
To mitigate these risks, research each program carefully, ask questions about the car's condition, and explore alternative options if necessary.
Remember, while a free car can provide much-needed transportation, it's essential to consider the potential challenges and be prepared to address them.
FAQs Related to Free Cars for Low-Income Families
How do I Apply for a Free Car for Low-Income Families?
To apply for a free car for low-income families, you will need to contact the organization that offers the program. Each organization has its own application process, so be sure to read the instructions carefully. In general, you will need to provide information about your income, your family size, and your need for a car.
How Long does it Take to Get a Free Car for Low-Income Families?
The time it takes to get a free car for low-income families can vary depending on the organization, program, and availability of vehicles. It could take anywhere from a few weeks to several months.
What Kind of Cars are Available for Free to Low-Income Families?
The types of cars available for free to low-income families typically include used or donated vehicles. These cars are often older models but are still in decent working condition. Charitable organizations, non-profits, and certain government programs may provide these vehicles after ensuring their safety and reliability.
Do I have to Pay Taxes or Fees on a Free Car?
You may be responsible for taxes, registration fees, and insurance costs associated with receiving a free car. Check with the organization or program providing the vehicle to understand any additional expenses.
Can I Choose the Make and Model of the Free Car?
Typically, you cannot choose the make and model of the free car, as it depends on the donations received and available inventory at the time of application.
Also Read – Free Cars For Single Moms: 22 Charity Programs
Conclusion
In brief, accessing free cars for low-income families is not impossible now, as various car programs are available that cater to those in need.
Understanding how these programs work and what it takes to qualify is key for being able to take advantage of them.
If you're in a qualifying situation, your first step should be researching the various car assistance programs out there and seeing which one makes the most sense for you.
Hope, with this information about free car assistance programs, you can find the right program and regain control of your commute.