Free appliances for low income families often provide great relief when it comes to buying costly household electronic equipment, which they could not otherwise afford at all.
So, do you a free refrigerator, washing machine, or other major appliance but don't have the money to buy one? If you're low-income, there is good news – there are several programs that offer free appliances for low income families.
These programs can help make life easier and give families access to necessary household items. In this article, we'll look at some of these appliance assistance programs and what it takes to get approved for them.
So let's dive in and see how you can get your hands on a free appliance!
Assistance Programs that Offer Free Appliances for Low Income Families
Assistance programs that offer free home appliances for low-income families can significantly help those struggling to afford them.
These programs provide necessary appliances, such as refrigerators, stoves, washing machines and dryers, to improve the quality of life for low-income households.
Here are some assistance programs that offer free appliances: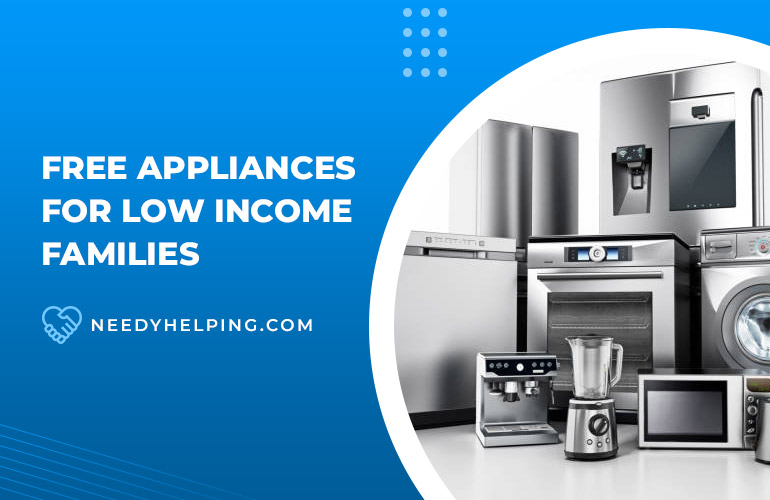 1. Federal Weatherization Assistance Program [WAP]
The Federal Weatherization Assistance Program (WAP) is a U.S. government initiative aimed at helping low-income families reduce their energy costs by increasing the energy efficiency of their homes.
The Department of Energy oversees this program, which supports projects aimed at reducing electricity and gas consumption​. While the primary focus of the program is on weatherization measures such as adding insulation and weather stripping, upgrading inefficient heating and cooling units, it can also provide assistance for replacing outdated household appliances.
The specific upgrades recommended are based on a home energy audit conducted as the first step of the program.
Those who are automatically eligible for this program include recipients of Temporary Assistance for Needy Families (TANF), Supplemental Security Income (SSI), Medicaid, and those using EBT cards for the Supplemental Nutrition Assistance Program (SNAP) if the Savings to Investment Ratio (SIR) is sufficient​​.
The WAP has been operational since 1976 and has improved the lives of more than 7 million families. Through weatherization improvements and upgrades, households save on average $372 or more every year according to a national evaluation of the program​.
They serve around 35,000 homes every year using DOE funds​.
However, the specific benefits or appliances provided can vary by state, as each state manages its own implementation of the program.
For example, the Tennessee Housing Development Agency manages the WAP in Tennessee and provides services to all 95 counties in the state​.
2. High-Efficiency Electric Home Rebate Act [HEEHRA]
The High-Efficiency Electric Home Rebate Act (HEEHRA) is a part of the new Inflation Reduction Act, designed to provide rebates on efficient electric appliances to low and middle-income families.
This Act aims to facilitate home electrification, which is essential for meeting carbon reduction goals. Home electrification refers to the replacement of fossil fuel-based home appliances (like gas stoves or oil heaters) with electric alternatives. The transition is crucial because the consumption of fossil fuels in residential and commercial properties contributes to approximately 13% of the total greenhouse gas emissions in the United States.
HEEHRA program bears the entire expense of electrification projects up to $14,000 for low-income households, while it covers half of the costs for projects up to $14,000 for those with moderate income.
The projects eligible under this act include the installation of heat pump HVAC systems, heat pump water heaters, electric stoves and cooktops, heat pump clothes dryers, and enabling measures like upgrading circuit panels, insulation, air sealing, ventilation, and wiring.
HEEHRA provides financial support for low-income families to switch to more energy-efficient, electric home appliances, which results in cost savings, improved health due to better indoor air quality, and job creation.
3. Low Income Home Energy Assistance Program (LIHEAP)
The Low-Income Home Energy Assistance Program (LIHEAP) is a government initiative administered by the Department of Health and Human Services that focuses on reducing utility bills, such as gas and electric, for low-income families​.
While the program's primary focus is to assist with utility costs, it can indirectly lead to free appliance replacement, helping to lower the total cost of ownership for any new or existing kitchen or laundry machines​.
LIHEAP helps low-income families replace old appliances, such as refrigerators, washers, dryers, and stoves, with new, energy-efficient models. The lifetime operating expenses of these newer appliances are generally much lower than older models​.
Families using Electronic Benefit Transfer (EBT) cards for the SNAP may automatically qualify for free appliances through related programs if certain financial metrics, such as the Savings to Investment Ratio (SIR), are met.
Besides it, recipients of Temporary Assistance for Needy Families (TANF), Supplemental Security Income (SSI), and Medicaid are also often automatically eligible for these benefits​.
Under this program, specific categories of low income families like seniors, disabled, veterans are eligible.
For more information or to apply for this appliance assistance program, individuals can visit Energyhelp.us or the LIHEAP Clearinghouse site.
4. Energy Star Rebate Programs
Various utility companies, manufacturers, and state governments offered Energy Star Rebate Programs to incentivize the purchase of energy-efficient appliances.
These programs often provide rebates or discounts on appliances that have been certified as energy-efficient by Energy Star, a program run by the U.S. Environmental Protection Agency and the U.S. Department of Energy.
These rebates and discounts could reduce the cost of energy-efficient appliances, making them more affordable for low-income households.
5. Habitat for Humanity ReStores
Habitat for Humanity ReStores help low income families with their appliance needs in several ways:
Selling Donated Appliances: ReStores sell donated used appliances in working condition at low costs. The appliances available at these stores are typically in good working order and can be bought at much lower prices than new appliances, making them accessible to low-income families. The money raised from selling these appliances is used to fund Habitat for Humanity's primary mission: building affordable new homes for low-income families​.
Hope ReStored Program: Some Habitat for Humanity ReStores, like the one in Canton, offer a program called "Hope ReStored". This program is a partnership between Habitat for Humanity, local organizations, and city governments. Through this program, low to moderate income families can receive free vouchers to get the items they need, including appliances, from the ReStore.
Donation of Appliances: ReStores accept donations of appliances that are less than 10 years old and in perfect working order. This can include cooktops, dishwashers, microwaves, refrigerators, stoves and ovens, and washers and dryers. These donated appliances are then made available to low-income families at a low cost or through programs like Hope ReStored​.
This is how Habitat for Humanity ReStores assist low-income families with their appliance needs.
6. The Salvation Army
The Salvation Army primarily assists low-income families in need of appliances by offering them at a low cost through their Thrift Stores. These stores pick up used household appliances in working order and sell these donated units to the general public.
The proceeds from these sales are used to fund the Salvation Army's Adult Rehabilitation Centers. While there is no evidence of The Salvation Army directly offering free appliances to low-income families, the low-cost options provided by their thrift stores can significantly help these families​.
7. Goodwill
Goodwill Industries primarily helps low-income families with their appliance needs through its Voucher Assistance Program.
This program partners with other nonprofit agencies to support low-income families and individuals in the community.
However, it is important to note that the funds are limited and one-time, and there are several guidelines to follow –
Vouchers are distributed to nonprofit social service organizations. Individuals cannot be issued vouchers directly.
All requests for vouchers must be submitted using an official form found on the Goodwill website.
All appliance requests must include details of the circumstances or reason for needing a voucher, such as a natural disaster, loss of work, domestic violence, etc.
Vouchers may only be valid at the Goodwill location listed on the form.
Applicants should allow up to 4-8 weeks for review, notification, and voucher delivery​.
However, it's worth noting that Goodwill does not currently accept large household appliances as donations but will accept gently used small appliances​. This means that the selection of appliances available through their Voucher Assistance Program might be more limited in scope.
8. Furniture Bank
Furniture Banks are typically nonprofit organizations that collect and provide home essentials, such as furniture and appliances, to individuals and families in need.
Some may accept new or gently used appliances, but the types of appliances and their conditions can vary by location. It's best to contact a local Furniture Bank directly to understand their specific guidelines and offerings.
9. St Vincent de Paul
St. Vincent de Paul (SVDP) is a Catholic volunteer organization that has been providing resources, services, and assistance to those in need, including help with purchasing necessary appliances for low-income families​.
The organization operates thrift stores that contribute significantly to their mission. The profits from these stores are used by Councils and Conferences within SVDP to support their communities​.
SVDP has an appliance recycling program which has been an integral part of their mission since 1955. They offer free appliance removal from many local residential locations, and appliances in need of simple repairs are refurbished, painted, and then sold in their retail thrift stores.
Appliances that cannot be repaired are responsibly recycled, with components such as copper, tin, steel, plastic, motors, and compressors being stripped and the oil being removed in an environmentally responsible manner. They also remove and clean CFCs (ozone-depleting gases) for resale.
Free appliance pickup/removal is offered on weekdays, and dropped-off appliance donations are accepted every day at St. Vinnie's stores with drive-up donation lanes.
To purchase an appliance, one can visit one of their retail thrift stores, where most major appliances carry a 90-day warranty​.
However, the specifics of the appliance assistance provided can vary from one local Society of St. Vincent de Paul to another, and it is recommended to contact the local Society for more information​.
10. Greggs Foundation
The Greggs Foundation supports low-income families through its Hardship Fund, which provides grants to help people purchase essential items, including various appliances.
The appliances offered through the program include cookers, washing machines, fridges/freezers, vented tumble dryers, and small kitchen appliances like microwaves, air fryers, halogen ovens, and slow cookers.
These items are delivered directly to the families and individuals in need. It's important to note that the program does not include installation services for these appliances.
Besides it, the foundation also offers supermarket, utility, and clothing vouchers, again provided directly to the recipients​.
Applications for this program must be submitted by a recognized social organization or charity on behalf of the individual or family in need. These applications are typically reviewed on a weekly basis, with responses usually given within three weeks.
It's important to note that each application should be for one item only, not multiple items. If an application is successful, another application for the same individual or family can be accepted from an organization in the following calendar year​.
11. Glasspool Charity Trust
The Glasspool Charity Trust is a UK-wide organization that aims to provide support for people experiencing financial hardship, without restrictions on who they can help.
They do this by providing small, one-off grants to individuals, couples, and families. These grants are typically used for everyday items that can help recipients manage better day-to-day, cope when things get tough, and ultimately build a stronger future.
One example is assisting with household appliances, which is seen as a basic necessity for a good life​.
The charity invites applications from support agencies on behalf of the people they support.
Furthermore, through their Essential Living Fund program, Glasspool Charity Trust provides much-needed grants and gifts like household appliances and clothing items for families and individuals.
All families within the UK are eligible to apply for this program. Due to limited funds, they provide only one grant per family, which can be used for needs such as home appliances, baby equipment, beds and mattresses, furniture, and clothing.
This approach has allowed them to assist thousands of families, especially during challenging times such as the COVID-19 outbreak​.
12. In Kind Direct
In Kind Direct helps low-income families with their appliance needs by distributing donations of essential items, including household appliances.
They work with thousands of retailers, manufacturers, and wholesalers to amass products that are then distributed to UK communities.
These products, which include household appliances among other essential items, are given to charities, community groups, food banks, and schools that serve low-income families. This ensures that those who are having to make difficult choices between basic needs like eating, heating, and keeping clean can receive the support they need.
The registration and monitoring process at In Kind Direct ensures that the donated products are used for their intended purpose only and do not re-enter the market​.
13. Royal British Legion
The Royal British Legion assists those in need through their Cost of Living Grants Programme. This initiative is designed to provide quick and easy assistance to individuals who require help with everyday essentials, including kitchen appliances, clothes, and energy costs.
The programme is open to anyone who is eligible for their support and who is struggling to pay for items and services they need.
Applications can be made online, and the organization aims to assess applications within 5 days of submission​.
14. Net Wish
Net Wish is a nonprofit organization that provides financial assistance to families in need. While it doesn't focus specifically on appliances, it offers grants that can be used to purchase essential household items.
15. Catholic Charities
Catholic Charities helps low-income families with their appliance needs primarily through the acceptance and distribution of donated items.
These items can include furniture, small appliances, linens, and kitchen accessories. Such donated items can then be used by the families to help furnish their homes.
The organization also accepts donations of gently used clothing, new toiletries, and diapers, which can further support families in need​.
16. Community Action Agencies
Community Action Agencies (CAAs) offer support to low-income families to help them gain self-sufficiency. They coordinate short-term financial help for various necessities, including possibly home appliances.
Government grants fund these organizations and provide services and resources to families and individuals who need help. These resources can include financial assistance for various bills, rent assistance, and potentially help with purchasing or repairing appliances​.
Community Action Agencies usually have an extensive application process when offering direct support due to limited resources. Funds are typically issued on a first-come-first-serve basis to qualified residents. They often coordinate with local charities, government assistance programs, and other non-profit organizations to provide the most comprehensive support possible​.
However, keep in mind that eligibility requirements and appliance availability may vary depending on the program and location. It's essential to research each program and contact the organizations directly to determine if you qualify for assistance and what appliances are available.
Websites and Smartphone Apps to Find Free Appliances
Here's a list of websites and mobile apps that can help low-income families with their appliance needs by offering free or affordable items:
Facebook Marketplace
Facebook Marketplace allows users to buy, sell, or give away items within their local community. Low-income families can find affordable or free appliances from people in their area.
Nextdoor
Nextdoor is a neighborhood-based social networking platform where users can share information and resources. Members often post about free or discounted appliances available in their community.
Craigslist
Craigslist is a classified advertisement website with sections dedicated to buying, selling, and donating items, including appliances. By browsing the "Free Stuff" section, low-income families can find free appliances posted by people in their area.
OfferUp App
OfferUp is a mobile app that facilitates buying and selling items within local communities. Users can find affordable appliances or even free giveaways from neighbors looking to declutter or upgrade their homes.
Freecycle
Freecycle is a global network of local groups where people can give away and get items for free. It promotes waste reduction and helps low-income families access free appliances and other essentials.
Trash Nothing
Trash Nothing is a platform that supports local Freecycle and ReUseIt groups. Users can post or find free items, including appliances, and help reduce waste while benefiting low-income families.
These websites and mobile apps connect people in local communities, making it easier for low-income families to access affordable or free appliances.
Who is Eligible for Free Appliance Programs
Eligibility requirements for free appliance assistance programs for low-income families may vary depending on the specific program and location.
However, there are some common criteria that many programs consider when determining eligibility:
Income: Most programs require applicants to demonstrate financial need by providing proof of income. They typically use the Federal Poverty Level (FPL) or a percentage of the Area Median Income (AMI) as a benchmark, and applicants must fall below a certain threshold to qualify.
Residency: Applicants usually need to be residents of the area or state in which the assistance program operates. Proof of residency, such as a utility bill or lease agreement, may be required.
Household Size: Many programs take household size into account when determining eligibility, as larger families may have greater needs. You may need to provide information about the number of people living in your home.
Proof of Need: In some cases, applicants must demonstrate a specific need for the appliance, such as a broken or inefficient existing appliance. Documentation or an inspection may be necessary to prove this need.
Participation in other Assistance Programs: Participation in other government assistance programs, such as Supplemental Nutrition Assistance Program (SNAP), Temporary Assistance for Needy Families (TANF), or Medicaid, can sometimes qualify you for appliance assistance programs, as they indicate financial need.
Citizenship or Legal Status: Some programs may require applicants to be U.S. citizens or have a valid legal status, such as permanent residency or refugee status.
Energy Efficiency: For programs focused on energy-efficient appliances, the appliance being replaced may need to meet specific energy efficiency standards or be a certain age to qualify for assistance.
Keep in mind that each program may have its own unique requirements, so it's essential to research and contact the organizations directly to determine if you qualify for assistance.
How to Apply for the Programs that Provide Free Appliances to Low Income Families
Applying for programs that provide free appliances to low-income families typically involves several steps.
Keep in mind that the application process may vary depending on the specific program and location.
Here is a general steps of how to apply for these programs –
Research Available Programs: Start by researching various assistance programs that offer free appliances in your area. Consult or search online for local nonprofits, charities, and government agencies that offer such programs.
Determine Eligibility: Review the eligibility criteria for each program you are interested in, including income requirements, residency, household size, and any other relevant factors. Ensure that you meet the necessary qualifications before applying.
Gather Documentation: Prepare the required documents to prove your eligibility, such as proof of income, residency, household size, and participation in other assistance programs. This might include tax returns, pay stubs, utility bills, lease agreements, or benefit statements.
Contact the Organization: Reach out to the organization offering the assistance program to inquire about the application process, availability of appliances, and any additional requirements. Some organizations may require you to attend an informational session or complete a pre-application process.
Complete the Application: Fill out the application form provided by the organization, either online or on paper. Be sure to include all the necessary documentation and follow any specific instructions. Double-check your application for accuracy and completeness before submitting it.
Schedule an Appointment or Home Visit: Some programs may require an appointment or home visit to assess your current appliances' condition and verify your need for assistance. Be prepared to schedule a visit and cooperate with the organization's representative.
Wait for Approval: After submitting your application, wait for the organization to review your information and determine your eligibility. The approval process may take time, so be patient.
Follow up: If you haven't heard back within the expected time frame, follow up with the organization to check on the status of your application and ensure they have all the necessary information.
Take note that each program may have a different application process, so it's essential to research the specific program and contact the organization directly for the most accurate information.
Pros and Cons of Participating in Free Appliance Assistance Programs
Pros
Participating in free appliance assistance programs can provide several benefits for low-income families and individuals.
These benefits include:
Financial Relief: Receiving free or discounted appliances can significantly reduce the financial burden on low-income households, allowing them to allocate their limited resources to other essential needs like food, housing, and healthcare.
Improved Quality of Life: Having access to essential appliances such as refrigerators, stoves, and washing machines can improve a family's overall quality of life. These appliances make it easier to store and prepare food, maintain cleanliness, and carry out other daily tasks.
Energy Efficiency: Many assistance programs focus on providing energy-efficient appliances, which can help reduce energy consumption and lower utility bills. This not only saves money for low-income families but also contributes to environmental conservation efforts.
Health and Safety: Replacing old, damaged, or inefficient appliances with newer models can improve health and safety within the home. For example, a functional refrigerator helps prevent food spoilage and related health risks, while an efficient heating system keeps the home warm and safe during cold weather.
Self-sufficiency: Having access to essential appliances can promote self-sufficiency for low-income families, enabling them to better manage their households and live more independently.
Reduced Stress: The financial strain of purchasing and maintaining household appliances can be a significant source of stress for low-income families. Participating in appliance assistance programs can alleviate some of this stress and provide peace of mind.
Cons
While free appliance assistance programs provide numerous benefits for low-income families, there are some potential drawbacks to consider:
Limited availability: Demand for free appliances often exceeds supply, and these programs may have limited resources, which can result in waiting lists or unavailability of specific appliances.
Eligibility Requirements: Some individuals and families may not meet the eligibility criteria for certain programs, making it challenging to access free appliances.
Application Process: Applying for these programs can be time-consuming and involve extensive paperwork, documentation, and follow-ups, which may be overwhelming for some applicants.
Quality and Condition: While many programs offer new or gently used appliances, there is a possibility that some appliances may have minor defects or cosmetic issues. However, this concern is typically minimal as most organizations ensure the appliances they provide are functional and in good condition.
Limited Selection: Free appliance programs may have a limited selection of appliances, brands, and models, which might not always align with an individual's preferences or specific needs.
Delivery and Installation: Some programs may not include delivery and installation services, requiring recipients to arrange transportation and set up the appliances themselves.
Maintenance and Repair: Recipients of free appliances may be responsible for maintenance and repair costs, which could be a financial burden if an appliance breaks down or requires servicing.
Despite these potential drawbacks, free appliance assistance programs remain a valuable resource for low-income families in need of essential household items.
It's essential to weigh the pros and cons and research each program thoroughly before applying.
How to Reduce Energy Consumption in Your Home for Free?
Reducing energy consumption in your home doesn't always require expensive upgrades or investments.
Here are some free and simple ways to save energy and lower your utility bills with free apliances –
Unplug Devices: Unplug chargers, electronics, and appliances when they're not in use, as they can still consume energy even when turned off.
Use Natural Light: Open curtains and blinds during the day to take advantage of natural sunlight and reduce the need for artificial lighting.
Turn off Lights: Remember to turn off lights when leaving a room or when they're not needed.
Adjust Thermostat Settings: Lower the thermostat by a few degrees during winter and raise it during summer. You can also turn it down when you're away from home or sleeping.
Seal Drafts: Use weatherstripping, caulk, or even rolled-up towels to seal gaps around doors and windows, preventing drafts and improving insulation.
Close Doors and Vents: Close doors and vents in unused rooms to prevent heating or cooling those spaces unnecessarily.
Use Energy-efficient Settings: Utilize energy-saving settings on appliances like washing machines, dishwashers, and refrigerators, if available.
Air-dry Laundry: Hang clothes to dry instead of using a dryer. This not only saves energy but also extends the life of your clothing.
Cook Efficiently: Use the right-sized pots and pans on stove burners, cover pots while cooking, and turn off burners a few minutes before the end of cooking time to save energy.
Maintain Appliances: Clean or replace filters in your heating and cooling systems regularly, and defrost your freezer periodically to ensure they run efficiently.
Take Shorter Showers: Reduce shower time to save both hot water and energy.
Use Cold Water for Laundry: Washing clothes with cold water instead of hot can significantly decrease energy consumption.
Manage Computer Settings: Set your computer to sleep mode or turn off the monitor when not in use for an extended period.
By implementing these simple and free strategies, you can effectively reduce energy consumption in your home, save money on utility bills, and contribute to a more sustainable environment.
FAQs about Free Appliance Programs
What is a Free Appliance Program?
Free Appliance Programs are initiatives often run by charities, non-profit organizations, or government agencies that provide appliances to individuals and families who can't afford them. These appliances may include free refrigerators, stoves, washing machines, and other necessary household items.
Who can Qualify for Free Appliance Programs?
Eligibility for these programs often depends on the specific requirements set by the organization. Typically, the programs aim to support low-income families, the elderly, disabled individuals, and other vulnerable groups. Some programs may require proof of financial need or may prioritize individuals in emergency situations.
What Types of Appliances do these Programs Typically Offer?
Free appliance programs commonly provide essential household items such as refrigerators, stoves, washers, dryers, and air conditioners, depending on the program's focus and available resources.
Are there Waiting Lists for Free Appliance Programs?
Some programs may have waiting lists due to high demand or limited resources. It's crucial to apply early and follow up with the organization to check your application status.
Do Appliance Assistance Programs Provide New or Used Appliances?
This depends on the program. Some programs offer new, energy-efficient appliances, while others provide gently used or refurbished items in good working condition.
Will the Free Appliance Program Deliver and Install the Appliances?
Delivery and installation services vary by program. Some may offer these services, while others require recipients to arrange transportation and installation themselves. Be sure to clarify this with the program provider before applying.
Can I Choose the Brand or Model of the Appliance I Receive?
Most programs have limited selections of brands and models, usually based on availability and donations. Recipients may not have the option to choose a specific brand or model but will receive functional, efficient appliances.
What if I don't Qualify for any Free Appliance Programs?
If you don't qualify for a free appliance program, consider other resources such as energy efficiency rebates, discounts from retailers, second-hand stores, or online platforms like Facebook Marketplace, Craigslist, or OfferUp, where people offer free or affordable appliances.
Conclusion
In conclusion, there are many ways to receive free appliances for low income families. Whether it be through a government-funded program or an online platform like Craigslist and Facebook Marketplace, these options can help make the process of obtaining new appliances more affordable.
With some research and dedication, anyone in need of an appliance will find something that fits their budget!