Can't afford to spend $600 to $800 for an iPhone? No worries, free government iPhone programs like the Lifeline and ACP will give an opportunity to eligible low income individuals to get an iPhone for free from Government.
iPhones are the most advanced phones on the earth integrated with futuristic technology and lots of features. This is what makes an Apple iPhone an expensive device which cannot be affordable by low income students, seniors, veterans, employees, etc.
So, can't afford an Apple iPhone but desperately need it for education, social connections, or your budding business?
Don't worry!
Lifeline and ACP program providers are here to help. These organizations can assist you in acquiring a refurbished or even a new iPhone for free from government.
Don't tell anyone, even I have got one too through one of these programs and hence recommending it to you.
In this post, we'll discuss no-cost iPhone programs and providers funded by the government.
Free Government iPhone Programs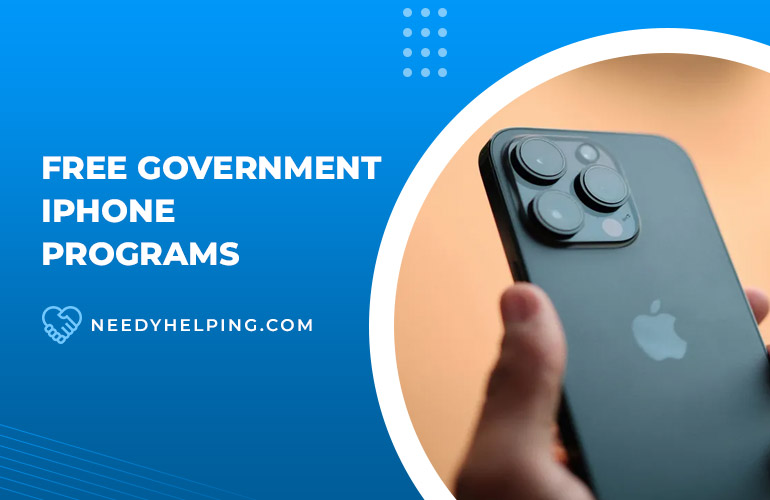 Can you Really Get a Free iPhone? Yes, you can get a free iPhone from government. Programs like Lifeline and the Affordable Connectivity Program (ACP) are designed to support low income individuals and those relying on other government assistance programs for basic needs.
Meeting their eligibility requirements could enable you to get an iPhone at no cost.
The availability of specific iPhone models may vary based on the program and provider.
Let's check out these programs in detail:
The Lifeline Assistance Program
The Lifeline Assistance Program, sponsored by the Federal Communications Commission (FCC), provides free government iPhone to eligible individuals.
The program's main objective is to provide cost-effective communication services to low-income individuals and families, including phone and internet access. These services help participants stay connected with loved ones, access emergency services, and explore employment opportunities​.
You must meet specific income-based or program-based criteria to qualify for a free iPhone from this program.
To be eligible based on income, your entire household's earnings cannot exceed 135% of the Federal Poverty Guidelines. For program-based eligibility, you or a household member must participate in at least one of the following programs:
Supplemental Nutrition Assistance Program (SNAP)
Medicaid
Supplemental Security Income (SSI)
Federal Public Housing Assistance (FPHA)
Veterans Pension and Survivors Benefit
Proof of income or participation in a qualifying program is required during the application process​.
Phones provided through this program are usually basic models. However, if you are eligible for the program, you can use the monthly discount on your phone bill to help cover the cost of an iPhone or any other phone you choose.
This program does not cover the full cost of an iPhone. And, One benefit is allowed per household.
In order to get a free iPhone through Lifeline program, you need to follow the below steps:
Step 1 – Check Eligibility: To check if you qualify for this Program, please visit the National Verifier.
Step 2 – Choose a Provider: Please conduct research on participating providers and choose the one that suits your requirements the most.
Step 3 – Apply: Finish the application process with the provider either through their online portal or over the phone. Make sure to submit the required documentation to verify your eligibility.
Step 4 – Receive Your Smartphone: You will get a free government iPhone if approved.
In this way, any eligible individual can get a free iPhone from the government's Lifeline program. With it, they can access emergency services, improve employment opportunities, manage finances, access healthcare, be more involved in the community, and gain digital literacy skills.
The Affordable Connectivity Program (ACP)
The Affordable Connectivity Program (ACP) is a federal initiative in the United States designed to help lower-income households afford internet service. Administered by the Federal Communications Commission (FCC), the program provides discount of up to $30 per month towards broadband service for eligible households and up to $75 per month for households on qualifying Tribal lands.
The ACP also provides a one-time discount of up to $100 to purchase a laptop, desktop computer, or tablet from participating providers if they contribute more than $10 and less than $50 toward the purchase price.
Eligibility for the ACP is based on several factors, including income level and participation in certain assistance programs. Some of these programs include Medicaid, Supplemental Nutrition Assistance Program (SNAP), Federal Public Housing Assistance, Veterans and Survivors Pension Benefit, or certain Tribal programs.
Besides it, households with a member who received a Federal Pell Grant this year, or with children in the free or reduced-price school lunch or breakfast program, are also eligible.
The goal of the ACP is to ensure that all Americans have access to affordable internet service, particularly those who might otherwise struggle to afford it. By doing so, the program helps to bridge the digital divide and ensure equal access to essential online services.
To apply for the ACP, you would need to go through the National Verifier application portal or contact a participating provider directly.
There are several authorized ACP providers offering free iPhone to eligible participants.
How to Apply for a Free Government iPhone?
While the government does not specifically provide free iPhone, you can apply for the Lifeline Assistance program for discounted phone services or a basic smartphone.
Here's how you can apply for that program –
Check your Eligibility: Ensure that you meet the eligibility requirements based on income or participation to qualify for a free government iPhone.
Choose a Lifeline Service Provider: Find a Lifeline service provider in your state that offers phone services, including wireless services, if you prefer a smartphone. A list of participating providers is available on the Lifeline Support website.
Gather Necessary Documents: Collect documentation that verifies your eligibility, such as proof of income (e.g., pay stubs, tax returns) or proof of participation in a qualifying program.
Apply with the Service Provider: Contact the chosen Lifeline service provider and complete their application process, which may include filling out a form and submitting the required documents. Some providers allow you to apply online, while others may require you to visit a local store or office.
Wait for Approval: Once your application is submitted, the service provider will review it and verify your eligibility. If approved, you will be enrolled in the Lifeline program, and you can start receiving discounted phone services or a basic smartphone.
List of Required Documents
Below are the required documents you may need to submit while applying for the free Government iPhone:
Proof of Identity: Valid government-issued ID such as a driver's license, passport, or state ID card.
Proof of Income or Eligibility: Documents demonstrating eligibility, such as pay stubs, tax returns, or enrollment in government assistance programs like SNAP or Medicaid.
Proof of Address: Utility bills, lease agreements, or official mail showing your current address.
Proof of Participation in Government Programs: Documentation showing your participation in programs that provide assistance to low-income individuals or households.
Photo Copy: You may need to provide passport size photo copy of yourself.
Government Programs to be Eligible for Free iPhone
If you are already enrolled in below government programs, you will become eligible for free iPhone automatically –
Free iPhone with Supplemental Security Income (SSI)
Free iPhone with Federal Public Housing Assistance (FPHA)
Free iPhone with Veterans Pension and Survivors Benefit
Free iPhone with Tribal TANF
List of 4 Free Government iPhone Providers
There are so many Lifeline and ACP providers in the market, but only few of them are providing free iPhone. Below are the major providers offering government iPhones for free:
1) AirTalk Wireless
AirTalk Wireless is a program provided by HTH Communications, serving eligible American households.
It offers Lifeline and Affordable Connectivity Program (ACP) benefits to individuals in 50 states, helping them stay connected. AirTalk Wireless has a focus in California, but it also operates in other states such as AR, AZ, CO, GA, ID, KY, LA, MD, MI, MO, MS, MT, and more.
One of the key offerings of AirTalk Wireless is its Free Phone Program. Eligible customers can receive free smartphones with free monthly cell phone service.
In terms of iPhones, while specific models offered may vary, AirTalk Wireless has been known to include a range of iPhone models for eligible customers. These could potentially include various models such as the iPhone 7, iPhone 11, and even the latest iPhone 12 series.
To apply for a free iPhone through AirTalk Wireless, follow these steps:
Visit the AirTalk Wireless website.
Navigate to their 'Free Phone Program' section.
Enter the necessary information as prompted. This will likely include personal details and proof of eligibility for the Lifeline or ACP programs.
If approved, you will be guided through the process to select your phone and set up your service.
Remember that eligibility for this program typically depends on various factors, including income level and participation in certain assistance programs. It's advisable to check the specific eligibility requirements on their website or contact them directly for more information.
2) Cintex Wireless
Cintex Wireless is a company that offers eligible customers free smartphones with complimentary monthly cell phone service. They are one of the nation's leading providers of EBB (Emergency Broadband Benefit) & Lifeline wireless services.
One of the special features of Cintex Wireless is their offer of free iPhones. This offer is part of their commitment to provide affordable connectivity to those who may not typically have access to such devices. However, it's important to note that the availability of iPhones may vary and is subject to the terms and conditions of the Lifeline Assistance program.
Cintex Wireless provides services in several states across the U.S., including Arkansas, Rhode Island, Maine, Maryland, and West Virginia. This coverage ensures that many individuals and families who qualify can benefit from their services.
To apply for a free iPhone through Cintex Wireless:
First, visit an official Cintex Wireless website.
Got to the 'Apply' section.
Enter your Zip Code and hit the Apply Now button.
To enroll into the ACP premium plan ($0/month), click on Apply Now button.
Fill in the required details and provide necessary documents.
Done, submit your application and let the company review your request. Once you are approved, you will receive an iPhone. Take note, iPhone might be of a very basic model including iPhone 6, 6s, 6s plus.
3) Q Link Wireless
Q Link Wireless is a company with a mission to keep people connected by offering free monthly unlimited data, talk, and text to eligible customers. This is made possible through the Lifeline and the Affordable Connectivity Program.
When it comes to offering free iPhones, Q Link Wireless may not always offer iPhones specifically. The types of phones provided can vary and are subject to the terms and conditions of the Lifeline Assistance program.
Q Link Wireless proudly serves more than 4 million customers across the nation, so their coverage is pretty extensive.
Q Link Wireless has a program they call "Bring Your Own Phone" and it allows you can keep using your current phone, yes, even if it's an iPhone, on their network.
Below are the steps you need to follow to apply for a free iPhone from Q Link Wireless –
Open your browser and go to the Q Link Wireless website.
Enter your Zip Code, Email ID, and hit the Get It Now button.
Fill out the application form with the required details.
Once you are done, submit the application. They will review it and let send you an available iPhone or other available smartphone to you within few days or week.
4) NewPhone Wireless
NewPhone Wireless is a service provider that operates under the Lifeline Assistance Program, which is supported by the Federal Universal Service Fund. Their mission is to make communication services more accessible for financially disadvantaged individuals.
They do offer free mobile devices including iPhones and monthly service through the Government Assisted Lifeline program and the Emergency Broadband Benefit (EBB) program. The types of phones provided can vary and may not always be iPhones.
Currently, NewPhone Wireless provides its services specifically in Louisiana. They are an Eligible Telecommunications Carrier (ETC) offering Lifeline Wireless Service to qualified low-income residents of this state.
To apply for a free phone through NewPhone Wireless:
First, go to the NewPhone's application page at newphone.com/apply.
Next, enter the ZIP code of your area and click on 'Apply Now'.
Provide necessary information in the required fields and submit the application.
Submit your application and wait for the company's reply. If you will approve, you will get a brand new iPhone or android phone for free.
How to Get a Free iPhone from the Government – Alternative Ways
Getting a free iPhone government phone is not easy. The two free iPhone government programs are mentioned above may help you get a phone but not necessarily an iPhone.
You can also explore the following non-government options to acquire a phone or receive financial assistance to buy an iPhone –
Local Nonprofits and Charities: Some local nonprofit organizations and charities might offer free or discounted smartphones, including iPhones, to eligible individuals. You can research and reach out to such organizations in your area to inquire about any available programs.
Discounted Refurbished iPhone: If you qualify for financial assistance through government programs, you can consider purchasing a refurbished iPhone at a discounted price. Many retailers and online platforms sell certified refurbished iPhone that is more affordable than new ones.
Trade-in Programs: Many retailers, including Apple, offer trade-in programs where you can exchange your old smartphone for a discount on a new iPhone. Depending on the value of your current device, this could significantly reduce the cost of upgrading to an iPhone.
Carrier Promotions and Deals: Mobile carriers often offer discounts or even free when you sign up for a new contract or upgrade your existing plan. Keep an eye on special offers from carriers like AT&T, Verizon, T-Mobile, and Sprint.
Contests and Giveaways: Some companies and social media influencers host contests and giveaways offering iPhone as prize. While the chances of winning might be low.
Employee Discounts: If you work for a company that has a partnership with Apple or a mobile carrier, you may be eligible for employee discounts on iPhone. Check with your employer to see if they offer any such benefits.
Student and Educational Discounts: Apple offers education pricing for students, teachers, and education staff members. You could receive a discount on a new iPhone or other Apple products if you're eligible.
Seasonal Sales and Discounts: Retailers often have sales during specific times of the year, such as Black Friday, Cyber Monday, or end-of-year clearance events.
Remember, the government does not provide free Phone directly, but you can explore these options to find a suitable solution based on your eligibility and needs.
Reasons you May not be Eligible for Free iPhone from Government
Below are some reasons you may not be eligible or disqualify for free Government iPhone:
Income Level: If your income is more than 135% of the federal poverty guidelines, or if you're not part of a qualifying federal assistance program like SNAP, SSI, or Medicaid, you might not be eligible for a free iPhone from the government.

Existing Lifeline Service: Lifeline benefits are limited to one per household. So if someone in your house is already receiving these benefits, unfortunately, you won't be able to get another.

Failure to Recertify: It's important to remember that you must recertify your eligibility for Lifeline benefits every year. If you forget to do this, you could miss out on your benefits.

Providing False Information: Be honest! Giving false or misleading information to get Lifeline benefits is considered fraud, and it can lead to disqualification.

Non-Usage: If you don't use your Lifeline service for 30 consecutive days, your service might be discontinued. So make sure to keep using your service regularly!

Violation of Program Rules: Last but not least, always follow the rules! Any violation of the rules or requirements of the Lifeline program can lead to disqualification.

Conclusion
In brief, eligible low-income households may get free government iPhone through detailed research of available programs and providers.
However, they may offer older models and involve a lengthy application process. But, it's worth it as you are getting world's most advanced Apple iPhone without paying single dime from your pocket.
If you believe you're eligible for a free iPhone from government, don't hesitate and apply now.