Learn how to get a free YMCA Membership to enjoy and access quality facilities and services at a fraction of the price of a regular gym membership.
Getting a YMCA membership can be a great way to stay fit, active, and engaged in your community. However, the cost of membership can be a barrier for some people.
Luckily, several volunteer programs offer various ways to get a free YMCA membership. It helps you start reaping the benefits of being a member without breaking the bank.
Whether you're on a tight budget or simply want to save some money, keep reading to learn how to get a YMCA membership for free.
What is the YMCA?
The YMCA (also known as 'Y'), which stands for Young Men's Christian Association, is a worldwide organization that was founded in 1844 in London, England, by Sir George Williams. Its main goal is to promote healthy living, social responsibility, and youth development through various programs and activities.
Originally focused on providing support and community for young men, the YMCA has since evolved to serve people of all ages, genders, and backgrounds.
Today, the organization operates in more than 120 countries, offering various services such as fitness classes, swimming lessons, summer camps, after-school programs, and community outreach initiatives.
The YMCA is committed to fostering a sense of belonging and providing opportunities for personal growth and development.
Through its various programs and GYM facilities, the YMCA aims to help individuals and families lead healthier, more fulfilling lives while also promoting strong communities.
Can I Get a YMCA Membership for Free?
While the YMCA generally charges membership fees to cover the costs of their programs and facilities, they may offer financial assistance or reduced rates for individuals and families who cannot afford the full membership price.
The availability of free memberships or discounted rates often depends on the specific YMCA location and its policies.
There might be special programs or grants that can help cover the cost of a membership. There could also be volunteer opportunities that could potentially lead to a free or discounted membership.
It's best to contact your local YMCA directly to inquire about their membership options and any financial assistance programs they may have in place. They can provide you with more information on eligibility requirements and application procedures for financial support.
Remember that each YMCA branch might have different offerings and guidelines, so it's important to reach out to the one closest to you.
How to Get a Free YMCA Membership?
To explore the possibility of obtaining a free YMCA membership, follow these steps –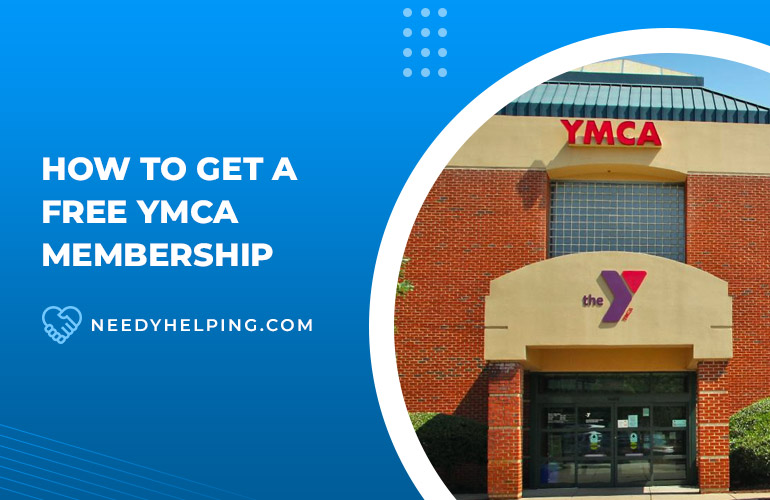 #Step 1 – Locate your Nearest YMCA Branch: Visit the official YMCA website or use a search engine to find the nearest location to you.
#Step 2 – Contact the Local YMCA: Reach out to your local YMCA branch via phone or email and inquire about their membership options, including any financial assistance programs, scholarships, or sliding-scale fee structures they may offer for those in need.
#Step 3 – Ask about Eligibility Requirements: Each YMCA location may have different criteria for financial assistance, so make sure to ask about the specific eligibility requirements at your local branch.
#Step 4 – Gather Necessary Documentation: You may be required to provide proof of income, household size, or other relevant information to demonstrate your financial need. Prepare all necessary documents before applying for assistance.
#Step 5 – Complete the Application Process: Follow the instructions provided by your local YMCA to apply for financial assistance. This may involve filling out an application form, submitting the required documentation, and participating in an interview or assessment.
#Step 6 – Wait for Approval: Once you have submitted your application, the YMCA staff will review it and determine whether you qualify for a free or discounted membership. The approval process might take some time, so be patient.
Remember that each YMCA branch may have different policies and availability regarding free or subsidized memberships.
7 Programs that Offer Free YMCA GYM Memberships
There are many programs that offer free or financial assistance for YMCA membership.
Below are some popular ones –
1) Membership For All
YMCA has always been a place that welcomes everyone, regardless of their financial situation. With its "Membership for All" program, the YMCA continues to uphold its inclusivity and community support mission.
This financial assistance program ensures that the Y remains accessible for everyone, providing opportunities for all to enjoy a healthy lifestyle, connect with others, and contribute to a better community.
How Does the Program Work?
The "Membership for All" program is funded through generous donations to the YMCA's Annual Campaign. These contributions allow the YMCA to provide financial assistance for memberships and programs to those in need.
If you qualify for the program, you will receive financial assistance towards your YMCA membership and be eligible for the same discount on qualifying YMCA programs.
Who is Eligible?
The eligibility for the "Membership for All" program is income-based. If your total combined gross household income is less than $70,000 per year, you are eligible to apply for this financial assistance.
The YMCA uses a sliding scale to determine the amount of assistance awarded, taking into account both household income and personal circumstances. This ensures the program is fair and provides help to those who need it the most.
To keep the process transparent and fair, annual income verification is required for all individuals in the household aged 18 years or older.
Any past balances with the YMCA must also be paid in full in order to renew a membership.
Applications are reviewed for eligibility on a 12-month basis.
The Application Process
Applying for "Membership for All" is straightforward. To start, complete a "MEMBERSHIP FOR ALL APPLICATION" and return it to the YMCA during Membership Hours (Monday to Friday: 5:00 am – 9:00 pm, Saturday: 6:00 am – 4:00 pm, Sunday: 7:00 am -2:00 pm), along with the necessary income verification documentation.
It's important to note that the YMCA does not make copies of the necessary documents, so applicants should provide copies as forms will be shredded after review.
The required income verification documentation includes:
Most recent federal income tax return (1040 or equivalent, not W-2 forms) for all individuals in the household aged 18 years or older.
If receiving SSI or disability benefits, then submit your most recent Social Security monthly benefit statement.
Last two paystubs for all individuals in the household aged 18 years or older.
Child support and/or Alimony monthly documentation.
Unemployment monthly compensation statement.
Pension monthly benefit statement.
Documentation with names of eligible person(s) for subsidized housing statement and food stamps statement.
Once your completed application and all required documents have been submitted, your eligibility for financial assistance will be determined during a meeting with a Membership Specialist.
2) Get Summer
The Get Summer program is an initiative offered by the Twin Cities YMCA that provides free summer memberships to teens entering grades 9-12 in the fall.
The program aims to encourage healthy living, physical activity, and social engagement among teenagers during the summer months.
Here's a breakdown of how the Get Summer program helps teens get a free YMCA membership:
Duration: The free membership is available from June 5 through August 31, 2023.
Eligibility: To qualify for the free membership, participants must be entering grades 9-12 in the fall and not have had a YMCA membership within the past 60 days. There is a limited number of free memberships available per location.
Registration: Teens can register for the Get Summer program starting June 5, 2023, either online or in-person at their local YMCA branch.
Membership Benefits: With the Get Summer membership, teens gain access to 19 YMCA locations in the Twin Cities and Hudson, WI, including gyms, indoor and outdoor pools, fitness centers, and group exercise classes.
Orientation: Before using the facilities, teens are required to review a virtual orientation. This can be accessed through an email link sent to the youth and parent email addresses on file or by reading through the orientation materials provided on the YMCA website.
Parent/Guardian Involvement: For youths aged 10-14, parents or guardians are required to sign off on the completion of the orientation before the membership becomes active. Youths aged 15 and older have full access to the fitness center and are strongly encouraged to complete the orientation.
By offering free memberships through the Get Summer program, the YMCA encourages teens to stay active, develop healthy habits, and engage with their communities during the summer break.
3) Open Doors Charitable Assistance Program
The Open Doors Charitable Assistance Program offers financial aid for YMCA memberships on a sliding scale based on household income, ensuring that more people have the opportunity to benefit from the resources and activities provided by the YMCA.
Here's how the Open Doors program helps individuals obtain a free or discounted YMCA membership:
Financial Assistance: Open Doors provides financial help to over 90,000 people annually, allowing them to participate in life-changing YMCA programs and services.
Sliding Scale: The program offers financial assistance for membership fees based on a sliding scale that takes into account your household's income. This means that the amount of assistance provided will vary depending on your financial circumstances.
Special Circumstances: Individuals facing unique financial challenges, such as job loss or other economic hardships, are also encouraged to apply for assistance through the Open Doors program.
Application Process: To apply, download an Open Doors application and submit it to your local YMCA along with your most recent tax return or other proof of income for the last 30 days. A membership representative will then meet with you to discuss your options.
Determination of assistance: Based on the information provided during the application process, the membership representative will help determine the level of financial assistance the YMCA can offer. This may result in a free or discounted membership depending on your specific situation.
4) SilverSneakers
SilverSneakers is a program that provides free YMCA memberships to seniors who are eligible for Medicare or are part of group retiree plans.
It's a benefit subsidized by Humana and their qualifying plans. This program aims to help older adults improve their strength for daily activities while also fostering a social network at the YMCA.
A SilverSneakers membership includes several benefits at the YMCA. These include:
Access to conditioning classes, exercise equipment, pool, sauna, and other available amenities.
Customized SilverSneakers classes that are designed exclusively for older adults. These classes aim to improve the members' strength, flexibility, balance, and endurance.
Members-only access to online support that can help them lose weight, quit smoking, or reduce stress.
Access to an indoor walking track​.
Several insurance companies provide this program. Some of the eligible insurance companies that offer SilverSneakers include –
AARP Medicare Complete by UnitedHealthcare
AARP Medicare Supplement Insurance Plan
Humana
WellCare
Coventry Health Care of Illinois
Community Care Alliance​.
Through this program, seniors are able to maintain their physical health and well-being, enjoy the YMCA facilities, and engage in a supportive community at no cost.
5) Renew Active
The Renew Active program, offered exclusively by UnitedHealthcare Medicare Plans, provides a way for people to access free YMCA membership.
The benefits of the program include:
Free membership to the YMCA.
A free one-on-one session with a personal trainer in their Fitness Orientation program.
Free Member Coaching will help you acclimate with the YMCA and all it offers.
Free access to the exclusive Stolle Center, which caters to seniors.​
To take advantage of this program, you need to:
Have a UnitedHealthcare Medicare Plan.
Join the YMCA and sign up for a Renew Active membership.
Visit the YMCA at least 3 times each month​.
Be 65 years of age or older​.
If you enroll in Renew Active, you will be able to use your membership at any YMCA that participates in the program. Your access to the YMCA's amenities will be the same as a regular member's.
It includes –
Cardio and strength-training equipment
Group fitness classes
Swimming pools
Childcare
Personal training
The Renew Active program provides a comprehensive package to keep seniors active and engaged while offering them free access to the YMCA and its numerous amenities and services.
6) Unite for Her
Unite for Her is a 501(c)(3) non-profit organization that provides free services and support to women in the United States diagnosed with breast or ovarian cancer.
Through their Wellness Program, Unite for Her offers free YMCA memberships to eligible patients.
This membership provides access to fitness classes, gyms, pools, and other recreational activities that can help improve physical health and emotional well-being.
The YMCA also offers educational programs and resources that can help patients manage their diagnosis and treatment.
By providing free YMCA memberships, Unite for Her helps women get the support they need to live healthier lives.
7) YMCA Company and Organizational Wellness Program
The YMCA Company and Organizational Wellness Program is designed to help businesses invest in their employees' health and well-being by offering them access to YMCA facilities and services at reduced costs.
By partnering with the YMCA, companies can promote a healthy lifestyle among their employees, which can lead to increased productivity, reduced absenteeism, and improved morale.
Here's how the program offers low-cost YMCA memberships:
Membership Discount: Participating companies provide their employees and their families with a 10% discount on full YMCA memberships, making it more affordable for them to access the range of programs and facilities offered by the YMCA.
Waived Joiner Fee: In addition to the discounted membership rate, corporate partner employees also benefit from waiving the joiner fee, resulting in savings of up to $100.
Full YMCA Membership Benefits: Employees who enroll in the program receive full YMCA membership benefits. It includes access to hundreds of in-person group exercise classes (Zumba, Pilates, Yoga, Cycling), indoor swimming pools, aqua group exercise classes, and program discounts on offerings such as swimming lessons, childcare, summer camp, and mindfulness programs.
Additional Perks: Corporate partners also receive access to an on-demand library of over 1000 virtual wellness classes covering various topics like healthy cooking, exercise, dance, crafts, pickleball, and storytelling. Besides it, they can organize one annual company event at the YMCA, with options like pickleball instruction, Archery Tag, or mindfulness workshops.
Below are some of the existing corporate YMCA partners –
Franklin Mint Federal Credit Union 
Jackson Immuno 
Lincoln University 
Ring 
Tri-M
YMCA Membership Discounts for Specific Groups of People
YMCA offers discounted memberships to people that fall under specific groups. It includes holders of eligible insurance plans, armed forces members, players, and people that fall under a certain income level threshold.
Let's check out each option –
Insurance Based Membership
YMCA offers free or discounted memberships to individuals through various partnerships with insurance providers, Medicare, and Medicaid.
These programs help make YMCA facilities and services more accessible to people who may be eligible for financial assistance.
Here's how YMCA provides free or discounted memberships to eligible individuals:
Insurance Coverage: Many insurance providers offer their policyholders low-cost or no-cost YMCA memberships. Contact your health insurer directly to determine eligibility and inquire about any available YMCA membership benefits.
Medicare and Medicaid: Some individuals may be eligible for special YMCA memberships through Medicare or Medicaid.
Partnerships with Organizations: YMCA has partnerships with several organizations, such as Health Plan Partners, One Pass™, Renew Active®, Silver&Fit®, and SilverSneakers®, which offer full-facility YMCA memberships at low or no cost to eligible members.
Special Programs for Seniors: SilverSneakers and Silver & Fit are unique programs provided by some insurance companies that offer full access to YMCA facilities and free classes specifically designed for older adults.
U.S. Armed Forces
The YMCA offers support to military families and personnel by providing free or discounted memberships through two primary initiatives: the Department of Defense (DOD) Military Outreach Initiative and a special discount for all members and veterans of the U.S. Armed Forces.
Here's how these programs help existing or former military personnel access YMCA services:
DOD Military Outreach Initiative
In partnership with the Armed Services YMCA and the Department of Defense, the YMCA offers memberships to eligible military families and personnel under the DOD Military Outreach Initiative.
To apply, military personnel must submit the DOD Armed Services Membership application to their Military Component Approving Officer (MCAO).
Once the application is approved, the MCAO will notify the YMCA branch, and the membership can be started.
Discount for all U.S. Armed Forces Members and Veterans
For those who do not qualify for the DOD Military Outreach Initiative, the YMCA offers a 10% discount on monthly membership fees and waives the $99 join fee for all active members and veterans of the U.S. Armed Forces.
To access this discount, individuals need to provide proof of service, such as their military ID or DD214 form (for veterans), at any participating YMCA branch.
These initiatives demonstrate the YMCA's commitment to supporting military families and personnel by making their services more accessible and affordable.
Public Safety Personnel Discounts
The YMCA offers public safety personnel discounts to employees including police officers, firefighters, and EMTs. They are eligible for a 10% discount on their monthly membership and also have their $99 join fee waived.
To access this discount, they simply need to bring proof of employment to any YMCA branch.
NFL Players Association and the Trust
The National Football League Players Association (NFLPA) and The Players Trust have partnered with the YMCA to offer free memberships to former NFL players.
The Trust is a set of resources available through the NFLPA that provides players with access to benefits and services that assist in their success beyond the playing field.
Through this partnership, former players are eligible for a free one-year Individual Membership at participating YMCAs across the country.
In order to be eligible for this membership, former players must contact The Trust to obtain approval. Once approved, they will receive an email containing their name, ID number and birthdate which they must bring along with a valid photo ID when signing up at any YMCA gym center.
It is an excellent opportunity for former NFL players who may not otherwise have access to these services due to financial or other barriers.
Income Based Memberships
YMCA's Income-Based Memberships are designed to make their facilities and services more accessible to individuals and families who need financial assistance.
These memberships are available to those who meet specific income criteria, ensuring that more people can enjoy the benefits of a YMCA membership regardless of their financial situation.
Here's how the Income-Based Memberships work:
Eligibility: Applicants must meet certain income criteria to qualify for an Income-Based Membership. For a YMCA Family Membership, the gross household income for all adults must be under $80,000 annually. For an Individual Membership, the gross household income for all adults must be under $50,000 annually.
Application Process: Interested individuals can visit a Member Services Desk or call any one of the YMCA branches to request a confidential application.
Required Documents: Along with the completed application, applicants must provide the following documents: a copy of their last year's federal tax return, two recent copies of pay stubs or social security/disability checks, a completed Membership Application, and a government-issued ID.
Assistance: Once the application and required documents are submitted, the YMCA will review the applicant's financial situation and determine their assistance level. This may result in a discounted membership fee based on the applicant's income.
Benefits of being a YMCA Member
Being a member of the YMCA center, you can leverage the below potential benefits –
Access to a variety of fitness facilities, including gyms, swimming pools, and sports courts.
Participation in group exercise classes such as Zumba, Pilates, Yoga, and Cycling.
Discounts on various programs like swimming lessons, childcare, summer camps, and mindfulness courses.
Opportunities for personal growth and skill development through workshops, seminars, and events.
A supportive community that encourages social interaction, networking, and making new friends.
Involvement in volunteer opportunities and community outreach programs.
Access to special member-only events and promotions.
Health and wellness resources like nutrition counseling, personal training, and wellness coaching.
Programs tailored to different age groups, including children, teens, adults, and seniors.
Family-friendly activities and events that promote bonding and quality time together.
FAQs about YMCA Membership
Does YMCA Staff Get Free Membership?
Yes, YMCA staff do get free membership along with other plenty of benefits.
How to Get a Free Membership at the YMCA?
To get a free membership at the YMCA, it is worth exploring options such as financial assistance programs, insurance coverage, military outreach initiative, and employee benefits. If you are eligible for any of these options, you may become a YMCA member for free.
What is the Full Form of YMCA?
The full form of YMCA is the Young Men's Christian Association.
Does YMCA Membership Include All Locations?
Yes, YMCA membership allows you to access any YMCA location across the United States without any additional or daily fees. Aa a member, you can enjoy the flexibility of working out at different YMCA branches throughout the country, making it convenient for those who travel frequently or move between cities.
What Financial Assistance is Available to Help Me Join the YMCA?
The YMCA provides financial assistance to those who show they need it. This assistance can cover memberships, programs, and activities offered by the YMCA. For more information and to apply for financial assistance, visit indymca.org/join-now/financial-assistance/.
How do I Cancel my YMCA Membership?
To cancel your YMCA membership, simply provide a 10-day written notice and visit your local branch in person to complete the termination form and surrender your membership cards. There is no membership contract, so you can end your membership at any time.
How to Check if My YMCA Membership is Still Valid?
To check if your YMCA membership is still valid, you can contact your local YMCA branch, provide your membership information, and ask them to tell you about the status of your YMCA membership.
Can I Put my YMCA Membership on Hold?
You can put your YMCA membership on hold, suspending in-person access. To do this, visit Member Services at your local branch. A monthly fee of $9.99 will apply during the hold period. For annual memberships, you'll need to pay the monthly fees upfront. While your membership is on hold, you can still access the Virtual Y program.
Conclusion
In brief, this was all about how to get a free YMCA membership to stay fit and connected with the likewise community in your area.
No matter your financial situation, the YMCA is here to ensure you can still access quality physical activity and wellness services. With options like free memberships through local initiatives or financial assistance for those who qualify, there's no excuse not to take advantage of all the YMCA offers.
So what are you waiting for? Get active today! Join a gym near you and start exploring different activities offered by the YMCA.