In this post, we will discuss different free hotel voucher programs and how they are providing emergency homeless assistance to people in need.
According to the Department of Housing and Urban Development (HUD), Homelessness is a growing problem in the United States, with an estimated 582,000 people experiencing homelessness in America.
So, do you know someone who is facing homelessness? Have you ever felt the incredible burden of not knowing where you will sleep at night?
The emotional and physical struggles that come with homelessness are immense, and they can often leave people feeling helpless and without hope.
But there is a way out, free hotel voucher programs for homeless assistance offer a lifeline for people in need of shelter.
Let's get into more details…
What is the Free Hotel Voucher Program?
The Free Hotel Voucher Program is designed to provide temporary housing assistance to those who are homeless or in need of emergency shelter.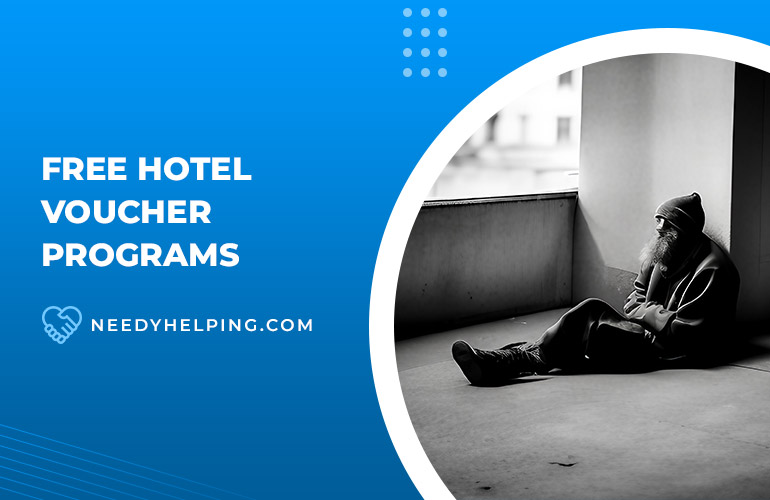 The program provides vouchers that can be used to pay for hotel or motel rooms, allowing individuals and families to stay in a safe and secure environment while they seek more permanent housing solutions.
The vouchers are provided by various organizations, including the Housing and Urban Development (HUD) Exchange, charities, churches, government agencies, Salvation Army centers, and other community resources.
It is important to note that most hotels accepting these vouchers will only offer nighttime lodging.
Where to Find Free Hotel Vouchers for Emergency Hotel Stay?
Finding free hotel vouchers for emergency hotel stays can be daunting, especially during financial hardship.
,There are several ways you can try to find hotel vouchers for affordable stays. Let's check them out.
Government Organizations
Government organizations are playing an important role in helping homeless people find free hotel vouchers for temporary housing.
They often collaborate with non-profit organizations, charities, and local service providers to facilitate access to free vouchers and other assistance services for those in need.
Here's how government organizations help in this process:
Funding Programs: The federal government funds state and local governments for various homeless assistance programs. For example, the American Rescue Plan Act of 2021 (ARPA) funds the Emergency Housing Voucher (EHV) program, which offers tenant-based vouchers for those in need of emergency housing.
HUD's Continuum of Care (CoC) Program: The U.S. Department of Housing and Urban Development (HUD) operates the CoC program, which aims to promote community-wide commitment to ending homelessness. This program provides funding to non-profit organizations, states, and local governments to offer supportive services, including emergency shelter and hotel vouchers.
Emergency Solutions Grant (ESG) Program: The ESG program, also administered by HUD, provides funding to states, territories, local governments, and non-profit organizations to offer essential services, such as street outreach, rapid re-housing, and emergency shelter, including hotel or motel vouchers.
Temporary Assistance for Needy Families (TANF): The TANF program, administered by the U.S. Department of Health and Human Services, provides financial assistance to needy families. Sometimes, TANF funds can cover emergency housing expenses, including hotel vouchers.
Local government initiatives: Many city and county governments have their own programs to address homelessness. These local initiatives may include providing hotel vouchers through partnerships with hotels and motels, coordinating with local non-profits and charities, and offering case management services to help individuals transition into stable housing.
Homeless individuals and families can contact their local government offices, social service agencies, or non-profit organizations for information on available programs and eligibility requirements.
NGOs and Charities
NGOs and charities are important in assisting the homeless by providing them with free hotel vouchers for temporary housing.
They work closely with community partners, local businesses, and government agencies to provide assistance to those in need.
Here are some ways NGOs and Charities help homeless individuals and families to get free hotel vouchers:
Direct provision of vouchers: Some NGOs offer hotel vouchers directly to homeless individuals and families as part of their emergency shelter programs. They have partnerships with local hotels and motels to secure rooms at discounted rates or on a complimentary basis.
Collaboration with government programs: NGOs often partner with government organizations to distribute hotel vouchers funded by governmental initiatives. For example, they may work with HUD's Continuum of Care (CoC) Program or the Emergency Solutions Grant (ESG) Program to provide temporary housing solutions, including hotel vouchers.
Fundraising and donations: Charities and NGOs raise funds through charitable donations, grants, and fundraising events to finance various services, including hotel vouchers for homeless individuals and families. Donors may contribute specifically to a fund that provides emergency shelter, including temporary hotel stay vouchers.
Case management and support services: Besides offering hotel vouchers, many NGOs provide case management services to address the root causes of homelessness.
Referrals and networking: NGOs and Charitable Trusts maintain close relationships with other organizations and service providers within their communities. They can refer homeless individuals to appropriate resources and support networks, including other NGOs, government agencies, or faith-based organizations offering hotel vouchers.
Some well-known NGOs and Charities that help homeless people find hotel vouchers include the Salvation Army, Catholic Charities, Family Promise, and United Way.
Local Assistance Events
Local assistance events, also known as homeless outreach events or resource fairs, are organized by communities and local organizations to provide various resources and services to homeless individuals and families.
These events can be an effective way for homeless people to find free hotel vouchers and other types of support.
Here's how local assistance events may help:
One-stop access to resources: Local assistance events bring together multiple service providers, including government agencies, NGOs, charities, and faith-based organizations, under one roof. Homeless individuals can access information about free hotel vouchers, emergency shelters, food assistance, clothing, and other resources at a single location, which simplifies the process of finding help.
On-site services and support: During these events, service providers may offer on-site assistance, such as completing applications for hotel vouchers, providing case management services, or connecting homeless individuals with mental health and substance abuse treatment programs.
Community engagement: Local assistance events foster a sense of community engagement and support. Volunteers, local businesses, and community members come together to donate their time, goods, and services to help homeless individuals access resources, including hotel vouchers.
Awareness and education: These events raise awareness about the challenges homeless individuals and families face and the resources available to them. Participants can learn about different programs and services, including those offering hotel vouchers, and better understand the eligibility requirements and application processes.
Networking and collaboration: Local assistance events facilitate networking and collaboration among various organizations and service providers. This collaboration can lead to more efficient distribution of resources, including hotel vouchers, and the development of new programs and services tailored to the needs of the local homeless population.
To find local assistance events in your area, check the websites or social media pages of local government agencies, NGOs, charities, and faith-based organizations.
Online Resources
Here are some ways online resources can assist homeless individuals and families in finding free hotel vouchers:
Information on available programs: Websites of NGOs, charities, and government agencies offer detailed information on various programs and services, including free hotel voucher programs. Homeless individuals can research these programs, learn about eligibility requirements, and understand the application process.
Online applications and forms: Some organizations allow homeless individuals to apply for hotel vouchers online, making the process more accessible and convenient. Online forms can be filled out and submitted electronically, speeding up the application process and reducing wait times.
Online forums and social media groups: Online forums, Facebook groups, and other social media platforms can be valuable resources for homeless individuals looking for hotel vouchers.
News and updates: Online resources, such as blogs and news websites, can provide updates on new programs, funding opportunities, and changes to existing services, including hotel voucher programs.
7 Popular Free Hotel Voucher Programs for Temporary Shelter
1. Salvation Army
The Salvation Army is a global faith-based organization providing services to needy people, including homeless people.
The organization has provided emergency homeless shelters and long-term housing assistance for over 150 years.
The Salvation Army hotel vouchers can help homeless people find temporary shelter. This program is available to individuals and families facing homelessness due to various circumstances such as job loss, eviction, or domestic violence.
Individuals must meet certain criteria and submit an application to receive a voucher. Once approved, the voucher can be used at participating hotels for up to 14 days of free lodging.
In addition to providing hotel vouchers, The Salvation Army also offers other services such as food pantries, clothing closets, counseling services, and job training programs.
Website – https://www.salvationarmyusa.org/usn/provide-shelter/
2. American Red Cross
The American Red Cross is a humanitarian organization that provides emergency assistance, disaster relief, and education both domestically and internationally.
While their primary focus is on disaster response and recovery, they also help individuals and families affected by personal emergencies or crises, including homelessness.
In the event of a natural disaster, such as a hurricane, flood, or wildfire, the American Red Cross may provide temporary shelter to those who have lost their homes, including hotel and motel vouchers.
These vouchers allow displaced individuals and families to access safe, temporary accommodations while they work on finding more permanent housing solutions.
Website: https://www.redcross.org
3. Veterans Affairs (VA)
The Veterans Affairs (VA) is a federal agency that provides benefits and services to veterans, their families, and survivors.
The VA offers a wide range of programs and services, including health care, disability compensation, education assistance, home loans, life insurance, vocational rehabilitation, and employment services.
One of the most popular programs offered by the VA is their free hotel vouchers program. This program provides eligible veterans with up to seven nights of free lodging at participating hotels across the country.
To qualify for this program, veterans must meet certain criteria such as having served in active duty for at least 90 days or more. During wartime or having been discharged due to a service-connected disability.
Website: https://www.va.gov
4. Emergency Housing Voucher (EHV) Program
The Emergency Housing Voucher (EHV) Program is a federal initiative funded through the American Rescue Plan Act of 2021 (ARPA) to help address the housing crisis faced by individuals and families who are homeless, at risk of homelessness, victims of domestic violence or human trafficking, or recently homeless and in need of rental assistance.
The program is administered by the U.S. Department of Housing and Urban Development (HUD) in partnership with local Public Housing Agencies (PHAs).
The EHV program provides tenant-based vouchers that can be used to secure safe, affordable, and stable housing in the private market. These vouchers cover a portion of the rent, allowing eligible participants to pay only a reasonable percentage of their income towards rent while the voucher covers the remaining amount.
To access the EHV program, eligible individuals and families must be referred by a Continuum of Care (CoC) agency or a Victim Service Provider.
After receiving a referral, the PHA will work with the individual or family to find suitable housing within the community. Once housing is secured, the PHA will provide rental assistance through the voucher, ensuring that the participant pays no more than 30% of their adjusted income towards rent.
Website: https://www.thn.org/ehv/
5. HUD's Continuum of Care (CoC) Program
HUD's Continuum of Care (CoC) Program is a federal program that provides funding for organizations and local governments to help people who are homeless or at risk of becoming homeless.
The program also helps to prevent homelessness by providing assistance with rent payments, security deposits, and other housing-related costs.
The CoC Program may offer free hotel vouchers that cover the cost of the room but do not cover any additional expenses such as meals, transportation, etc.
The CoC Program also offers other types of assistance such as rental assistance, case management services, job training and placement services, health care services, mental health services, and substance abuse treatment services.
Website: https://www.hudexchange.info/programs/coc/
6. Emergency Solutions Grant (ESG) Program
The Emergency Solutions Grant (ESG) Program is a federal initiative administered by the U.S. Department of Housing and Urban Development (HUD) that provides funding to states, territories, local governments, and non-profit organizations.
The ESG program aims to assist homeless individuals and families by providing necessary services, emergency shelters, and offering quick re-housing aid.
The ESG Program does offer free hotel vouchers in certain situations as part of its efforts to address homelessness.
However, the distribution of hotel vouchers through the ESG Program is typically managed at the local level by the recipient agencies, such as non-profit organizations, local government offices, or Continuum of Care (CoC) agencies.
Eligibility criteria and availability of hotel vouchers may vary depending on the specific agency and the community's needs.
Website: https://www.hudexchange.info/programs/esg/
7. Volunteers of America
Volunteers of America (VOA) is an organization that often provides free hotel vouchers for individuals and families experiencing homelessness.
VOA operates in various locations across the United States and offers a range of supportive services to assist individuals in need, including emergency shelter programs.
It is recommended to contact your local Volunteers of America office or visit their website for more information on the availability and eligibility criteria for their hotel voucher programs in your area.
Website: https://www.voa.org/
Who is Eligible for Free Motel Vouchers?
Free hotel and motel voucher services have several limitations and can be availed in certain situations.
The following conditions are the most common, under which you can receive benefits from free voucher services.
Victims of Domestic Violence
Homeless People
Low Income Individuals and Families
Recently Evicted or Displaced from your home
Natural Disaster
People with Disability
Different Types of Vouchers for Free Hotel Stays
Here are some common types of vouchers that can be used for a free hotel stay –
Emergency Hotel Vouchers: Government agencies or nonprofit organizations generally provide emergency hotel vouchers to assist individuals who are homeless or those who have been displaced from their homes as a result of a natural disaster.
These types of hotel vouchers are typically valid for one or a few nights at a nearby hotel.
Seasonal Hotel Vouchers: Hotels and motels usually provide such seasonal vouchers during winter or summer months to assist individuals who cannot afford a place to stay in extreme weather conditions.
These seasonal vouchers can be redeemed for stays of one or two weeks at participating hotels or motels.
Loyalty Program Vouchers: Hotels and motels have loyalty programs that give members free nights or discounted rates. You can use your accumulated points or miles to get a free hotel stay as a member.
Promotional Hotel Vouchers: To entice new customers or advertise special events, hotels and motels frequently provide promo vouchers. These vouchers are usually valid for a complimentary night or a reduced rate at a designated hotel or motel.
Time Limit of Hotel Vouchers for Homeless?
Different organizations or programs offer hotel vouchers for homeless people with varying time limits.
Normally, these vouchers are valid for a few nights or a week in a nearby hotel. Some vouchers are valid for an extended period of time, such as a month or a few months.
The time limit of a voucher is based on two factors: the funding available to the organization and the number of hotel rooms available.
When an organization has limited funding, the voucher may only be valid for a short period. Similarly, if the number of available hotel rooms is low, the organization may only offer the voucher for a limited number of nights.
Please note that hotel vouchers are not a long-term solution for homelessness. Rather, they serve as a short-term relief that can assist individuals experiencing homelessness to get back on their feet.
FAQs about Free Hotel Voucher Programs
What is a Free Hotel Voucher Program?
A free hotel voucher program is a government-sponsored or charity-funded program that provides discounted or free hotel vouchers to people who need them. These vouchers can be used to cover the cost of a hotel stay for those in need of emergency housing.
Who is Eligible for Free Motel Vouchers?
Eligibility requirements vary depending on the specific program, but generally, low-income and homeless individuals are eligible to receive free hotel and motel vouchers.
How Long do the Vouchers Last?
The length of time or validity of the hotel voucher varies depending on the specific program, but most will provide up to three nights of lodging at a discounted rate or for free.
How can I Immediately Receive Homeless Hotel Vouchers?
To immediately receive homeless motel vouchers, you can search for local charities, churches, and government agencies through a quick online search. These programs are typically designed to provide emergency housing for low-income or homeless individuals. However, eligibility requirements vary by program, so confirming eligibility criteria before applying is important.
Do any Apps Exist that Help the Homeless find Free Housing?
Apps like OurCalling and ShelterApp may help the homeless find not free but affordable housing options. These apps may also educate people without home about different housing assistance programs available in their areas.
Conclusion
It is heartbreaking to think of the many people who are facing homelessness in the United States every night, yet it is heartwarming to see how some organizations are offering a lifeline to those in need.
By providing free hotel voucher programs for homeless assistance, individuals can have a temporary sense of security and safety.
We cannot solve homelessness in our nation on our own, but we can do our part by participating in charity events such as donating a portion of a hotel stay or participating in fundraisers for hotels that offer these programs.
Together we can make a difference in the life of someone facing homelessness—and if you or someone you know are eligible for one of these assistance programs, please do contact your local authorities for more accurate information.