Find free eye exam programs near you for affordable eye care. Explore local resources, national organizations, government assistance, and more to ensure your eye health doesn't take a back seat.
Regular eye exams are essential for detecting vision problems, eye diseases, and other issues that can impact your overall wellbeing.
The cost of eye exams can be high for some people. That lead them unable to access the care they need. That's why I've written a guide on how to find free eye exam programs in your area.
We'll explore various resources, tips, and strategies to help you locate free eye exam programs.
So let's dive in!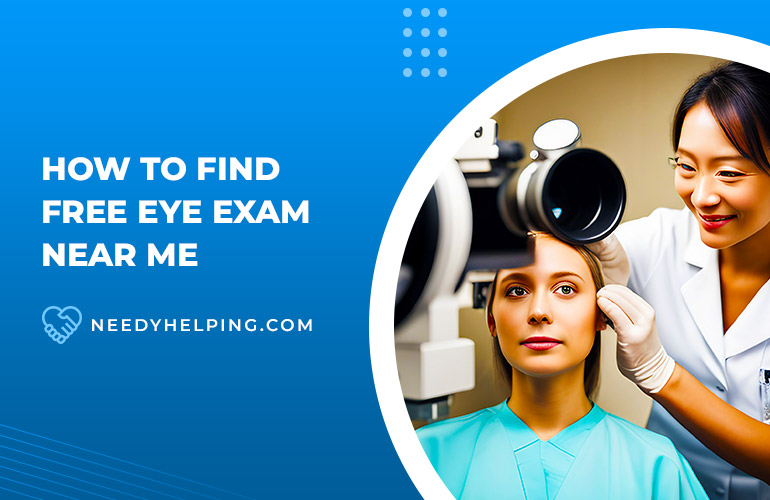 Why Regular Eye Checkup is Important?
Before we discuss how to find free eye exam programs, it's essential to understand why regular eye exams are so important.
Eye exams are an important part of maintaining good eye health. It is recommended that adults get their eyes checked at least once every two years, and children should have their eyes examined yearly.
A comprehensive eye exam typically takes about an hour and may include tests such as visual acuity tests, refraction tests, color blindness tests, depth perception tests, and more.
Early detection of vision problems and eye diseases can significantly improve treatment outcomes and prevent further complications.
For example, glaucoma—a leading cause of blindness—often has no noticeable symptoms until it has progressed to an advanced stage.
Regular eye exams can detect glaucoma in its early stages, allowing for more effective treatment and potentially preserving your vision.
Now, let's discuss the associated cost to make you understand the importance of free vision tests.
Cost of Eye Exam
The cost of an eye exam can vary depending on a few factors, such as the type of exam, where you go for the exam, and whether or not you have insurance.
For example, Walmart offers eye exams for as low as $75 without insurance. Moreover, most vision centers offer discounts for first-time customers or those who pay out-of-pocket.
If you do have vision insurance, the cost of an eye exam will be significantly lower than if you were to pay out-of-pocket. Most vision plans cover a comprehensive eye exam once every 12 months with a copay ranging from $15 to $50.
In 2023, the average cost of an eye exam in the United States is approximately $110.
The cost can also vary based on the region:
Midwest: $87
Northeast: $107
Southeast: $103
Southwest: $103
West: $125
Northwest: $131
The type of practice can also significantly influence the price:
Retail chain: $93
Vision center (attached to a store like Target or Costco): $89
Standalone private practice: $144
As you can see, standalone private practices are 60% more expensive than retail locations​.
The cost of an eye exam can vary greatly depending on whether or not you have insurance and where you choose to get your eyes checked.
If you are unable to afford the cost of eye care services, then below are some ways and resources you can approach to get free eye care assistance.
Local and National Nonprofit Organizations Offering Free Eye Exam Facilities
Many nonprofit organizations and community centers offer free or low-cost eye exams to those who cannot afford them.
These organizations may partner with local optometrists or ophthalmologists to provide these services.
To find such programs in your area, start by contacting your local United Way chapter, YMCA, or community center. They can often direct you to available resources or provide information on upcoming free eye exam events.
Below is the list of non-profits that may offer free eye care check-ups –
United Way: A global nonprofit organization focused on improving education, income stability, and health. United Way chapters often collaborate with local eye care providers to offer free or low-cost eye exams.
YMCA: The Young Men's Christian Association (YMCA) is a worldwide community-based organization that offers various health and wellness programs, including vision screenings and eye exams in partnership with local optometrists.
Prevent Blindness: A national nonprofit organization dedicated to preventing blindness and preserving sight. Prevent Blindness chapters may host free vision screenings and provide resources for finding affordable eye care services.
Rotary Club: A global network of community volunteers who work on various projects, including health initiatives. Some local Rotary Clubs partner with eye care professionals to offer free eye exams for those in need.
Boys & Girls Clubs of America: A national organization providing after-school programs for young people. Some local clubs may coordinate with eye care providers to offer free vision screenings.
Community Health Centers: Local community health centers often provide a range of healthcare services, including eye care, to underserved populations. These centers may offer free or low-cost eye exams to eligible individuals.
Senior Centers: Many senior centers host health fairs and wellness events, which may include free vision screenings and eye exams for older adults.
Area Agency on Aging: These regional organizations assist older adults in accessing various services, including healthcare. They may have information on free eye exam programs or resources in your area.
Lions Clubs International: Lions Clubs often organize free vision screenings and eye exams in their communities. Visit the Lions Club International website and use their club locator tool to find a chapter near you. Contact your local club to inquire about upcoming events or resources.
Vision USA: Vision USA is a program that provides free eye exams to low-income, uninsured individuals. To see if you qualify for their services, visit the Vision USA website and review their eligibility requirements. If you're eligible, you can apply for assistance directly through their site.
InfantSEE: InfantSEE is a public health program that offers free eye assessments for infants between six months and one year of age. Visit the InfantSEE website to find a participating optometrist near you.
Churches and Faith-Based Organizations: Some churches and faith-based organizations offer vision assistance programs, to their communities. Check with local religious institutions to see if they provide such support.
Remember that the availability of free eye exam programs may vary depending on your location. Contact these organizations directly or visit their websites to inquire about specific services and eligibility requirements in your area.
Government Assistance Programs for Free Vision Tests
Depending on your location and eligibility, you may qualify for government assistance programs that cover eye exams.
Below is a list of some Government Eye Care Assistance Programs –
Medicaid: Medicaid is a state and federal program that provides health coverage for low-income individuals, including vision services such as eye exams and glasses. Eligibility and benefits vary by state.
Children's Health Insurance Program (CHIP): CHIP provides low-cost health insurance to children in families that earn too much to qualify for Medicaid but cannot afford private insurance. Vision services, including eye exams, are typically covered under CHIP.
Medicare: Medicare is a federal health insurance program for people aged 65 and older and certain younger individuals with disabilities. While traditional Medicare does not cover routine eye exams, some Medicare Advantage plans may include vision benefits.
Veterans Affairs (VA) Health Care: Eligible veterans can receive comprehensive eye care services, including vision tests, through the VA health care system.
TRICARE: TRICARE is a health care program for active-duty and retired uniformed service members and their families. TRICARE covers annual eye exams for eligible beneficiaries.
Indian Health Service (IHS): The IHS provides healthcare services to eligible American Indians and Alaska Natives, which may include vision care and eye exams.
Bureau of Primary Health Care (BPHC): The BPHC supports community health centers that provide primary healthcare services, including vision care, to medically underserved populations.
Please note that eligibility requirements, coverage, and available services for these government assistance programs may vary. It is essential to check with the individual program or your state's health department for specific information on free vision tests.
Research Local Optical Stores and Eye Care Practices
One often overlooked approach to finding free eye exams is by researching local optical stores and eye care practices.
Many of these businesses recognize the importance of eye health and aim to give back to their communities by offering free or discounted eye exams during special promotions or community outreach events.
By keeping an eye out for advertisements or announcements in local newspapers, social media, or on store websites, you may discover opportunities for free eye exams right in your neighborhood.
You can even look for eyeglass stores which are offering free eye exams on the purchase of glasses or contact lenses. Below are two examples of such stores –
America's Best Contacts & Eyeglasses: If you buy two pairs of glasses from them, you can receive a free eye exam worth $59. Schedule an appointment with a licensed optometrist now!
MyEyeLab – At MyEyeLab, you can purchase two sets of glasses that include frames and lenses for only $95. Additionally, you will receive a complimentary hard coat lens upgrade and a comprehensive free eye exam.
Don't hesitate to call or visit local optometry offices to inquire about any upcoming free eye exam events or promotions.
So, take the initiative to explore your local options and uncover valuable resources for affordable eye care right in your community.
Utilize Online Directories and Resources
In today's digital age, finding free eye exams has become easier, thanks to the wealth of online resources at your fingertips.
Utilize online directories, healthcare websites, and social media platforms to stay informed about available free eye exam programs in your area.
Websites dedicated to vision care and financial assistance often provide comprehensive lists of organizations, clinics, and community events that offer free or low-cost eye exams, making your search more efficient and targeted.
Join local online forums (Ex: optiboard.com, odwire.org), Facebook groups, or community pages where people share information about healthcare resources, including free eye exams and vision screenings.
Moreover, don't forget to sign up for newsletters from vision care providers and organizations, as these often contain valuable information about promotions, discounts, and free services.
By leveraging the power of the internet and staying connected with your community online, you can easily access a wealth of resources for free eye tests, ensuring your vision remains a top priority.
Family and Friends
Your family and friends can be invaluable resources when searching for free eye exam assistance programs. By reaching out to your network, you may discover that someone you know has recently come across a free eye exam opportunity or is aware of a local event, clinic, or organization offering such services.
Word-of-mouth recommendations can often lead to the most reliable and trustworthy sources of information.
They might have personal experiences or connections with eye care providers who offer free or discounted services, giving you a direct link to affordable eye care.
You can strengthen the bond within your network by seeking help from your family and friends to locate eye care centers that offer free eye tests.
FAQs about Eye Exams
How Much do Eye Exams Cost without Insurance?
Eye exams cost without insurance can range from $75 to $200 on average. However, the exact prices may vary depending on the location and retailer. While some doctors might charge up to $300 for an eye exam.
How can I Check my Eyesight Online for Free?
You can check your eyesight online for free using the ZEISS Online Vision Screening Check. Developed by ZEISS experts. It helps you assess your vision from the comfort of your home along with recommendations on whether you should consult a ZEISS optician for professional advice.
How do I know if I Qualify for a Free Eye Tests?
Eligibility for free eye exams depends on the specific program or organization offering the service. Common factors include age, income, geographic location, disability, veteran status, or membership in specific groups. Review the guidelines provided by the relevant program or organization, or contact them directly for more information.
Can I Get a Free Eye Exam through my Insurance?
Some insurance plans, including certain Medicare Advantage plans and vision-specific insurance policies, may cover routine eye exams. Check with your insurance provider to see if your plan includes vision benefits.
How Often Should I have an Eye Exam?
The frequency of eye exams depends on factors like your age, overall health, and risk factors for eye diseases. Generally, adults should have a comprehensive eye exam every 1-2 years, while children may need more frequent check-ups. Consult with your eye care professional for personalized recommendations.
Are Free Eye Exams Available for Seniors?
Some programs and organizations offer free or low-cost eye exams specifically for seniors, such as those provided by Medicare Advantage plans or local community health centers. Nonprofit organizations like the American Academy of Ophthalmology's EyeCare America program may provide free eye exams for eligible seniors.
Conclusion
I hope this guide has provided you with valuable information and actionable advice on finding free eye exam programs near you.
Remember, maintaining good eye health is essential for your overall wellbeing. Take advantage of these resources and prioritize regular eye exams to ensure a lifetime of clear vision.
If you have any questions or need further assistance, please don't hesitate to reach out to eye care professional in your area.