Are you in need of a new roof but worried about the high costs involved? Don't fret, as free roof replacement grants from various governmental and non-governmental organizations may be a viable solution for you.
These grants are available for homeowners and seniors who meet specific income and other eligibility requirements.
Typically, roof replacement grant cover the full cost of materials and installation, helping homeowners save a substantial amount of money.
Moreover, it takes away the stress and worry of having to navigate the complex process of obtaining loans or financing options.
Stay tuned as we will discuss the types of roofs that may qualify for grants and how you can start the application process for a free roof replacement grant.
What is Roof Replacement Grants?
Roof Replacement Grants are financial assistance programs designed to help homeowners cover the costs of replacing their roofs. These grants provide funds to eligible individuals who may not have the resources to afford a new roof on their own.
Such roof replacement financial assistance is available through various organizations, such as government agencies, non-profit organizations, and community initiatives.
Roof Replacement Grants differ from other housing loans in several key ways. While loans require repayment with interest, grants do not need to be paid back.
Another distinction is that grants are typically awarded based on specific eligibility criteria, such as income level, home ownership status, or geographic location. Loan approval, on the other hand, often depends on creditworthiness and the ability to repay the borrowed amount.
Roofing grants help homeowners cover roof replacements and other repairs, ensuring safe and secure homes. In contrast, loans can be utilized for a variety of purposes and may not be limited to roof replacement alone.
If you are a single mother looking for financial assistance for roof replacement or other home repairs, then check out Single Mother Housing Assistance Programs. It may help!
How Much does Roof Replacement Cost?
Roof replacement costs can vary depending on various factors such as the size of the home, the type of roofing material used, and the extent of the replacement needed.
According to our research, the average cost of a roof replacement ranges from $6,700 to $80,000, with an average cost of approximately $11,500 for an average-sized home.
However, it's important to note that the range can vary due to factors like job complexity, required repairs, and regional labor cost variations.
The cost breakdown of a roof replacement typically includes several expenses. The primary cost is for materials, which can vary depending on the type of roofing material chosen.
Common options include asphalt shingles, metal roofing, clay tiles, and slate.
The cost of materials can range from $150 to $1,500 per roofing square, with an average 2,200-square-foot home requiring multiple squares.
Labor costs are another significant expense when it comes to roof replacement. These costs can vary depending on factors such as the complexity of the job, the region, and the contractor hired.
On average, labor costs account for about 60% of the total project cost, while materials make up the remaining 40%.
In addition to materials and labor, there may be other associated expenses to consider. These can include the removal and disposal of the old roof, permits and inspections, and any necessary repairs to the underlying structure.
It is also advisable to budget for potential unexpected expenses that may arise during the project.
It's important to note that the figures provided here are general estimates based on our research. To get an accurate cost assessment for your specific roof replacement project, it is recommended to consult with local contractors and obtain detailed quotes based on your specific requirements.
Programs that Offer Free Roof Replacement Grants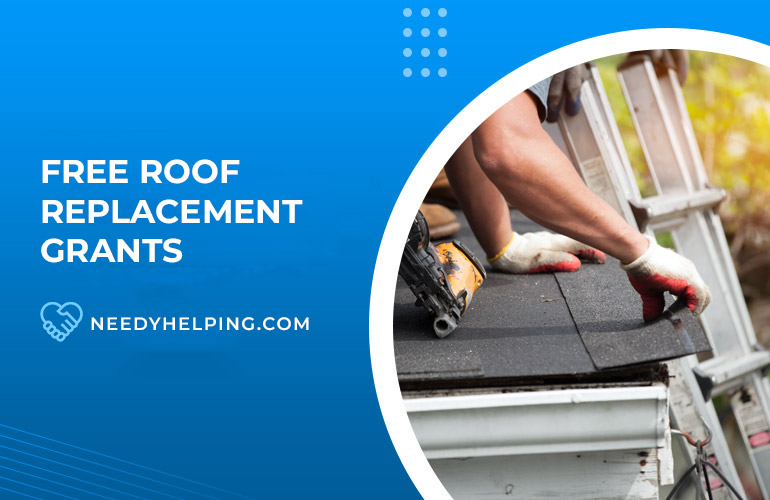 By getting a brief overview of the roof replacement cost above, you can now understand why low-income families seek free grants for roof replacement.
Below is the list of programs that offer free grants to low income families and seniors for roof replacement:
Government Grants for Roof Replacement
Housing Preservation Grant (HPG)
The Housing Preservation Grant program provides valuable assistance to low-income individuals and families in need of roof replacement and other housing repairs.
Administered by the United States Department of Agriculture (USDA), the HPG program offers grants to sponsoring organizations. These organizations include non-profits and tribal entities.
Through the HPG program, qualified organizations receive funds to repair or rehabilitate housing occupied by very-low- and low-income individuals and families.
These grants can be used for a variety of purposes, including roof repairs, electrical, plumbing, HVAC repairs, and more.
The HPG program not only assists homeowners but also supports rental property owners in preserving affordable housing for rural communities.
Check out more information here.
Weatherization Assistance Program (WAP)
The Weatherization Assistance Program (WAP) plays a crucial role in assisting low-income individuals and families with roof replacement and other energy-saving measures.
Through WAP, eligible participants can receive technical and financial assistance to make their homes more energy-efficient, ultimately reducing their energy bills. By improving insulation, sealing air leaks, and upgrading heating and cooling systems, WAP helps create comfortable living environments while also safeguarding the health and well-being of low-income residents.
The WAP program has weatherized and offered grants to over 7 million households and 35,000 houses since 1976, saving an average of $372 annually.
To apply for weatherization assistance, individuals can contact their state weatherization agency or weatherization administrator. Each state may have specific guidelines and requirements, so it's important to reach out to the appropriate channels for accurate information.
Check out more information here.
Single Family Housing Repair Loans & Grants (SFRRP)
The Single Family Housing Repair Loans & Grants (SFRRP) program also known as Section 504 Home Repair program is a valuable resource for low-income families seeking assistance with roof replacement.
Administered by the U.S. Department of Agriculture, this program provides grants and loans to very-low-income homeowners for repairing, improving, or modernizing their homes.
The SFRRP program offers a grant of up to $30,000 to make homes more accessible for individuals with physical impairments.
Grants can be combined but can not exceed the program maximum of $50,000.'
For roof repair and replacement, this program particularly provide grants up to $20,000 to eligible homeowners.
Eligibility is based on the homeowner's income.
Check out more information here.
My Safe Home
The My Safe Home program is a grant program specifically designed to assist low-income families in Florida with roof replacement.
It provides grants of up to $10,000 to eligible residents, helping them protect their homes and ensure safety and security. The program aims to strengthen homes against potential hazards and improve their resilience.
By offering financial assistance for roof-hardening measures, the My Safe Home program supports low-income families in maintaining secure and reliable housing.
Check out more information here.
The Federal Emergency Management Agency (FEMA)
The Federal Emergency Management Agency (FEMA) provides assistance to low-income families seeking help with roof replacement through their Individuals and Households Program.
This program offers grants to eligible homeowners, providing funds for repairing or rebuilding stronger and more durable homes.
FEMA's assistance covers essential needs such as toilets, roofs, critical utilities, windows, and doors.
To apply for FEMA assistance, individuals can complete an application through the Individuals and Households Program.
FEMA program offers support beyond home repair and has specialists available via phone or in person at Disaster Recovery Centers.
Check out more information here.
It's important to note that these programs may have specific eligibility requirements and application processes. We recommend researching each program further to understand their specific criteria and how to apply.
General Eligibility Criteria for Roof Replacement and Repair Grants
Here is a list of general eligibility criteria for roof replacement and repair grants:
Age: Some programs may have age requirements, such as the USDA Single Family Housing Repair Loans & Grants program, which requires applicants to be at least 62 years old.
Household Income: Many grant programs consider the applicant's household income as a determining factor for eligibility. Income limits may vary depending on the specific program.
Total Debt Ratio: Some roof replacement grant programs may consider the applicant's Total Debt (TD) ratio as part of the eligibility criteria.
Property Ownership: Typically, grant programs require applicants to be homeowners and have legal ownership of the property in question.
Specific Repairs Needed: Some programs may have specific criteria regarding the type and extent of repairs needed. For example, FEMA may assess the need for roof replacement based on the scope and severity of the damage.
Homeowner Occupancy: In certain cases, grants may only be available to homeowners who occupy the property as their primary residence.
Geographic Location: Eligibility for roof replacement and repair grants may also depend on the applicant's location. Some programs are specific to certain states or regions.
How to Apply for Free Roof Replacement Grants?
To apply for free roof replacement grants, follow these steps:
Research Available Programs: Start by researching and identifying the government and non-profit programs that offer free roof replacement grants.
Check Eligibility: Review the eligibility criteria for each program to ensure you meet the requirements. This may include factors such as income level, homeownership status, and location.
Gather Required Documentation: Contact the appropriate organization or office listed for each program to obtain a list of required documentation. Common documents may include proof of income, identification, proof of homeownership, and any other supporting documents.
Complete Application: Fill out the application form for the chosen program, providing accurate and detailed information.
Submit Application: Submit your completed application, along with any required documentation, to the designated office or organization. Make sure to follow the specified submission instructions, whether it's online, in-person, or via mail.
Follow Up: After submitting your application, follow up with the respective program to confirm that it has been received and inquire about the timeline for review and decision-making.
Alternative Ways to Get Free Roof Replacement Assistance
While grants are a common way to obtain free roof replacement assistance, there are also alternative options available. Here are some alternative ways to get free roof replacement help:
Non-Profit Organizations
Some non-profit organizations, such as Habitat for Humanity, Rebuilding Together, and Operation Blessing, provide home repair and renovation services for low-income individuals and families.
These organizations often have volunteer teams and partnerships with contractors who can help with roof replacement.
Homeowner Rehabilitation Services
Homeowner Rehabilitation Services are another excellent alternative to Free Roof Replacement Grants. These services are usually funded by local government bodies or housing authorities and aim to maintain and improve the quality of housing in a particular area.
They often offer grants or low-interest loans for home repairs, including roof replacements for low-income homeowners.
To take advantage of these services, contact your local housing authority or community development office for information on programs in your area.
Roofing Contractors and Suppliers
Some roofing contractors and suppliers offer pro bono work or discounts for low-income homeowners.
For instance, Owens Corning Roof Deployment Project is a noteworthy initiative that provides free roof replacements to veterans and their families. Additionally, GAF's Roofs for Troops program offers a $250 rebate on roofing services for active military, veterans, and retirees.
Thus, reaching out directly to local roofing companies or suppliers could prove beneficial.
Some may be willing to negotiate prices or may even know of other local resources or free roof replacement grants that you could apply for.
Crowdfunding
Crowdfunding has emerged as a viable option in recent years for individuals who face financial hardships. Platforms like GoFundMe, Kickstarter, or JustGiving allow people to create fundraising campaigns for a variety of causes, including home repairs like roof replacements.
Through these platforms, you can share your story with a worldwide audience and potentially receive donations to help cover the cost of your new roof.
Just remember to be transparent about your needs, keep your donors updated on your progress, and most importantly, be thankful for any help you receive.
This alternative may not be a Free, but it's a worthy option to consider when traditional routes come up short.
Barter or Trade Services
Bartering or trading services is a time-honored practice that can also be applied to roofing needs. If you possess a particular skill set such as carpentry, plumbing, or web design, you might be able to strike a deal with a local roofing company.
For instance, you could offer to fix a plumber's leaky sink in exchange for their help in repairing your roof. This method relies heavily on negotiation and personal connections, but it's an alternative worth considering when looking for free roof replacement.
Veterans Assistance Programs
Many Veterans Assistance Programs provide home repair grants and loans to qualified veterans.
For instance, the U.S. Department of Veterans Affairs offers the Specially Adapted Housing (SAH) grant and the Special Home Adaptations (SHA) grant. Both are designed to assist veterans in purchasing, building, or modifying homes to suit their needs, potentially including roof replacement.
Additionally, non-profit organizations such as Homes for Our Troops and Operation Homefront provide free roof replacements and other home repairs to veterans who meet their criteria.
Barter with Neighbors
Engaging with your local community can often lead to unexpected solutions, including finding assistance for a roof replacement.
Talk to your neighbors about your situation. Maybe they have the skills and the time to help you, or they know someone who does.
In exchange, you could offer to help them with something they need, such as gardening, babysitting, or cleaning.
Besides it, consider talking to neighbors who may also need roof repairs. You could potentially negotiate a group discount with a roofing contractor by combining your repair projects.
This approach not only potentially solves your roofing problem but also strengthens community bonds. It's a clear reminder that sometimes the most valuable resource we have is each other.
Besides these options, if you are specifically looking for free home repairs for seniors, then it is worth checking this blog post – 31 Ways to Get Free Home Repairs for Seniors.
FAQs about Free Roof Replacement Grants
Which Type of Roofs May Qualify for Free Roof Repair Grants?
Eligibility for Free Roof Replacement Grants typically depends on the homeowner's circumstances rather than the type of roof. However, these grants generally cover standard roofing materials such as asphalt shingles, metal roofing, and tile roofing.
Who Qualifies for Free Grants for Roof Replacement?
Generally, roof replacement grants are aimed at low-income households, senior citizens, individuals with disabilities, and those facing financial hardship. Some grants may prioritize certain geographic areas or specific circumstances.
How Can I Find No Cost Roof Replacement Grants in My Area?
You can start by researching government websites, local non-profit organizations, or community development agencies that offer housing assistance programs. They often provide information about available grants and the application process.
What Documents are Typically Required for a Roofing Grant Application?
Common documents needed for a roof repair and replacement grant application include proof of income, identification, property ownership or residency, and documentation of the roof's condition and need for repair or replacement. Each grant program may have specific document requirements.
Are There Any Limitations to Free Roof Replacement Grants?
Yes, there may be limitations. Grants often have specific budgetary constraints, and the number of applicants may exceed available funds. Grants may only cover a portion of the total cost, requiring homeowners to contribute or seek additional sources of funding.
How Long does the Application and Approval Process Take?
The application and approval process can vary. It may take several weeks or even months from the submission of the application to receive a response. It is advisable to plan ahead and allow enough time for the process.
Can I Apply for Multiple Grants for Roof Replacement?
In some cases, it may be possible to apply for multiple grants. However, it is crucial to review the guidelines of each grant program, as some may have restrictions on receiving assistance from multiple sources.
Conclusion
In brief, this was all about free roof replacement grants for low income homeowners, disabled, and senior citizens.
There are numerous state and federal programs available to help cover the costs of roof repairs or replacements. It's important to understand the eligibility requirements, documentation needed, and length of time involved in the application process.
With a bit of research, it is possible to find organizations that may provide assistance with free grants for roof replacement for those who qualify.
Or you may consider checking programs and alternatives discussed in this post.