Discover how to get free veterinary care for low income pet owners with our comprehensive guide. By utilizing assistance programs we will discuss for your pet's well-being, you can ensure that your furry friends receive the medical attention they need without causing financial stress.
As a pet owner, you understand the joy and companionship that your furry friends bring to your life. They're always there to brighten your day, and in return, you want to provide them with the best possible care.
However, veterinary expenses can be a significant financial burden, particularly for those on a tight budget or with limited income.
That's where this guide comes in. We're here to help you navigate the world of free and low-cost veterinary care for low-income individuals and families.
From national organizations to local resources, we'll explore the options available to ensure your pets receive the care they need without breaking the bank.
So sit down with your four-legged companion, and let's dive into the possibilities together.
How much does Vet Visit Cost Per Month?
Vet visit costs can vary greatly depending on the type of care your pet needs. A routine check-up can cost anywhere from $50 to $250 per month, while more specialized treatments or tests may cost even more.
Many pet owners even opt for monthly pet insurance plans to help cover unexpected vet bills.
Here are some of the factors that can affect the cost of a vet visit:
The Type of Animal you have: The cost of veterinary care can depend on the type of animal you have. Dogs and cats usually need more regular care than animals like rabbits or hamsters.
The Size of your Pet: Generally, bigger animals need more medication and cost more to feed, leading to increased overall expenses.
The Location of your Vet: The cost of veterinary care may vary depending on the location of your vet. Vets located in urban areas usually have higher fees compared to those in rural areas.
The Specific Services you Need: The cost of a visit to the vet can vary depending on the services you require. Routine checkups usually cost less compared to specialized treatments like surgeries.
If you belong to a low income family, then it might be possible that you are not able to afford such costly pet care services. Here comes the role of free veterinary care programs with much-needed assistance.
Check out the below list of assistance programs offering low-cost or free veterinary care for low income families.
List of Free Veterinary Care Assistance Programs
A variety of national organizations, state-based resources, non-profits are dedicated to helping pet owners find affordable veterinary care.
These groups understand the importance of the bond between people and their pets, and they work tirelessly to ensure that these relationships are preserved and nurtured.
Here is a list of programs that offer discounted or free veterinary care assistance to help low-income pet owners cover the cost of their pet's regular healthcare.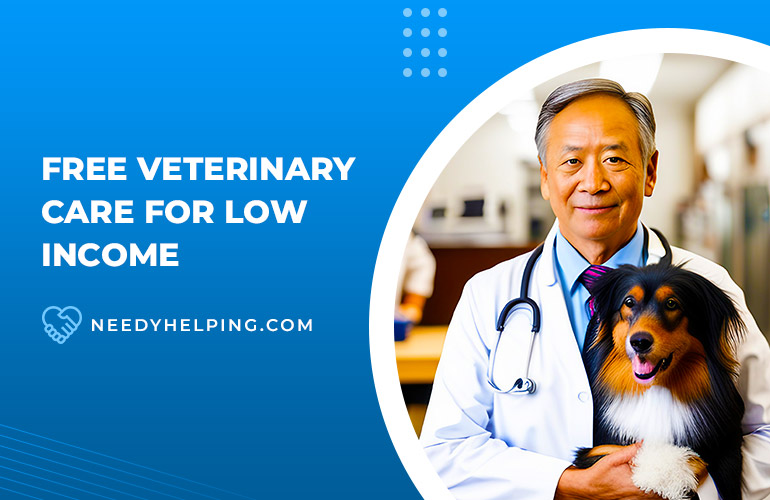 1) The Humane Society of the United States (HSUS)
The HSUS is a well-known organization that offers resources and information about low-cost veterinary care.
On their website, you can find a comprehensive list of national and state-specific programs that provide financial assistance for pet owners in need.
To find low-cost veterinary care near you using the Humane Society of the United States (HSUS) resources, follow these steps:
Visit the Pet Help Finder on the HSUS website.
Click on "Veterinary Services" to filter the search for providers offering affordable veterinary care.
Enter your city, state, or zip code in the search bar, and then click "Search."
You will see a list of financially friendly providers offering spay/neuter services and other veterinary care options in your area.
Remember that if your pet requires emergency veterinary care and you cannot afford treatment, consider contacting nearby veterinary colleges to inquire about any emergency assistance programs they may offer.
Veterinary schools often provide low-cost services, as students perform procedures under the supervision of experienced veterinarians.
2) American Society for the Prevention of Cruelty to Animals (ASPCA)
The ASPCA is another reputable organization that offers assistance to pet owners struggling with veterinary costs.
They offer low-cost spay and neuter surgeries for cats and dogs in New York City, specifically in the Bronx and Brooklyn.
Eligible pet owners must be residents of specific zip codes, have pets between two months and six years old with no known medical problems, and can only include a maximum of two pets per household.
If not eligible, pet owners are advised to visit SpayUSA.org to find alternative clinics.
To access the service, pet owners must sign up for the waitlist starting at 6:00 A.M. on the day of the clinic.
Accepted individuals will receive a text confirmation and location details.
Pricing varies based on proof of public assistance, with surgeries costing $125 without it, and being free for income-qualifying residents.
Necessary documents include photo ID, proof of NYC address, and proof of public assistance (if applicable).
This low-cost spay/neuter program is funded by the NYC Department of Health & Mental Hygiene, helping the ASPCA provide essential services for the well-being of pets and their owners across New York City.
3) Best Friends Animal Society
Best Friends Animal Society is committed to helping pet owners by offering free or low-cost veterinary care, ultimately reducing the number of cats and dogs that end up in shelters.
With 4.4 million cats and dogs entering shelters annually, the organization focuses on providing resources to help these animals find safe and loving homes.
Best Friends Animal Society works closely with a network of over 3,943 shelters across the U.S., with 56.6% of these shelters being designated as no-kill.
By supporting these shelters, Best Friends Animal Society helps save 3.8 million cats and dogs every year.
The organization uses a 90% save rate benchmark to measure lifesaving progress, which means that if a shelter can save 90% or more of the animals it takes in, it is considered no-kill. This benchmark accounts for the fact that typically, not more than 10% of all dogs and cats entering shelters suffer from irreparable medical or behavioral issues, making them unsuitable for rehoming.
Best Friends Animal Society's ultimate goal is to help every shelter in every community reach the 90% no-kill benchmark by 2025.
By offering free or low-cost veterinary care to pet owners, the organization aims to reduce the number of animals entering shelters in the first place. This support helps pet owners who may be struggling financially to provide necessary care for their pets, preventing them from having to surrender their animals to shelters.
4) State Veterinary Medical Associations
State Veterinary Medical Associations (SVMAs) play a vital role in assisting low-income pet owners in covering the cost of veterinary care for their pets.
These associations, which exist in various states across the U.S., work to support both veterinarians and pet owners in their respective communities.
While specific programs and resources may vary from state to state, many SVMAs offer help to low-income pet owners in several ways:
Financial Assistance Programs: Some SVMAs offer financial assistance programs or charitable funds that provide monetary aid to low-income pet owners. Applicants must demonstrate financial need and the program may cover treatments such as vaccinations, spay/neuter surgeries, emergency care, or other critical services.
Low-Cost Clinics and Services: SVMAs may collaborate with local veterinary clinics, animal shelters, or nonprofit organizations to offer low-cost or discounted veterinary services to eligible pet owners. These services can include routine check-ups, dental cleanings, vaccinations, and spay/neuter procedures, among others.
Educational Resources and Support: The organization often provides educational materials and resources to pet owners, including information on preventive care, proper nutrition, and responsible pet ownership.
Advocacy and Policy: SVMAs may also advocate for policies and legislation that support affordable veterinary care access for all pet owners, regardless of income. These efforts can lead to increased funding for low-cost clinics, public awareness campaigns, or other initiatives that make veterinary care more accessible and affordable.
5) Local Animal Shelters and Rescue Groups
Local animal shelters and rescue groups often provide low-cost veterinary services, such as vaccinations, spaying/neutering, and microchipping.
Reach out to your local shelter or rescue group to learn more about their offerings and any potential discounts for low-income individuals.
Here are some ways local animal shelters and rescue groups help low-income pet owners cover veterinary costs:
Low-Cost or Free Clinics: Many animal shelters and rescue groups operate low-cost or free veterinary clinics that provide essential services such as vaccinations, spay/neuter surgeries, microchipping, and routine check-ups at reduced prices or at no cost to eligible pet owners.
Spay/Neuter Programs: To help control the pet population and reduce the number of animals entering shelters, these organizations often run spay/neuter programs that offer discounted or free surgeries to low-income pet owners.
Financial Assistance: Some shelters and rescue groups have established funds or partner with local charities to provide financial assistance to pet owners struggling to cover necessary veterinary care.
Partnerships with Local Veterinarians: Animal shelters and rescue groups often build relationships with local veterinary clinics and practitioners who may offer discounted rates or payment plans for low-income pet owners referred by the shelter or rescue group.
Adoption Events and Community Outreach: By organizing adoption events and engaging in community outreach, local animal shelters and rescue groups raise awareness about available resources and support, connecting low-income pet owners with accessible veterinary care options.
6) Veterinary Schools/Colleges
Veterinary schools or colleges can significantly help low-income pet owners cover the cost of veterinary care through various means. It includes services such as vaccinations, spay/neuter surgeries, dental care, routine check-ups, and even more advanced procedures at discounted prices or free of cost.
By offering affordable services, training future veterinarians, and conducting research, these institutions contribute to making veterinary care more accessible.
Here's how veterinary colleges assist low-income pet owners:
Low-Cost Teaching Clinics: Many veterinary colleges operate teaching clinics or hospitals where students, under the supervision of licensed veterinarians, provide services at reduced rates compared to private practices.
Community Outreach Programs: Some veterinary colleges partner with local animal shelters, rescue groups, or nonprofit organizations to offer free or low-cost veterinary care services to underserved communities.
Research and Innovation: Veterinary colleges often conduct research on new treatments, diagnostic tools, and preventive care methods that can lead to more cost-effective solutions for pet owners in the long run. These innovations can ultimately benefit low-income pet owners by reducing the overall cost of veterinary care.
Training Future Veterinarians: By educating and training the next generation of veterinarians, veterinary colleges ensure a continuous supply of skilled professionals who may choose to work in underserved areas or offer discounted services to low-income pet owners.
Educational Resources and Support: Veterinary colleges may also provide educational materials and resources on pet health, nutrition, and preventive care to the public, helping pet owners make informed choices that can prevent costly health issues and maintain their pets' well-being.
To find a veterinary school near you, check out this list provided by the American Veterinary Medical Association (AVMA).
Other Agencies Offering Low Cost Veterinary Care to Low Income Families
Below is the list of national or local agencies offering low cost or free veterinary care to qualified low income pet owners –
AVMF's Veterinary Care Charitable Fund
Brown Dog Foundation
Canine Cancer Awareness
Cooper's Legacy Foundation
Dylan's Hearts
Frankie's Friends
Friends and Vets Helping Pets
Handicapped Pets Foundation
Harley's Hope Foundation
Hope Mending Hearts
Ian Somerhalder Foundation
International Association of Assistance Dog Partners
Magic Bullet Fund
Mosby Foundation
Onyx & Breezy Foundation
Paws 4 A Cure
Pet Fund
Pet Assistance, Inc.
Pit Bulls Against Misinformation
RedFlyer
Red Rover Relief
Riedel & Cody Fund
Veterinary Care Foundation
FluffyRX
To obtain precise and comprehensive information, please refer to the websites of individual agencies.
Eligibility Requirements to Receive Free Veterinary Services
Eligibility requirements for receiving free veterinary services may vary depending on the specific program, organization, or clinic offering the assistance.
However, some common eligibility criteria include:
Proof of financial need: Applicants may need to demonstrate that their income falls below a certain threshold or provide documentation such as tax returns, pay stubs, or proof of government assistance (e.g., food stamps, Medicaid) to show they cannot afford veterinary care.
Residency: Some programs require applicants to be residents of a specific city, county, or state to access free veterinary services within that jurisdiction.
Pet ownership: Proof of pet ownership, such as adoption papers, registration documents, or microchip information, may be required to ensure the services are provided to the intended recipient.
Vaccination records: Programs may require pets to be up-to-date on vaccinations or have a recent negative test result for contagious diseases like heartworm or feline leukemia before providing free services.
Spay/neuter status: Some organizations prioritize services for pets that are spayed or neutered to help control the pet population. If a pet is not already sterilized, the organization may require the owner to commit to having the procedure done at a later date or as part of the free services provided.
It's essential to research the specific requirements of the program, organization, or clinic you're considering, as eligibility criteria can vary widely.
Contact the provider directly or visit their website for detailed information on how to access free veterinary services and the requirements you'll need to meet.
What if My Dog has an Emergency and I have no Money?
If your dog has an emergency and you have no money, it's essential to act quickly and explore various options to get the necessary help.
Here are some steps you can take:
Contact your Veterinarian: Explain the situation to your regular veterinarian and ask if they offer payment plans, sliding scale fees, or deferred payment options for emergencies. Some veterinarians may be willing to work with you based on your financial situation.
Reach out to Local Animal Shelters and Rescue Groups: These organizations may have information about low-cost veterinary clinics, financial assistance programs, or emergency funds available to help pet owners in need. They might also have connections with veterinarians who offer discounted rates for emergency services.
Visit a Veterinary College: If there's a veterinary college nearby, they might operate a teaching clinic or hospital that offers emergency care at reduced prices. Keep in mind that treatment will be provided by students under the supervision of licensed veterinarians.
Apply for Financial Assistance: Several organizations and charities offer financial aid to pet owners facing emergencies. Examples include the RedRover Relief Urgent Care Grant, The Pet Fund, and Care Credit. Research and apply for any assistance programs that might be relevant to your situation.
Crowdfunding and Community Support: Set up a crowdfunding campaign on platforms like GoFundMe or ask for help from friends, family, and social media networks to raise funds for your dog's emergency care. Many people are willing to donate small amounts to help cover veterinary expenses.
Consider a Personal Loan or Credit Card: While not ideal, using a credit card or taking out a personal loan to cover emergency veterinary care may be necessary in some cases. Be cautious about this option, as it could lead to long-term debt.
Remember that your dog's health and well-being should be the top priority in an emergency. Act quickly, explore all available options, and communicate openly with veterinary professionals to ensure your dog receives the care it needs.
Tips for Saving on Veterinary Care
While free and low-cost resources are invaluable, there are other ways you can save on veterinary care for your pets:
Preventative care: Regular check-ups, vaccinations, and dental cleanings can help prevent more severe and expensive health issues down the line.
Pet insurance: Investing in pet insurance can provide peace of mind and help cover unexpected veterinary expenses.
Comparison: Don't be afraid to call around and compare prices for services at different clinics. You might be surprised by the differences in cost.
FAQs about Free Veterinary Care
What to do with a Pet you Can't Afford?
If you can't afford your pet, first try seeking financial assistance for pet care through local resources. If that's not possible, responsibly rehome your pet through friends, family, or rescue organizations.
Why is Taking your Pet to the Vet so Expensive?
Taking your pet to the vet can be expensive due to the high costs of specialized veterinary education, advanced medical equipment, and the need to maintain a well-trained staff to provide quality care for your pets.
How do I Keep my Vet Prices Down?
To keep vet prices down, consult with an online vet first, compare fees among different veterinarians, and request written estimates. Besides it, you can consider preventive care measures like regular check-ups and vaccinations, invest in pet insurance, and maintain a healthy diet and exercise routine for your pet to minimize potential health issues.
Are Vet Prices Negotiable?
Vet prices may be negotiable in some cases; you can compare prices with other clinics and inform your original vet of a cheaper option. If negotiations are unsuccessful, consider going elsewhere for services, including prescriptions that might have marked-up prices at your current vet.
What is the Average Cost of Routine Vet Care Per Year?
The average cost of routine vet care per year, including wellness check-ups, dental care, lab tests, and vaccines, typically ranges between $600 and $1,500.
What is Free Veterinary Care?
Free veterinary care refers to medical services provided to pets at no cost, often through charitable organizations or low-cost clinics.
Where Can I Find Free Veterinary Care Clinic for My Pet?
You can search for free or low-cost veterinary clinics in your area, animal shelters, or reach out to local non-profit organizations that offer financial assistance for pet healthcare.
Are there any Drawbacks to Using Free Veterinary Services?
While free veterinary services can be a great resource, there might be limitations in terms of service availability, appointment scheduling, or the range of treatments offered compared to regular clinics.
Conclusion
In brief, by taking advantage of the free veterinary care programs mentioned above, you can make sure your pets get the medical treatment they require without creating a financial burden.
Remember, you are your pet's most significant advocate. Don't hesitate to ask questions, seek out resources, and explore your options. Together, we can work to make sure our beloved pets live long, healthy, and happy lives by our sides.