Free Car Repairs for low income families by many assistance programs and organizations in the United States have become increasingly available. These services are essential for those who cannot afford costly repairs and maintenance.
Regular maintenance and unexpected car repairs can add up quickly, causing stress and financial strain. According to AAA, an average car repair cost can range from $500 to $600 which may be not affordable for low income single mothers, veterans, and seniors.
The good news? Free car repairs for low income families exist, and they're making a world of difference.
In this article, we'll explore car repair assistance programs and resources that help families facing high vehicle maintenance costs.
So buckle up, and let's navigate this road together.
Car Repair and Maintenance Cost Estimation
When it comes to car repairs and maintenance, there are a variety of costs that car owners should be aware of.
According to various sources, the average cost of car repairs typically ranges from $300 to $500 or it may range from $500 to $600.
However, it's important to note that these are just estimates and the actual cost can vary depending on several factors such as the type of repair needed, the make and model of the car, and the region you're in.
Car owners should also consider routine car maintenance expenses. Such as:
Basic inspections, which are usually recommended every 5,000 miles, can cost between $150 and $250.
Tire rotations, necessary every 5,000 to 8,000 miles, can range from $35 to $100.
Other common maintenance tasks, such as replacing wiper blades and changing oil, can also add to the overall cost.
On average, car owners can expect to spend over $1000 per year on car maintenance. This includes regular services like oil changes, fluid checks, filter replacements, and other preventative measures to ensure the smooth functioning of the vehicle.
Additional expenses can include fuel, insurance, licensing fees, and depreciation.
This is what make low income families to look for free car repair assistance programs that help them to pay for costly car repair expenses with no money.
Free Car Repairs for Low Income Families: Assistance Programs and Organizations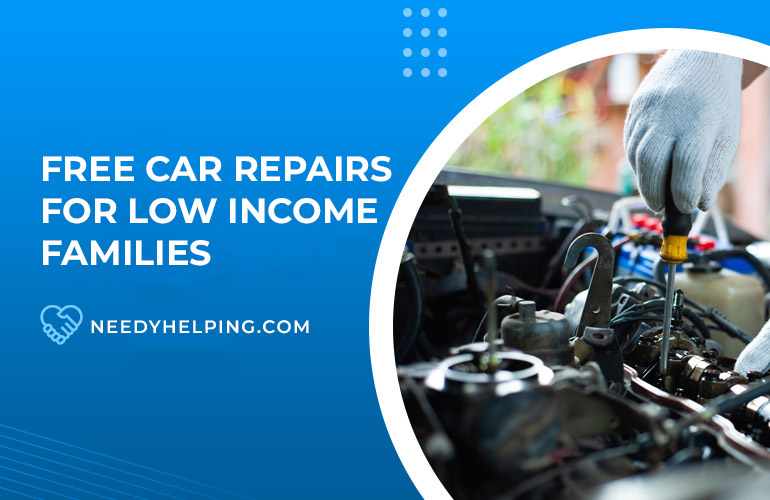 There are numerous assistance programs and organizations offering free or emergency car repairs assistance for low-income families.
Car is not just a luxury, but often a necessity for many families. It's a lifeline to employment, education, healthcare, and more.
Thus, we have jot-down some programs and organizations that offer free car repairs for low-income families.
Free Car Repair Assistance by Government
DSS and DHHS Offices
Department of Social Services (DSS) and the Department of Health and Human Services (DHHS) are government agencies providing support to low-income families, including programs that can help with free car repairs.
The Department of Social Services (DSS) is typically responsible for administering social welfare programs at the state level in the United States. These programs aim to provide financial support, food assistance, healthcare, and other essential services to eligible individuals and families in need.
On the other hand, the DHHS focuses on promoting the health and well-being of individuals and communities. These agencies also provide assistance to low-income families through programs like Medicaid, TANF, and the LIHEAP.
In many cases, DSS and DHHS offices work in conjunction with local non-profit organizations, charities, and community action agencies to provide assistance with car repairs specifically for low-income families.
These programs often have specific eligibility criteria and may require documentation to prove financial need.
Note that the availability and scope of free car repair assistance may vary based on location and funding. It is advisable to contact local DSS or DHHS offices for information on specific programs and resources in your area.
State Car Repair Grants and Programs
When it comes to maintaining a vehicle, unexpected repair costs can be a significant burden, especially for low-income families. Recognizing this challenge, several programs at the state level offer grants and assistance to help cover these costs.
Here's an overview of some of these key programs:
EnAct Community Action: Provides car repair assistance for eligible residents in West Virginia. This organization is part of a larger network of community action agencies that offer similar services across the country. They aim to help low-income individuals maintain their vehicles, which can be crucial for accessing employment, education, and other necessary services.
Mississippi DHS: It offers a range of programs to support low-income families. While their primary focus might not be car repairs, they do have resources available to help cover these costs.
Workforce: Some states offer workforce development programs that can provide assistance for car repairs. For example, Michigan's Workforce Development Agency has a program that offers car repair services for eligible individuals who need reliable transportation for work.
Consumer Assistance Program (CAP): In California, the Bureau of Automotive Repair (BAR) manages the Consumer Assistance Program (CAP). CAP is designed to help improve California's air quality. The program offers repair assistance and retirement options to consumers, to help them make informed decisions about their vehicles.
Voluntary Vehicle Repair Program: Some states run voluntary vehicle repair programs to reduce pollution. For instance, Virginia's Voluntary Repair Program provides financial assistance to owners of eligible vehicles that fail an emissions inspection and require repairs.
Federal Car Repair Assistance for Low Income Families
The Federal government offers several programs that can assist low-income families with the cost of car repairs.
Below are a few of the key programs:
Grants for Automobile and Car Repair Assistance: This program provides grants to local charities or Department of Health and Human Services (DHS) offices, which then distribute the funds to those in need. These grants can help cover the cost of emergency car repairs.
Temporary Assistance for Needy Families (TANF): TANF is a federal assistance program that provides cash assistance to qualifying families. While this program covers a range of needs, the funds can be used to cover the cost of car repairs.
Veteran's Administration: While the VA does not directly offer car repair assistance, they do have a variety of benefits and services that can aid veterans in financial hardship. Veterans might be able to use these benefits to cover car repair costs.
Job Access and Reverse Commute (JARC): The JARC program aims to improve access to transportation services to employment and employment-related activities for welfare recipients and eligible low-income individuals. This includes offering grants for car repair.
Non-Profit Organizations and Charities Help to Cover the Cost of Car Repairs
Below organizations and charities play a crucial role in supporting individuals and families dealing with financial hardship, when it comes to car repairs:
Working Cars for Working Families: This national organization partners with non-profits, auto repair shops, and mechanics across all states to offer free or affordable car repairs.
Modest Needs Foundation: This nonprofit typically assists people who are struggling financially and facing unexpected car repairs among other emergencies.
Fix It Forward Ministry: Previously known as Higher Power Automotive Ministries, this charity is based in Fargo and provides charitable auto repair and car donation services.
1-800-Charity-Cars: This nonprofit organization provides free donated cars to disabled drivers with medical needs. In addition to offering cars, they may also provide financial assistance for car repairs.
Autocare Haven: A Texas-based nonprofit, Autocare Haven's mission is to fix cars for low-income drivers who can't afford repairs. This helps maintain their mobility and ability to work.
Salvation Army: Known for its wide-ranging assistance programs, the Salvation Army often provides emergency aid, including car repair assistance for low income families. Their aid can come in the form of direct service or referrals to other resources within the community.
United Way: United Way operates across the country and may help with one-time expenses for car repairs. They aim to empower every person in every community by addressing key issues such as education, income, and health.
Community Action: Community Action Agencies (CAAs) are nonprofit private and public organizations established under the Economic Opportunity Act of 1964 to fight America's War on Poverty. They may help people with car repair assistance programs.
Catholic Charities: Catholic Charities is another nationwide organization that offers a variety of services to those in need. While their exact offerings can vary from one locality to another, some locations do provide car repair assistance or can connect individuals with local resources that can help.
St. Vincent de Paul Societies: The Society of St. Vincent de Paul is a network of charitable organizations. They provide person-to-person services to those in need in communities throughout the U.S. Some local conferences offer programs to assist with vehicle repair costs.
Lutheran Church Charities: While primarily focused on disaster response and humanitarian efforts, Lutheran Church Charities also supports various local outreach initiatives, which may include car repair assistance programs.
The Lift Garage: The Lift Garage is a nonprofit organization that provides low-cost car repair, free pre-purchase car inspections, and honest advice. They aim to offer affordable, reliable transportation to those who would otherwise not be able to afford such services.
Career Connection: This program is often associated with job placement and training services. While they may not directly offer car repair assistance, they could potentially help individuals find employment, which in turn could facilitate better financial stability and the ability to manage car repair costs. Besides it, they may also offer transportation grants in several states to eligible drivers which could help them to cover the car repair cost.
In brief, these are some gov car repair programs, grants, and organizations play a crucial role in supporting individuals unable to afford the car repair costs. We have explained each program very briefly for your information, for detailed information visit their official websites or visit nearby offices.
If you are a single mother and looking for a free car, then check out 22 programs offering free cars to single moms.
FAQs about Free Car Repairs for Low Income Families
What to do If you Can't Afford Car Repairs?
If you can't afford car repairs, you may consider getting help from available assistance programs or you can donate the car, junk or sell it. You can use that cash for a better car for your daily transportation needs.
Are Car Repair Assistance Programs Available Nationwide?
Many car repair assistance programs are available nationwide, but their availability may vary by state or region. It's best to check with local resources for the most accurate information.
Can I Use Free Car Repair Programs More Than Once?
It depends on the specific program. Some programs may be one-time assistance, while others might allow multiple uses. Be sure to check the guidelines of the specific program you're interested in.
What Types of Car Repairs are Covered by these Programs?
The types of repairs covered can vary by program. Some may cover only essential repairs necessary for the vehicle's operation, such as engine repairs, brake repairs, and tire replacements. Others may also cover cosmetic repairs.
Conclusion
When faced with unexpected car repair expenses, it's essential to be aware of the various assistance programs offering free car repairs for low income families.
From grants to nonprofit organizations and specialized programs for disabled drivers, there are numerous avenues individuals can explore to receive the help they need.
By taking advantage of these resources, individuals can ensure their vehicles remain safe and operational without straining their finances.