Churches that help with food are more than just places of worship; they are also lifelines for those facing food insecurity.
In today's society, where poverty and food insecurity are prevalent issues, there are numerous organizations stepping up to provide much-needed assistance.
Among these, Churches have long been recognized as pillars of communities, providing not only spiritual guidance but also tangible support to those in need. Their assistance extends to a wide range of areas, including food, rent, utility bills, and even motel vouchers for the homeless.
This blog post will explore several churches that help with food and play a vital role in combating hunger by offering food assistance to those in need.
List of Churches that Help with Food
Below is the list of churches offering food assistance to low-income families: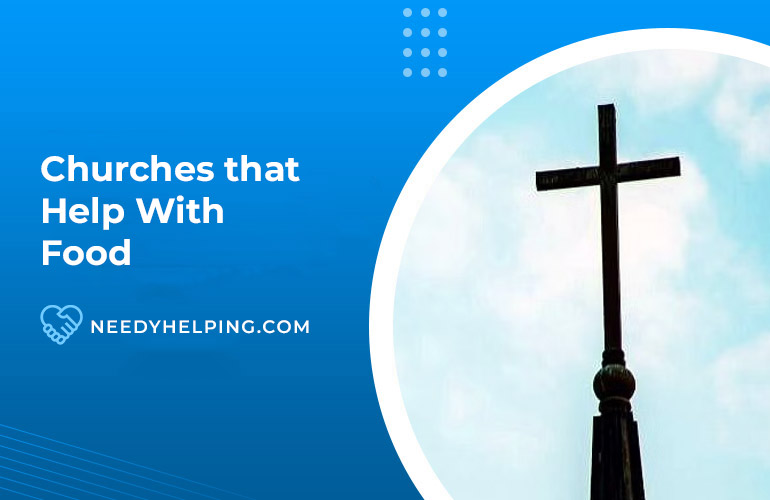 The United Methodist Church
The United Methodist Church is deeply involved in providing food assistance to those in need. They do this through a variety of initiatives and programs, often tailored to the specific needs of the communities they serve.
Here are few examples:
In Pasadena, MD, for example, the Community United Methodist Church operates a free Food Pantry program that serves residents of certain postal codes. Similarly, Fredericksburg United Methodist Church has a Food Pantry that serves over 4,500 people annually, providing nourishing food and encouragement.
The United Methodist Church also has broader initiatives, such as UMC Food Ministry, which provides free meals to children across Northern Kentucky and Greater Cincinnati.
Bel Air United Methodist Church has a Family Food Distribution program where food is distributed between 9:00 a.m. – 11:30 am. Volunteers are always needed to help pack and sort items.
In Swartz Creek, the United Methodist Church has a Community Food Basket at the back of their building, emphasizing that everyone who requires help from the center also needs prayers.
Buda United Methodist Church operates a food pantry that assists approximately 400 families per month, with a goal to provide nutritious food choices.
The Auburn United Methodist Church Food Pantry provides emergency assistance to hungry families in Lee County.
These examples illustrate how The United Methodist Church, through its various branches and partnerships, is making a significant difference in the fight against food insecurity. By serving both local communities and broader regions, they ensure that people in need have access to food.
Hope Christian Fellowship
In times of need, it's comforting to know that there are organizations out there willing to lend a helping hand. One such organization is the Hope Christian Fellowship, which operates in various locations across the country and provides food assistance to those in need.
Below are some examples:
New Hope Christian Fellowship Food Pantry: At the heart of Oakland County, Michigan, the New Hope Christian Fellowship offers a free food pantry program. This program is designed to alleviate hunger in the community by providing free food to residents.
The pantry's service hours are Monday from 9 am to 12 pm, and Thursday from 1 pm to 3:30 pm.
Hope Christian Church Food Pantry: Another branch of the Hope Christian Fellowship in Columbia, Illinois, operates a food pantry every Friday from 9:30 am to 12 pm.
The food pantry welcomes anyone in need of food assistance and even encourages people to volunteer their time and serve others.
Manzanita Partnership with One Hope Christian Fellowship: In Dewey-Humboldt, a town without any food assistance services, Manzanita has partnered with One Hope Christian Fellowship to provide boxes of fresh food.
This initiative shows how churches can work hand in hand with other organizations to provide essential services to communities in need.
Blessed Hope Christian Church – Food Pantry/Outreach: The Blessed Hope Christian Church goes beyond socializing. They focus on providing free food and other basic resources to those who choose to use their services.
Community of Hope's Food Assistance Program: The Community of Hope also offers food assistance, driven by their mission to meet all needs "according to the riches of his glory in Christ Jesus".
Hope Food Pantry at Raleigh Campus: Every Wednesday, the Raleigh campus opens its food pantry doors to serve about 200 families each month, reaching roughly 900 individuals.
St. Vincent De Paul
St. Vincent De Paul is a charitable organization that has been providing assistance to people in need for many years. This includes food aid in various forms through different programs.
One way St. Vincent De Paul provides food aid is through its parish-based food pantries or food closets.
In Cincinnati, for example, the organization operates 13 such food pantries throughout Hamilton County, as well as the Becky & Ted Catino Choice Food Pantry. These pantries offer a range of food items to those who may be struggling to afford them.
In addition to food pantries, St. Vincent De Paul also offers food delivery services to people in certain areas. Those who live in a delivery area can call the Society's Emergency Assistance Office to schedule a free food delivery.
In Temple Terrace, FL, St. Vincent de Paul runs a food pantry that provides food assistance to those living in specific zip codes. They also offer home deliveries for those with special needs.
In Madison, the Society of St. Vincent De Paul runs a food pantry that offers a large selection of fresh produce, bread, meat, dairy, dry goods, and more. They also offer personal-care items.
Catholic Charities
Catholic Charities is an organization that works diligently to combat food insecurity across the United States. Its mission is to ensure that all individuals have access to proper nutrition, and it does so through a variety of programs and initiatives.
One of the primary ways Catholic Charities helps those in need is through food banks, pantries, and community farms. These resources provide healthy food options to individuals and families who might not otherwise have access to them.
Catholic Charities also offers comprehensive case management services. This includes emergency food assistance, guidance to local food pantries, and assistance with applying for food benefits.
The organization runs multiple food assistance programs, such as the SHARE Food program, designed to get food on the table of those who need it most. They also operate Agape Mission Markets in Central Florida, which focus on hunger relief and food security.
Catholic Charities also organizes monthly food fairs and other food distribution events. These events, often held at various locations, provide an opportunity for individuals and families to receive food assistance without any preconditions.
In some areas, Catholic Charities operates several types of food programs based at its sites, such as the Kent County Office in Dover, Casa San Francisco in Milton, and Seton Center. These programs are designed to meet the specific needs of the communities they serve.
Catholic Charities also offers a mobile food assistance outreach known as the Catholic Charities Caring Coach. This initiative involves ten monthly food distribution events that operate on a first-come, first-served basis.
Furthermore, Catholic Charities has teams of dedicated caseworkers who provide benefits qualification support and assistance in times of great need. This means that if a person or family is eligible for SNAP food benefits or other forms of assistance, these caseworkers can help them navigate the application process.
Community Ministry Food Food Pantry
The Food Pantry Support & Opportunities Ministry is a collaborative effort of various organizations and community members, dedicated to providing food assistance to those in need.
One example of such an organization is TEAM Food Pantry, a volunteer organization that provides supplemental food and basic household items to needy families in their communities on a monthly basis. They rely heavily on the generosity and support of their community members.
Another organization, The Open Door, also plays a significant role in addressing hunger. They work tirelessly, relying on community support to help end hunger.
The Community Ministry Food Pantry offers emergency food for families and individuals who are in need of assistance.
Similarly, the Community Food Ministry (CFM) operates one of the largest community-wide food-box programs in the area, providing nutritionally balanced, emergency food assistance.
White Plains UMC Food Pantry serves Cary, NC, and the surrounding community by providing food to anyone in need.
The Partners in Ministry offer the TEFAP program, a federal initiative that helps supplement the diets of low-income Americans by providing them with emergency food assistance at no cost.
The Silver Spring Christian Reformed Church runs a food pantry aimed at reducing food insecurity in their community. They strive to create an environment that encourages relationships among food pantry participants and volunteers.
Devine Food Pantry Ministry is a community-supported organization that draws its strength from a wide variety of individuals, businesses, and civic organizations. Their goal is to ensure that everyone in their community has access to nutritious food.
Organizations Affiliated with Churches for Food Assistance
Church-affiliated organizations play a vital role in community support networks, offering services like food and clothing distribution, counseling, and education programs.
These organizations, fueled by the mission of their respective churches, work tirelessly to make a tangible difference in their communities.
The Salvation Army
The Salvation Army, a Protestant Christian church and international charity, is committed to providing food assistance to individuals and families in need, regardless of their religious affiliation.
One of the primary ways The Salvation Army offers food assistance is through its network of food pantries and meal programs. For instance, they operate free food banks and emergency pantries, which provide groceries and basic needs to struggling and low-income families.
In some areas, The Salvation Army has specific programs to support families. For instance, in Salem, they have recognized that 70% of students qualify for free or reduced lunch, indicating a high level of food insecurity in the community. To respond to this, they likely have programs in place to ensure these children and their families receive the necessary food assistance.
The Salvation Army also provides food assistance through its emergency services, Christmas assistance, and scholarship programs at locations like the Kroc Center in Suisun City.
In Arizona, The Salvation Army runs food box programs to help low-income families and individuals. These boxes typically contain a variety of food items to provide balanced nutrition.
Feeding America
Feeding America, the largest hunger-relief organization in the U.S., has established a robust network of partnerships to tackle food insecurity and hunger. These partnerships include affiliations with various churches that share a common mission of serving those in need.
The Church of Jesus Christ of Latter-day Saints, for instance, is one faith-based organization that has formed a strong alliance with Feeding America.
The Church owns numerous acres of farmland across the U.S., where food is grown and then donated to Feeding America. In fact, the Church has made significant contributions, with food donations exceeding over 1 million pounds in a single fiscal year.
Another example of this affiliation is seen in All Faiths Food Bank, a member of Feeding America. It's part of a nationwide network of food banks striving to equitably distribute food and alleviate hunger.
These partnerships with churches allow Feeding America to extend its reach and impact. By pooling resources, they can better provide food assistance to those in need, making a significant impact in communities nationwide.
Church Food Assistance: Eligibility Criteria
The eligibility criteria for these programs can vary from one church to another, depending on the specific guidelines they follow. However, there are some common criteria that many churches use to determine who qualifies for their food assistance programs.
Income Level: Many church food assistance programs require recipients to have an income level below a certain threshold. This is often determined based on federal poverty guidelines.
Residential Area: Some churches may only provide food assistance to individuals and families living in a specific geographical area or community.
Emergency Situations: Churches often provide food assistance to individuals and families facing emergency situations, such as job loss, illness, or natural disasters.
Referrals: Some churches may require a referral from a social service agency, medical provider, or another church member.
Participation in Church Activities: In some cases, churches might prioritize members of their congregation or those who actively participate in church activities.
Documentation: Depending on the program, churches may require proof of income, identification, or proof of residence to qualify for food assistance.
Frequency of Assistance: Many churches limit the frequency with which an individual or family can receive food assistance to ensure resources are distributed evenly among those in need.
What is the Food Quality Provided by Churches to Needy People?
The quality of food provided by these religious institutions varies, but there is a consistent focus on offering nutritious, wholesome meals or food items.
Many churches run food pantries that offer a variety of items, including high-quality, shelf-stable products like canned vegetables, fruits, and meats, as well as grains and dairy products.
Besides food pantries, some churches also operate soup kitchens, where hot meals are prepared and served to those in need. These meals are typically balanced, including protein, vegetables, and carbohydrates, and are prepared with attention to health and nutrition.
Churches also participate in food distribution programs, such as the Angel Food Ministry, which helps feed needy families in Tuscaloosa one box at a time. These boxes often contain a mix of fresh produce, meat, dairy, and pantry staples, aiming to provide a balanced diet to recipients.
Furthermore, churches often collaborate with other organizations to improve the quality of food provided to the needy. For instance, Meals of Hope, an AIB Certified organization, works with churches to provide nutritious and quality food to hungry families.
Churches work diligently to provide quality food to the needy, focusing on offering balanced, nutritious options. Through food pantries, soup kitchens, and collaborations with other organizations, they aim to combat food insecurity in their communities.
FAQs about Churches that Help with Food
What is a Church Food Pantry?
A church food pantry is a program run by a church or religious organization that provides food to those in need. This can include non-perishable items, fresh produce, and sometimes prepared meals.
How Can I Find a Church Food Pantry Near Me?
You can search online for local church food pantries or use resources like Feeding America's Food Bank Locator. Local social service agencies or community centers can also provide information.
Do I Have to be a Member of the Church to Receive Food Assistance?
No, most church food pantries serve anyone in need, regardless of their religious affiliation.
What Kind of Food Can I Get From a Church Food Pantry?
This can vary by pantry, but it often includes non-perishable items like canned goods, pasta, and rice, as well as fresh produce, dairy products, and sometimes meat.
How Often Can I Visit a Church Food Pantry?
The frequency varies by pantry. Some allow weekly visits, while others may limit visits to once a month. It's best to check with the specific pantry for their rules.
Do I Need to Bring Anything to Receive Food From a Church?
Requirements vary, but some pantries may ask for a form of identification or proof of residency. Others might have no requirements at all. Always check with the specific pantry.
Can I Donate to a Church Food Pantry?
Yes, most church food pantries welcome donations of non-perishable food items. Some also accept monetary donations or volunteers.
Conclusion
In brief, the efforts of these churches demonstrate the power of community and faith in action. They offer more than just spiritual nourishment; they provide tangible, necessary support to those who need it most.
So, if you or someone you know is in need, remember that these churches that help with food are here to help.