Check out how to get free food delivered with no money at your doorsteps. With proper research and using the methods listed below, you can order food online for free.
Let's check out how!
Who can resist free food? Not only does it save you money, but it also offers the convenience of a meal delivered to your door.
It's a risk-free way to try new dishes, and often comes as part of exciting promotional offers. Just remember to check for any hidden costs like delivery charges.
So, do you want to enjoy restaurant-quality food without spending a dime? If so, there are ways for you to get free (or discounted) food delivered straight to your door.
From signing up for rewards programs and taking advantage of promotional offers to using cashback apps and participating in surveys, these tips can help you save money on your next order of food delivery.
So if you're looking for an easy way to score some free grub, read on and learn how to get free food delivered with no money!
10 Ways to Get Free Food Delivered with No Money
Getting free food delivered to you with no money may seem like a distant dream, but there are indeed ways that make it possible.
Here are ten methods: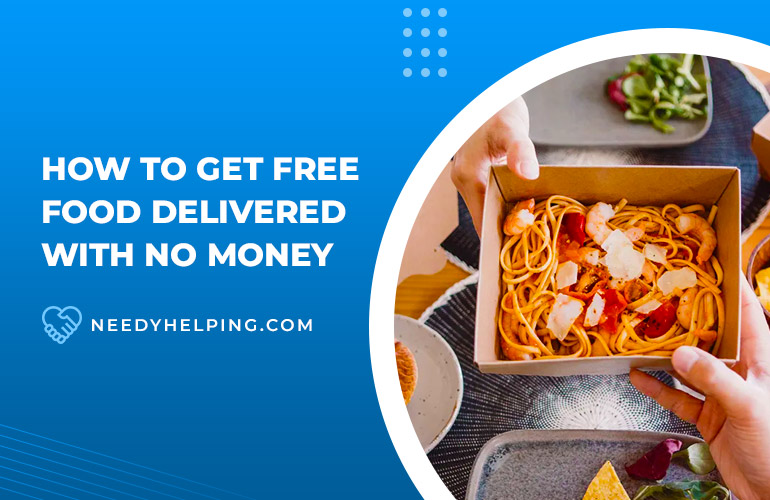 1) Sign-Up Offers
Signing up for offers from eateries or delivery apps can be a savvy way to enjoy free food delivery even with no money.
Many food businesses use sign-up offers as a strategy to attract new customers. These offers are usually available on their websites or mobile apps.
When you sign up for the first time, they provide you with welcome incentives. These incentives often come in the form of free meals, discounts, or credits that can be used for future orders.
For example, a food delivery app might offer a $10 discount on your first order when you sign up. You can use this credit to order food at no extra cost.
Moreover, some restaurants or apps also have referral programs. You can share a unique code with friends and family. When they sign up using your code and place their first order, you receive additional credits or discounts.
However, it's important to read the terms and conditions associated with these offers. There may be minimum order requirements or other stipulations you need to meet to redeem your free meal or discount.
2) Loyalty Programs
Loyalty programs are a common strategy used by restaurants and food delivery platforms to reward frequent customers. They operate on the principle of earning points or credits for each order you place.
When you sign up for a restaurant's loyalty program, each purchase you make earns you points. The number of points you receive may be based on the dollar amount spent or the frequency of orders.
Once you've accumulated a certain number of points, you can redeem them for free food items or discounts on future orders.
For instance, a restaurant might offer a free meal for every 100 points earned. If you earn 1 point for every dollar spent, after spending $100 (over time, not necessarily all at once), you'd qualify for a free meal.
Some loyalty programs also offer bonus points during special promotions or on specific days of the week, allowing you to earn points faster.
So, even if you don't have money at a particular moment, the points you've accumulated through your loyalty program can be used to get food delivered for free.
Do note, however, that terms and conditions vary by program, so it's important to understand the specifics of the loyalty program you're participating in.
3) Referral Programs
Referral programs are a common marketing strategy used by food delivery apps and restaurants to attract new customers. They can also be a great way to get free food delivered if you're short on cash.
When you sign up for a food delivery app or join a restaurant's loyalty program, you'll typically receive a unique referral code or link. You can share this code or link with your friends, family, or social media followers.
When someone signs up using your referral code and places their first order, the company rewards you with a credit or discount. This could be a fixed amount off your next order, a percentage discount, or even a free meal.
For example, if a food delivery app gives you $10 in credit for each successful referral, and you refer five friends who sign up and place an order, you would earn $50 in credit. You can then use this credit to get food delivered for free.
4) Join Test Groups
Joining test groups is another unique way to get free food delivered at no cost.
Food companies, restaurants, or delivery services often create test groups when they're planning to introduce a new product or menu item. The aim is to gather feedback on the taste, quality, packaging, and overall appeal of the product before it's officially launched.
By becoming a part of such a test group, you are essentially becoming a food tester. The company sends you the food product for free, and in return, you provide them with your honest feedback.
This method not only helps you get free food delivered to your doorstep, but it also allows you to try new dishes that aren't yet available to the public.
However, opportunities to join these test groups may not be frequent and might require you to meet certain criteria.
For instance, some companies might prefer testers who belong to their target demographic. It's also important to provide thorough and honest feedback as requested by the company.
5) Social Media Contests/Giveaways
Social media contests and giveaways are another method to get free food delivered to your home without spending any money.
Restaurants, food brands, and delivery apps often host contests and giveaways on their social media platforms such as Instagram, Facebook, or Twitter.
These can range from simple sweepstakes to more creative contests that require participants to submit photos, recipes, or even short videos.
The prizes for these contests can vary widely, but they often include free meals, discounts, or delivery credits.
For example, a restaurant might host a photo contest where participants have to share a photo of their favorite meal from the restaurant. The winner could receive a month's worth of free deliveries.
To participate, you usually need to follow the company's social media account, like the contest post, and complete whatever task is outlined in the contest rules. This could be tagging friends, sharing the post, or creating some content related to the brand.
However, winning these contests typically involves an element of luck or skill, and there's no guarantee you'll win. But if you do, it's a fun and exciting way to get free food delivered to your door.
6) Coupon Websites
Coupon websites are a popular resource for those looking to save money, including getting free food delivered.
Coupon websites compile and list promotional codes, discount vouchers, and special offers from various companies, including food delivery services and restaurants. These can range from discounts on certain menu items to buy-one-get-one-free deals, and in some cases, completely free food items.
To use these coupon websites, you simply need to search for your preferred restaurant or food delivery service, find a suitable deal, and then apply the provided code or voucher when placing your order.
For instance, you might find a coupon that provides $10 off your first order from a certain food delivery app. If your order totals less than or equal to $10, you could potentially get your meal for free.
However, keep in mind that most of these coupons come with certain terms and conditions. Some might require a minimum order amount, while others might be applicable only to new users or specific menu items.
Always ensure the reputation of the coupon website and read the fine print before using a coupon to make sure it applies to your order.
7) Food Banks or Charities
Food banks and charities play a crucial role in combating hunger and food insecurity. They collect donated food and distribute it to those in need, often at no cost.
Food banks typically operate on a local level. They receive food donations from various sources, including supermarkets, farms, wholesalers, individuals, and sometimes government programs. This food is then sorted and packed into parcels or meals.
People who are in need can approach these food banks for assistance. Depending on the organization, they might be given a food parcel that contains several meals' worth of groceries, or they might receive freshly prepared meals.
In terms of delivery, some food banks and charities offer home delivery services, especially for people who are elderly, disabled, or otherwise unable to visit the food bank in person.
For example, Meals on Wheels is a well-known charity in the US that delivers nutritious meals to seniors who are unable to prepare their own meals.
Another example is The Trussell Trust in the UK, which operates a network of food banks across the country. People in need can get a referral from a doctor, social worker, or other official agency, and then receive a food parcel from their local Trussell Trust food bank.
Remember, the specifics of how food banks work can vary depending on the organization and location. If you're in need of assistance, it's a good idea to reach out to your local food bank or charity to understand how their program works.
8) Surveys and Reviews
Completing surveys and writing reviews is another way to get free food delivered. Many companies value customer feedback and are willing to provide incentives for it.
Restaurants, food brands, and delivery services often seek customer feedback to improve their products and services. They may use surveys to gather this information. These surveys could be about your dining experience, the quality of the food, the delivery service, or even about new menu items that they're testing.
In return for completing these surveys, companies often provide rewards such as discount codes, vouchers, or even free food items.
Writing reviews can also lead to free food. Some restaurants and delivery apps offer incentives for customers to leave reviews on platforms like Yelp, Google Reviews, or the app's own review system. These incentives could include discounts on future orders or free items.
However, remember that honesty is crucial when providing feedback or writing reviews. Businesses rely on this feedback to make improvements, so it's important to be truthful and constructive in your responses.
9) Birthday Freebies
Many restaurants and food delivery services offer birthday freebies as a way to celebrate their customers' special day. These could include complimentary appetizers, main courses, desserts, or even entire meals.
To take advantage of these offers, you typically need to sign up for the restaurant's loyalty program or email newsletter. Once your birthday rolls around, you'll receive a coupon or code for your free birthday treat.
The specifics can vary greatly. Some places might require an additional purchase, while others will give you the free item with no strings attached.
It's also worth noting that while many places allow you to use your birthday freebie anytime during your birthday month, others might require you to use it on the actual day.
Always check the terms and conditions of the birthday offer to understand how you can redeem it.
10) Glitches or Hacks
While it's not ethical or legal, some people try to exploit glitches in a restaurant or delivery service's ordering system to get free food. These glitches might be unintentional errors in the programming that allow users to bypass payment methods or apply discounts incorrectly.
Similarly, "hacks" often refer to clever ways people find to game the system.
For example, someone might figure out how to stack multiple discount codes or take advantage of poorly designed promotions.
However, these methods are generally considered unethical and could even be illegal. They can also lead to consequences like being banned from the service or facing legal action.
It's always better to use legitimate methods to save money on food, such as using coupons, joining loyalty programs, or taking advantage of special promotions.
Government Programs Offering Free Food Assistance
There are several government programs that can help individuals and families in need of free food delivery.
Here are a few of them:
Supplemental Nutrition Assistance Program (SNAP): Also known as Food Stamps, SNAP provides eligible low-income individuals and families with an Electronic Benefits Transfer (EBT) card. This card can be used to purchase groceries online from certain retailers, and in some areas, can even be used for grocery delivery.
Special Supplemental Nutrition Program for Women, Infants, and Children (WIC): This program provides nutritious foods to pregnant women, new mothers, and young children who are at nutritional risk. While it doesn't offer direct food delivery, it does provide vouchers that can be used to purchase specific items like milk, eggs, and cereal.
The Emergency Food Assistance Program (TEFAP): TEFAP helps supplement the diets of low-income Americans by providing them with emergency food assistance at no cost. While they don't deliver food directly to homes, they distribute food through food banks, pantries, and shelters.
Senior Farmers' Market Nutrition Program (SFMNP): This program provides low-income seniors with coupons that can be exchanged for eligible foods (fruits, vegetables, honey, and fresh-cut herbs) at farmers' markets, roadside stands, and community-supported agriculture programs.
Please note that eligibility for these programs varies, and some may not be available in all areas. For the most accurate information, it's best to contact these programs directly or visit their official websites.
Food Banks and Non-Profit Charities Offering Free Food
Absolutely, there are numerous food banks and non-profit charities that work tirelessly to ensure people in need have access to free food.
Here are a few:
Feeding America: This is a nationwide network of more than 200 food banks that feed more than 46 million people through food pantries, soup kitchens, shelters, and other community-based agencies.
Full Cart: Full Cart is a program by the non-profit organization U.S. Hunger. This virtual food bank partners with donors to cover the cost of food and ship it directly to those in need.
Food For Free: This organization improves access to healthy food within communities by rescuing food that would otherwise go to waste and creating new distribution channels to reach under-served populations. They also have home delivery programs for individuals who have difficulty leaving their homes.
Amazon's Help for Hunger: Amazon partners with food banks and community organizations to deliver millions of meals to hundreds of thousands of people facing unprecedented demand.
Meals on Wheels: While not a government program, Meals on Wheels is a nationwide network of community-based, non-profit programs dedicated to providing seniors in their communities with nutritious meals, friendly visits, and safety checks. The organization delivers meals directly to seniors' homes.
Free Food For All: A charity providing free meals to those in need. They operate in several locations and aim to reduce food insecurity while also promoting community strength and environmental sustainability.
Local Food Banks and Pantries: Many communities have local food banks and pantries that offer free food to people in need. Some of these even provide delivery services for those who are unable to leave their homes.
Meal Programs: There are also meal programs that provide free meals to specific groups, such as children or seniors. These often include delivery options.
Take note, availability and services may vary by location. For the most accurate information, check with the individual organizations or your local community resources.
Local Stores Often Donate or Provide Free Food to Needy People
Several popular restaurants, food chains, supermarkets, and convenience stores have been known to contribute to community welfare by offering free food delivery or donations to those in need.
Here's a list:
McDonald's: Through their Ronald McDonald House Charities, they often provide food and support to families in need.
Burger King: In the past, Burger King has offered economical options for food delivery, making it more accessible for many.
Cinnabon: This chain is known for participating in charity events and providing food donations.
McAlister's Deli: Known for its philanthropic activities, this chain often donates food to nonprofit organizations.
Postmates: While not strictly a restaurant, Postmates offers a subscription service for free deliveries from a variety of eateries.
Amazon Fresh: With Amazon's Help for Hunger program, they've partnered with food banks to deliver meals to those in need.
DoorDash: Through their Project DASH initiative, DoorDash has used their logistics platform to facilitate deliveries from food banks and nonprofits to those in need.
Little Caesar's: The Little Caesar's Love Kitchen travels around the U.S. and Canada serving free pizza to those in need.
Besides these eateries, below are some more outlets that may also offer or donate free food at no cost to needy people –
Friendly
Blue Apron
O'Charley's
Dickey's Barbeque Pit
Popeyes
Gobble
Caviar
Starbucks
Delivery.com
Golden Chick
Saucey
Rubio's Coastal Grill
Skipthedishes
Please note, while these organizations have provided help in the past, availability and programs may vary by location and over time. It's best to check with each individual organization for their current initiatives.
FAQs about Free Food with No Money
Are There Any Apps That Deliver Free Food?
Several food delivery apps have rewards programs that can lead to free food. Examples include Grubhub, DoorDash, and Uber Eats. Always check the terms and conditions as they may vary.
Can I Get Free Food From Food Banks?
Yes, many food banks provide free food to those in need. Some even offer delivery services. Check with local food banks in your area for their specific programs and eligibility requirements.
How Can I Find Local Deals For Free Food?
Local newspapers, community bulletins, and social media are great resources for finding local deals. Some restaurants and supermarkets advertise specials on their websites or apps.
Can I Get Free Food If I'm a Part Of a Specific Group?
Yes, there are programs that provide free meals to specific groups such as students, seniors, and low-income individuals. Check with local community centers, schools, and government agencies for available programs.
Conclusion
Getting free food delivered with no money can seem like a daunting task. Fortunately, above-mentioned ways are some options available to make it happen!
It may take some time and effort, but you can get delicious meals delivered right to your door without spending a dime.
So don't be discouraged if you're low on cash – roll up your sleeves, use the tips we discussed, and let the feast begin!