Check out how to get free Greyhound bus tickets for homeless immediately for medical emergencies and other purposes.
In the USA, homelessness remains a tough issue.
A ray of hope has emerged from local churches, governments, and non-profits. These groups offer discounted or free Greyhound bus tickets to homeless individuals by partnering with Greyhound, America's largest intercity transportation provider.
It breaks down transportation barriers that often worsen homelessness. With the help of such assistance, homeless individuals can now access essential resources, reconnect with family, or pursue job opportunities in different areas.
As homeless or low income individuals often don't have a car and hence relying on such affordable transportation options will give them hope.
So, let's explore different ways to get free Greyhound bus tickets and how it's reshaping the narrative around homelessness.
What is GreyHound?
Greyhound Lines, Inc., established in 1914, is a key player in North American long-distance travel. As the largest intercity bus service provider, it serves 2,300 destinations with a modern fleet.
Greyhound transports about 16 million passengers annually across the United States and Canada.
Beyond passenger service, Greyhound offers additional services. These include charter packages for various groups, such as businesses and schools.
In 2010, Greyhound launched Greyhound Express. This premium city-to-city service is now available in over 135 North American markets.
Greyhound Connect is another service offered by the company. It links rural communities to larger Greyhound markets.
The company also partners with independent bus lines. This enhances Greyhound's schedules and connects smaller towns to its national route system.
In October 2021, Flix SE acquired Greyhound. FlixBus, Greyhound, and their partners aim to offer top-notch intercity bus experiences, making travel more accessible in the United States.
Now, let's check out how homeless individuals can receive Greyhound bus tickets for free or at discounted rates.
5 Organizations Offering Free Greyhound Bus Tickets For Homeless
Below is the list of organizations offering discounted free Greyhound bus tickets to needy people.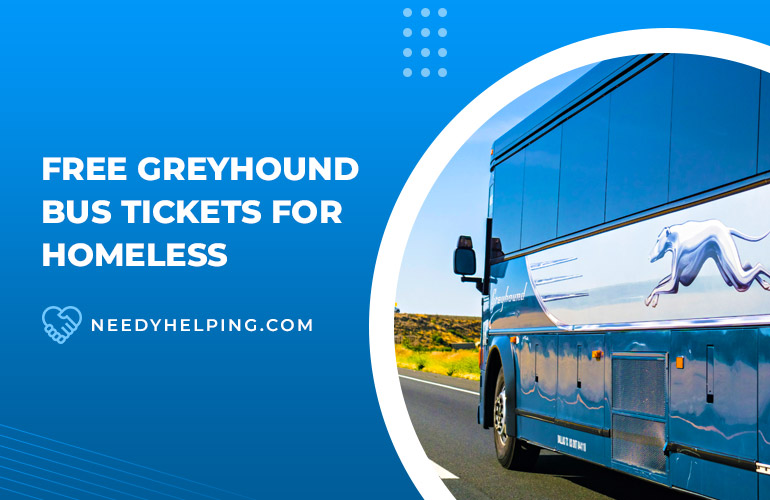 1) National Runaway Safeline (NRS)
Greyhound works with the NRS through their Home Free program to provide free bus tickets to homeless, runaway or exploited young people aged 12 to 21. The program is designed to support at-risk youth.
The tickets help them return to a parent, legal guardian, or a safe alternative living arrangement.
More information can be found on www.1800runaway.org.
2) American Red Cross
Greyhound partners with the American Red Cross in emergencies and natural disasters.
Greyhound provides buses for the evacuation of people to safer places during severe weather disruptions or hurricanes.
Visit www.redcross.org for more details.
3) American Organ Transplant Association (AOTA)
Greyhound offers free travel to alleviate the financial burden on organ transplant patients and their families.
They provide AOTA with free round-trip vouchers every year which are then distributed to patients and their accompanying persons.
Check out more details at www.aotaonline.org.
4) Travelers Aid International
Greyhound works with Travelers Aid International to offer discounted bus tickets to travelers needing assistance to complete their journeys.
This could include vulnerable youngsters, the elderly, or someone facing difficult circumstances.
More information is available at www.travelersaid.org.
5) Veterans Transportation Program
Greyhound respects the sacrifices of active and retired military personnel. They offer discounted bus tickets to veterans needing to travel to Veterans Affairs hospitals for medical care.
This program particularly aids veterans who face challenges traveling due to remote living conditions, visual impairment, old age, disease, or disability.
Visit www.va.gov for more information.
4 Churches that Help with Free Greyhound Bus Tickets
Many U.S. churches offer support to individuals in need, including free Greyhound bus tickets. This aid primarily targets the homeless and financially strained, providing them with travel opportunities for improved living conditions.
Here are some of the notable churches involved in this initiative:
St. Vincent de Paul Catholic Church: This church is known for its various outreach programs, which include providing free Greyhound bus tickets to those in need. They work closely with local communities to identify individuals who can benefit from this service.
United Methodist Church: The United Methodist Church is another religious organization that provides free bus tickets. Their program is designed to help individuals get back on their feet by offering them an opportunity to travel to places where they may find better employment or living conditions.
Episcopal Church: The Episcopal Church also participates in this initiative, offering free Greyhound bus tickets to those in need. They believe in serving their community and providing help wherever possible, including transportation assistance.
Catholic Charities: Known for their extensive social services, Catholic Charities also provides Greyhound bus tickets for free for homeless. They aim to offer a lifeline to those in need and ensure they have access to opportunities that can improve their living situation.
These churches and organizations understand the importance of mobility and the opportunities it can provide. By offering free Greyhound bus tickets, they allow individuals to explore new possibilities and improve their circumstances.
However, availability and requirements may vary, so it is suggested to contact your local church for more accurate information.
2 Non-Profits Providing Greyhound Bus Tickets for Free
Besides churches and Greyhound supported programs, below are some other non-profit organizations helping homeless people by providing Greyhound bus tickets at no cost –
1) The Salvation Army
The Salvation Army, a well-known non-profit organization, provides free Greyhound bus tickets to homeless or needy people through their various assistance programs. One such program is the "Homeward Bound" program.
The Homeward Bound program aims to help stranded individuals return to their homes or families. This program often serves as a lifeline for those who have found themselves in dire straits, far from home, and with no means to return.
To qualify for a free bus ticket, individuals typically must be stranded or homeless, wish to return to a supportive environment, and lack funds to buy a ticket.
Once an individual is approved for the program, The Salvation Army coordinates with Greyhound to provide a free bus ticket. The person then uses this ticket to travel to their destination.
2) Love Inc
Love Inc. is a non-profit organization that aims to connect people in need with local churches and social services. One way they do this is by providing free Greyhound bus tickets to individuals who are homeless or in difficult situations.
Love Inc. assesses the individual's situation to determine if they qualify for assistance. This typically involves understanding their current circumstances, their destination goals, and whether they have support (like family or job prospects) at their intended location.
Love Inc. coordinates with Greyhound to provide a free bus ticket if approved. This allows the individual to travel to a new area where they can potentially find better opportunities or reconnect with family or friends.
How to Approach for Free Greyhound Bus Ticket Assistance?
If you're in need of assistance for a free Greyhound bus ticket, the following steps can guide you through the process:
Sure, here's a shortened version of the steps in bullet point format:
Step 1 – Identify Organizations: Research non-profits and social services that offer free Greyhound bus tickets.
Step 2 – Understand Eligibility: Learn the criteria for receiving a ticket, usually based on need and lack of resources.
Step 3 – Contact Organization: Reach out to the chosen organization to explain your situation and inquire about assistance.
Step 4 – Apply: Complete their application process, which may include forms, proof of situation, and potentially an interview.
Step 5 – Wait for Approval: Wait while your application is reviewed. If approved, they'll coordinate your free ticket.
Step 6 – Follow Guidelines: Adhere to any guidelines or requirements from the organization post-travel.
Details can vary by organization and location, so contact them directly for accurate info.
Remember, details can vary by organization and location, so it's always best to contact the specific organization directly for the most accurate information.
FAQs about Greyhound Bus Tickets
How Can I Purchase a Greyhound Bus Ticket?
You can purchase tickets online, over the phone, or at a Greyhound station.
Can I Change the Date or Time of My Greyhound Bus Ticket?
Yes, you can change your ticket up to 15 minutes prior to the scheduled departure via Manage My Booking.
Are Greyhound Bus Tickets Refundable?
Unfortunately, all Greyhound tickets are nonrefundable.
Can I Get Assistance for a Free Greyhound Bus Ticket?
Some non-profit organizations and social services offer free Greyhound bus tickets to those in need, based on certain criteria.
How does Greyhound Handle Lost or Stolen Tickets?
Lost or stolen tickets cannot be replaced, so keeping them safe is important.
How Long does it Take to Receive Greyhound Bus Ticket Assistance from Churches?
Some churches may offer immediate help in emergencies, while others might take several days to a few weeks. The process typically involves an application, need assessment, and coordination with Greyhound if approved. For accurate information, contact the specific church directly.
Can I Get Greyhound Bus Ticket Assistance for Long Distance Travel?
Yes, many charitable organizations and churches offer Greyhound bus ticket assistance for long-distance travel. However, each organization has its own eligibility criteria and application process. For accurate information and how to apply, contact the specific organization directly.
Conclusion
In brief, Greyhound's partnership with local churches, governments, and non-profits is a positive step forward in providing much-needed transportation assistance.
Contact your local charities, community action agencies, and the Department of Human or Social Services.
They may provide you with more information about how to get free Greyhound bus tickets for homeless and other available bus pass assistance programs.