Check out different assistance programs giving away free Christmas gifts and toys for low income families, seniors, kids, and students.
As we approach Christmas 2023, the U.S. Bureau of Labor Statistics reports a 4% inflation rate. This rise in the cost of living impacts all, especially low-income families.
For example, it may increase the cost of last year's $100 gift to $104. For families already stretching every dollar, this increase strains their holiday budget significantly.
But here's the good news: Free Christmas Gifts Programs are here to help.
According to the U.S. Census Bureau data, an estimated 34 million people live in poverty in the U.S. Christmas, for these families, can often bring financial stress instead of festive cheer.
Recognizing this, numerous organizations and charities have initiated Christmas assistance programs. They ensure that no economic hardship steals the festive spirit from these families.
In this post, we will explore various assistance programs offering free Christmas trees, presents, and toys to low-income families.
So, let's get started…
List of Organizations Offering Free Christmas Gifts
Below is an extensive list of organizations providing free gifts on Christmas to needy people –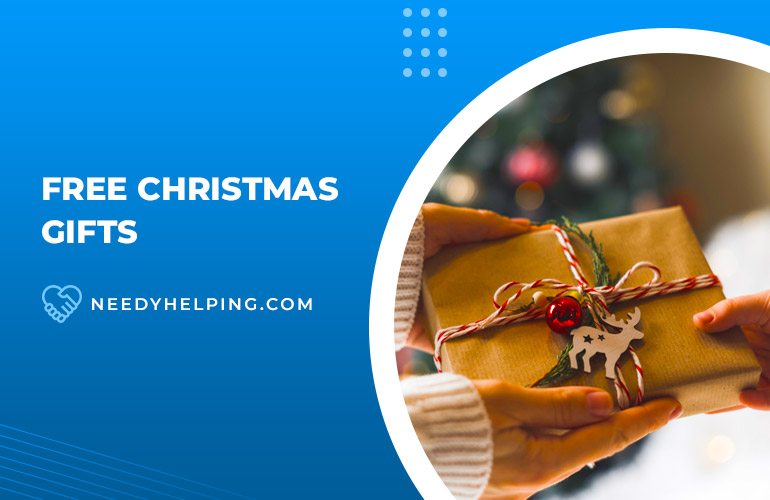 1) Make-A-Wish Foundation
The Make-A-Wish Foundation is renowned for granting the wishes of children with critical illnesses, bringing them joy and hope during tough times.
While their work spans throughout the year, during Christmas, the foundation amplifies its efforts to make the holiday season special for these children.
Below are some gift donation programs and fundraising events the foundation hosted during the holiday season –
Honor Loved Ones, Clients, or Colleagues with Holiday Tribute Gifts
Host a Families For Wishes
Fundraising Campaigns Hosted by Local Law Enforcement
Write to Santa During the Macy's Believe Campaign
Subaru Share the Love Event
Visit Imagine Gifts for your Holiday Shopping
Give Jewelry from PURE Crystals
For detailed information on each, visit here.
While the "wishes" granted by the foundation vary greatly depending on the child's dream, they often include free gifts that the child has longed for.
The foundation works tirelessly to fulfill these wishes, sourcing the desired gifts, and ensuring they reach the child in time for Christmas. This can mean anything from a toy to a pair of outfits or even a special piece of equipment.
In essence, the Make-A-Wish Foundation goes beyond just providing free Christmas gifts. They make such children's Christmas wishes come true and create unforgettable memories.
2) The Salvation Army
The Salvation Army has a longstanding tradition of helping those in need, particularly during the holiday season. Their Angel Tree Program is one of the most notable ways they provide free toys and gifts on Christmas to low-income families.
The program works by getting donors to "adopt" an angel, each representing a child in need. These angels come with details like the child's first name, age, and gender, as well as their Christmas wish list.
Donors then purchase new gifts for their adopted angels based on these wish lists.
Besides it, the Salvation Army also runs a Red Kettle Campaign every holiday season. The funds raised through this initiative are used to provide food, toys, and clothing to over 6 million people during the Christmas season.
Through these efforts, The Salvation Army ensures that families facing financial hardship can still experience the joy of opening presents on Christmas morning.
3) United Way
United Way plays a significant role in connecting needy families with organizations that offer Christmas gifts and holiday meals.
Instead of providing these services directly, they guide individuals to local churches, Assistance League, Salvation Army Service Centers, or other charities. They also provide information on gift drives run by retailers and government organizations.
Beyond this, United Way is actively involved in fundraising within their local communities. They collaborate with local groups and charities for fundraisers, collecting donations throughout the year.
Although organizing Christmas gift drives is not their main objective, they support other charities in conducting their Christmas programs.
Each year, United Way sets a fundraising goal to support low-income families. They collaborate with organizations for holiday gift drives, ensuring kids receive free toys, games, and Christmas gifts.
4) Toys for Tots
Toys for Tots is a program run by the U.S. Marine Corps Reserve since 1947, which distributes toys to children whose parents cannot afford to buy them gifts for Christmas.
In 2022, the organization distributed an unprecedented 24.4 million toys, books, and games to 9.9 million underprivileged children. They made this happen with the support of their generous donors, corporate sponsors, coordinators, and volunteers.
The program works by collecting new, unwrapped toys during October, November, and December each year. Collection boxes are placed in local businesses and public areas where people can drop off toy donations. These toys are then sorted by age and gender and distributed to children in the community.
The goal of Toys for Tots is to deliver, through a new toy at Christmas, a message of hope to less fortunate youngsters that will assist them in becoming responsible, productive, and patriotic citizens.
It's a wonderful initiative that brings the joy of Christmas to many children who might otherwise go without.
5) Local Churches
Local churches often play a key role in community support during the holiday season, providing free Christmas gifts to those in need.
Many churches run their own gift-giving programs or partner with larger organizations to ensure that all members of their community can experience the joy of the holiday season.
One common initiative is a "Giving Tree" or "Angel Tree" program. These involve placing a Christmas tree in the church, adorned with tags or ornaments that each represent a gift request from a child or family in need.
Congregation members and visitors select a tag, buy the requested gift, and return it to the church. The church then distributes these gifts to the families in time for Christmas.
Many churches also organize toy drives, food drives, and clothing drives during the holiday season. These collected items are then distributed as Christmas gifts to those who need them most.
If you're seeking assistance, the first step is to reach out to your local church. You can call, send an email, or visit during office hours to inquire about any Christmas gift assistance programs they may be running for Christmas.
6) Be an Elf
Be an Elf is a non-profit organization that operates in conjunction with the United States Postal Service's Operation Santa program.
This program allows individuals and organizations to "adopt" letters to Santa written by children and families in need, and then purchase and send the gifts these individuals have requested.
They encourage people to be 'Elves' by adopting letters and sending gifts, thereby bringing Christmas joy to less fortunate children and their families.
The organization also raises awareness about the program and recruits new volunteers to adopt letters.
If you want your family's letters to be posted on the USPS website, they must be mailed with actual stamps to the given address between the end of October and December 10th.
It's recommended to mail your letters as soon as possible, but it's mandatory to mail them before December 10th.
While Be an Elf does not directly distribute gifts, their work is instrumental in facilitating the delivery of free Christmas gifts to those who need them most.
7) Dream Foundation
The Dream Foundation is a national wish-granting organization for adults facing life-limiting illnesses.
While their mission extends beyond the holiday season, during Christmas, they often ramp up their efforts to bring joy and comfort to these individuals and their families.
This year, the Dream Foundation hosts an annual Toy Drive, now in its 20th year, during the holiday season. The drive benefits children at Inspira Hospital of South Jersey, St. Christopher's Hospital in Philadelphia, Children's Hospital of Pennsylvania (CHOP), and other hospitals and charitable organizations in South Jersey.
The success of the drive relies heavily on the generosity and support of donors. Donations of unwrapped toys for children of all ages are being collected at Rudco Products in Vineland, NJ, Monday through Friday, from 9am to 5pm.
Besides it, monetary contributions can be mailed to The Dream Foundation's P.O. Box in Vineland, NJ. All checks should be made payable to The Dream Foundation.
The deadline for the Toy Drive is set to 5 business days prior to Christmas.
8) Family Giving Tree
Family Giving Tree strives to ensure everyone, irrespective of their situation, experiences the joy of receiving a desired holiday gift.
They operate on the belief that fulfilling the wish of a child, adult, or senior in need, although seemingly small, can mean the world to someone who might not otherwise receive a gift.
They leverage their Virtual Giving Tree (VGT) donation platform, which opens in early November, to make this possible. Individuals can grant specific wishes via the platform.
The process starts in August when Family Giving Tree partners with over 300 local service agencies and nonprofits. These partner agencies collect holiday wishes from their clients and students, which Family Giving Tree then converts into wish cards for Drive Leaders or loads onto their VGT.
Although Family Giving Tree has reached many underserved individuals, there is still a critical need to support more local children and their families.
The public can assist in various ways, including donating to enable Family Giving Tree to buy gifts in bulk, organizing a drive either in-person or through the VGT platform, or volunteering to sort, wrap, and prepare gifts for distribution.
Through these collective efforts, Family Giving Tree continues to spread holiday cheer and positively impact lives, one gift at a time.
9) Operation Homefront's Holiday Toy Drive
Operation Homefront is committed to serving military families. Their Holiday Toy Drive is one of their key initiatives during the festive season.
The program provides free toys to military families in need, ensuring their children can enjoy the magic of Christmas.
The drive operates by collecting new, unwrapped toys donated by individuals, businesses, and organizations. These toys are then sorted and packed by volunteers and distributed at various holiday events held on military bases across the country.
Through this initiative, Operation Homefront brings joy to military families at Christmas, thanking them for their sacrifices.
10) Prison Fellowship Angel Tree
The Prison Fellowship Angel Tree™ program is a unique initiative that provides Christmas gifts to children with incarcerated parents.
Working in collaboration with local churches, the program delivers a gift, the Gospel, and a personal message from the incarcerated parent to the child.
Local churches register with the program and receive the names of children who have a parent in prison.
Church members then buy and wrap a gift based on the child's specific needs and wishes.
The gift also includes a personal message from the incarcerated parent. These gifts are then delivered to the children, offering them joy and connection with their parent during the holiday season.
11) Santa's Little Helpers
Santa's Little Helpers is a program designed to bring Christmas cheer to seniors who are alone or in need of assistance.
Recognizing that the holidays can be challenging for seniors, the program has adapted to ensure safety by opting for gift cards instead of traditional gift baskets and personal items.
Supporters can participate by signing up as a Santa's Little Helper through a sponsor form, choosing their level of participation, and making a contribution online, by phone, or by mail.
The contributions are used to purchase gift cards, which are then mailed to the adopted senior.
Once signed up, participants receive information about the senior they are sponsoring.
Donations can be made at www.continuetogive.com/senioragegiving, making it an easy way to spread holiday kindness to seniors in need.
Other Ways to Get Free Gifts on Christmas
Finding creative ways to get free Christmas gifts can make the holiday season more affordable and enjoyable.
Here are a few ideas:
DIY Gifts: Homemade gifts can be a wonderful way to express your love and creativity. These can range from baked goods, crafts, handmade jewelry, or even a heartfelt letter.
Gift Exchanges: Participate in a Secret Santa or White Elephant exchange. These are fun, social events where each person only needs to provide one gift, which can often be something inexpensive or even re-gifted.
Volunteer or Donate: Some organizations may offer small gifts or discounts as a thank you for volunteering or making a donation.
Online Giveaways and Contests: Many companies and influencers host holiday giveaways on social media platforms. Entering these can potentially win you free gifts.
Reward Programs: If you're part of a rewards program through your credit card company or a retailer, you might be able to redeem points for gifts.
Freebie Websites: Sites like Freecycle or Craigslist's "Free" section sometimes have items that people are giving away. Always exercise caution when meeting strangers from these sites.
Charitable Organizations: If you're facing financial hardship, many charities, like The Salvation Army's Angel Tree program or Toys for Tots, offer programs to help families in need during the holiday season.
Free Christmas Gifts for Different Groups
Students
If you are planning to get assistance to receive free gifts for students on Christmas, then below are some ideas worth checking –
Bookmarks: Personalized bookmarks can be made easily and affordably. You could even write an inspiring quote or message on each one.
DIY Ornaments: Have a craft session and create unique Christmas ornaments. Students could take these home to their families as gifts.
Handwritten Notes: A heartfelt note expressing appreciation and encouragement can mean a lot to a student.
Homemade Cookies or Treats: Baking cookies or other treats can be a cost-effective way to give a sweet gift to each student.
Class Photo: A group photo of the class, perhaps in a handmade frame or card, can be a memorable keepsake.
Snowman Soup: This is a fun DIY gift that includes a packet of hot cocoa mix, mini marshmallows, and a candy cane all wrapped up with a cute tag or note.
Reused Books: If you have gently used books that are age-appropriate, these can make excellent gifts.
Art Supplies: Donated or bulk-purchased art supplies like crayons, markers, or colored pencils can be divided amongst the students.
Remember, the best gifts are those that show you care. It's the thought and effort put into the gift, rather than the cost, that truly counts.
Seniors
There are several ways to provide free or inexpensive Christmas gifts for seniors that can bring joy and show you care.
Here are some ideas:
Handmade Crafts: A handmade card, knitted scarf, or a piece of artwork can be a thoughtful gift. It's a great way to show your creativity and effort.
Family Photos or Album: If you have access to family photos, creating a photo album or framed picture can be a meaningful gift that brings back cherished memories.
Personalized Calendar: You can create a personalized calendar using family photos or pictures of places they love. There are several online platforms that allow you to do this for free or a small fee.
Homemade Coupon Book: This could include coupons for chores like house cleaning, yard work, or even just spending time together.
Story Recording: Record a video or audio clip of grandchildren telling a story or singing a song. This can be easily done on a smartphone and can be a heartwarming gift.
Digital Slideshow: Create a digital slideshow of family photos or favorite memories. This can be easily watched on a computer or TV.
Disabled Adults
Below are some free or inexpensive Christmas gift ideas for disabled adults and children –
Personalized Playlist: For those who enjoy music, creating a personalized playlist of their favorite songs could be a wonderful gift. You can use free platforms like Spotify or YouTube.
Homemade Sensory Toys: If the person enjoys sensory stimulation, you could make homemade sensory toys. These could include things like textured pillows or stress balls.
Custom Storybook: For children, creating a storybook featuring them as the main character can be a delightful and inclusive gift. There are online templates available to help with this.
Recorded Audiobooks: If you have a good reading voice, recording an audiobook version of their favorite book or a new novel could be a unique and thoughtful gift.
Handmade Jewelry: If they enjoy wearing accessories, consider making a piece of jewelry. This could be something simple and stylish that considers their comfort and ease of use.
DIY Art Project: Depending on their abilities, a DIY art project could be a fun and creative gift. This could involve painting, sculpting, or any other medium they enjoy.
Online Classes or Webinars: There are many free online classes or webinars available that could provide entertainment and education. Consider their interests and find a suitable course.
Video Messages from Loved Ones: Record video messages from friends and family expressing their love and holiday wishes. This can be compiled into one video for a heartwarming gift.
FAQs about Free Christmas Gifts
When Should I Apply for Free Christmas Gifts from Charities?
Charities typically start accepting applications for free Christmas gifts around September or October. Deadlines vary, so apply as early as possible and ensure you have necessary documents ready, as most charities require proof of income and residency to verify eligibility.
How Can I Get Christmas Gifts for My Child with No Money?
There are several places you can apply for assistance from local charities or community organizations that offer free Christmas gifts for children. Many have programs specifically designed to help low-income families during the holiday season.
How Many People Can't Afford Christmas?
According to a 2022 poll, 21 percent of Americans who have recently been unemployed are unable to celebrate Christmas with all the traditional decorations, gifts, and feasts due to financial constraints.
How Many Kids Don't Get Christmas Gifts?
According to Turn2us, a national poverty charity, 19% of children might not receive a Christmas present this year because their parents cannot afford to buy gifts without going into debt. This figure rises to 25% for children in single-parent families.
Conclusion
If you're going through a tough time financially, remember that there's help available, especially during the holiday season. Don't hesitate to reach out to these organizations and apply for assistance.
Everyone deserves to enjoy the magic of Christmas.
Remember, Christmas is not about the price tags on gifts but the love and warmth they represent. We hope this blog post helped you to find a way through which you can get a free Christmas gift.
Stay strong, keep the faith, and remember the reason for the season!
Disclaimer: This blog post aims to provide information about free Christmas gifts assistance programs in the United States. Please visit the individual websites for the most accurate and up-to-date information.