Are you looking for places where you can get a free Thanksgiving dinner? No worries, read on to know how and where you can find free dinner on Thanksgiving Day for low income families.
Thanksgiving, a holiday of expressing gratitude and family meals, can cause stress for low-income individuals due to financial struggles. Luckily, there are initiatives to provide Thanksgiving dinners and hot meals at no cost.
Food banks, soup kitchens, food pantries, and faith groups across the country offer free Thanksgiving dinner to those in need.
Besides free dinner, certain initiatives also offer other forms of assistance that include; thanksgiving baskets, free food vouchers, free certificates for grocery shopping, and free Thanksgiving turkey to low income families.
So, let's get started and find out how to get free dinner on Thanksgiving day.
Reasons to Find Free Thanksgiving Dinner
Before exploring free dinner programs, let's understand why some seek free meals during this festival of gratitude.
Financial Strains: A Personal Capital survey revealed that 25% of Americans won't have Thanksgiving dinner due to high costs. Another 20% are unsure if they can afford the holiday meal.
Inflation and High Prices: According to the Consumer Price Index data, goods' costs are 8.2% higher than the previous year. These increased prices have made grocery bills unaffordable for many, forcing them to cut costs.
Job Loss: The same survey found that 29% of respondents who lost their jobs this year were more likely to skip Thanksgiving celebrations.
Generational Stress: Generation Z and Millennials reported the most financial stress over Thanksgiving, anticipating smaller celebrations.
Travel Costs: Despite AAA's prediction of one of the busiest Thanksgivings on record, with 54.6 million people traveling, the high cost of gas at an average of $3.75 per gallon is a major concern. This could contribute to people's decision to seek free meals.
In brief, rising costs, financial hardships, and the economic impact of the pandemic are some of the reasons why many are looking for free Thanksgiving dinners.
Where to Get Free Dinner on Thanksgiving Day?
If you're looking for a free dinner on Thanksgiving Day in the United States, here are some places to consider: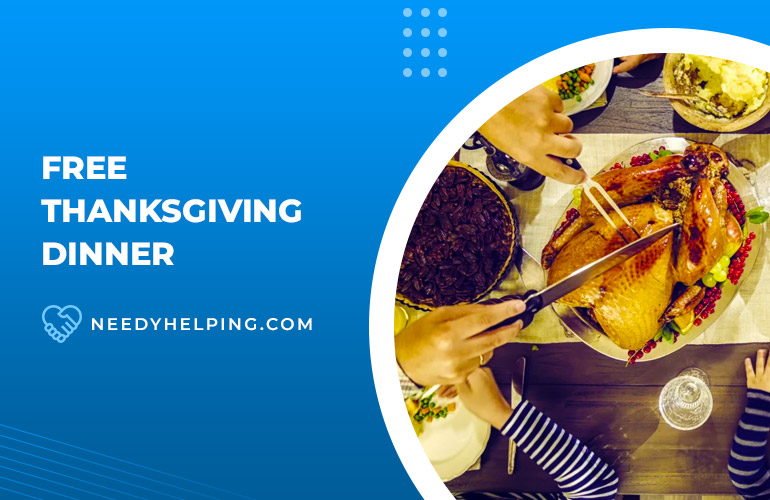 Food Banks: Many food banks across the country offer free Thanksgiving Day Dinner. You can find local food banks on this website www.feedingamerica.org.
Local Churches and Faith Groups: Many religious organizations offer free Thanksgiving meals to those in need. Check with local churches in your area.
Soup Kitchens: These establishments often serve free meals on Thanksgiving. Look for local soup kitchens in your community.
Food Pantries: Many food pantries offer free Thanksgiving meals or food items. You can find a local pantry through websites like FoodPantries.org.
Charities: Some charities, like Catholic Charities and United Way, often have Thanksgiving programs providing free meals.
Community Centers: Many community centers host free Thanksgiving dinners. Check your local community center's schedule.
Remember, it's important to check ahead of time as some organizations require registration or have specific pick-up times. Availability may vary by location and year.
List of Free Thanksgiving Dinner Programs
Here are some programs that are known to offer free Thanksgiving Day dinners, though availability may vary each year and by location:
1) Feeding America
Feeding America aids low-income families in accessing free Thanksgiving dinner through its network of 200 food banks. Families can locate their nearest food bank by entering their zip code on the Feeding America website.
Besides food banks, Feeding America collaborates with local food pantries, soup kitchens, and faith-based organizations. This ensures wide reach even if the nearest food bank is far from a family's location.
Based on availability, families might receive a free turkey, a gift card to buy one, or an alternative protein like ham or chicken. Some places also offer ready-to-go Thanksgiving meals.
Feeding America's food banks often give out free food boxes with Thanksgiving meal ingredients. For those unable to visit the nearest food bank, home delivery of meals may be available for seniors and people with disabilities.
Beyond Thanksgiving, Feeding America offers ongoing support with weekly food pick-ups and assistance in applying for federal aid programs, ensuring sustained food aid for low-income families.
2) The Salvation Army
The Salvation Army offers free Thanksgiving turkey dinners through their annual programs across different parts of the country in the following ways:
1. Annual Community Dinners: The Salvation Army organizes annual community dinners on Thanksgiving Day. These events are open to everyone, especially those who can't afford a traditional meal.
2. Partnered Programs: They often partner with other organizations and churches to host Thanksgiving dinners. For instance, they have collaborated with St. Demetrios Greek Church for 37 years in Tucson.
3. Regional Initiatives: Specific regional divisions, like the Hawaiian & Pacific Islands Division, host their own Thanksgiving meals, serving thousands of guests.
4. Volunteer Involvement: Volunteers play a significant role in these programs, helping prepare and serve meals. This allows the Salvation Army to reach more people in need.
Through these efforts, the Salvation Army ensures that no one goes hungry on Thanksgiving, regardless of their financial situation. For more information, you can contact the local Salavation Army center in your area.
3) Ibotta App
The Ibotta app offers a free Thanksgiving dinner by providing 100% cash back on selected items. Here's how it works:
Users select the 100% cash back Thanksgiving offers within the app and add them to their list.
They then purchase these items either in-store or for pickup & delivery from participating retailers.
After purchasing, users upload their receipt to the app to redeem the cash back offers.
The cash back amount is credited to the user's Ibotta account, making the items effectively free.
This offer typically starts in early November and runs through the month while supplies last. It includes items like turkey, mashed potatoes, green beans, corn muffin mix, gravy mix, and cranberry sauce.
4) Catholic Charities
Catholic Charities provides free Thanksgiving dinners and meals to those in need through hosting community dinners, conducting food distribution drives, and partnering with other organizations.
Through these initiatives, Catholic Charities ensures that everyone can enjoy a warm Thanksgiving meal.
5) St. Vincent de Paul
For 46 years, St. Vincent de Paul Society has run a Thanksgiving program where families donate food boxes to those less fortunate, sharing the holiday tradition.
The food box, which includes a turkey of at least 10 pounds, 10 pounds of potatoes, a roasting pan, and all the trimmings, is designed to provide a nice Thanksgiving meal for four to six people.
Participants can either create a Thanksgiving food box using the society's list or donate $70 for St. Vincent de Paul to assemble a box.
This initiative directly aids families in need, providing them with a Thanksgiving dinner they might not otherwise afford.
6) Operation Homefront's Holiday Meals Program
Operation Homefront's Holiday Meals for Military program offers free Thanksgiving dinners to military families.
The program is a gesture of gratitude for the service and sacrifices these families have made for the country.
Since its inception in 2010, with generous partner support, the program has served over 675,000 individual family members, providing them with holiday meals and easing their financial burden.
Besides it, many local veterans services and organizations offer free Thanksgiving dinner feasts to active military officials.
7) United Way's Annual Thanksgiving Project
United Way's Annual Thanksgiving Project provides needy families with ingredients for a traditional Thanksgiving meal.
The project has helped more than 20,000 families by distributing 250,000+ pounds of food on Thanksgiving Day. It operates across multiple locations, with distribution sites in several communities in eastern Massachusetts and beyond.
The project relies on fundraising efforts and the collection of food supplies to ensure those less fortunate can enjoy a hearty holiday meal.
8) Meals on Wheels
Meals on Wheels offers free Thanksgiving dinner to low-income seniors and people with disabilities.
Most Meals on Wheels programs deliver an extra meal for reheating in the days leading up to Thanksgiving Day. This way, recipients can have a warm, nutritious meal on Thanksgiving Day without having to cook.
Some Meals on Wheels programs also host Thanksgiving Day luncheons or dinners for their clients. These events are a great way for seniors and people with disabilities to socialize and enjoy a traditional Thanksgiving meal with their friends and neighbors.
If you are interested in receiving a free Thanksgiving meal from Meals on Wheels, you can contact your local program to find out more information.
You can also find a list of Meals on Wheels programs in your area by visiting the Meals on Wheels' Meals Locator here.
9) YMCAs (The Y)
The YMCA organizes free Thanksgiving dinners for people in need through various initiatives across different locations.
The YMCA hosts community Thanksgiving dinners, such as their annual "We Care" dinner, which has served about 1500 people in the past.
Besides prepared meals, some branches of the YMCA, like the North Valley Family YMCA, organize Thanksgiving Basket Giveaways, believing that every family deserves to have a Thanksgiving dinner.
For more accurate information, you can contact your local center or ask one of your friends who have YMCA membership.
10) Boys and Girls Clubs
Boys and Girls Clubs organize annual free Thanksgiving dinners through donations, volunteer participation, and community engagement.
The clubs often rely on monetary contributions and food donations from individuals, businesses, and other community organizations. These donations provide the necessary resources to purchase and prepare the meals.
Besides it, volunteers play a crucial role in these events. They help with various tasks such as cooking meals, setting up the dining areas, serving food, and cleaning up after the event.
The clubs host the dinner, inviting members, their families, and locals. They may also offer 'to-go' meals for those unable to attend.
These Thanksgiving dinners aim to not only provide a free meal but also to foster community bonds and a sense of belonging.
FAQs about Free Thanksgiving Dinner Near Me
How Much Does Thanksgiving Dinner Cost?
The average cost for a Thanksgiving feast for 10 people is $64.05 and more. This was a 20% increase from 2021.
Where Can I Find a Free Thanksgiving Dinner Near Me?
Many local food banks, soup kitchens, faith groups, and charities provide free Thanksgiving meals.
Who is Eligible for a Free Thanksgiving Dinner?
Eligibility can vary depending on the organization. Some offer meals to low-income families, while others have no restrictions.
How do I Get a Free Turkey for Thanksgiving?
Certain programs and grocery stores may offer free turkeys around Thanksgiving. It's best to check with local food banks or community organizations for specific programs in your area.
What if I Can't Attend a Free Thanksgiving Dinner in Person?
Some organizations provide 'to-go' meals or even delivery options for those who cannot attend in person.
Conclusion
In brief, there are so many places and programs available including churches, charities, clubs, cafes, schools, and restaurants offering Thanksgiving dinner for free.
Contact your nearby community centers or churches to find more information about available programs and events. Ask them how you can enroll these community dinner events and driving programs to get free dinner on Thanksgiving Day.
So let's reach out and be generous this Thanksgiving, no matter how small the act may seem – every bit counts!