Are you having trouble affording baby diapers? Don't worry, we are sharing a list of assistance programs that can provide free diapers.
As any parent knows, the cost of diapers can quickly add up, often becoming a significant part of the family budget.
This expense can create an enormous strain for low-income families, sometimes forcing them to choose between essential needs like food, rent, and their child's hygiene.
Diapers are not a luxury but a basic necessity for infants' and toddlers' health and well-being. However, the high cost can make them seem out of reach for families struggling financially.
If you're feeling the pinch of diaper costs, don't despair. Some resources provide low-cost or free baby diapers to those in need.
In this post, we will explore several emergency diaper assistance programs offering free diapers for low income families.
Emergency Baby Diaper Assistance Programs: Free Diapers for Low Income Families
According to the American Academy of Pediatrics, parents may need around 3,000 diapers for their child in the first year.
Considering the average price of disposable diapers is about $.30, parents may end up spending nearly $900 to $1,000 on diapers during the first year.
Remember, this estimate doesn't include extra costs such as wipes, creams, and other essentials needed for diapering.
This is what makes low income parents look for free diapers or discounted coupons. Fortunately, your search may end here with the below list –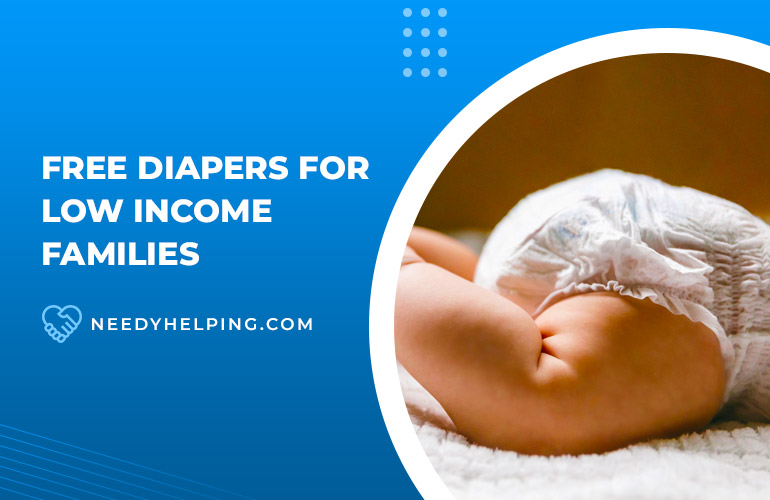 1) National Diaper Bank Network: A Nationwide Solution
The National Diaper Bank Network is a non-profit organization dedicated to ensuring that every child in the United States has an adequate supply of diapers.
They work with more than 200+ community-based diaper banks across the country.
You can contact them directly or call 2-1-1 on your phone to locate the nearest diaper bank in your area. You can also search for local NDBN diaper banks on www.211.org.
Huggies is a proud sponsor of NDBN and donates over 20 million diapers to member diaper banks annually. Together with local communities, NDBN and its partners support thousands of children monthly.
To locate a member diaper bank near you, please check out the NDBN directory.
2) Temporary Assistance for Needy Families (TANF)
The Temporary Assistance for Needy Families (TANF) program is a crucial resource for low-income families. This federally funded initiative offers cash assistance for essentials like food, clothing, and uncovered medical supplies.
Importantly, it can also help families struggling to afford diapers.
TANF operation varies by state, allowing each to customize their assistance. Some states, recognizing the importance of diapers, provide a specific diaper allowance.
For example, in California, eligible families participating in the state's TANF program, known as CalWorks, receive a $30 monthly diaper allowance for each child under 3 years of age.
Similarly, Washington state has enacted legislation providing a diaper allowance for families receiving TANF with children under 3.
3) HHS Diaper Distribution Pilot Program
The HHS Diaper Distribution Pilot Program is a groundbreaking initiative launched by the U.S. Department of Health and Human Services (HHS).
The program aims to provide essential diaper supplies to low-income families who often struggle with the high cost of diapers.
The HHS Diaper Distribution Pilot Program, managed by the Administration for Children and Families (ACF), is the first federally funded diaper program with a substantial investment of $16.2 million.
The program provides grants to community-based organizations to expand existing diaper distribution services. It's designed as a one-stop shop for grant recipients to find all the information they need to manage their grants successfully.
4) SupplyBank.org
SupplyBank.org has established the Diaper Kit Assistance Program since 2016 for babies and toddlers belonging to low-income families.
In partnership with hundreds of organizations throughout the state, this program provides up to 100 diapers and 200 wipes monthly to babies.
Initially a pilot program at Eastmont WIC Center in Oakland, the program has expanded across regions, reaching from the Mexican border to Humboldt County.
SupplyBank.org also raises awareness about diaper needs through a short documentary film released in December 2021. The film highlights the impact of diaper need across the state and potential solutions.
5) Medicaid for Free Pediatric Diapers
To get free pediatric diapers through Medicaid, start by checking your child's eligibility online or at your local Medicaid office.
Moreover, Medicaid covers diapers if a doctor declares them medically necessary. You can then contact providers like Aeroflow Urology or ActivStyle, who help get these diapers for free through Medicaid, often handling the paperwork for you.
Understanding your state's rules for diaper coverage through Medicaid is important as they can vary.
All Medicaid-enrolled children are eligible for free diapers. For queries, reach out to your local Medicaid office or a healthcare provider.
6) Cuddle Me Programs
The Cuddle Me Program is a non-profit initiative by The Partnerships for America that provides essential daily living items, such as free disposable diapers and wipes, to children from birth up to 4 years of age.
They distribute these items through a Partners Distribution Network to support needy moms and their babies.
The program operates in numerous states, and the process typically involves reaching out to the organization, confirming eligibility, and then receiving free diapers and other supplies.
Besides diapers, the program sometimes offers formula, food, and new or gently used clothes when available.
The primary aim of the Cuddle Me Program is to support families in need, helping to bridge the gap by providing babies with free diapers, wipes, and other essentials.
7) Local Diaper Banks
Local diaper banks help low-income parents by providing free diapers. They gather donations, often through brands, drives, or events, and distribute them to nonprofits and community organizations. These partners then distribute the diapers to families in need.
Some diaper banks directly give diapers to families at specific times and locations along with an effort to raise awareness about the need for diapers.
Many diaper banks offer more than just diapers. They may provide baby wipes, diaper rash cream, adult incontinence supplies, and menstrual products.
The ultimate goal is to ensure all families have access to necessary diapers. For more accurate information, contact your local diaper bank.
Below are some popular of local diaper banks –
Here is a list of some popular diaper banks across the United States:
Miami Diaper Bank: This non-profit based in South Florida collects and distributes clean diapers to low-income, foster, and homeless children.
Greater DC Diaper Bank: This bank empowers families and individuals in need throughout DC, Maryland, and Virginia by providing a reliable free diaper source.
Texas Diaper Bank: They deliver wipes, diapers, incontinence products, period supplies, etc., directly to enrolled clients' homes.
Diaper Bank of Central Arizona: The only diaper bank covering the entire Phoenix Metro area, supplying hundreds of thousands of diapers to various Valley non-profits annually.
Maryland Diaper Bank: This bank provides basic diaper needs to stimulate health, growth and good hygiene for babies in Maryland.
Diaper Bank of North Carolina: They offer assistance to families in North Carolina who are in need of diapers.
Central Florida Diaper Bank: Partners with a variety of government and social service organizations throughout the Central Florida region to provide diapers and related supplies.
8) Food Banks and Pantries
Food Banks and Pantries often offer free diapers as part of their mission to assist families in need. They typically work with national networks, like the National Diaper Bank Network, or local businesses for diaper donations.
The collected diapers are then stored and distributed to struggling families through various community-based programs.
In certain cases, food banks partner with diaper brands or other nonprofits for diaper drives, ensuring a consistent supply for those who need them.
This service is crucial as food stamps do not cover diapers, leaving many low-income families struggling to afford them.
If you're visiting your local food bank for food, remember to ask if they can provide diapers for you as well. If they don't have any available, they may be able to refer you to another food bank that does.
9) Local Community
Family and friends can be a significant source of support. They might have leftover diapers or could contribute towards buying a pack of diapers.
Baby showers are also a great way to stock up on diapers, as attendees often gift these to expectant parents.
Neighbors with children may have surplus diapers that their kids have outgrown or no longer need.
Online communities are another excellent resource. Social media groups, particularly those focused on parenting or local community activities, often have members willing to donate diapers or share information on where to find free diapers.
Websites like Freecycle or Craigslist may have listings for free diapers. Online marketplaces sometimes have promotional offers where you can get a pack of diapers for free or at a heavily discounted price.
Local parenting or mom groups can also be beneficial. Members often exchange items their children no longer need, including diapers.
In short, there are numerous ways the local community can assist families in need of diapers. It's all about communication, generosity, and helping each other out.
10) The Pampers Gifts to Grow Program
Pampers does provide opportunities to get free diapers.
They offer a rewards program named Pampers Club or The Pampers Gifts to Grow program, where customers can earn points with every purchase of Pampers products. These points can then be redeemed for free diapers and other Pampers products.
Customers need to download the Pampers Club app and sign up for the program. Once enrolled, they can start earning points by scanning codes found inside Pampers packaging. The more points they accumulate, the more rewards they can get.
Pampers also occasionally offers samples or coupons that can be used to get free or discounted diapers.
It's always a good idea to check their official website or subscribe to their newsletter for the latest promotions and offers.
Similarly, you can approach other diaper brands as well.
11) Local Churches
Local churches play a crucial role in helping low-income families access free diapers. They often run diaper banks, which collect and distribute diapers to those in need.
These banks are typically stocked diapers through donations from church members, community drives, and partnerships with businesses.
Many churches also partner with national or local diaper banks or nonprofits. In these cases, the churches act as distribution centers where families can conveniently pick up diapers.
In addition to diaper banks, local churches commonly run outreach programs that provide necessities like diapers.
They also organize fundraisers or donation drives to purchase and distribute diapers, effectively rallying the community to support this cause.
Churches often help by referring families to local resources or organizations that offer free diapers. This way, they play a key role in supporting low-income families and ensuring children's basic needs are met.
FAQs about Free Diapers
Do Huggies Provide Free Baby Diapers?
Yes, Huggies distribute millions of baby diapers for free to needy people through programs like The Project Hug and National Diaper Bank Network. You can even contact the company to get free samples for babies up to 4 weeks old.
How Many Free Diapers Does Medicare Cover?
Adult diapers or incontinence supplies are usually not covered by Medicare, but certain Medicare Advantage plans or Medicaid might have coverage or provide assistance for these supplies. However, the amount of supplies covered can vary by plan and typically ranges from 200 to 300 briefs or diapers per month.
Can I Get Free Diapers at My Doctor's Office or Hospital?
Pediatricians and hospitals often have diaper samples that they can give out for free.
How to Get Free Nappies for Autistic Child?
To begin, it's recommended that you schedule a meeting with nearby healthcare professionals such as your GP, health visitor, or pediatrician. From there, they can provide a referral to a district nurse or a continence advisor in your local area. These nurses specialize in continence and can provide expert assistance.
Conclusion
In brief, free diapers for low income families are available in many forms.
From government assistance programs and donation drives, to samples from pediatricians and hospitals, you can access these essential supplies in a range of ways.
With all of these resources at our disposal, it's possible to ensure no family has to go without basic needs like clean diapers for their children.