Finding a free car seat program can be a lifesaver for budget-conscious families.
According to the Centers for Disease Control and Prevention (CDC) – A car seat reduces the chance of injury in a crash by 71-82% for children, compared to using just a seat belt.
Every parent knows the importance of car seats for their children's safety, but not everyone can afford to buy one.
Fortunately, several free baby car seat programs are available to help parents with this essential item without having to break the bank.
From government initiatives and charitable organizations to insurance companies and public safety centers, these programs offer options for families in need to obtain safe car seats at no cost.
In this article, we will explore some free car seat programs for low income families.
List of Free Car Seat Programs Near Me
Here's a quick rundown of your options: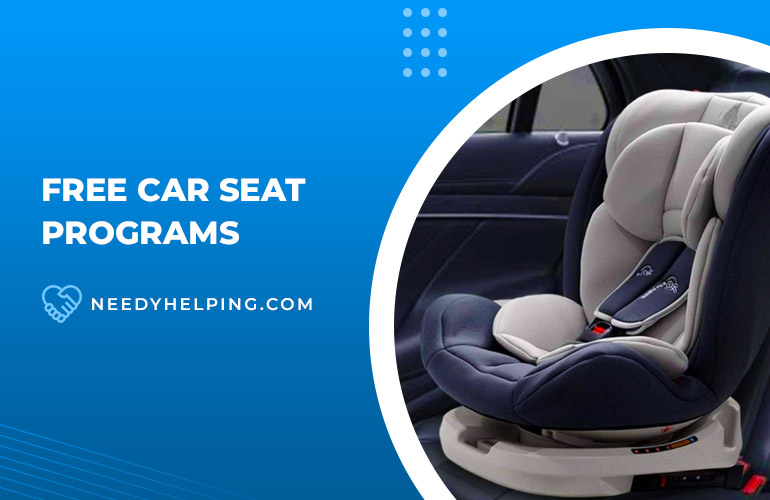 1) WIC Free Car Seat Program
The WIC (Women, Infants, and Children) Free Car Seat Program is a federal program that provides free or low-cost car seats to eligible families. The program is funded by the U.S. Department of Agriculture (USDA) and administered by the states.
The WIC Free Car Seat Program, promoting child safety, is available to families enrolled in the WIC or other low-income assistance programs like TANF.
To be eligible for the WIC Free Car Seat Program, you must meet the following criteria:
Be enrolled in the WIC program.
Have an income below 185% of the federal poverty level.
Have a child under the age of 5.
The car seats provided by the WIC program are either free or low cost, with the price based on a sliding scale according to what the family can afford.
To get a car seat, families need a referral from their WIC clinic and may have to take a car seat safety and installation class, depending on the state.
The WIC program may also provide vouchers that can be used toward purchasing a car seat.
However, the specifics of the program can vary by state.
For example, the Ohio Buckles Buckeyes (OBB) Child Passenger Safety Program offers free car seats and booster seats to eligible low-income families across all Ohio counties.
On the other hand, in Columbus, Ohio, families must be referred by their WIC clinic or by a Columbus Public Health Home Visiting program.
Visit your local WIC office for the most accurate and up-to-date information about this free infant car seat program.
2) Safe Kids Worldwide
Safe Kids Worldwide is a global non-profit organization that works towards preventing accidental injuries in children. One of their initiatives involves providing free car seats to families who cannot afford them.
They have a network of over 600 local coalitions in the United States that work to educate parents and caregivers about child safety.
Below are some ways through which this program helps needy people –
Car Seat Checkups: Under this initiative, Safe Kids Worldwide conducts more than 8,000 car seat checkups annually across all 50 states.
Educational Workshops: Safe Kids Worldwide conducts workshops teaching parents and caregivers about car safety and proper car seat installation and use.
Partnerships with Local Bodies: The organization often partners with local bodies like police stations or fire departments, which sometimes offer free car seats after accidents.
Online Resources: Safe Kids Worldwide provides virtual and online resources for parents to check car seats, especially during events like the Child Passenger Safety Week.
National CPS Certification Program: This program helps find child passenger safety technicians in your area who can guide on car seat safety.
By offering these services, Safe Kids Worldwide ensures that all children have access to safe car seats, regardless of their family's financial situation.
3) Baby 2 Baby
Baby2Baby is a non-profit organization that provides essential items to children living in poverty, ranging from baby diapers and clothing to car seats.
They work with various 300+ partner organizations across the country to distribute these items.
When it comes to car seats, Baby2Baby offers them for free to families who cannot afford them. This initiative helps ensure that all children have safe transportation, regardless of their family's financial situation.
To receive a free car seat from Baby2Baby, families typically need to be referred by one of Baby2Baby's partner organizations.
The specific process may vary depending on the location and the partner organization involved. Check out their website for more information.
4) Everyday Miracles
Everyday Miracles is a non-profit organization based in Minnesota that provides support to families during pregnancy and postpartum.
One of their programs involves offering free car seats to those with a state-sponsored (Medicaid) insurance plan, particularly from Blue Plus.
Families who qualify can request a car seat through the Everyday Miracles website. The organization also serves various counties in Minnesota, including Hennepin County and Scott County.
Once your request is approved, an Everyday Miracles Car Seat Technician will deliver the car seat to your home and help you install it correctly. The technician will also provide you with car seat safety education.
The request form is available from Monday at 8 AM CST to Friday at 5 PM CST during their working hours.
Take note that car seat deliveries may take up to three weeks post-referral and are scheduled based on the baby's estimated due date. After your request, you'll be contacted only for additional information or if your request cannot be fulfilled.
Check out their official website for detailed information.
5) HealthLinks Car Seat Program
The HealthLinks Car Seat Program is an initiative that provides free car seats to qualifying individuals. It's a part of Phoenix Day's HealthLinks program, which is aimed at ensuring the safety of children during transportation.
Here are some key points about the program:
Eligibility – To be eligible for a free car seat, you must either be pregnant or a legal guardian of a child between certain ages. An application process is involved to determine eligibility.
Education – The program doesn't just provide free car seats; it also includes a two-hour class. During this class, nationally certified child safety seat technicians instruct attendees in both English and Spanish about child safety and the proper use of car seats.
Distribution – Once the class is completed and eligibility is confirmed, the free car seat is distributed to the individual.
This program plays a crucial role in promoting road safety for children and supports families who may not have the financial resources to purchase a car seat independently.
Visit here for more information.
6) Safe Kids Buckle Up for Life
The Safe Kids Buckle Up for Life program is a national initiative focused on child passenger safety.
The program was established in 2004 through a partnership between Cincinnati Children's Hospital and Toyota.
Buckle Up for Life's main goal is to reduce child deaths and injuries from car accidents, a leading cause globally and in the U.S.
The program aims to educate families about the importance of correctly using car seats, booster seats, and seat belts for children. They do this through community-based passenger safety education programs and initiatives.
Buckle Up for Life provides free car seats to families in need as part of their mission to ensure all children have safe transportation.
They have donated 86568 car seats so far and the figures are increasing.
Visit their website or their local partner in your area for more information about the available help.
7) Community First Health Plans (CFHP)
Community First Health Plans (CFHP) is a health insurance provider that offers various coverage options, including the Children's Health Insurance Program (CHIP).
This program is designed to provide low-cost or free health coverage for children in families with low income.
One of the unique offerings of CFHP under its CHIP program is the provision of free baby car seats or toddler booster seats. This initiative is part of their Value-Added Services and aims to enhance child safety during transportation.
Visit their website here for more information.
8) Cradles to Crayons
Cradles to Crayons is a non-profit organization that provides children living in homeless or low-income situations with essential items they need to thrive.
These items are supplied free of charge and are sourced from donations.
Car seats are listed among the items that Cradles to Crayons accepts as donations and distribute under their annual Gear Up for Baby program.
The organization accepts donations of new and gently-used goods appropriate for use by children from newborn through age 12. This may include car seats, clothes, school supplies, etc depending on the branch.
All donated items, including car seats, are carefully inspected to ensure they meet safety standards and are in good working condition.
The items are then distributed to children in need through a network of service partners, which include social workers, teachers, and others who are in positions to identify specific needs.
However, it's important to note that not all branches of Cradles to Crayons accept car seats.
For instance, their Chicago branch explicitly states they do not accept car seats of any kind.
Therefore, it's recommended to check with the local Cradles to Crayons branch for the most accurate information.
For more details, you can visit their annual initiatives webpage here.
9) Mothers Against Drunk Driving (MADD)
Mothers Against Drunk Driving (MADD) is a non-profit committed to eliminating drunk and drugged driving, supporting victims of these crimes, and preventing underage drinking.
MADD's primary goal is to eliminate impaired driving. The organization works tirelessly to support victims and raise awareness about the dangers of drunk and drugged driving.
MADD has been influential in shaping policies related to drunk driving. Their lobbying efforts led to legislation lowering the legal blood alcohol level in the U.S. to .08.
Since its inception in 1980, MADD has helped cut drunk driving deaths in half, saved approximately 350,000 lives, and assisted over 850,000 victims.
Besides it, MADD's free car seat program is available in most states. To qualify for a free car seat, you must meet certain eligibility requirements, such as being low-income or having a child who is eligible for public assistance.
To participate in the MADD program, individuals can register by calling 1-877-275-6233 or enrolling on the MADD website.
For more information, you can visit the official MADD website.
10) Pregnancy Life Centers
Pregnancy Life Centers are non-profit organizations that support pregnant women and new parents. They offer services like free pregnancy tests, counseling, and various educational programs.
One of these programs includes providing free car seats to those in need.
Often, parents are asked to participate in an education program about car seat safety before receiving a car seat. Some centers use an "Earn While You Learn" system, where attending classes earns points that can be used to get items like car seats.
In other cases, car seats may be directly donated to families in need.
It's always best to contact local Pregnancy Life Centers for the most accurate information as offerings can vary by location.
11) Hospitals
While hospitals typically don't offer free car seats, certain programs and exceptions exist to help families access this crucial item.
For example, the Car Seat Program offers free car seats to all community hospitals, reachable at toll-free number 800-777-7775.
Some hospitals may offer car seats at a significantly reduced price, but not typically for free. They can assist you in finding resources that provide free or low-cost car seats.
For example, The Children's Hospital of Philadelphia offers child car seats at no cost through its Child Safety Seat Program at CHOP for those who cannot afford to buy one.
There are also state-based programs such as in California, which has a myriad of free, low-cost, or discounted car seat programs available through various organizations.
Contact the specific hospital or your healthcare provider for the most accurate information.
12) Call "211"
211 is a free and confidential service that connects individuals with local community services, including assistance programs for car seats.
By calling this number, you can inquire about available resources in your area that may provide free or low-cost car seats to those in need.
For accurate information when calling "211," have your location and needs ready.
Besides a call, you can visit this website www.211.org and search for available programs near you offering free baby car seats to low income families.
13) Local CPSTs
Certified Child Passenger Safety Technicians (CPSTs) are trained to help parents and caregivers ensure their child's car seat is installed correctly.
Some local CPSTs, often affiliated with fire departments, police stations, or community organizations, may have programs offering free car seats.
However, this varies widely by location and availability of resources.
Therefore, it's recommended to contact your local CPST or community safety organization for the most accurate information.
14) Local Churches
Certain local churches may offer free car seats to needy families, depending on their available resources.
For instance, some churches partner with community organizations to provide car seats.
One example is the LifeBridge Christian Church in Longmont, Colorado, which has partnered with the local fire department to host car seat safety check events and offer free car seats to families in need.
Another example is the Catholic Charities USA organization, which operates across the U.S. They offer a variety of services to those in need, including, in some cases, assistance with obtaining car seats.
Contact your local church for more information.
FAQs about Free Car Seats for Low Income Families
What Income Level Qualifies for a Free Car Seat?
Income qualification for a free car seat varies by program and location. Often, families at or below 185% of the Federal Poverty Level may qualify – roughly $48,470 for a family of four in 2021.
How do I Apply for a Free Baby Car Seat?
To apply for a free baby car seat, locate local programs offering this service, such as government assistance programs, charities, hospitals, or fire departments. Contact them for application procedures.
How Many Car Seats Can I Get for Free?
Generally, one family gets one car seat for free from participating program. However, still it depends on the specific program's rules and availability.
What Type of Car Seats are Available for Free?
As car seat is a child safety product and hence almost all assistance programs provide different types of seat that may include infant car seats, convertible car seats (rear-facing to forward-facing), and booster seats in new condition.
Conclusion
Safety should never be compromised due to financial constraints. With the help of these programs, low-income families can ensure the safety of their infants and newborns during travel.
Explore these options and find a free car seat program that fits your needs.