With the back to school season approaching, many low income families, students, and teachers are feeling the financial pressure. But don't worry, help is at hand! There are numerous free school supplies assistance programs that can help you buy essential education material at no cost or at discounted prices.
School supplies are essential for a successful academic experience, but they can be costly, especially for low-income families and teachers who often have to spend their own money on classroom supplies.
As a result, many students and educators struggle to obtain the materials they need to succeed in the classroom.
Numerous organizations and programs provide free school supplies to those in need.
In this blog post, we will explore different resources for obtaining free backpacks and school supplies, along with tips on how and where to access them.
So, let's get started…
Free School Supplies for Teachers
As a teacher, you may know firsthand the financial strain of purchasing classroom supplies worth $860/year out of pocket. Thankfully, there are organizations dedicated to helping educators in need.
Here are a few resources that provide free school supplies giveaway to teachers.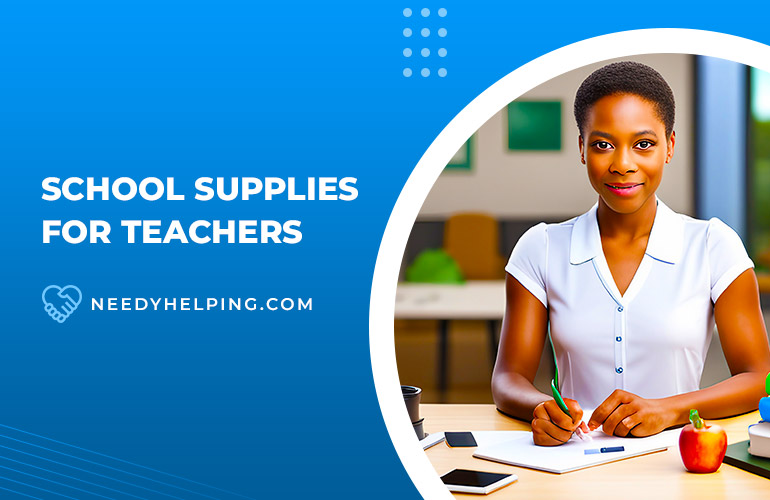 1. AdoptAClassroom.org
AdoptAClassroom.org is a non-profit organization that addresses underfunded classrooms and provides teachers with the necessary resources for their students' success.
By connecting teachers with individual donors, businesses, and community organizations, AdoptAClassroom.org helps educators obtain essential school supplies for their classrooms.
Here's how the organization supports teachers with their school supplies needs:
Creating Online Classroom Profiles: Teachers can create personalized profiles on Adopt A Classroom website, highlighting their needs and required supplies. This helps donors understand each educator's challenges and contribute directly to their cause.
Flexible Funding Options: Donors' contributions through AdoptAClassroom.org go directly into teachers' accounts, allowing them to purchase required supplies from the organization's online marketplace. This flexibility ensures teachers obtain the exact items needed for their students.
During the 25+ years of operation, the organization has adopted around 275,000+ classrooms and raised $65 million in funds.
2. Kids In Need Foundation
Kids In Need Foundation (KINF) is a non-profit organization that provides free school supplies to teachers and students in under-resourced schools.
By partnering with various businesses, individuals, and other organizations, KINF helps educators obtain the necessary classroom materials.
Here's how the foundation supports teachers with their school supplies needs:
Resource Centers: KINF runs Teacher Resource Centers across the US, offering eligible teachers free access to various school supplies. This ensures teachers obtain essential items for their students.
Second Responder® Program: KINF's Second Responder® program supports communities affected by natural disasters, providing resources to help teachers and students rebuild classrooms and continue learning.
Through such programs, Kids In Need Foundation supports under-resourced schools, reducing financial burdens on educators, ensuring access to essential learning materials, and promoting educational success for all children.
3. DonorsChoose
DonorsChoose is a non-profit organization that helps teachers obtain the necessary supplies and resources for their classrooms through online crowdfunding.
By allowing educators to create project requests for specific items, DonorsChoose connects teachers with donors who are willing to support their cause.
Here's how DonorsChoose assists teachers with their school supplies needs:
Project Creation: On DonorsChoose, teachers create project requests for classroom supplies, ranging from basic items to technology tools and field trips. This platform connects educators with donors to fulfill their specific needs.
Crowdfunding Support: Once a project is posted, donors from across the country can contribute any amount towards the goal.
Vendor Partnerships: Once a project is funded, DonorsChoose buys the requested items from trusted vendors and ships them to the teacher's school, ensuring they receive what they need without logistics or reimbursement concerns.
According to their official website, since its founding in 2000, DonorsChoose has supported over 1.8 million projects and benefited more than 43 million students across the United States. Over 5 million people have donated to classroom projects, with a total of $1.1 billion invested in education through the platform.
With impressive statistics showcasing their impact, DonorsChoose continues to make a difference in the lives of teachers and students nationwide.
Free School Supplies for Students
For students from low-income families, the cost of school supplies can be a significant barrier to academic success.
Also check: How to Get Free Christmas Gifts
Some assistance programs offer free school supplies for students in need.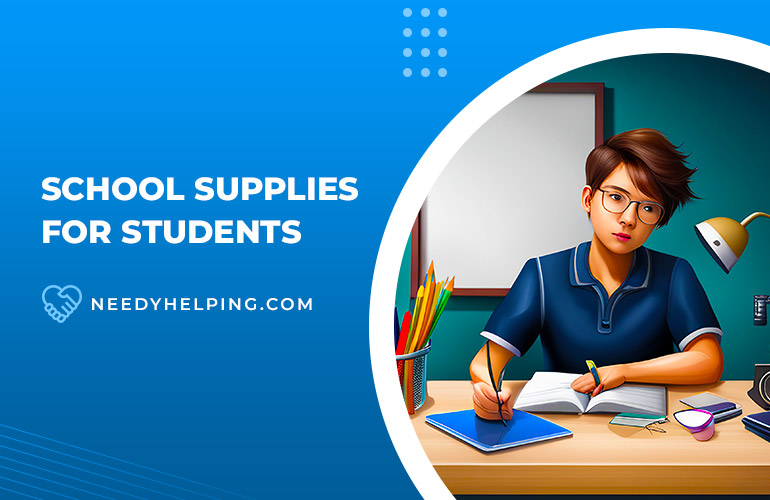 1. Operation Homefront
Operation Homefront is a non-profit organization dedicated to providing assistance to military families in need. They significantly impact these families by helping students with their academic materials.
The organization's Back-to-School Brigade is an annual initiative that focuses on providing military children with essential school supplies. Through this program, Operation Homefront distributes backpacks filled with academic materials such as notebooks, pencils, crayons, rulers, and more, all tailored to the appropriate grade level.
Since its inception, the Back-to-School Brigade has distributed over 375,000 backpacks to military families.
Their efforts ensure that these students have equal opportunities to thrive academically, despite the unique challenges they may face due to their families' military service.
2. Boys & Girls Clubs of America
The Boys & Girls Clubs of America (BGCA) operates numerous clubs across the country, offering a safe and nurturing environment for children and teens to develop essential skills, build friendships, and access educational opportunities.
One of the ways BGCA helps students is by providing them with much-needed school supplies.
Many local Boys & Girls Clubs host back-to-school drives and events where they distribute free school supplies to their members.
These events are made possible through generous donations from individuals, businesses, and community partners. As a result, students can start the school year with the necessary tools, such as backpacks, pencils, notebooks, and more, without placing an additional financial burden on their families.
They also offer additional programs such as homework help, tutoring, and access to technology, ensuring that club members have the resources they need to excel in their studies.
3. Salvation Army
The Salvation Army had an incredible impact on students in need of school supplies. The organization recognizes the importance of education and aims to empower children by providing them with the necessary tools to succeed academically.
One of the ways the Salvation Army helps students is through its annual back-to-school events. These events are organized across the country and involve distributing backpacks filled with essential school supplies, such as pencils, notebooks, erasers, and more.
As a volunteer, I have often had the opportunity to assist with these events – from collecting and sorting donations to packing backpacks and distributing them to grateful families.
The joy and relief on the faces of both parents and children when they receive these backpacks are truly heartwarming.
Besides such events, local Salvation Army branches often collaborate with schools and community organizations to identify and support students who may need assistance throughout the year.
This ongoing support might include providing additional supplies, offering tutoring services, or connecting families with other resources to help them overcome challenges.
4. Back 2 School
Back 2 School is an incredible initiative that has significantly impacted the lives of underprivileged children by providing them with essential school supplies.
Since its inception, this program has given out more than 10 million free school supplies in partnership with schools, government agencies, and community organizations. These supplies are distributed in the form of Back 2 School kits, each containing approximately 30 grade-appropriate items.
The Back 2 School initiative operates year-round, with most kits distributed during summer events. Their programs, such as Buy-A-Kit, Build-A-Kit, Win School Supplies for an Entire School Contest, and We Appreciate Teachers Contest, help assemble and distribute these invaluable kits.
Back 2 School works closely with Community Distribution Partners to ensure that their kits reach those in need.
It's important to note that B2SA does not directly provide individual kits but relies on their distribution partners to do so.
With major support from companies like Aetna, Associated Bank, CA Ventures, CFCS, CIBC, Comcast, Deloitte, Republic Bank, Western Union, and Whole Foods, Back 2 School continues to make a difference in the lives of students across the nation.
5. Local School Districts
Local school districts play a vital role in ensuring that all students have access to the necessary resources for a successful education. One way they support students is by addressing their school supplies needs.
Here's how local school districts help students with their school supplies –
Free or Reduced Lunch Programs: Many school districts provide free or reduced lunch programs for low-income students, often including free school supplies. By identifying eligible students through the application process, districts can ensure that those in need receive essential materials for academic success.
Back-to-School Events: Some school districts organize back-to-school events where they distribute free school supplies, such as backpacks, pencils, notebooks, and more.
School Supply Closets or Pantries: Many schools have supply closets stocked with essential supplies. Teachers and staff discreetly provide these items to students in need, ensuring all children have the necessary tools for learning.
Partnerships with Non-Profit Organizations: School districts often partner with non-profits and community groups to identify and provide school supplies to students in need, streamlining the process and promoting community support.
Adopt-a-Student or Sponsorship Programs: Some school districts use adopt-a-student or sponsorship programs, allowing donations of funds or supplies to specific students or classrooms, ensuring they receive the necessary items for a successful school year.
This is how local school districts create a fair learning environment for all students to succeed academically by catering to their school supplies needs.
7 Alternative Ways to Get Free School Materials
Access to adequate school materials is essential for students and teachers alike. In today's world, numerous alternative ways exist to obtain free educational resources. It includes –
1) Check Online Groups
Online platforms such as Facebook or Reddit have numerous groups dedicated to sharing and exchanging educational resources.
By joining these communities, you can connect with other educators and parents who may have extra supplies or resources they're willing to share.
2) Reach Out to Brands
Some companies and brands provide free samples or materials to schools and educators.
Reach out to brands that manufacture school supplies, educational tools, or other relevant products, and inquire about potential donations or discounts for your classroom.
Be prepared to explain your situation and how their support would benefit your students.
3) Freecycle.com
Freecycle is a global network of people who exchange goods and services for free. The website allows users to post items they no longer need and search for items they want.
By browsing the Education category on Freecycle.com, you might find free school supplies, books, or furniture available in your area.
4) Amazon
While primarily known as an online retailer, Amazon offers several programs that can help teachers and students access free educational materials.
AmazonSmile allows customers to support their favorite charitable organization, which could include your school, by donating a portion of their purchase price.
Besides it, Kindle Direct Publishing offers thousands of free e-books, including many educational titles.
5) Local News Affiliates
Local news stations often run stories about schools and education, especially during back-to-school season.
Reach out to your local news affiliates and share your story, explaining your need for school materials. They may be able to help spread the word, connecting you with potential donors or community resources.
6) Community Organizations or Events
Local organizations, such as churches, libraries, or community centers, may host events or drives to collect and distribute free school supplies.
Keep an eye on local event calendars and social media pages to stay informed about upcoming opportunities.
You can also approach to these organizations directly to inquire about available resources.
7) Rebates
Many companies offer rebates or cash-back incentives on purchases. By strategically shopping for school supplies during promotional periods, you can save money and potentially get some items for free.
Be sure to research rebate programs and follow the necessary steps to claim your rewards.
6 Places to Buy Low-Cost Education Supplies
In case if you are unable to get free school supplies through the aforementioned ways, below are some platforms you can visit to buy low cost educational materials.
1) Dollar Stores
Dollar stores are a treasure trove of low-cost school supplies.
You can find various products at budget-friendly prices, from basic items like pencils and notebooks to craft materials and classroom decorations.
Check out your local dollar store or search for national chains such as Dollar Tree and Family Dollar.
2) Online Retailers
Online retailers like Amazon, Walmart, Goodwill, and Target often offer competitive prices on school supplies.
These retailers often run special promotions or discounts during back-to-school season, making it an ideal time to stock up on essentials.
3) Warehouse Clubs
Warehouse clubs, such as Costco and Sam's Club, offer bulk purchasing options that can save you money in the long run.
While you may need a membership to shop at these stores, the savings on large quantities of school supplies can be significant.
Consider partnering with other teachers or parents to split the cost and share the supplies.
4) Thrift Stores
Thrift stores and consignment shops can be a great source of low-cost school supplies.
These stores often carry gently used items, including books, binders, and backpacks, at a fraction of their original price.
Check your local thrift stores regularly, as their inventory changes frequently.
5) Teacher Supply Stores
Some cities have teacher supply stores that specialize in educational materials and resources.
These stores may offer discounts to educators or run sales throughout the year.
They often carry unique or specialized items that may not be available at other retailers.
6) Office Supply Stores
Office supply stores like Staples and Office Depot often have dedicated sections for school supplies.
These stores typically run back-to-school sales, offering substantial discounts on essential items.
Sign up for their email newsletters or loyalty programs to stay informed about upcoming promotions and exclusive deals.
In brief, by exploring these options and taking advantage of sales and promotions, you can have access to the resources you need without breaking the bank.
How to Apply for Free School Supplies: Step-by-Step Process
Obtaining free school supplies can make a significant difference for students and teachers in need. Here's a step-by-step process to guide you through applying for free school supplies.
Step 1: Identify Your Needs
Make a list of the specific school supplies you need, considering both essential items and additional resources that could enhance your students' learning experience.
This list will help you prioritize your requests and communicate your needs effectively.
Step 2: Research Available Programs and Resources
Explore various sources for free school supplies, such as national programs, local community organizations, online groups, and brand donations.
You can skip this step as we have already mentioned best free school supplies assistance programs and resources.
Step 3: Check Eligibility Requirements
Before applying for free education supplies, review each program or resource's eligibility requirements.
Some may have specific income, location, or grade level criteria. Ensure you meet these requirements before proceeding with your application.
Step 4: Collect Required Documentation
Many programs and resources require documentation to verify your request, such as proof of employment as a teacher or proof of enrollment for students.
Gather any necessary documents, including identification, school letters, or tax forms, to support your application.
Step 5: Prepare Your Request
When reaching out to organizations or companies for free school supplies, be prepared to explain your situation and how their support would benefit your students.
Provide a detailed list of the necessary supplies and any relevant background information about your school or classroom.
Step 6: Submit Your Application or Request
Once you've prepared your request and gathered necessary documentation, submit your application or reach out to your chosen organizations or companies.
Be sure to follow their specific guidelines and provide all required information.
Step 7: Follow Up and Show Gratitude
After submitting your request, be patient and allow time for the organization or company to review your application. If you haven't heard back within a reasonable timeframe, consider following up with a polite email or phone call.
Once you receive the free school supplies, be sure to express your gratitude and share how their support has positively impacted your students.
Remember to be persistent, as securing the support you need may take time and effort.
FAQs about Free School Supplies
Where Can I Get Free School Supplies?
Several sources for free school supplies include online groups, local community organizations, Freecycle.com, and companies offering donations or samples. Some schools and non-profit organizations may have programs that provide free supplies to students in need.
Can Teachers Apply for Free School Materials?
Yes, teachers can explore various options to obtain free school materials, such as using crowdfunding platforms like DonorsChoose, reaching out to brands for donations, or connecting with local community organizations and events that offer support.
How Can I Get Free School Supplies from a Company or Brand?
To request free school supplies from a company or brand, you'll need to contact them directly through email or their website. Be prepared to explain your situation, how their support would benefit your students, and provide any necessary documentation to verify your request.
What Items are Included in Free School Supply Packs?
Free school supply packs often include basic necessities such as pencils, pens, erasers, notebooks, folders, rulers, glue sticks, scissors, and crayons. The specific items offered may vary depending on the students' source and grade level.
How Can I Stay Informed about Upcoming Free School Supply Events or Offers?
To stay informed about free school supply events or offers, follow local news outlets, social media pages, and community event calendars. You can even subscribe to certain programs that occasionally send emails announcing the dates of upcoming events.
Conclusion
The cost of school supplies should never stand in the way of a child's education or a teacher's ability to provide a quality learning experience.
By taking advantage of the resources mentioned in this blog post, both teachers and students from low-income families can access the free school supplies they need to succeed in the classroom.
Remember, we're all in this together. Whether you're a teacher, student, or someone looking to make a difference, let's work together to ensure every child has the tools they need for a successful education.
Together, we can make a difference in the lives of students and teachers across the nation.