Explore different grants for single mothers empowering them to overcome financial challenges. This comprehensive guide offers actionable advice to help single moms build a brighter future for their families.
As a single mother, balancing work, childcare, and personal life can be overwhelming, but there's hope. Several grants are available to provide financial and other types of aid to single moms who are divorcees, widows, or martyrs' wives.
One of my friends, who is a single mother, came to me and shared her struggle with paying for her kids' school fees and medical expenses.
Besides, she also explained to me about different grants she has approached for help and how they helped her to overcome all the difficulties she was going through.
This incident inspired me to write this post where we will navigate through different grants that help single mothers, so they can too access the resources they need to thrive.
So, let's dive in!
Government Grants for Single Mothers
The government offers various assistance programs and grants to support single moms. These programs provide financial aid, food, and healthcare to mothers raising children on their own.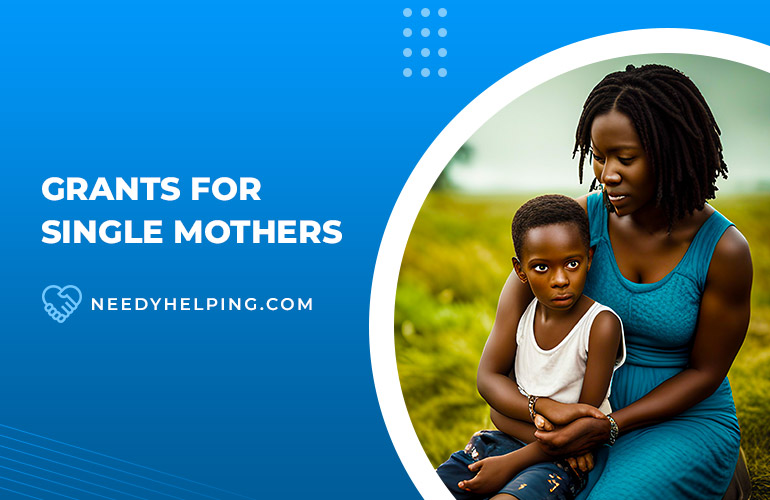 Here are some options you should consider:
1) TANF
Temporary Assistance for Needy Families (TANF) is a federal program that provides cash assistance to low-income single mothers, and families with children. It helps cover basic needs like food, clothing, and housing. To qualify, you must meet specific income and work requirements.
Contact your state's TANF office to apply.
2) SNAP
Supplemental Nutrition Assistance Program (SNAP) is a food assistance program that helps single mothers in need of nutritious food. Benefits are provided on an Electronic Benefit Transfer (EBT) card, which can be used at participating retailers.
Apply through your state's SNAP agency.
3) Medicaid and CHIP
Medicaid and Children's Health Insurance Program (CHIP) provide free or low-cost health coverage for eligible low-income, pregnant or single mothers with disabilities. Coverage includes doctor visits, immunizations, hospital care, and more.
Visit the Healthcare.gov website to learn more and apply.
4) DCA
Diversion Cash Assistance (DCA) is a short-term assistance program aimed at helping families, including single mothers, facing temporary financial difficulties.
By offering a one-time cash payment, DCA prevents long-term welfare dependency and helps maintain family stability. Eligibility and application processes may vary by state.
Education Grants
Education is crucial for personal growth and career advancement. Here are some grants that can help single mothers pursue higher education:
1) Federal Pell Grant
The Federal Pell Grant is a need-based grant for undergraduate students with financial need. The maximum award for the 2021-2022 academic year was $6,495.
2) FSEOG
The Federal Supplemental Educational Opportunity Grant (FSEOG) is another need-based grant for undergraduate students with exceptional financial need. Awards range from $100 to $4,000 per year.
3) TEACH Grant
The Teacher Education Assistance for College and Higher Education (TEACH) Grant provides up to $4,000 per year for students pursuing a teaching career in high-need fields at low-income schools.
In exchange, recipients must commit to teaching for four years within eight years of completing their program. Apply by completing the FAFSA and the TEACH Grant Agreement to Serve.
Housing Assistance for Single Moms
Securing safe and affordable housing is essential for single mothers. Here are some resources to help. We have also shared a detailed guide on single mother housing assistance programs.
1) Section 8 Housing Choice Voucher Program
The Section 8 Housing Choice Voucher Program helps low-income sing mothers, seniors, and people with disabilities afford safe and decent housing. Participants pay 30% of their income towards rent, and the government covers the rest.
Contact your local Public Housing Agency to apply.
2) LIHEAP
The Low-Income Home Energy Assistance Program (LIHEAP) provides financial assistance to single mother with low-income to help cover home energy bills. Assistance may include bill payment, energy crisis assistance, and weatherization.
To apply, contact your state's LIHEAP office.
Childcare Assistance
Childcare is often one of the most significant expenses for single mothers. These resources can help offset those costs:
1) CCDF
The Child Care and Development Fund (CCDF) provides financial assistance to poor single mothers for childcare. Eligibility and application processes vary by state.
Contact your state's CCDF office for more information.
2) Head Start and Early Head Start
Head Start and Early Head Start are comprehensive early childhood education programs that serve low-income children and their families.
Services include education, health, nutrition, and social services.
Find a local program and apply through the Head Start Program Locator.
Non-Profit Organizations
Numerous non-profit organizations offer grants and support for single moms. Some of these include:
The Women's Opportunity Awards: Cash awards for women seeking to improve their lives through education and training.
The Jeannette Rankin Women's Scholarship Fund: Scholarships for low-income women aged 35 and older pursuing higher education.
Help a Mother Out: Provides diapers and other essentials for families in need.
FAQs about Grants that Help Single Mothers
What Types of Grants are Available for Single Mothers?
There are various grants for single mothers, including government assistance programs, education grants, housing assistance, childcare support, and non-profit organization grants.
How do I Apply for Government Assistance Programs as a Single Mother?
Applications for government assistance programs vary. Generally, you need to contact the relevant state or federal agency, provide necessary documentation, and meet specific eligibility requirements.
What State Helps Single Moms the Most?
California is considered one of the best states for raising a family as a single mom. The state offers excellent workplace protection, including eight weeks of paid family leave per year and up to 40 hours per year of unpaid time to attend school activities.
Do Single Mothers Get Welfare in USA?
Yes, single mothers can receive welfare in the United States if they meet the eligibility criteria. One of the primary welfare programs for families, including single mothers, is TANF. It provides cash assistance to help cover basic needs such as food, clothing, and housing.
Conclusion
As a single mom, you deserve all the support you can get. I hope this guide has given you valuable information about grants for single mothers and empowered you to take action.
Don't hesitate to apply for these resources – they could be life-changing for you and your family.
Remember that you're not alone. Connect with local support groups and online communities to share experiences, advice, and encouragement.
Together, we can overcome obstacles and create a brighter future for ourselves and our children.