Check out how to find luxury apartments that accept Section 8 vouchers and how low-income families and the disabled may benefit.
Living in a luxury apartment is an aspiration of many people, but it can be difficult to find one that accepts Section 8 vouchers. The Section 8 voucher program provides rental assistance for those who are low-income or have disabilities. It allows tenants to pay no more than 30% of their monthly income towards rent and utilities.
However, finding luxury apartments that accept Section 8 vouchers can be a challenge due to the limited availability of such units.
In this detailed post, we will cover the Section 8 voucher program, how to find luxury apartments accepting these vouchers, their benefits and challenges, and tips on negotiating rental rates with landlords.
Before we dive into the specifics of finding luxury apartments, let's take a moment to understand what Section 8 vouchers are.
What is the Section 8 Program?
The Section 8 program, also known as the Housing Choice Voucher Program, is a federal initiative. It is administered and controlled by the U.S. Department of Housing and Urban Development (HUD).
This program is mainly designed to assist very low-income families, the elderly, and the disabled. Its goal is to make decent, safe, and sanitary housing in the private market affordable for these individuals.
Unlike traditional public housing programs, participants in the Housing Choice Voucher Program have the freedom to choose their own housing. This can range from single-family homes to townhouses and apartments and isn't limited to subsidized housing projects.
The chosen housing must meet certain health and safety standards set by the local Public Housing Agency (PHA).
PHAs play a crucial role in administering this program at the local level. They receive federal funds from the U.S. Department of Housing and Urban Development (HUD) to manage the voucher system.
Once a family is issued a voucher, they are responsible for finding a suitable housing unit where the landlord agrees to participate in the program – this could even be their current residence.
The PHA pays a housing subsidy directly to the landlord on behalf of the participating family. The family then covers the difference between the actual rent charged by the landlord and the amount subsidized by the program.
In certain cases, with PHA authorization, a family may use its voucher to purchase a modest home instead of renting.
List of 7 Luxury Apartments That Accept Section 8 Voucher
Below is the list of apartments with luxury comfort and accept Section 8 Vouchers –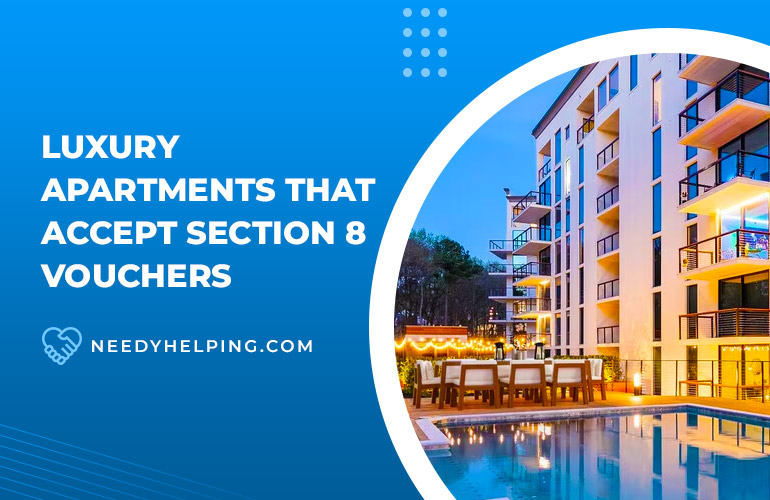 1. The Elysian, Las Vegas, Nevada
The Elysian is a stylish luxury residence for low-income families, seniors, or single adults. It offers spacious apartments, modern amenities, a friendly community, and accepts Section 8 vouchers. The management team is dedicated to meeting residents' needs.
2. Harbor Point, Stamford, Connecticut
Harbor Point is a waterfront luxury apartment community that accepts Section 8 vouchers. It offers beautiful cityscape views and upscale amenities, as part of an inclusive mixed-income development.
3. Elliston 23, Nashville, Tennessee
This sophisticated urban retreat offers luxury apartments that qualify for Section 8 housing assistance. With its cutting-edge amenities, Elliston 23 aims to make luxury living accessible to a wide range of residents.
4. Tapestry at Brentwood Town Center, Nashville, Tennessee
Tapestry is a luxury community accepting Section 8 vouchers. Offering various floor plans, pet-friendly units, and extensive amenities, it provides a comfortable living experience.
5. The Bowery at Southside, Fort Worth, Texas
Known for its exceptional amenities and personalized services, The Bowery combines luxury living with income-based housing. It is proud to accept HUD Section 8 assistance.
6. The Upton, Rockville, Maryland
The Upton offers luxury studio to 3-bedroom units, catering to low-income single families or mothers with kids. It is equipped with high-end amenities and participates in the Section 8 voucher program.
7. The Aston at University Place, Provo, Utah
Offering luxury apartments with top-tier amenities and finishes, The Aston at University Place is an inclusive community welcoming all, including the elderly or disabled, and accepts Section 8 vouchers.
Also Read – Low Income Housing with No Waiting List [Now Open]
How to Find Luxury Apartments Accepting Section 8 Vouchers?
Can you really find Section 8 accepted apartments for rent? The answer is yes! While not all luxury apartments will accept Section 8 vouchers, some indeed do.
The key here is persistence and knowing where to look. Online databases like GoSection8, Affordable Housing Online, and your local Public Housing Agency (PHA) can be valuable resources.
Here's how to find apartments for rent that accept Section 8 Vouchers –
Understand the Program: Before you start your search, make sure you understand the Section 8 program and your responsibilities as a voucher holder.
Check Online Housing Databases: Websites like GoSection8, Affordable Housing Online, and the U.S Department of Housing and Urban Development (HUD) have databases of apartments that accept Section 8 vouchers. For example, you can check the long list of available rental apartments in Los Angeles here on the HUD website.
Contact Local Public Housing Agency (PHA): Your local PHA can provide listings of apartments accepting Section 8 vouchers in your area.
Directly Contact Luxury Apartment Complexes: Some luxury apartment complexes may not advertise that they accept Section 8 vouchers, so it can be beneficial to contact them directly.
Use a Real Estate Agent: Some real estate agents specialize in helping voucher holders find suitable housing.
Network: Let friends, family, and colleagues know you're looking for a luxury apartment that accepts Section 8. They might have leads or know someone who does.
Be Persistent: The search might take some time, but with persistence and patience, you can find luxury apartments that accept Section 8 vouchers.
Prepare a Strong Rental Application: A well-prepared application can help convince landlords that you're a reliable tenant, increasing your chances of acceptance.
Negotiate with Landlords: If a landlord is hesitant about accepting your voucher, explain the benefits of the program, such as consistent rent payments from the government.
Stay Updated: Keep checking listings regularly as new apartments become available often.
How to Apply for Section 8 Luxury Apartments?
Applying for luxury apartments using Section 8 vouchers follows a similar process as applying for any Section 8 housing.
Here's a step-by-step guide:
Step 1 – Confirm Your Voucher: The first step is to ensure you have a valid Section 8 voucher. Also, make sure that the private landlord or luxury apartment owner accepts these vouchers as a form of payment.
Step 2 – Contact the Property Management or Landlord: Reach out to the property management company or landlord directly. They will provide you with the necessary application materials and guide you through their specific application process.
Step 3 – Verification of Voucher: As part of the application process, the property management company or landlord will typically need to verify your voucher with your local Public Housing Agency (PHA).
Step 4 – Apply for a Voucher (if you don't have one): If you're interested in the program but don't yet have a voucher, your local PHA is the place to start. They can guide you through the application process for obtaining a Section 8 voucher.
Step 5 – Seek Assistance if Needed: If you need further assistance, you can contact the HUD Office nearest to you. They can provide additional guidance and resources to help you navigate the application process.
Remember, each HA might have its own specific guidelines or requirements, including online applications, so it's important to familiarize yourself with these before starting your application.
Benefits of Luxury Apartments Accepting Section 8 Vouchers
The benefits of living in a luxury apartment are plentiful. Below are some key benefits –
Affordability: Section 8 vouchers cover a portion of the rent, making luxury living more affordable for low-income families, the elderly, and the disabled.
Access to High-End Amenities: Residents can enjoy amenities like gyms, swimming pools, and concierge services that come with luxury apartments.
Quality Living Space: Luxury apartments often have superior build quality and modern design, providing a comfortable and stylish living space.
Prime Locations: These apartments are usually located in desirable areas, offering easy access to city amenities.
Stable Housing: The program ensures consistent rent payments to landlords, providing stability for voucher holders.
Community Integration: By living in diverse neighborhoods, voucher holders can experience enhanced community integration.
Opportunity for Homeownership: In some cases, Section 8 vouchers may be used to purchase a home, not just for renting.
8 Tips for Negotiating Rental Rates When Using a Section 8 Voucher
Below are some proven tips you should follow for better negotiation of the rental rates when using Section 8 Voucher –
Tip 1 – Understand Your Local Market: Research rental prices in your area to understand what's reasonable. This knowledge will help you negotiate effectively.
Tip 2 – Highlight Consistent Payments: Remind landlords that the government ensures a portion of the rent, meaning they can count on consistent payments each month.
Tip 3 – Showcase Your Rental History: If you've been a reliable tenant in the past, bring this to the landlord's attention. A solid rental history can make you more appealing.
Tip 4 – Offer Longer Lease Terms: Landlords often prefer stability. Offering to sign a longer lease might make them more willing to negotiate the rent.
Tip 5 – Be Professional and Respectful: Professionalism goes a long way in negotiations. Be respectful and understanding of the landlord's position as well.
Tip 6 – Seek Help from PHA: Your local Public Housing Agency (PHA) can provide advice and assistance when it comes to negotiating rental rates.
Tip 7 – Start Negotiations Early: Don't wait until the last minute. Start your negotiations well before your current lease expires or before you plan to move in.
Tip 8 – Be Prepared to Compromise: You might not get everything you want, but a successful negotiation often involves compromise. Be clear about your non-negotiables but flexible elsewhere.
FAQs about Section 8 Apartments
How Does Section 8 Work?
In the Section 8 program, eligible families receive vouchers they can use to pay a portion of their rent. The amount of the voucher depends on several factors, including the family's total income, size, and the median income in the area.
Who is Eligible for Section 8 Housing?
Eligibility for Section 8 is primarily based on income. It is designed for very low-income families, the elderly, and people with disabilities. Each local Public Housing Authority will have its own specific criteria.
How do I Apply for Section 8 Apartments?
Applications must be made through your local Public Housing Authority (PHA). Some PHAs have online applications, but others may require you to apply in person.
Can I Choose any Apartment with Section 8?
Yes, with Section 8, you can choose any apartment across the United States, provided you lived in the jurisdiction of the issuing Public Housing Authority when you applied. However, the chosen apartment must accept Section 8 vouchers and meet the PHA's health and safety standards.
How Long Does it Take to Get a Section 8 Apartment?
The waiting time for Section 8 Housing can vary greatly depending on the availability of vouchers in your area and the number of applicants. In some areas, the waitlist might even be closed due to high demand.
Can My Section 8 Voucher be Transferred if I Move?
Yes, Section 8 vouchers are portable. This means you can transfer them from one city to another, but there may be certain rules and procedures you need to follow. It's best to check with your local PHA.
How Much is a Section 8 Voucher for a Luxury Apartment?
The value of a Section 8 voucher is based on household income, family size, and area median income, not the type of apartment. Even if a luxury apartment is chosen, the rent must be within the PHA's payment standards for the voucher to apply.
Can a Landlord Refuse Section 8 Voucher?
Yes, a landlord can refuse to accept Section 8 vouchers. While some state and local laws prohibit discrimination based on the source of income, including Section 8, landlords are not universally required to accept these vouchers. Always check your local regulations.
Conclusion
In brief, don't let the stigma or misconceptions surrounding Section 8 deter you from seeking out a luxury apartment. With persistence, knowledge, and a bit of negotiation, you can find a wonderful place to call home.
Remember, luxury is not just about material possessions; it's about living a life you love in a place that feels like home.
The world of luxury apartments that accept Section 8 vouchers is open for exploration, and we hope this guide has given you the tools and confidence to embark on your journey. Good luck!