Free cremation for low income families can help them save thousands of dollars, which they can then spend on other funeral ceremonies.
The loss of a loved one is undoubtedly one of the most difficult experiences one can endure. However, for low-income families, the financial burden of funeral expenses can further compound their grief.
Recognizing this issue, an increasing number of funeral homes and non-profit organizations are providing free cremation services for low income families.
The goal is to ease financial strain for those struggling, while ensuring a dignified farewell for their loved ones.
In this article, we will look into possible ways to get cremation for free.
How Much does Cremation Cost?
Cremation is becoming an increasingly popular choice for many families, but you may be wondering about the cost.
The average price of a direct cremation can vary, ranging from $695 to $1500, depending on the area you're in. However, it's important to note that the average cost of cremation in the United States is $6,970, which includes additional services and viewings.
If you're looking for a more affordable option, there are options available, such as a $925 all-inclusive direct cremation package with a free urn.
It shows that how death of a family member brings grief along with financial burden, especially for families struggling to make their end needs.
What is Free Cremation For Low Income Families?
Free cremation services for low-income families provide no-cost cremation to those unable to afford traditional funeral expenses.
Qualifications for these free cremation services may vary depending on the specific program or organization offering them.
Typically, eligibility is determined based on income level and financial need. Low-income families, individuals receiving government assistance, or those with limited financial resources are often prioritized for these services.
Some programs may require documentation, like proof of income or eligibility for assistance, to ensure services reach those in need.
The aim of free cremation services is to provide a dignified option for low-income families, easing the financial burden and alleviating stress during a difficult time of loss.
How to Get Free Cremation for Low Income Families?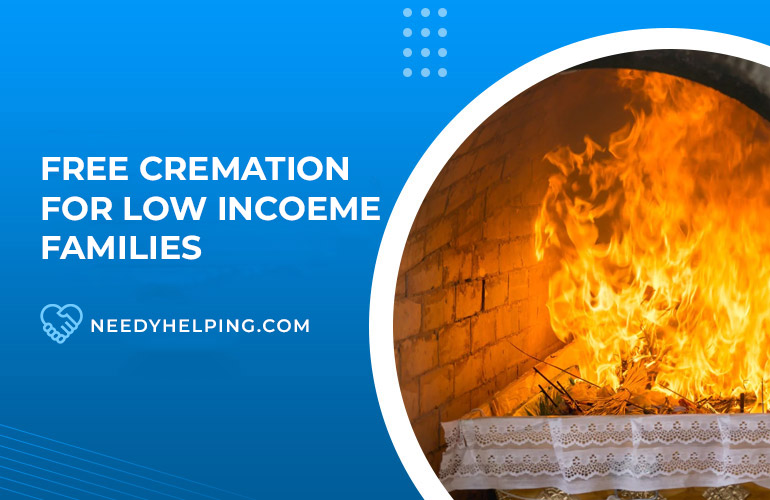 If you're looking for programs or assistance to get free cremation, there are several options available.
Here are a few programs and organizations that provide support:
Charitable Organizations & Non-Profits
Many charitable organizations and non-profits offer free cremation services for babies, children, and low-income families. These services are typically provided with compassion and understanding, ensuring that families can give their loved ones a dignified farewell.
Here are few examples:
Funeral Consumer Alliance: The Funeral Consumer Alliance's network of chapters across the United States assists families with funeral costs. They connect them with providers offering discounted or free cremation services based on financial need.
The TEARS: The TEARS Foundation is a nonprofit organization that offers compassionate support to families who have experienced the loss of a baby. They provide financial assistance for funeral and cremation expenses to low-income families, ensuring that they can properly say goodbye to their little ones.
National Funeral Directors Association: The National Funeral Directors Association (NFDA) is a professional organization that represents funeral directors and funeral service professionals. They work closely with local funeral homes and charities to offer support and connect families with resources for free or low-cost cremation services.
Catholic Charities: It is a network of organizations that provide social services and support to individuals and families in need. They offer assistance with funeral expenses, including free cremation services, to low-income families within their communities.
City and State Assistance Programs
Some states have assistance programs in place to help cover the cost of basic cremation services for low-income families.
Below are some examples:
New York City Burial Assistance Program: The New York City Burial Assistance Program offers financial aid to low-income residents. Eligible individuals can apply for up to $1,700 in assistance specifically designated for funeral expenses, including cremation costs.
Texas Burial or Cremation Assistance Registry: In Texas, the Burial or Cremation Assistance Registry consists of participating funeral homes and cemeteries that offer free common burial or low-cost private burial services to individuals in need. This registry helps connect low-income families with affordable cremation options.
FEMA Funeral Assistance: In the event of a declared disaster, the Federal Emergency Management Agency (FEMA) offers funeral assistance to victims. This assistance helps cover uninsured and unexpected funeral costs, including cremation expenses. Check FEMA's website for information on eligibility and how to apply.
Medicaid: Medicaid typically doesn't cover cremation costs. However, some states have Medicaid funeral assistance programs. For instance, Indiana's Burial Assistance Program helps eligible individuals with burial costs. It includes those in specific categories of Medicaid as well. Check with your state's Medicaid office for specific programs.
Local Churches, Synagogues, Mosques
Local churches, synagogues, and mosques play a vital role in supporting low-income families by offering free cremation services.
Through various initiatives, including partnerships with nonprofits, community outreach programs, and collaborative efforts, these religious institutions extend compassionate support to those in need.
It's essential for individuals seeking assistance to reach out to their local religious organizations and inquire about available programs and resources. These institutions provide solace and support during times of loss, allowing everyone to honor their loved ones regardless of income.
It's important to note that eligibility criteria and available programs may vary depending on your location.
To find local assistance programs near you, consider reaching out to local churches, community centers, or funeral homes for guidance and support.
Alternatives to Get Free Cremation Assistance
Besides the free cremation assistance programs, there are several alternative ways worth checking to get financial help for cremation:
Crowdfunding: Consider setting up a crowdfunding campaign on platforms like GoFundMe or Kickstarter to raise funds for cremation expenses. Share your story and the reasons behind your financial need.
Community Support Groups: Connect with community support groups or local religious organizations. They may have resources or connections to assist families in need of cremation services. These groups often offer emotional support as well.
Scholarships or Grants: Research scholarships or grants specifically aimed at covering funeral or cremation expenses. Some educational institutions or private organizations offer financial aid for these purposes.
Direct Cremation: Opting for a direct cremation is often more affordable than a traditional funeral service. With direct cremation, the body is cremated immediately after death, without embalming or a formal viewing. Families can then hold a memorial service or scatter the ashes in a meaningful way without the added expense of a full funeral.
Preplan and Save: Planning ahead and saving for funeral expenses can significantly reduce the financial burden on low-income families. By setting aside a small amount each month, families can accumulate the necessary funds over time. Some funeral homes offer prepayment plans or insurance policies specifically designed to cover cremation costs.
Consider Donating the Body: Donating the body to medical institutions or research organizations for scientific study or education can eliminate cremation costs entirely. However, it's essential to research and understand the specific requirements and processes involved in body donation programs.
Negotiate and Shop Around: When working with funeral homes or cremation providers, don't be afraid to negotiate and compare prices. Some establishments may offer discounted rates or flexible payment options based on financial need.
Remember, everyone's financial situation is unique, and exploring multiple options is crucial. It's recommended to reach out to local resources and professionals who can provide guidance and support tailored to individual circumstances.
FAQs about Free Cremation
What is the Cheapest Way to Cremate Someone?
The cheapest way to cremate someone is typically direct cremation, an option that omits the costly elements of a traditional service such as a viewing or burial. It involves the immediate cremation of the body following death, with the ashes returned to the family for a private memorial or scattering ceremony.
Can you Pay Monthly for Pure Cremation?
Yes, several cremation providers offer monthly payment plans for their services. These arrangements allow families to spread the cost over an extended period, making it more manageable for those on a tight budget. However, terms and conditions may vary between providers, so it's advisable to explore and compare different options before making a commitment.
Do I Need to Wait for Three Days Before Cremation?
No, you do not necessarily need to wait for three days before cremation. The waiting period before cremation can vary based on local laws and regulations, as well as individual funeral homes' policies. It could be 24 hours 72 hours depending on your location and laws. It's crucial to consult with your chosen provider for specific information related to timing.
What Happens if you Can't Afford Cremation?
If you can't afford cremation, you can sign a release form with the county or state coroner's office, and the body may be taken care of by the government. This could involve burial or cremation at no cost to the family.
How to Donate your Body for Medical Research?
To donate your body for medical research, explore organizations like Science Care or Mayo Clinic's Body Donation program. By registering with them, you can express your intent to donate and receive guidance. Procedures and requirements may vary, so contact the organizations for more info.
Conclusion
At the end of the day, we must remember that compassion, respect, and dignity are not exclusive to those with deep pockets. Free cremation options for low income families allow us to uphold these values, acknowledging that every life is precious and deserves a dignified farewell.
It's a reminder that in death, as in life, we are all fundamentally equal. Finding the right support and resources can lighten the financial load and allow families to focus on what truly matters—honoring the life of their loved one.
Let's continue to educate ourselves and others about these options, because everyone deserves an affordable, respectful end-of-life service.