Unable to pay for costly internet services? No worries, check out this guide on how to get free internet and find a way to get online at low or no-cost.
In the modern era, internet access is no longer a luxury, but a necessity.
As work, education, and day-to-day activities increasingly shift online, the demand for reliable and affordable connectivity is growing.
According to multiple studies, internet usage has significantly increased during and after the COVID-19 pandemic, with a rise ranging from 40% to 100% compared to pre-lockdown levels.
The high cost of internet services can often be a barrier to many low income people.
In this article, we will explore how you can legally get the internet for free or at a low cost. From free Wi-Fi to government programs, we explore options to help you stay connected on any budget.
How to Get Free Internet for Low Income and Seniors?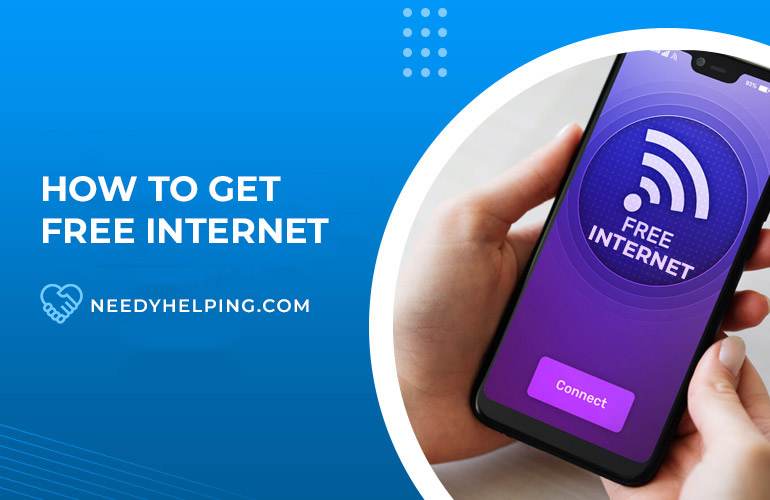 Many Government programs offer free internet to assist individuals from low-income households and senior citizens.
These initiatives aim to bridge the digital divide and ensure everyone has access to essential online services equally.
Let's find some well-known government programs and how they work.
Lifeline: A Lifesaver for Low-Income Households
Lifeline is a federal assistance program that offers a monthly discount of $9.25 on either internet or phone services to eligible low-income households.
The program ensures that all Americans have the opportunities and security that phone and internet services bring. This includes connecting to jobs, family, and emergency services.
The Lifeline program is available in every state, territory, and commonwealth.
Besides affordable internet, Lifeline even provides free tablets and phones, minutes, and data through certain service providers, such as Assurance Wireless.
To qualify for Lifeline, you must meet certain income requirements or participate in certain federal assistance programs. Once qualified, you can apply for the program and receive your monthly internet benefits.
The Affordable Connectivity Program: Bridging the Digital Divide
The Federal Communications Commission (FCC) has introduced the Affordable Connectivity Program (ACP), a long-term initiative with a budget of $14 billion.
The program aims to ensure affordable internet connections for work, school, healthcare, and more. Eligible households may receive a monthly discount on new or existing internet service plans through the ACP.
The ACP provides a monthly discount of up to $30 for broadband services for eligible consumers. This discount can significantly affect the affordability of internet services for many families.
In some cases, depending on the service provider and the plan chosen, this could even mean free high-speed internet.
Eligibility for the ACP is based on income level or participation in certain federal assistance programs. Your household may qualify if it has an income at or below 200% of the Federal Poverty Guidelines. Besides it, if a member of your household participates in programs like SNAP, Medicaid, or Lifeline, you may also be eligible.
Applying for the ACP program for free internet is straightforward. You can apply online through the National Verifier, a tool designed by the Universal Service Administrative Company (USAC) to help consumers apply for Lifeline and ACP benefits.
Once you have completed your application and have been deemed eligible, you can then contact a participating broadband provider to select an internet plan.
ISP Programs for Low-Income Families and Seniors
Several ISPs also offer low-cost internet plans for eligible households.
President Biden announced on May 9, 2022, that 20 authorized internet providers have pledged to provide high-speed internet access to eligible households for $30 or less.
For instance, Access from AT&T provides internet plans running up to 100 Mbps for as low as $30 per month. This program includes free installation and in-home Wi-Fi.
Below is the list of authorized internet service providers offering low-cost or free government internet for low-income and seniors.
Allo Communications
AltaFiber
Hawaiian Telecom
Optimum
Astound Broadband
AT&T
Breezeline
Xfinity
Comporium
Frontier
IdeaTek
Cox Communications
Jackson Energy Authority
Mediacom
MLGC
Spectrum
Starry
Verizon
Vermont Telephone Company
Vexus Fiber
WOW!
Emergency Broadband Benefit (EBB)
The Emergency Broadband Benefit (EBB) is another noteworthy initiative aimed at bridging the digital divide for low-income households.
The EBB program provides a discount of up to $50 per month towards broadband service for eligible households and up to $75 per month for households on Tribal lands.
In addition, EBB beneficiaries can also be eligible for a one-time discount of up to $100 to purchase laptops, desktop computers, or tablets from participating providers.
This move ensures that more individuals have access to high-speed internet. It particularly benefits vulnerable communities, assisting their educational, professional, and personal endeavors.
The EBB program, ultimately, marks a significant stride towards digital inclusivity.
Connect2Compete Internet Program
The Connect2Compete Internet Program is a significant initiative started by the Federal Communications Commission (FCC) and EveryoneOn.org.
This program aims to make high-speed internet access available to low-income communities all over the United States.
The primary criteria for eligibility is that the applicant should be either a low-income family with a child in school or a resident of an area where the annual median income is under $35,000, covering over 14,000 zip codes.
C2C has partnered with the U.S. Department of Housing and Urban Development (HUD). This partnership extends the benefits of the C2C program to public housing residents in select pilot markets. Doing so ensures that families living in public housing have the resources they need to succeed in today's digital age.
As for authorized providers, the fact sheet lists several notable companies. These include:
Cox Communications
Bright House Networks
Suddenlink Communications
MediaCom
Midcontinent
Eagle Communications
Each provider offers a range of affordable internet services under the C2C program.
While the Connect2Compete program doesn't provide completely free internet, it's significantly more affordable than most commercial internet services.
Members typically pay less than $10 per month, receiving guaranteed high-speed internet. It is sufficient for casual internet browsing, streaming music, emails, and watching videos online in standard definition.
NGOs and Nonprofits Giving Low-Cost or Free Internet Access
How to get free internet if not eligible for government programs? Well, here comes Nonprofits and non-governmental organizations with a key role to play.
Recognizing the pressing need for reliable, affordable internet access, these organizations offer solutions to ensure connectivity.
Let's check out some of the key players in this space.
EveryoneOn
EveryoneOn, a nonprofit organization, is working tirelessly to bridge the digital divide by providing low-cost or free internet service to those needing it most.
EveryoneOn's mission is to unlock social and economic opportunities by connecting these communities to the digital world. They work with a range of Internet Service Providers to bring low-cost internet service and affordable computers to those who need them.
Through their "Find Offers" program, EveryoneOn helps individuals locate low-cost internet and device offers in their area.
Qualifying low-income households can receive a $30 subsidy on their monthly broadband bills, making the internet more accessible and affordable.
EveryoneOn has partnered with the California Emerging Technology Fund to provide the best low-cost internet service options and computer offers. This partnership allows them to extend their reach and help even more people gain the digital access they need.
PCs for People
PCs for People is a national nonprofit social enterprise. They offer high-speed 4G LTE internet service solutions starting at $15 per month, but they also provide free internet access to eligible individuals and families through the Affordable Connectivity Program.
PCs for People focuses on providing low-cost technology to those who fall under certain income thresholds or are enrolled in specific social service programs to determine eligibility for these services.
If you're eligible, you could access their internet service for as low as $15 per month or even for free if paired with the ACP.
In addition to offering 4G LTE internet service, PCs for People also provides fixed wireless internet in underserved areas. They install special towers in these locations to connect residents to affordable high-speed internet. This service is also available for $15 per month or free with the ACP.
Human-I-T
Human-I-T is a non-profit organization whose mission is to ensure that low-income individuals have access to technology, internet, and digital literacy training.
The organization collects used electronics from companies, refurbishes them, and then distributes them to those in need.
As an approved provider for the Affordable Connectivity Program (ACP), Human-I-T is offering hotspots with free monthly internet service for a one-time payment of $80. This allows qualifying households to have consistent, reliable access to the internet.
Moreover, Human-I-T also assists households in signing up for high-speed internet plans available at no- or low-cost.
The eligibility for these plans is based on each household's unique income level and zip code. This personalized approach ensures that the assistance provided meets each household's specific needs.
Public Places with Free Wi-Fi Internet
Whether you're working on the go, studying, or simply browsing the internet, free public Wi-Fi can be a real lifesaver. But where exactly can you find these free Wi-Fi hotspots?
Coffee Shops and Restaurants
Many coffee shops and restaurants now provide complimentary Wi-Fi to their customers. This enhances the customer experience and encourages patrons to spend more time (and potentially money) in their establishment.
It's a win-win situation!
Take Starbucks, for instance. Known for its delectable coffee and relaxed atmosphere, Starbucks also offers free and unrestricted Wi-Fi to its customers. All you need to do is purchase a drink or food item, connect to their network, and voila – you have free internet access!
Similarly, fast-food chains like McDonald's and Subway also offer free Wi-Fi, making it easy for you to catch up on emails or browse the web while enjoying a meal.
Public Libraries
In the digital age, public libraries have transformed into community tech hubs, becoming a crucial source of free Wi-Fi for many individuals.
Libraries are no longer just about books; they've become a bridge to the digital world, especially for those who do not have reliable internet access at home.
For instance, the New York Public Library offers a program that allows patrons to get Wi-Fi access in their homes for free, all you need is a library card. This not only enables patrons to access the vast online resources of the library but also helps them stay connected with the broader digital world.
The Jersey City Free Public Library provides free wireless access at all its locations to all library patrons.
Similarly, all community and regional Fairfax County Public Library locations offer high-speed wireless internet.
It shows how public libraries are playing a critical role in reducing the digital divide and fostering digital literacy.
Shopping Malls
In today's digital age, malls are not just about shopping; they've become tech-savvy spaces offering free Wi-Fi to their visitors. This move is not merely a perk but a strategic decision that enhances the shopping experience and gives malls a competitive edge.
Offering free Wi-Fi can encourage shoppers to stay longer in the mall, increasing the likelihood of them making purchases. It also fosters a sense of loyalty, as customers appreciate the convenience and are more likely to return.
Moreover, Wi-Fi in shopping malls allows consumers to interact digitally with retailers without fear of exceeding their data limits. This ability to quickly access information about products, compare prices, or read reviews can directly influence purchasing decisions.
Besides this commercial intent, needy people can utilize free internet at shopping malls to do the small tasks they cannot do due to no access to the internet at home.
Municipal WiFi Hotspots
Municipal WiFi hotspots are rapidly transforming the way residents and visitors interact with cities, providing convenient and often free internet access across significant areas or even entire cities.
These citywide wireless networks enable everyone from students doing homework in the park to tourists navigating unfamiliar streets to stay connected.
Examples of this trend can be found around the world.
In San Francisco, for instance, the city offers free WiFi service in selected areas and parks, a boon for both residents and visitors.
Washington DC also provides free WiFi access via outdoor hotspots throughout the District, particularly at key community anchor locations.
Internationally, cities like Tel Aviv, Seoul, Bangalore, and Perth have also joined the movement, offering citywide free WiFi to their inhabitants and visitors.
But remember, even though these public Wi-Fi networks are incredibly convenient, they are not always secure. So, avoid sharing sensitive information or conducting important transactions while connected to them.
Stay safe, stay connected, and make the most out of these free Wi-Fi hotspots!
How to Get Free Internet: Other Ways
NetZero
NetZero has made a significant contribution in bridging the digital divide by offering free internet access to those in need.
The initiative provides up to ten hours of monthly free dial-up internet usage.
Unfortunately, Dial-up internet is not ideal for activities such as video streaming, online gaming, or even voice chat due to its slow speeds.
The free service only offers speeds ranging from 28.8Kbps to 56Kbps, which is less than 0.3% of the speed of the slowest broadband connection available.
Besides this limitation, it's also important to note that this service requires a home phone line, limiting its availability to those with such a setup.
FreedomPop
For those seeking affordable or even free internet access, FreedomPop offers an innovative solution. Providing both mobile and home internet services, FreedomPop is changing how we think about connectivity. Their basic plan offers up to 1.5 Mbps speed and 5GB of data usage per month for only $9.95.
But what sets FreedomPop apart is their commitment to accessibility – they provide 500MB of free data every month, ensuring everyone, regardless of their economic circumstances, can stay connected.
FreedomPop's offerings don't stop at internet service. They also provide free talk, text, and data for mobile phones.
Whether you're in need of a cheap mobile WiFi hotspot, a smart phone, or SIM-only service, FreedomPop has options that cater to a variety of needs.
Mesh Networks
Mesh Networks are carving a new path in the world of internet connectivity, offering free access to the web.
Unlike traditional internet that relies heavily on a few major carriers, Mesh Networks operate independently of these providers. This innovative approach to internet access allows for a more decentralized and community-owned network.
One of the key advantages of Mesh Networks is their ability to provide extensive WiFi connectivity without laying cable, as demonstrated by companies like Mesh++. These networks can cover hundreds of acres, making them an ideal solution for areas where traditional internet infrastructure is lacking or expensive to implement.
Several communities and startups are already leveraging this technology to bring free WiFi to their areas.
For example, NYC Mesh offers reliable community-owned internet, while a startup in Philadelphia is using a mesh network to provide alternative, free WiFi.
Similarly, Project Waves provides free home internet service in Baltimore City through Mesh Networks and fixed wireless broadband.
Tool to Find Free Wi-Fi Hotspots
Wifispc.com (Free Wifi Map) is a website that allows you to find free wi-fi hotspots places near you.
It provides a comprehensive list of places offering free Wi-Fi, including hotels, cafes, restaurants, and bars.
Each location is detailed with specific information such as the network type, whether it's public or private, and if a password is needed for access. This allows users to easily identify Wi-Fi hotspots that are free to use and suit their needs.
Furthermore, it's not just about finding a Wi-Fi hotspot; it's about finding the right one in the right location. That's why the website features a search option, allowing users to find Wi-Fi hotspots in specific locations.
Providing a well-formatted and detailed list of Wi-Fi hotspots, the platform makes finding free Wi-Fi access points a breeze. It takes the guesswork out of the process, saving users time and effort.
FAQs about Free Internet
What is Free Wi-Fi?
Free Wi-Fi refers to public wireless internet access points that do not require a fee for usage. These are often found in places like cafes, libraries, and airports. They provide internet connectivity to devices within their range without needing a personal data plan.
How can I Get Free WiFi at Home Without the Internet?
To get free Wi-Fi at home without an internet service you can use a neighbor's unsecured network, use your phone as a hotspot, or use a free trial from an internet service provider. Always remember to use these methods responsibly and ethically.
Can I Get Discounted or Free Internet with Food Stamps?
Yes, certain internet service providers in the United States offer discounted or free internet services to households that qualify for the SNAP (Previously known as Food Stamps).
Is Free Internet Really Free?
Yes, truly free internet does exist, but it often comes with restrictions such as limited data or slower speeds. Free public Wi-Fi hotspots offer fast and reliable internet access for browsing and streaming. However, unsecured networks may be vulnerable to cyber threats like viruses and malware.
Are There Any Downsides to Using the Internet for Free?
While free internet is a great resource, it can have limitations. These may include data caps, slower speeds, or less reliable connections. It's also important to consider privacy and security, as not all free internet services provide robust protections.
Can I Rely on Free Internet for my Daily Needs?
This depends on your internet usage. If your needs are basic, such as checking emails or browsing the web, free internet might suffice. However, for activities that require higher speeds or more data, such as streaming videos or online gaming, a paid plan could be more suitable.
Conclusion
So, this was all about how to get free internet for low income individuals and seniors.
The feasibility of relying on free internet services largely hinges on your individual needs and usage patterns. While free internet can be a boon for light users, it might prove insufficient for those engaging in more data-intensive activities.
Moreover, the question of security looms large when using public or unsecured networks. Therefore, while the allure of free internet is undeniable, one needs to weigh the potential costs against the benefits.
Go ahead, understand your needs, choose the suitable option from the above, and connect with the world for free.