Don't know how to get a free iPad? No worries, it's not entirely out of reach.
Various companies often offer Apple tablets (iPads) for free as promotional tools, incentivizing customers to engage with their products or services. Even government has several programs that may offer free iPads to eligible students, low-income individuals, veterans, etc.
As everyone loves a great deal, and nothing beats the thrill of snagging an iPad without spending a dime.
Many of us dream about owning Apple's sleek and high-performing tablet, but the high price tag often makes it seem like an elusive goal.
In this article, we will guide you through various legitimate methods to get a free iPad.
Stay tuned, your dream of owning an iPad might just be a read away!
List of Ways to Get a Free iPad?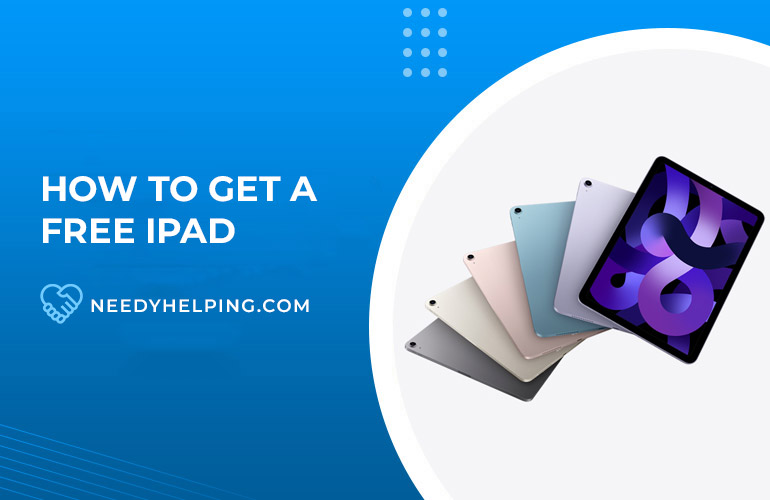 There are several reliable ways to get an iPad for free. Some methods might require a bit of luck, while others need your time and effort. But remember, the reward at the end could be an iPad in your hands!
Let's explore each opportunity available to you:
1) Apple Education Program
Apple offers special education pricing for students, teachers, and educational institutions. This program provides a discount on Apple products including iPads, making it more affordable for those in the education sector.
While it's not technically free, it does make owning an iPad more achievable for many people.
Apple Education Program caters to various educational levels, from K-12 to higher education, and includes a variety of programs, discounts, and resources.
Education Pricing and Student Discounts: Apple offers special pricing for students, teachers, and staff on new Macs or iPads. This makes Apple products more affordable and accessible for those in education.
Back to School – Education Discounts: As part of their seasonal promotions, Apple also offers additional savings on Macs and iPads for college students, including gift cards, discounts on AppleCare+, and more.
2) Apple GiveBack Program
This is Apple's trade-in program, where you can trade in your eligible device for an Apple Store Gift Card or a refund on your purchase.
If your device isn't eligible for credit, Apple will recycle it for free. The value of your old device could potentially cover the cost of a new iPad, making it essentially free or affordable.
It's worth noting that this program is subject to terms and conditions, so it's important to check the details on Apple's official website or contact their customer service for more information.
3) Schools
Several schools and educational institutions provide free iPads to their students as part of their educational initiatives. They often fund these programs through grants or other financial resources.
For instance, Apple's ConnectED program offers iPads to students at participating schools across the country, encouraging self-paced learning and skill-building on iPad and Mac.
Below are some examples of schools that have known to provide free iPads to students:
Bethel University
Regis College
Seton Hill University
University of Florida
American Public University
Moravian University
4) Product Testing Sites
Ever wondered how companies ensure their products are top-notch before launching them? They rely on product testers to give them honest feedback.
You can become one of them!
Websites like Product Testing USA allow you to test and keep products, including iPads.
All you need to do is sign up, wait to be selected as a tester, and then provide your honest review after testing the product.
It's an interesting way to potentially get a free iPad while also helping companies improve their products.
5) Online Sweepstakes and Giveaways
Many companies and websites conduct online sweepstakes or giveaways where you may get a chance to win exciting prizes, including iPads.
For instance, iDrop News often conducts giveaways where you could win an iPad Pro.
To enter, you might need to perform certain actions like following their social media accounts, sharing their posts, or signing up for newsletters.
Remember, while these are fun and legitimate ways to possibly get a free iPad, always ensure the sweepstakes or giveaway is from a reputable source to avoid scams.
6) Reward and Loyalty Programs
These programs let you earn points for every purchase or action you take, such as completing surveys or referring friends.
Over time, these points can add up and be redeemed for various rewards, including iPads.
For instance, sites like Swagbucks give you points for watching videos, shopping online, or searching the web.
Start exploring these programs – your loyalty could just win you a brand-new iPad!
7) Non-Profit Organizations
Some non-profit organizations and educational programs provide free iPads to those in need. These are typically aimed at students, people with disabilities, or those who cannot afford them.
While this isn't a conventional 'get a free iPad' method, it's an important one, especially if you fall into these categories.
Below are some organizations that may offer iPads for free to eligible people:
The Lindsay Foundation: This non-profit aims to assist families with medical and special needs children, including providing technology like iPads.
EveryoneOn: EveryoneOn helps low-income families access affordable internet service and provides assistance in obtaining discounted or free tech devices.
Angel City Data: They offer technological solutions to non-profits facing budget constraints and outdated systems, including iPads.
Computers with Causes Charity: This charity refurbishes donated computers and iPads and gifts them to schools, low-income families, and children.
Remember, these programs often require proof of eligibility, and availability can vary. Always check directly with the organization for the most accurate information.
8) Employee Reward Programs
Did you know some companies reward their employees with fabulous gifts like iPads? That's right! If you're part of an organization that values its workforce, they might have a reward or recognition program in place.
These programs often give out prizes for exceptional performance, reaching certain milestones, or even as part of a company-wide raffle.
If your employer has such a program, why not give it a shot? Your next performance review could come with a shiny new iPad!
9) Veterans Affairs (VA) iPad Program
The VA's iPad program provides qualifying Veterans with cellular-enabled iPads to access telehealth services. This initiative is specifically designed to expand veteran access to healthcare by leveraging technology, and it currently aids more than 50,000 veterans.
VA iPad Program provides iPads with VA Video Connect, enabling veterans to directly communicate with healthcare providers from home. This not only simplifies veterans' appointment attendance but also offers a secure platform for them to share health information and receive timely medical advice.
Eligibility for the program is determined based on several factors, including the veteran's ability to use the device, their need for remote healthcare services, and the availability of internet connectivity.
10) Affordable Connectivity Program (ACP)
The Affordable Connectivity Program (ACP) is a substantial initiative designed to help us afford the internet connections we need for work, school, healthcare, and more.
While the ACP itself does not directly provide free iPads, some of the participating providers may offer a free iPad or other device as part of their ACP plans.
Here is a list of some providers known to offer government tablets, which could include iPads, under the ACP program:
Q Link Wireless: As one of the leading ACP providers nationwide, often provides a free tablet, subject to stock availability. If you haven't already used your ACP device discount, you can secure a new tablet at a highly discounted price of $10.01 or for free.
Assurance Wireless and Cintex Wireless: Assurance Wireless does not directly offer free iPads. However, under the Affordable Connectivity Program (ACP), they do provide eligible customers with a one-time discount of $100 on the purchase of a tablet.
Airtalk Wireless: Airtalk Wireless offers an iPad at a highly affordable price to those who apply and get approved for their Lifeline and ACP programs. While the tablet isn't entirely free, the co-pay for eligible individuals is as low as $10.01.
Each provider will have its unique eligibility criteria and application process. Therefore, make sure to reach out to the providers directly or visit their websites for the most accurate and up-to-date information.
11) Other Projects Programs
There are several projects and programs that strive to bridge the digital divide by offering free iPads to eligible individuals.
Here's a list of some of these initiatives:
iPADs2Kids: This project specifically targets young people from low-income families, providing them with access to technology.
Medicaid: In certain circumstances, Medicaid offers eligible individuals a free iPad. This is particularly beneficial for those requiring telehealth services.
Project 10Million: This initiative by T-Mobile offers free hotspots with 100GBs of mobile data each year for five years, along with access to at-cost laptops and tablets, to 10 million eligible households.
ILLINOIS CARE CONNECTIONS – AGING – IATP: This program serves individuals who are most likely to be socially isolated and provides them with technology solutions and devices like iPads, wi-fi hotspots, android tablets.
How to Get a Free iPad: Steps You Need to Follow
There are indeed ways to get a free iPad legally through various programs, charities, and donation sites.
Here's a step-by-step guide on how you can do it:
Identify the Right Programs or Charities: There are several organizations that accept donations and distribute iPads to those in need. Examples include DonorsChoose, GoFundMe campaigns, and specific charities like The Little Bear Gives.
Understand the Eligibility Criteria: Each organization has its own set of rules and eligibility criteria. It's crucial to understand these before you apply. Some of them cater specifically to low-income families or special needs children.
Apply: Once you've found a suitable program and understood their criteria, the next step is to apply. This usually involves filling out an online form detailing your circumstances and why you need the iPad.
Wait for Approval: After submitting your application, there might be a waiting period while the organization reviews your application and verifies your eligibility.
Receive the iPad: If your application is approved, the organization will send you the iPad.
iPad Models You May be Get for Free
Below are some iPad models that might be available for free through various programs, giveaways, or promotions.
iPad (9th generation): This is the basic model in Apple's lineup and could be offered by institutions or programs due to its affordability and functionality.
iPad Air (4th generation): The iPad Air offers a balance between price and performance, making it a potential candidate for programs aimed at professionals or students.
iPad Mini (6th generation): Its compact size and powerful features make the iPad Mini an attractive option for giveaways or programs targeting individuals who need portable, yet capable devices.
iPad Pro (5th generation): While this model is more expensive, it could be offered in high-value promotions or specialized programs where advanced capabilities are required.
The availability of specific iPad models will vary depending on the organization, program, or promotion. It's always best to verify the specifics of any offer before participating.
Why do People Often Look for Free Ways to Get an iPad?
It's no surprise that people often look for free ways to get an iPad. Apple's iPad is a versatile device with a wide range of uses, making it highly sought after.
Here's why:
Versatility: The iPad is more than capable of handling any task, from work-related activities to entertainment. It can be used for browsing the web, video streaming, gaming, and even as a tool for business events such as workshops.
Productivity: The iPad's design promotes mindful productivity and focus. For students, it provides an organized digital space for note-taking and studying. Its ability to perform singular tasks efficiently helps the user to concentrate better.
Entertainment: With hundreds of worlds to explore in Apple Arcade, the iPad offers endless fun. It's also perfect for watching movies or TV shows, reading books, and exploring creative apps.
Lifespan: iPads are known for their longevity. They typically last between 3-5 years, assuming they're well taken care of. Frequent iOS updates help keep the device feeling fresh and up-to-date.
However, iPads come with a hefty price tag. The cost of a new iPad varies depending on the model and storage capacity. For instance, a basic iPad starts at $329, while the iPad Pro starts at $799.
Given the high costs, it's understandable why people would seek out free or discounted ways to acquire an iPad. This could be through any of the ways we discussed above.
FAQs about Free iPads
Is it Really Possible to Get an iPad for Free?
Yes, under certain circumstances and through specific programs, it's possible to receive an iPad for free. This could be through educational institutions, special programs for veterans, low-income families, or specific promotional deals.
Can I Get a Free Apple iPad if I'm a Student?
Some schools and universities provide iPads at no cost to their students for educational purposes. It's best to check with your institution to see if they offer such a program.
How Can I Verify the Legitimacy of a Free Offer of iPads?
Always research the organization offering the iPad and read reviews or testimonials if available. Be cautious of any offer that requires sensitive personal information or money upfront as these are often scams.
What Should I do if I See a "free iPad" Scam?
If you encounter what you believe to be a scam, report it to your local authorities and the Better Business Bureau. Never provide personal information or payment to a source you don't trust.
How Long does it Take to Get an iPad for Free?
The timeline to receive a free iPad varies greatly and is dependent on the specific program or organization. It could take anywhere from a few weeks to several months, so patience is often required.
What Type of iPad Can I get Get for Free?
The type of iPad you can get for free largely depends on the program or organization providing it. It could range from older models to the most recent ones, based on availability and the purpose of the program. Some donation programs may provide refurbished iPads in good condition.
Conclusion
In brief, getting a free iPad is feasible through different programs, offers, and low-income family schemes. However, it's very important to verify the legitimacy of any free offer and avoid giving personal information to untrusted sources.
So, what are you waiting for now? Check the above ways and see which one is suitable for you to get an Apple iPad for free.