Learn about free daycare government programs, non-profit organizations, and local resources that can help you find quality childcare assistance near you.
First-in-first, I would like to share some statistics that motivated me to write this post:
The average cost of daycare in the USA is around $10,600 per child, per year.
However, it's important to note that childcare costs can vary greatly depending on factors such as location, type of care, and age of the child.
According to the 2023 New York Life Wealth Watch survey, more than a third of parents (37%) have experienced an increase in their childcare costs over the past year.
I have presented these figures to demonstrate the significance of free daycare for low income parents and single mothers.
So, are you a low-income parent in need of quality daycare (childcare) for your 2 years old child near you? Finding the right daycare that meets your needs and budget can be a daunting task.
Fortunately, there are free daycare assistance programs in many communities that can help you find the perfect daycare for your family.
In this comprehensive guide, we will explore various options and programs that can help you secure the daycare assistance you need.
Why Quality Childcare is so Important?
Before diving into the resources available, it's crucial to understand why quality childcare is essential for both you and your child.
High-quality childcare offers a safe and nurturing environment for your child to learn, socialize, and develop essential skills. It also provides you peace of mind, knowing that your child is well taken care of while you're at work.
Research has shown that children who attend high-quality childcare centers have better cognitive, language, and social development. They are also more likely to succeed academically and have fewer behavioral issues later in life.
As such, investing in quality childcare is an investment in your child's future.
Affordable or Free Daycare Federal Government Programs
There are several government programs available to help low-income families access affordable childcare at low cost or not cost at all.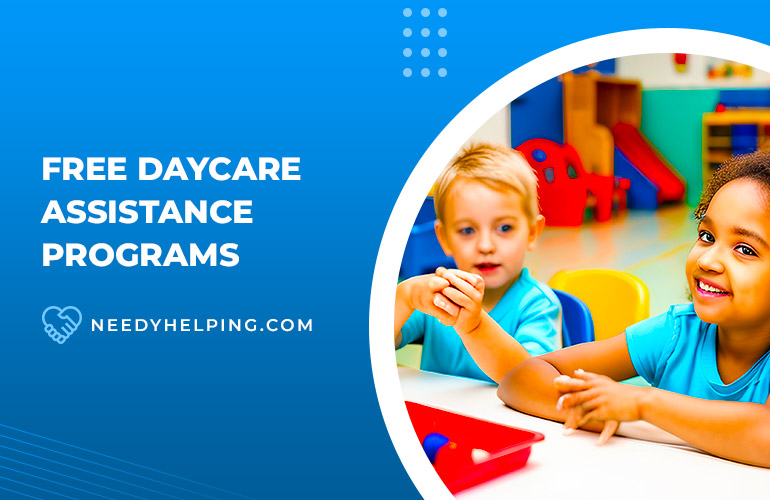 Some of these programs include –
1) Head Start and Early Head Start
Head Start and Early Head Start are federally funded programs that provide comprehensive early childhood education, health, nutrition, and parent involvement services to low-income children and their families.
Head Start serves children aged 3-5 years old, while Early Head Start caters to pregnant women, infants, and toddlers up to age 3.
To be eligible for the Head Start program, your household income must be at or below the poverty level, or your family should receive public assistance (TANF, SSI, or SNAP).
Families with children in foster care or children who are homeless also qualify regardless of income.
To apply for the Head Start program, contact your local Head Start center. They will guide you through the eligibility process, provide necessary forms, and inform you about the required documents.
If there's no space available, you can request to be added to the waiting list.
Find your local Head Start program using the Head Start Center Locator or call 1-866-763-6481 for assistance.
Always check the official website or contact the program directly for the most accurate information.
2) Child Care and Development Fund (CCDF)
The CCDF is a federal program that provides financial assistance to low-income families for childcare services.
Each state receives funding from the CCDF and administers its own childcare subsidy program with specific eligibility requirements and application processes.
The program allows parents to work or participate in education or training activities. Here's how it works:
Eligibility: Low-income families with children under 13 can apply for the CCDF, but the income threshold varies by state. Each state sets its own eligibility rules within federal guidelines, but as a general rule, families with an income below 85% of the state median income are usually eligible.
Subsidies: The CCDF offers financial assistance to qualified families to assist with paying for child care expenses. The help can be used for different types of child care arrangements, such as care provided at a center, in a family child care home, or in the child's own residence. The exact amount of aid depends on factors like the size of the family, income, and the age of the child.
Parental Choice: The program allows parents to choose their preferred child care provider based on their needs and schedule for work or training.
Quality Improvement: The funds provided by CCDF not only cover child care expenses but also support the enhancement of child care quality by providing training and professional development opportunities to child care providers.
Application: To apply for CCDF assistance, parents need to contact their local CCDF state office. The application process may vary by state.
State and Local Childcare Assistance Programs
In addition to federal programs, many states and local governments offer childcare assistance programs (For example Pre-kindergarten and CalWORKs Child Care Programs) for low-income families.
These programs may have different eligibility requirements and benefits than the federal programs mentioned earlier.
To find out more about the childcare assistance programs available in your area, visit this Get Child Care Resources page > select your State > Hit the Submit button.
You will see a list of available free daycare programs in your area funded by states.
Below is a comprehensive list of local government resources that will provide you with more information about the child care assistance program available in your region.
Military Child Care Programs
Military Child Care Programs offer various financial assistance options to help military families with daycare costs, regardless of where they are stationed.
These programs include:
MilitaryChildCare.com (MCC)
MCC is a platform that provides information on military-run daycare programs worldwide.
Military families can search for suitable childcare options and enroll their children in military-run programs through MCC. These programs use a sliding fee scale based on family income to make childcare more affordable.
Military Child Care in Your Neighborhood Fee Assistance
If military-operated childcare is unavailable due to distance or waitlists, active-duty service members (including reservists on active orders) may be eligible for childcare fee assistance.
Each branch of service has its own fee assistance program, such as the Air Force Fee Assistance Program, Army Fee Assistance Program, Marine Corps Fee Assistance Program, Navy Fee Assistance Program, and U.S. Coast Guard Fee Assistance Program.
Department of Defense Pilot Program
This pilot program offers fee assistance to military families for full-time childcare in their own homes. More information can be found on MilitaryChildCare.com.
State or Territory Child Care Financial Assistance Programs
For low-income military families who cannot access military childcare or fee assistance programs, state or territory-based childcare financial assistance may be available.
Other Military Child Care Relief or Respite Programs
Military families can explore temporary childcare relief or respite programs from military family support organizations like Military OneSource or the National Military Family Association, which may offer additional childcare financial assistance options.
Non-profit Organizations Offering Childcare Assistance
Several non-profit organizations provide free or low-cost childcare services to low-income families. Some examples include:
1) YMCA
The YMCA (Young Men's Christian Association) is a global non-profit organization dedicated to strengthening communities through youth development, healthy living, and social responsibility. With a presence in 120 countries and over 64 million beneficiaries, the YMCA is committed to making a positive impact on people's lives.
One of the critical services the YMCA offers is child care. They provide high-quality and affordable child care programs designed to help children learn, grow, and thrive during their early developmental stages.
The YMCA offers various daycare programs to cater to the diverse needs of families:
Early Learning Child Care: High-quality care for children aged six weeks to five years, focusing on cognitive, physical, and social development to prepare them for school.
Preschool: Designed for children aged 2-5, this program fosters learning, growth, and social skills development.
Before and After School: A safe environment for school-aged children before and/or after school hours.
Summer Day Camp: A fun and engaging program for kids to learn and make new friends during summer break.
Holiday Care: Child care services provided during school holidays and teacher workdays.
Virtual Learning Support: Assistance for parents who need support with their children's virtual learning.
It's important to note that program availability may vary depending on the local YMCA branch. Therefore, it's best to contact your nearest YMCA for specific information about the childcare programs and financial assistance they offer.
Also Read – How to Get a Free YMCA Membership: A Complete Guide
2) Boys & Girls Clubs of America
The Boys & Girls Clubs of America (BGCA) is a national organization with local chapters that provide voluntary after-school programs for young people.
These clubs offer a safe, inclusive, and nurturing environment where children can learn, play, and grow outside of school hours.
BGCA strives to ensure that their programs are accessible and affordable for all families. Through donor support, they offer financial assistance on a first-come, first-serve basis to eligible families in need.
Eligibility for financial assistance at Boys & Girls Clubs is determined using the Seattle Public Schools sliding scale, considering household income, family size, extenuating circumstances, and participation in club activities. Families receiving Basic Food, SNAP, FDPIR, or TANF are particularly encouraged to apply.
To apply for financial aid at Boys & Girls Clubs of America, families must complete a Financial Aid Eligibility Form, upload supporting documentation, and register for the desired program.
BGCA will then review applications and assign financial aid awards based on eligibility.
Families receiving partial aid are responsible for paying the remaining balance or discussing alternative options with BGCA.
Please note that program specifics may vary depending on the local Boys & Girls Clubs branch. It's best to contact your nearest branch for detailed information about available daycare assistance for low-income parents.
Child Care Aware of America
Child Care Aware of America is a national organization that collaborates with over 400 state and local Child Care Resource and Referral agencies to help families find affordable, quality child care.
Although they do not directly provide daycare assistance, they offer resources such as a Child Care Finder directory, financial assistance information, state-by-state resources, advocacy support, and educational materials.
By connecting families with these valuable resources, Child Care Aware of America assists low-income parents in finding and securing affordable daycare options.
The Salvation Army
The Salvation Army is an international charity that offers various assistance programs, including child care services for low-income families.
While specific offerings may vary by location, they generally provide child care centers with sliding scale fees, after-school programs, summer and day camps, and sometimes direct financial assistance for child care costs.
To learn about the daycare assistance available in your area, it's best to contact your local Salvation Army branch.
Employer-Sponsored Childcare Programs
Some employers offer childcare benefits or programs to help their employees balance work and family life.
These benefits may include on-site childcare centers, childcare subsidies, or flexible work arrangements that allow parents to better manage their childcare needs.
Talk to your employer's human resources department to find out if they offer any childcare assistance or benefits.
FAQs Related to Free Daycare
What is Free Daycare?
Free daycare refers to child care services provided at no cost or minimal cost to families, often targeting low-income households or those facing financial hardships.
Who is Eligible for Free Childcare Services?
Eligibility for free daycare services typically depends on factors such as household income, family size, and participation in government assistance programs. Each daycare provider or program may have its own specific eligibility criteria.
Are Free Daycare Services Available to Everyone?
Free daycare services are generally targeted towards low-income families or those with financial hardships. Availability may be limited due to funding constraints or space limitations within the programs.
What Types of Services do Free Daycare Programs Provide?
Free daycare programs typically offer a range of services, including early education, playtime, meals, and socialization opportunities for children. Some programs may also provide additional resources, such as homework assistance or parent education workshops.
Do Free Childcare Programs have Specific Quality Standards?
Many free day care programs adhere to state and federal regulations regarding child care quality and safety. However, it's essential to research and visit any potential daycare providers to ensure they meet your family's needs and expectations.
Final Thoughts
Finding free daycare assistance may seem like a daunting task, but with perseverance and the right resources, it is possible.
Remember, investing in quality childcare is an investment in your child's future, so don't be afraid to ask for help and explore all available options.
With time and effort, you'll find the childcare assistance that best fits your family's needs.